Stuffed Portobello Mushrooms with Crispy Goat Cheese
Stuffed Portobello Mushrooms topped with marinara, sautéed spinach, and crispy panko goat cheese medallions. A delicious and easy vegetarian stuffed portobello mushroom recipe that is a reader favorite!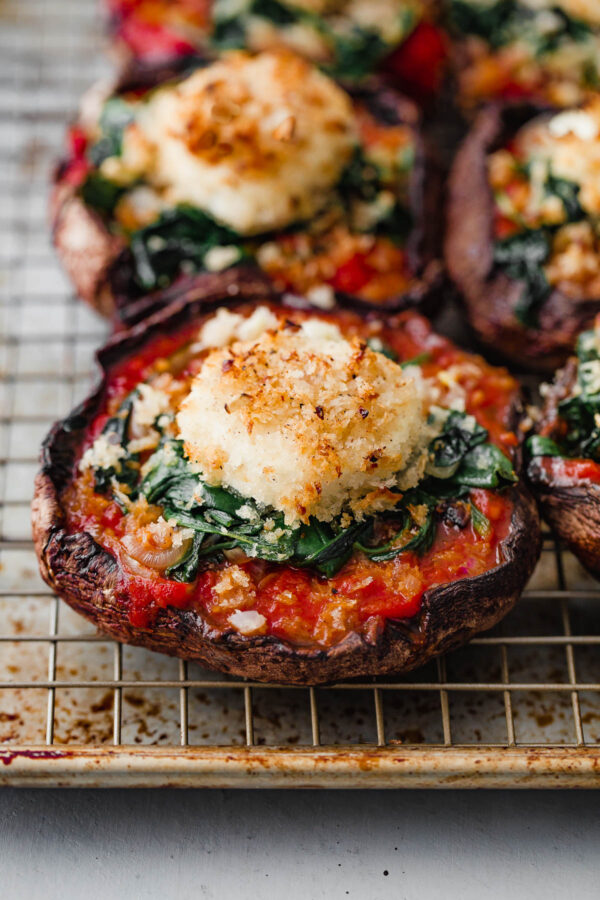 Stuffed Portobello Mushrooms
It has been nearly four years since I shared these amazing stuffed portobello mushrooms with you. These stuffed portobello mushrooms remain one of my favorite vegetarian recipes on this blog to date. It was high time they deserved some love and attention.
I've tested and re-tweaked the original recipe and procedure to make this dish easier to prepare (one less pot to clean!), as well as updated the post with new photos. These mushrooms have gotten a major facelift and I'm feeling it!
If you've never tried this recipe or are new to the site, be sure to bookmark or pin it for later.  It has been a reader favorite for years!
These vegetarian portobello stuffed mushrooms are filled with marinara sauce (store-bought or homemade), sautéed spinach, and a crispy panko breadcrumb coated goat cheese medallions. 
The trick to the crispy topping is to lightly sauté panko breadcrumbs with melted butter, finely chopped shallots, and garlic. What's not to love, right?
Find my tips for recipe success, step-by-step instructions on how to make stuffed portobello mushrooms, and helpful equipment notes below.


How to Cook Stuffed Portobello Mushrooms:
Before filling portobello mushrooms, it is important to cook them through and remove some of their natural moisture.
All mushrooms, particularly portobello mushrooms, have a very high water content. Cooking them prior to filling allows the moisture to evaporate and concentrate their flavor.
This step also reduces the amount of liquid they will release later during the final reheating stage. For this recipe, the portobello mushrooms are roasted for 20 minutes at 450 degrees Fahrenheit, stem side facing up, on a standard sheet pan. 
It is a very fast and efficient way to cook the portobello mushrooms and ensures that we don't have one more pan to clean later.
While the mushrooms are roasting, you'll want to prepare the mushroom filling components: the sautéed spinach and the crispy panko breadcrumb mixture.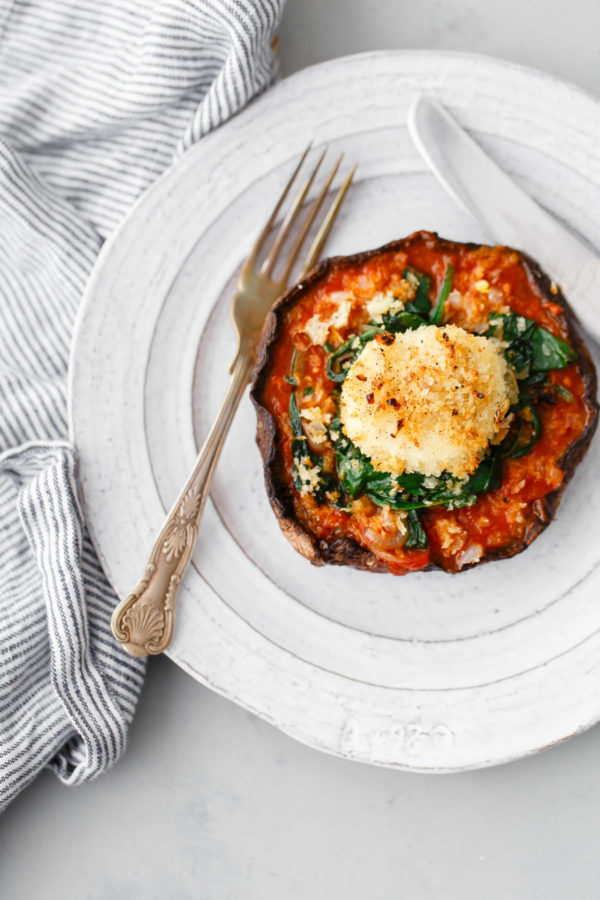 How to Pick Portobello Mushrooms:
When picking portobello mushrooms, look for completely firm caps and gills. The skin should be dry and unbruised. Shriveled, bruised, or moist mushrooms should be avoided as they are past their prime.
While you can adjust this recipe to work for any size portobello mushroom, I recommend finding large portobello mushrooms that are roughly 4-inches in diameter and have slightly deeper caps for filling. This will make them easier to stuff.
This recipe calls for 8 large portobello mushrooms. The mushrooms will shrink considerably once cooked.
If you're serving these as a main course, I recommend at least two stuffed portobello mushrooms per person.
If you're serving these mushrooms as a side dish or with grains, etc., you can halve this recipe and serve one mushroom per person. It really depends on your appetite!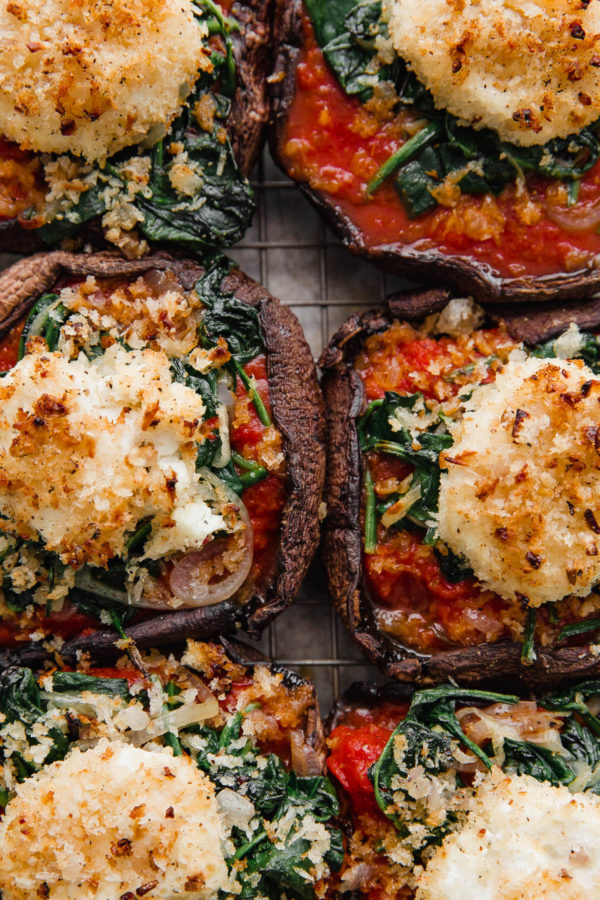 Tips for Recipe Success:
If you do not enjoy the texture of mushroom gills, you can remove and discard them prior to roasting.
To make this recipe extra time-friendly, use a high quality store-bought marinara sauce (thicker is better!). I highly recommend Rao's Homemade brand. You can also use homemade marinara as well. Please see recipe notes for a basic recipe.
Be sure to use chilled soft goat cheese (4-ounce log) for this recipe. Keeping the cheese chilled allows it to be more easily sliced into medallions and coated in breadcrumb mixture. I love the tangy, unique flavor that goat cheese lends to this recipe, but you can substitute with other favorite cheeses, such as mozzarella or whole fat ricotta.
Make This Recipe Gluten-Free: Replace the panko breadcrumbs with a gluten-free breadcrumb mixture.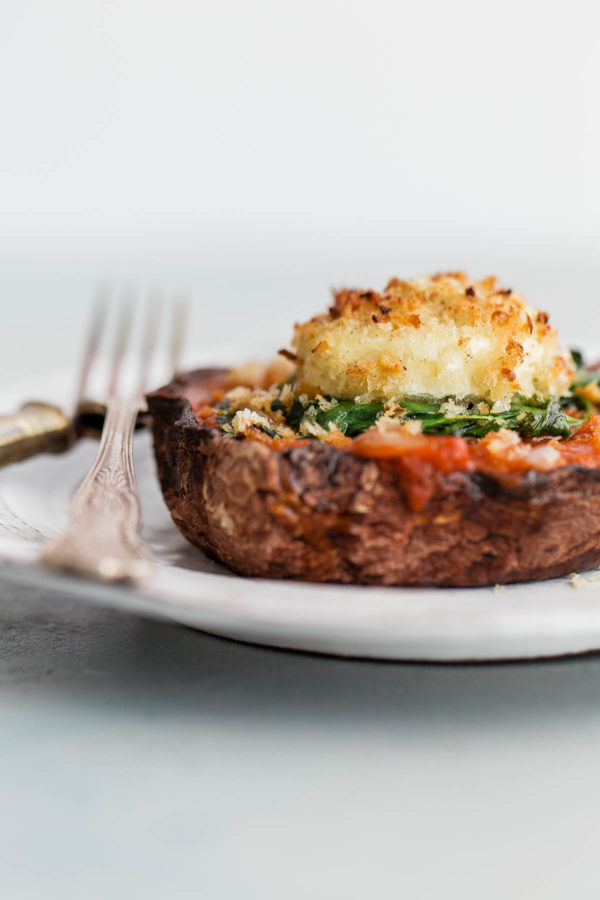 Tools I Used For This Recipe:
This list includes affiliate links.