Roasted Sunchokes are sliced and tossed with olive oil, salt, pepper, and roasted until caramelized and tender. An EASY and healthy vegetable side dish for fall or winter! 
Roasted Sunchokes
My first experience tasting a sunchoke was a very memorable one. I was visiting my parents in Scotland about seven years ago and we went out to an amazing restaurant where my mom and I enjoyed sunchoke soup with pancetta and fresh black truffles. It was literally one of the best soups that I've ever had in my life.
My second experience with sunchokes came several years later when I was working as a line cook in Washington, DC. At our restaurant, we used to slice sunchokes with a mandolin until they were paper thin and throw them in the fryer to produce light-as-air sunchoke chips. So addictive!
Since I happened to get my hands on a bag of sunchokes last week and we're currently in the thick of sunchoke season (late fall to early spring), I thought it would be fun to dive deeper into this somewhat obscure root vegetable and share this simple roasted sunchokes recipe with you.
If you've never prepared sunchokes (or have always wondered how to prepare or cook sunchokes), this recipe and back-to-basics post is for you.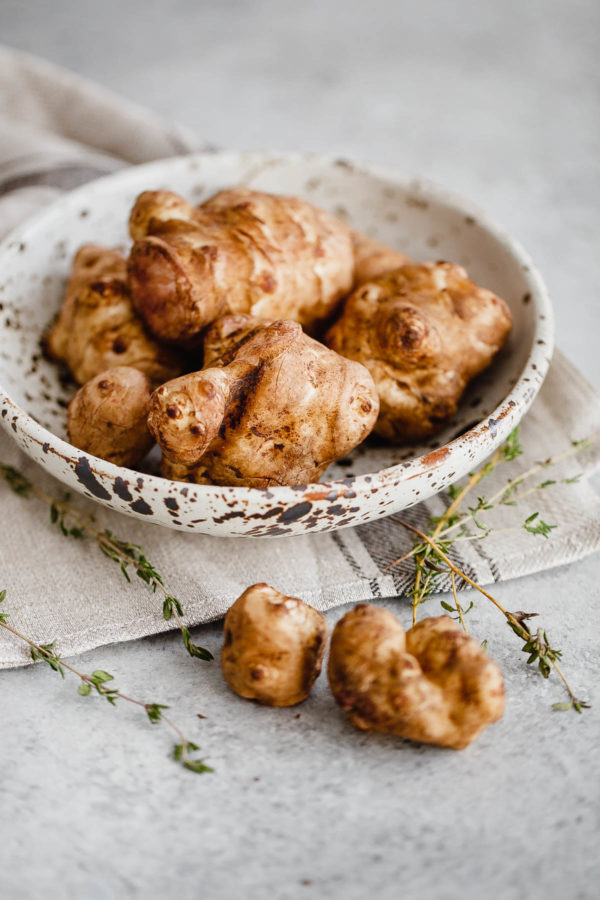 Back to Basics: Sunchokes
Part of the confusion and mystery of sunchokes relates to their name. They're often referred to as Jerusalem artichokes; however they are not from Jerusalem, nor are they part of the artichoke family. Sunchokes are actually the tuberous roots of a sunflower plant. Weird, right?
They come in various sizes, shades of color, and are knobbly like fresh ginger root. In fact, they can easily be mistaken for small pieces of ginger at first glance. Sunchokes are often prepared similarly to potatoes, but have a crunchy texture when raw (yes, you can eat them raw!) that reminds me of a radish or turnip.
Nutritionally speaking, sunchokes are incredibly good for you. They are very high in iron, potassium, and indigestible fiber (prebiotics, specifically inulin) and are a wonderful low-carb (and lower calorie) alternative to potatoes or other higher-carb root vegetables.
How to Select and Store Sunchokes:
Sunchokes come in various shades of colors ranging from light brown (as shown above) to a slightly reddish or purple-y hue. Look for firm sunchokes without any soft spots. Large sunchokes with minimal knobs are more ideal for roasting and generally easier to work with, as you'll be able to keep the slices more uniform.
Sunchokes should be stored in a plastic bag or cloth in your refrigerator vegetable drawer for up to 2 weeks.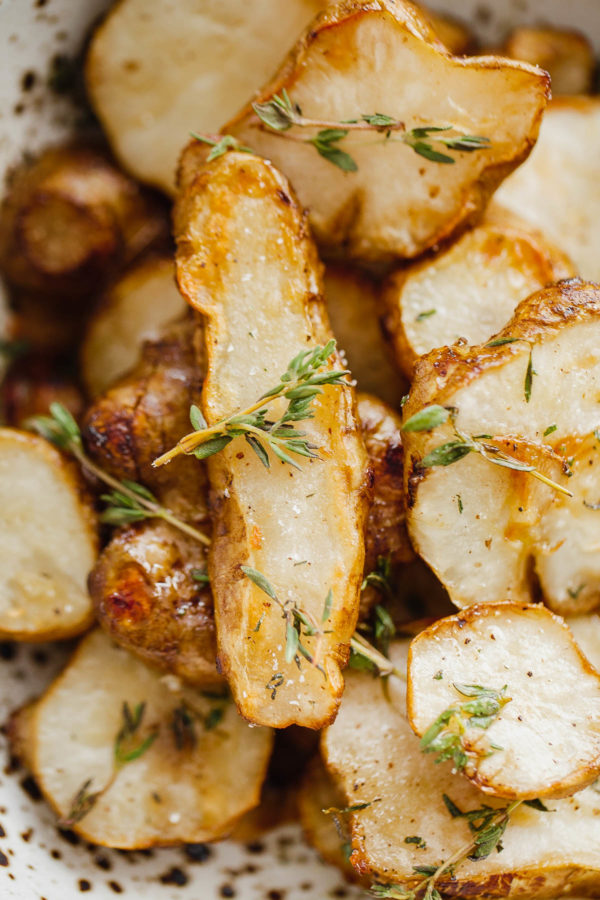 How to Cook Sunchokes:
Sunchokes can be served raw, roasted, fried, pureed into soups, or steamed. Similarly to celery root, sunchokes will oxidize when sliced, so it's best to use them right away or store them in acidulated water (water with the juice of one lemon) if not using immediately.
When roasting sunchokes, I leave the skin on as it makes them very easy to prepare. If you're serving sunchokes raw, I recommend peeling them. Try to find large sunchokes with minimal to no knobs, as they are nearly impossible to peel otherwise!
For roasting, simply slice sunchokes into 1/2-inch thick slices, toss with olive oil, salt, and pepper, and roast at 425 degrees for about 20 minutes. You can also slow roast them at 325 to 350 degrees. Toss the roasted sunchokes with fresh herbs, such as thyme or rosemary, just before serving or keep them simple.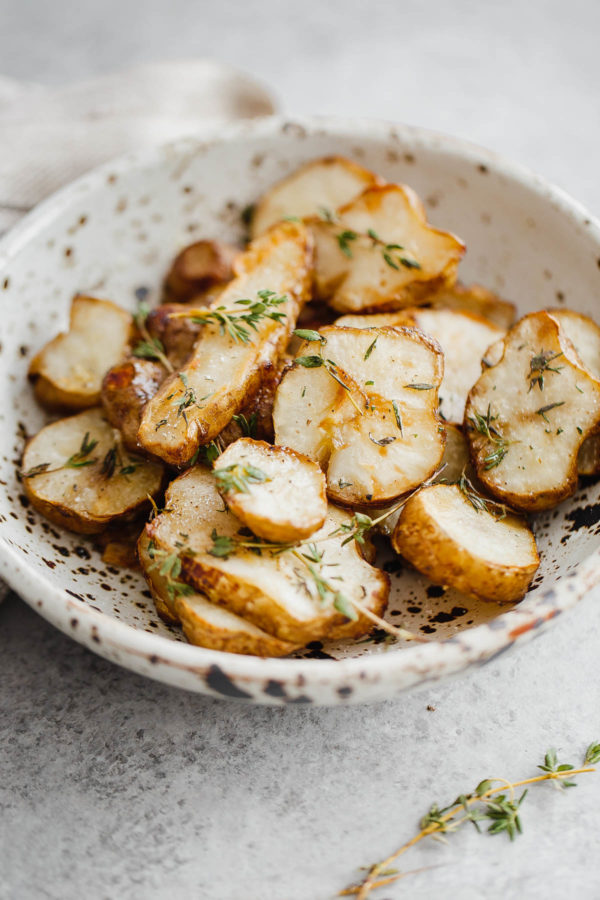 Sunchokes have a wonderful and intensely nutty and sweet flavor. Once cooked or roasted, their texture resembles that of a creamy potato (similar to these roasted fingerling potatoes).
They're delicious and worth seeking out, especially during the fall and winter months!
Other Ways to Prepare Sunchokes: