Easy Chocolate Mousse
This Easy Chocolate Mousse recipe is made with just two ingredients – heavy whipping cream and chocolate chips – and layered with roasted almonds and homemade toasted meringue to create a decadent s'mores-inspired chocolate mousse parfait.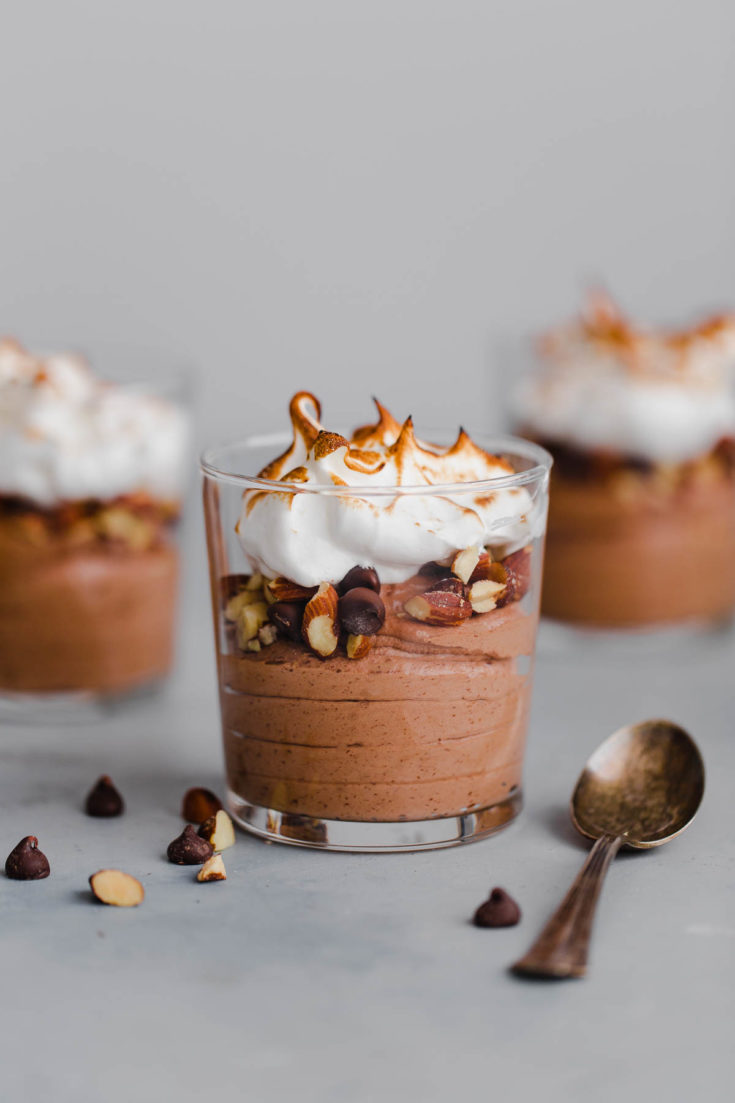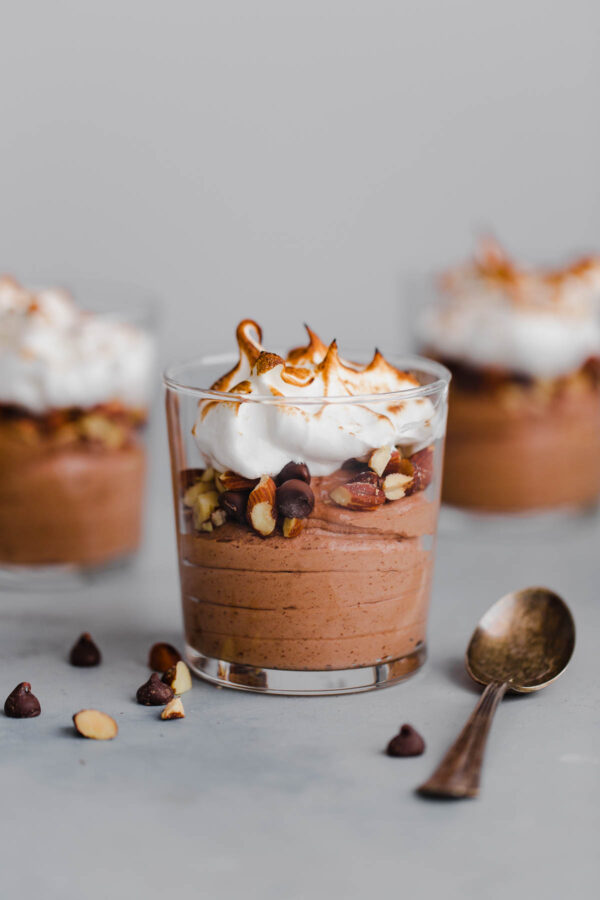 Easy Chocolate Mousse
Every year, I make a habit of sharing at least one last-minute Valentine's Day recipe with you! This year is no exception to the rule.
As most of you know, Valentine's Day is a fairly inconsequential holiday for me, but it does provide a fun excuse to break out the chocolate and make something special. This Easy Chocolate Mousse gets bonus points for being extremely easy to prepare!
Today's chocolate mousse recipe can be whipped up in less than 15 minutes and requires only two ingredients: heavy whipping cream and semisweet chocolate chips. *Note: It does require an hour's chill time in the fridge.
To up the ante, we're pairing it with roasted salted almonds and a homemade toasted meringue topping to transform it into a rich and decadent chocolate mousse parfait. While the meringue topping does best when prepared just before serving, this chocolate dessert makes for a wonderful no-bake, make-ahead treat.
This chocolate mousse recipe is also naturally gluten-free.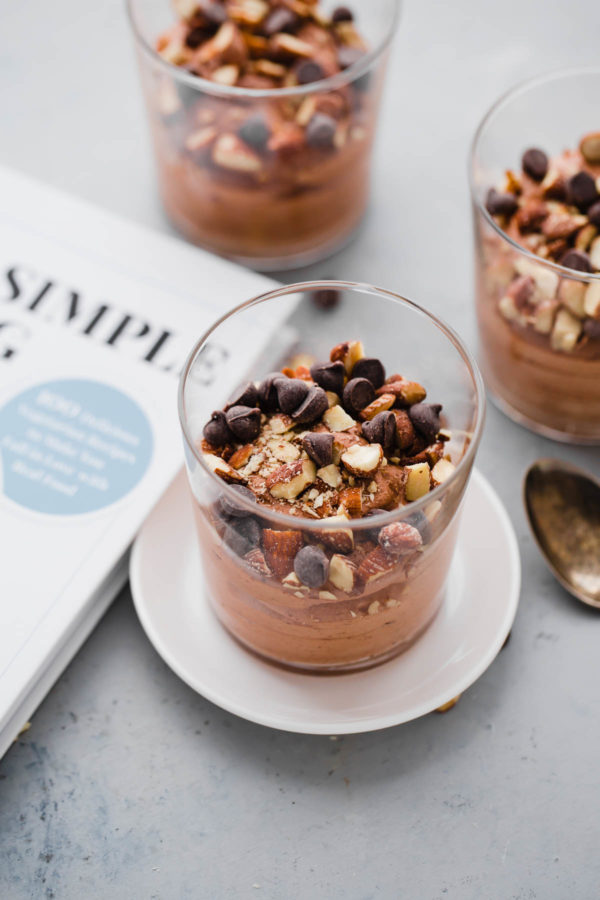 This chocolate mousse recipe comes from my friends Sonja and Alex Overhiser's brand new cookbook Pretty Simple Cooking, which was released yesterday. [Affiliate link]
I've been a long-time admirer of their blog, A Couple Cooks, which focuses on nourishing and seasonal vegetarian recipes. I strongly identify with their passion for wholesome, healthful cooking that is both simple and approachable. They emphasize the importance of relying on bold flavors and sourcing the best ingredients that you can get yours hand.
Their cookbook is a natural extension of this cooking motto and is packed with 100 vegetarian recipes that span all categories. Every recipe is accompanied by a beautiful photograph too.
I chose a slightly more decadent recipe, but the cookbook is packed with colorful salads, hearty vegetarian main courses, side dishes and appetizers, as well as practical advice on creating a sustainable approach to healthy home cooking. You can find it wherever books are sold!

How to Make Chocolate Mousse Without Eggs:
Classic French chocolate mousse is made with a combination of raw egg yolks or, on occasion, pasteurized egg whites. However, this Easy Chocolate Mousse takes the complication out it by using two basic ingredients: heavy whipping cream and good-quality semisweet chocolate chips.
The heavy cream is whipped to soft peaks using a stand mixer with a whisk attachment or hand-held mixer. The semisweet chocolate chips are gently melted in a measuring cup set within a skillet of just simmering water. This prevents the chocolate from overheating, clumping, or seizing.
The melted chocolate is poured into the cream and whipped just pillowy and voluminous. It produces a rich, decadent mousse that is not overly sweet or heavy.
Recipe Note: If you prefer, you can absolutely substitute the chocolate chips with chopped semisweet (60% t0 65% cocoa ideally) baking chocolate. The chocolate chips are not required for any structural purpose, but does allow this recipe to be easily made on a whim if you keep chocolate chips on hand regularly.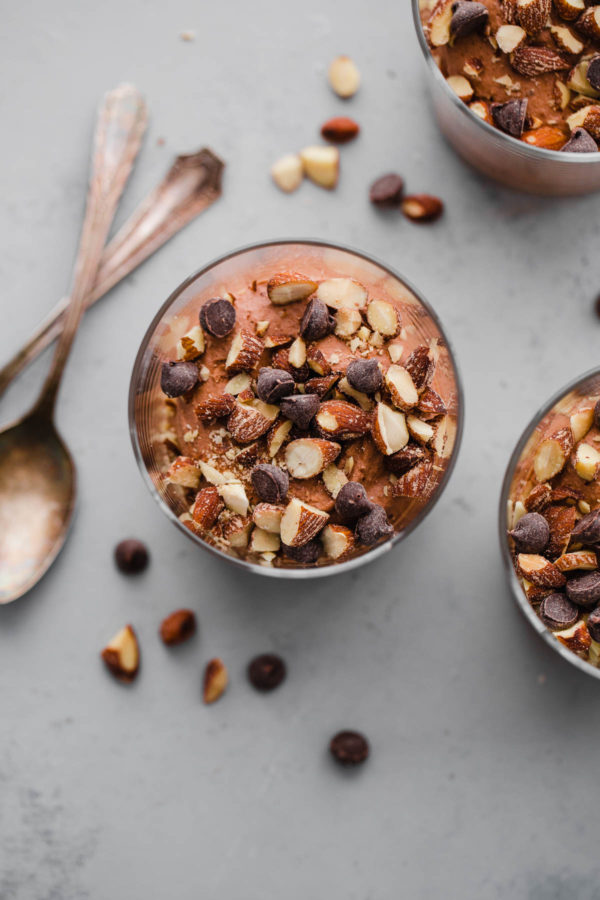 Chocolate Mousse Parfait Toppings:
To give this mousse a s'mores twist, this quick chocolate mousse recipe is paired with a layer of chopped roasted salted almonds (tossed with a touch of warm ground cinnamon), reserved chocolate chips, and a homemade meringue topping, which is toasted with a kitchen torch – highly recommended – or carefully under a standard broiler.
The meringue topping is a simple combination of egg whites, cream of tartar (an acidic compound, which helps ensure stable, stiff whipped peaks), and granulated sugar.
The mixture is heated gently in a mixing bowl over simmering water to melt the sugar fully and ensure that you've made them completely safe to consume. This method is sometimes referred to as making Swiss meringue method.
While the meringue topping is best made just before serving, all of these optional additions give this chocolate mousse a really fun, textural twist and give this chocolate dessert that wow factor.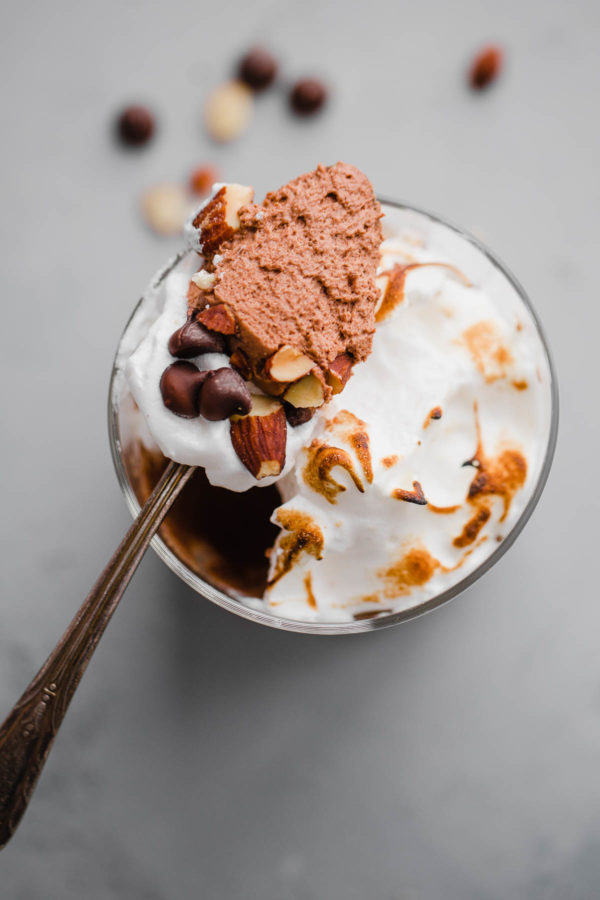 If You Love This Chocolate Mousse Recipe, Try These Recipes Next: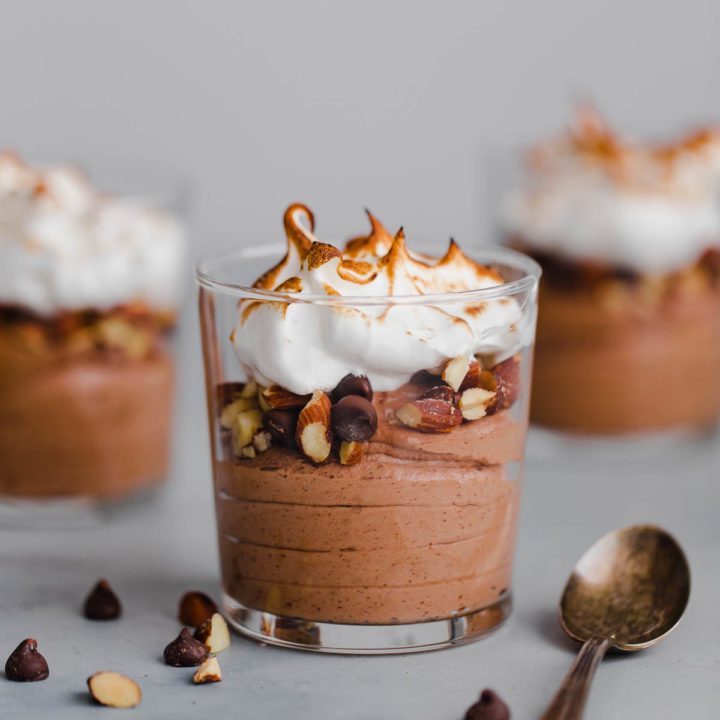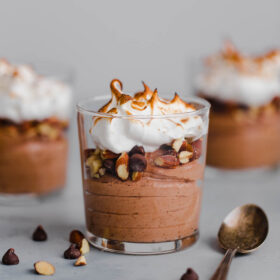 Easy Chocolate Mousse
This easy chocolate mousse recipe is made with just two ingredients – heavy whipping cream and chocolate chips – and layered with roasted almonds and homemade toasted meringue to create a decadent s'mores-inspired chocolate mousse parfait!
Ingredients
1 cup (125 g) semisweet chocolate chips divided (see notes)
1 cup (240 mL) heavy whipping cream
½ cup (70 g) roasted salted almonds
½ teaspoon ground cinnamon
2 large egg whites
⅛ teaspoon cream of tartar
¼ cup (50 g) granulated sugar
scant ⅛ teaspoon ground nutmeg
Instructions
Make the Chocolate Mousse: Place ¾ cup (about 95 grams) semisweet chocolate chips in a glass measuring cup. Fill a large skillet halfway with water and heat to a low simmer. Once the water is simmering, turn off the heat and place the measuring cup in the water, then stir until the chocolate is just melted. Remove measuring cup from the skillet and set aside.

In a stand mixer with the whisk attachment (or with a hand mixer), beat the whipping cream on high for about 1 minute, until soft peaks form. Pour in the melted chocolate and continue beating for several seconds until pillowy and fully combined. Divide the mousse into 4 small glasses, bowls, or canning jars (*the original recipe produces 6 servings; however I chose to make my servings slightly more generous). Refrigerate for about 1 hour. Wash the bowl of the stand mixer well. Egg whites will not whip properly if any fat remains in the bowl.

Make the Almond Layer: Chop the almonds. In a small bowl, stir them together with the cinnamon. Set aside.

Make the Meringue: As close as possible to serving time, return the skillet of water to just barely a simmer. Separate the egg whites and place in the stand mixer bowl along with the cream of tartar, sugar, and nutmeg. Hold the bowl just touching the warm water and stir with a wooden spoon until the sugar is dissolved and the mixture is fully combined and no longer gritty, about 2 minutes. You want to reach a temperature of 160°F (71°C) to ensure that the eggs are completely safe to consume. Rub the mixture between your fingertips to ensure the sugar is fully dissolved. Move the mixing bowl to the stand mixer and attach the whisk attachment. Beat the mixture on high for about 5 minutes, until it is bright white and glossy with stiff peaks.

Assemble the Parfaits: Top each glass of chocolate mousse with a handful of the almond mixture, then add the remaining ¼ cup chocolate chips divided between the glasses. Use a small spatular or spoon to top each jar with meringue and form it into peaks. Use a kitchen torch to brown the outside of the meringue for a few seconds, or toast the parfaits under a broiler for 2 minutes (*if you are using a broiler, ensure you are using heatproof containers and that the glass size allows for plenty of headroom in the oven). Serve immediately.
Tips For Success:
*Feel free to substitute the chocolate chips with chopped semisweet chocolate (60%-65% cocoa content).
While you can certainly use a large spoon or spatula to divide the mousse among the glasses, if you wish for a cleaner presentation, feel free to transfer the mousse to a pastry bag, fitted with a large round tip, and use this for distributing the mousse into the cups.
Make Ahead: Assemble the mousse and store refrigerated, then assemble the almonds and store in a sealed container at room temperature. As close as possible to serving, make the meringue and assemble the parfaits. Avoid refrigerating the meringue as it becomes tough when chilled.
Recipe reprinted and shared with permission from Pretty Simple Cooking by Sonja and Alex Overhiser (De Capo, February 2018). 
Serving: 1serving, Calories: 315kcal, Carbohydrates: 28g, Protein: 4g, Fat: 23g, Saturated Fat: 14g, Polyunsaturated Fat: 8g, Cholesterol: 45mg, Sodium: 33mg, Fiber: 2g, Sugar: 25g
I received a complimentary copy of the Pretty Simple Cooking cookbook from my friends Alex and Sonja, but all opinions are my own.
This post contains affiliate links, which means that I make a small commission off items you purchase at no additional cost to you. Please read my
privacy policy
for more information.