The Big News
What a great day!  Today I headed to Old Town, Alexandria to meet the lovely and talented Emily, who you all know from one of my absolute favorite blogs, the Daily Garnish.  It was my first blogger meet up to date and we had lots to discuss—specifically her experiences at CULINARY SCHOOL!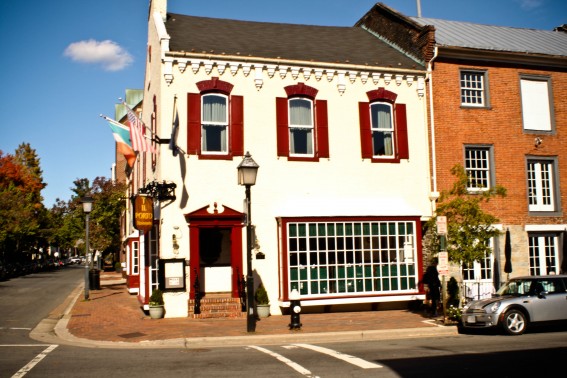 One of the real reasons for the huge roller coaster recently has been because I have been having major second thoughts about attending nursing school over the past couple months.   Though I kept most of these thoughts hidden from those around me, including my family, I have been joking and playing with the idea of culinary school for a while now.  Whether spurred on from working at the bakery, finally acknowledging my real passion (food), or dealing with the last of my nursing applications, I had an "ah ha!" moment one night at dinner with Connor last month.
The past several weeks have been spent researching culinary schools all over the country, as well as even attending a tour at one of the schools in the DC area, and telling all my family and friends about my huge change in plans.  It has been completely overwhelming and nerve wracking at times—lots of tears, but several more sighs of relief.  There was a combination of shock, but, to be honest, many more positive and encouraging words from those around me!  It seems a lot of people think this makes perfect sense.  I wish they would have told me that a couple years ago!  Just kidding, of course.
I have been debating whether I should go with a program geared towards culinary arts or specifically, baking and pastry.  I'll be figuring that out as I go through the process and learn more about the programs and, of course, share all the details with you!
The thought of attending culinary school is both exciting and a little scary—but ultimately, something I know I'm supposed to do.  Although I have a pretty good idea of where I might want to go—more details to come over the next week or two—it was so great to meet with Emily and talk about her experiences at Johnson & Wales, as well as how she has utilized her culinary degree since graduating. Thank you, Emily, for putting up with my multitude of questions and giving me much valued advice.
Now, if only I could see all of your shocked faces as you read the big news!
P.S. If you're new to the blog, a big hello and thank you for taking the time to stop by 🙂
P.P.S. I forgot to break out my camera during lunch, I was that excited!
This post contains affiliate links, which means that I make a small commission off items you purchase at no additional cost to you. Please read my
privacy policy
for more information.