The Okavango Delta Botswana: Part II
If you missed it, check out part one (of our honeymoon recap) here!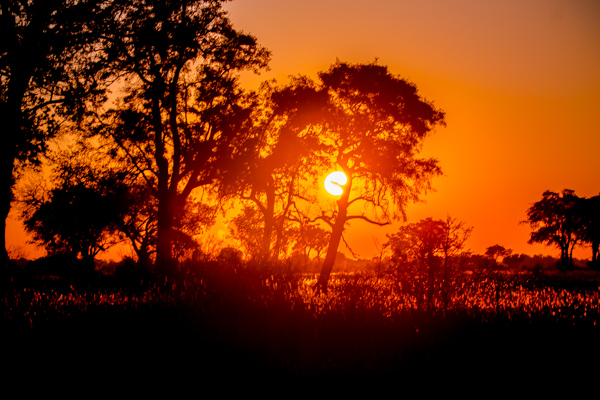 As you can imagine, we woke up on our second morning in the Okavango Delta with lots of enthusiasm for the day ahead! Part of me was wondering if anything could top our experience from that first game drive, but it really could only get better from this point forward.
Since the chance to see game is best in the early morning or late afternoon hours, our wake-up time from this point forward during the trip was usually between 5:30 AM – 6:00 AM in the morning. Not exactly leisurely, but we would rarely go to bed anytime after 9:30 PM (you'd be amazed what lack of internet and electronics can do for your sleep schedule!), so it was more than manageable.
Plus, the last thing we wanted to spend our time doing in Africa, especially after traveling that far, was sleep through the experience! Since sunrise wasn't until 6:30 or 6:45 AM, we'd take the short walk over to the main part of the camp, flashlights in tow, to have breakfast with our guide before heading out. At this camp, our game drives in the morning would last usually from 6:45 AM to 11:30 AM.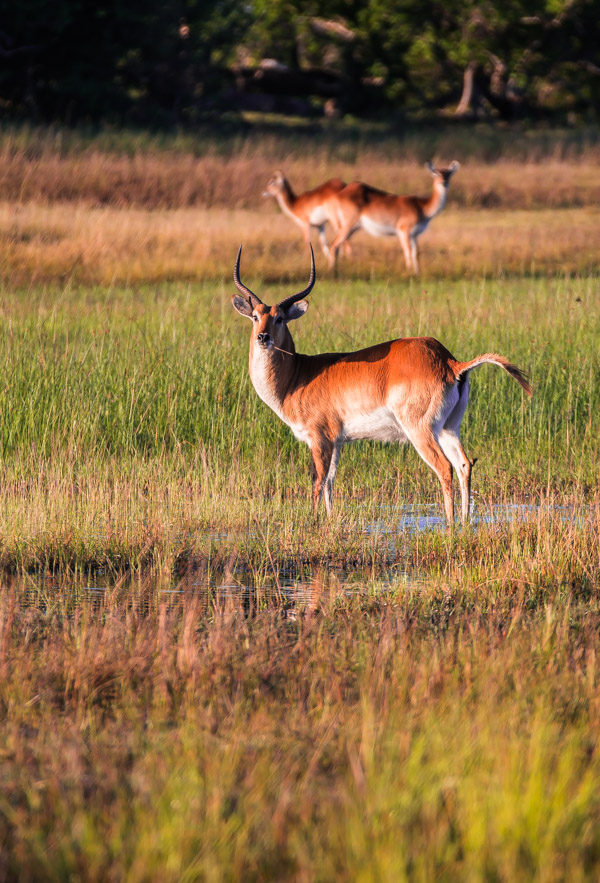 As I mentioned the other day, the sunrises and sunsets in Africa were truly spectacular. The sunrise was just as beautiful, particularly since the grasses, which almost looked like wheat, glistened in the morning light.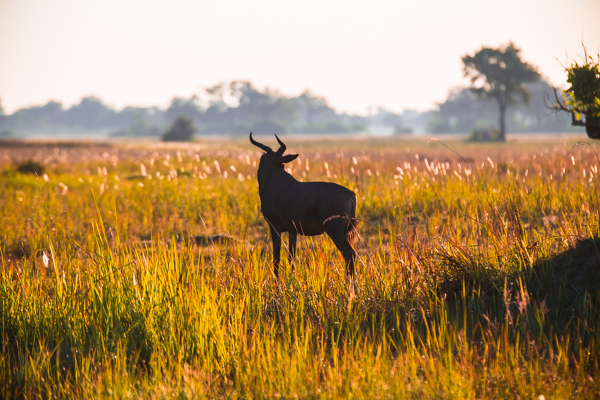 Just as the day before, we had barely driven more than ten or fifteen minutes before we stumbled across a large troop of savannah baboons hanging out in a large open field. There were probably twenty to thirty of them, at least, and I quickly discovered that they were one of the most difficult animals to photograph during the entire trip, as they had the tendency to move or run away constantly. The babies were particularly adorable though!
Later on during our trip, we got within a few feet (actually, feet is a bit of an exaggeration, inches is more like it!) of several very large baboons, but that story will have to wait for another day…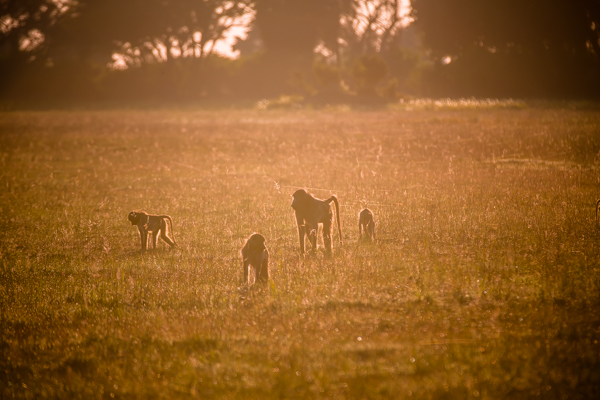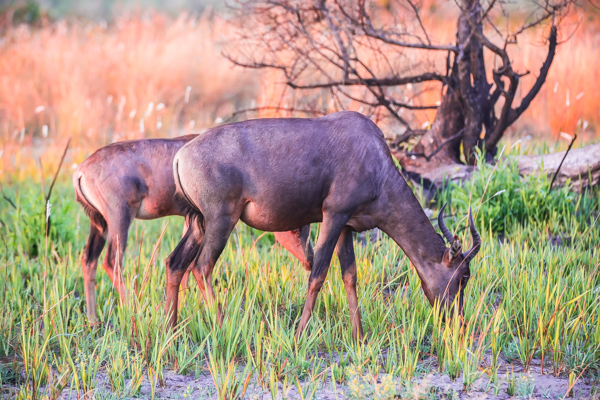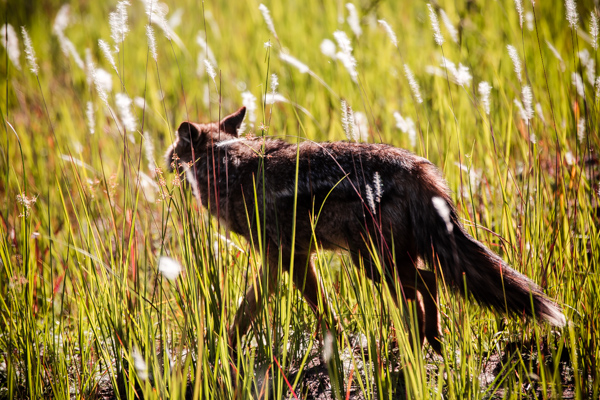 Our guide decided to start that morning's drive off by heading back to the same spot where we had discovered the leopard the previous day! As we drove into the tall grasses, we realized that the impala kill had been all but devoured and sure enough, within about 10 feet of our safari jeep, there was a different male lion crunching on the leftovers.
As our guide, Aubrey, told us, this male lion was not supposed to be in this area (which happened to be the territory of three, much larger lion brothers). At this point, he stopped the engine and we could hear several low, guttural sounds of other lions in the distance. The lion's ears perked up immediately, and he began to walk away.
We quietly followed along behind him, and watched him get a drink (clearly gearing up for the journey ahead of him) before taking a grooming siesta in a small clearing among some trees.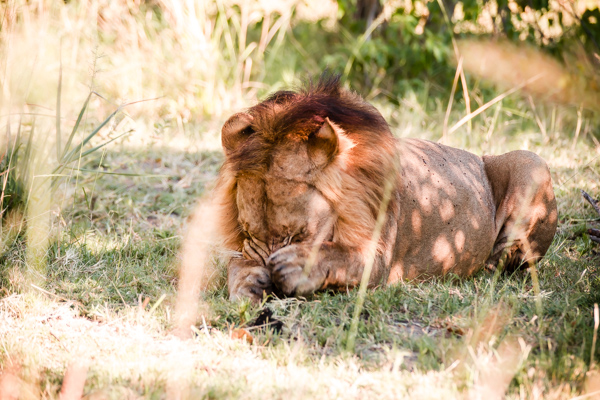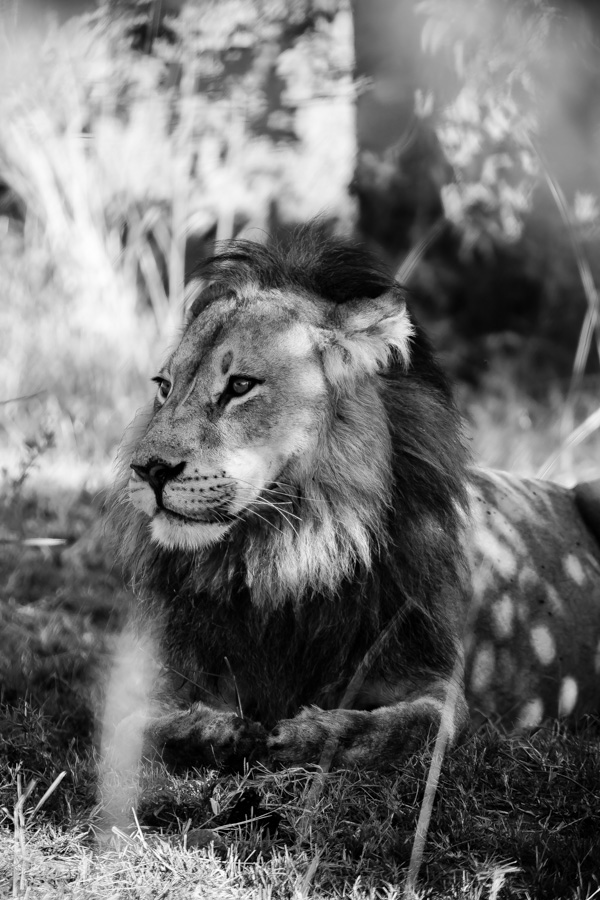 Camouflage at its best, am I right?
I have to say, it is an indescribable thing to see these animals in their wild habitat (aka. not a zoo or enclosed habitat). If you're animal lover–like myself–there is nothing quite like it.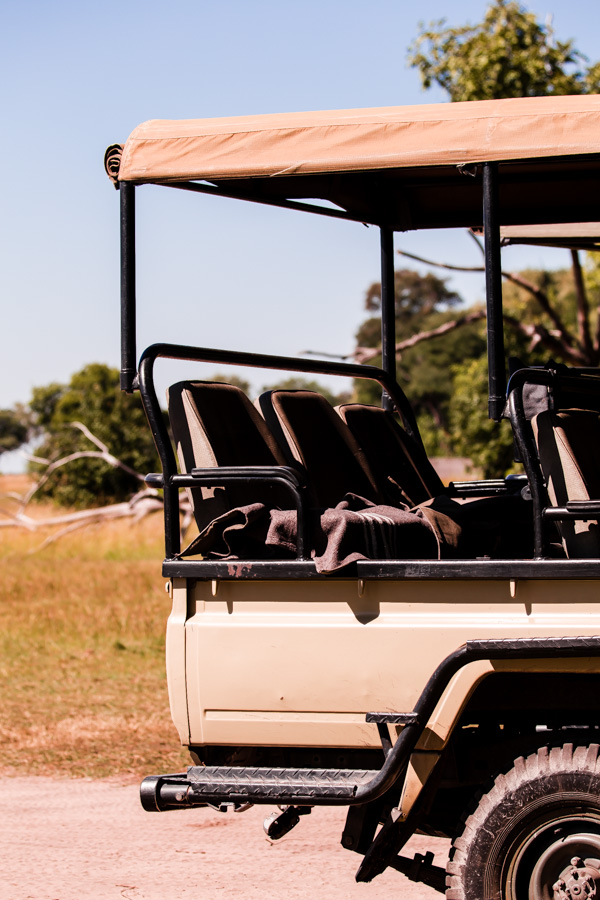 At this point, we could still hear the occasional low guttural sounds of the lions in the distance. Our guide turned to us and said, "Do you want to track the three male lion brothers?" Um, yes please!
I swear, it sounded like those lions were within about a half mile or less of us at the time, but we probably drove nearly an hour (or longer) to try to find them. Granted, since you're driving through water and on very bumpy ground the majority of the time, you can't drive more than 5 to 10 miles an hour at most–but still.
The tracking skills of our guide were undeniable, and I still can't quite believe we were able to find them based on the occasional footprint here and there. After all, the tracks are only truly visible on the most sandy parts of the ground (generally the area where jeeps had driven over a few times or so), which are not exactly abundant.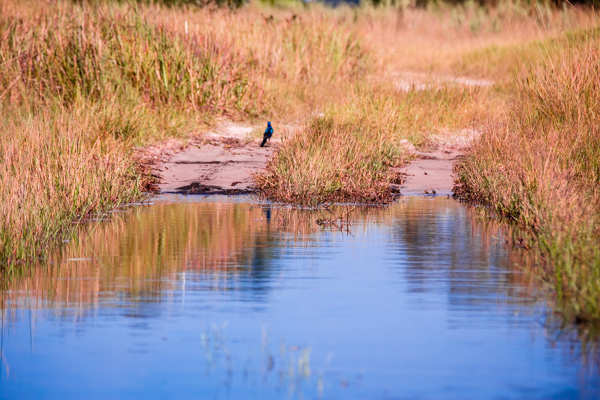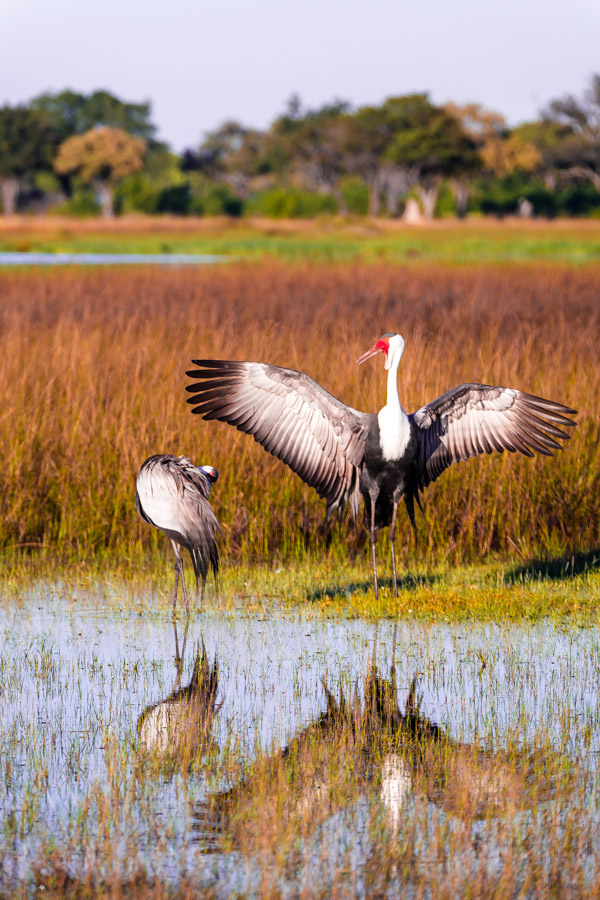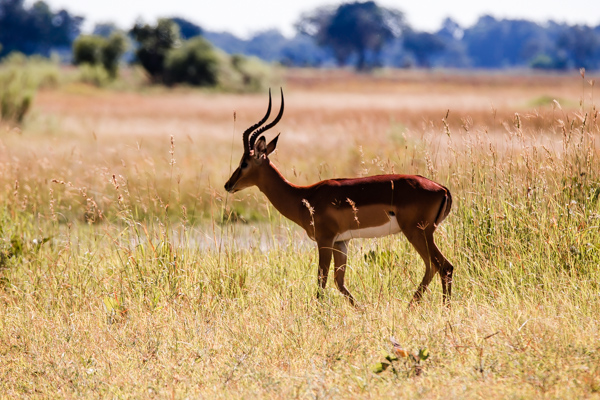 After about an hour, we could no longer hear the lions and we (or at least, I) was pretty sure we had lost them at this point. And then, we drove just a bit longer…
Three huge male lion brothers, sitting in the shade just off the road tracks, panting in the afternoon heat. Oh, and they were like ten feet away at most. Obviously, we'd seen a few other male lions up to this point, but these lions were huge. Huge and even more stunning (if that is even possible), as these three brothers had gorgeous black and orange manes that reached all the way down to the bottoms of their stomachs.
Our guides (and fellow guest) explained that they have been seeing these three male lions together ever since they were small cubs. Again, they really didn't seem very bothered or interested in us in the slightest. Thankfully.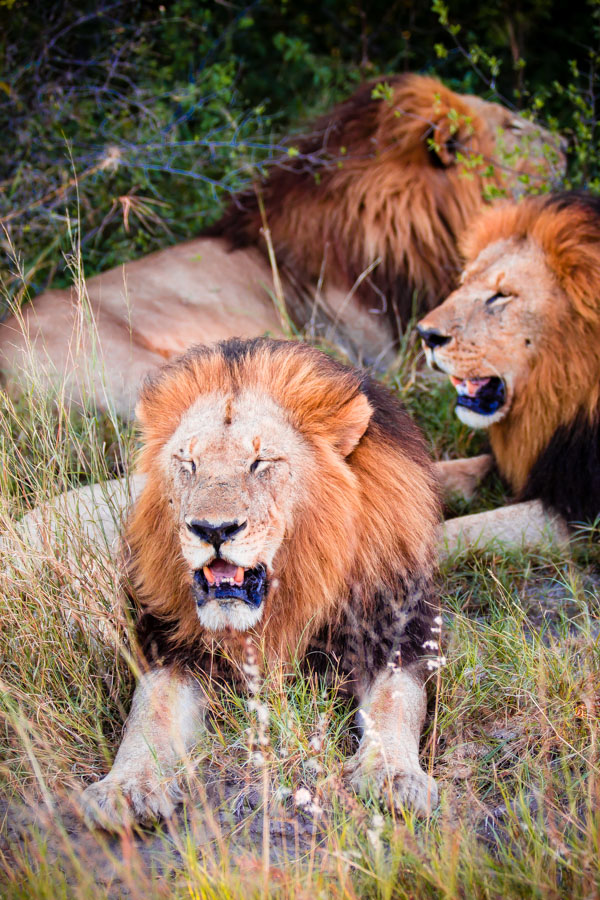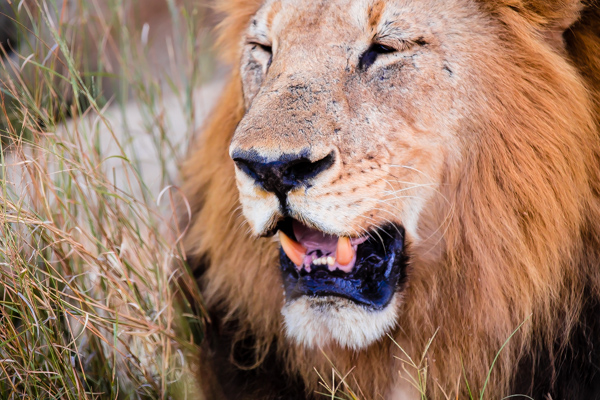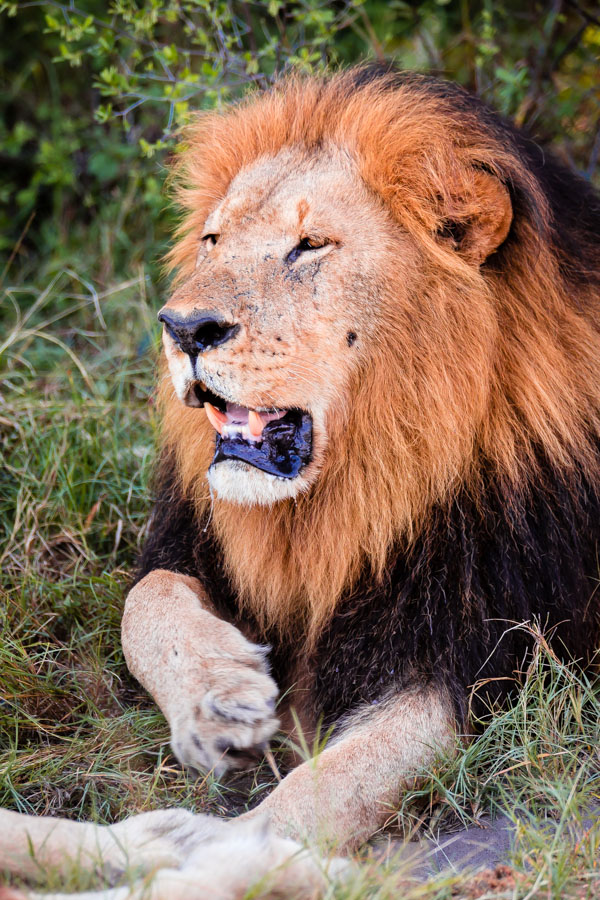 We probably stopped the car and just watched these three lions for more than 45 minutes. It was incredible and one of the biggest highlights of the entire trip!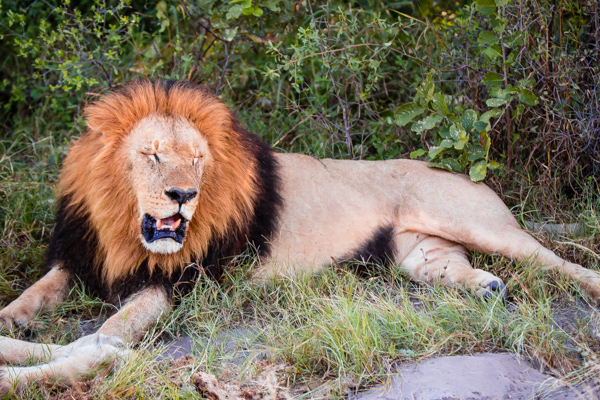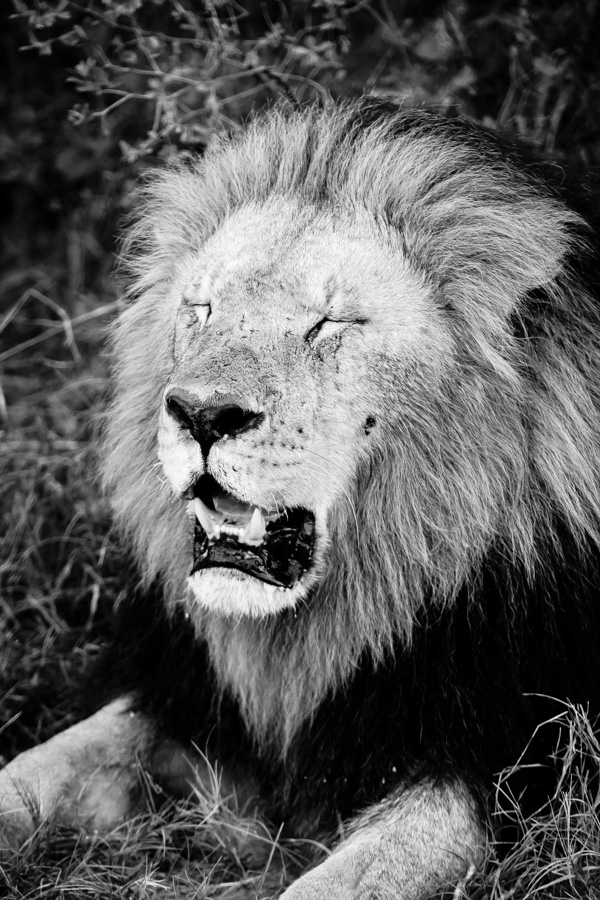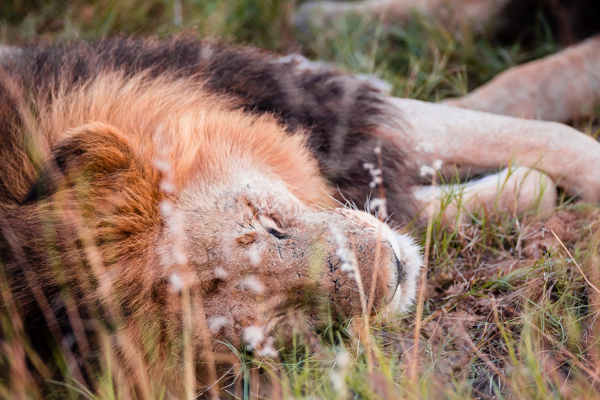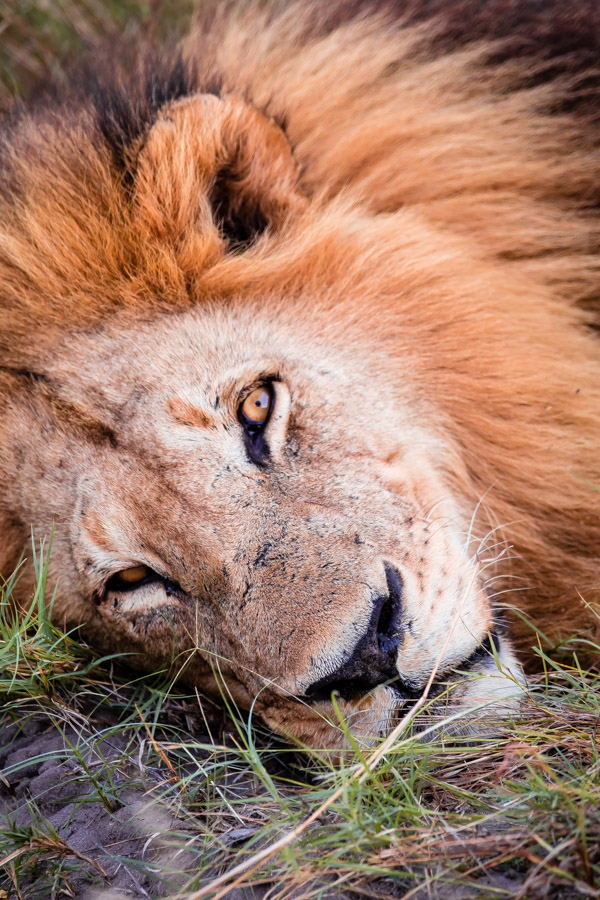 I mean, seriously, how piercing and beautiful are those yellow eyes? It was almost as if these three brothers had decided to give us a break, plopped down in the middle of the road, and waited for us to find them. Why, thank you!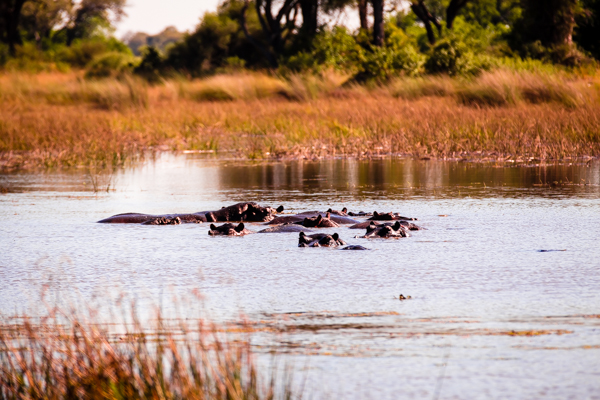 After gawking at the lions, we were nearly an hour and half's drive away from camp, so we headed back for lunch, before leaving only a few hours later for our afternoon drive (which generally lasted from around 3:30PM to 6:30 PM, or just after sunset).
Usually, we only had about an hour or so to relax in our tents (see what I mean by "tents"?), and we would often take a nap. It's surprising how exhausting you feel after doing relatively…nothing. Probably one of the most obnoxious statements to ever be made, but I think the adrenaline from watching animals all day catches up with you.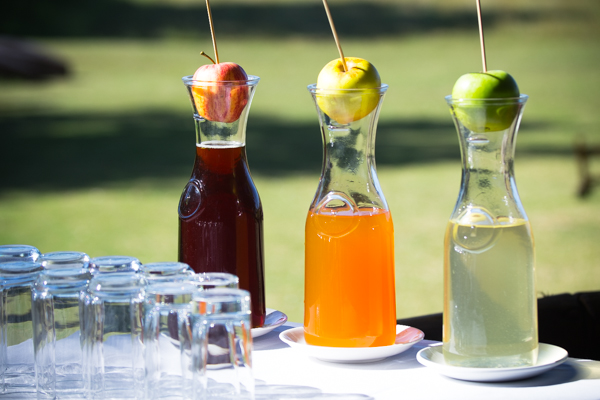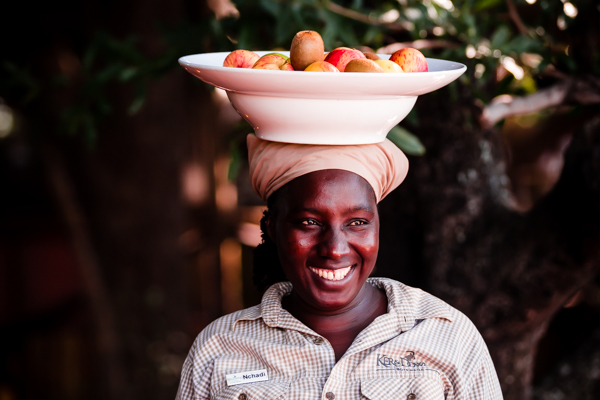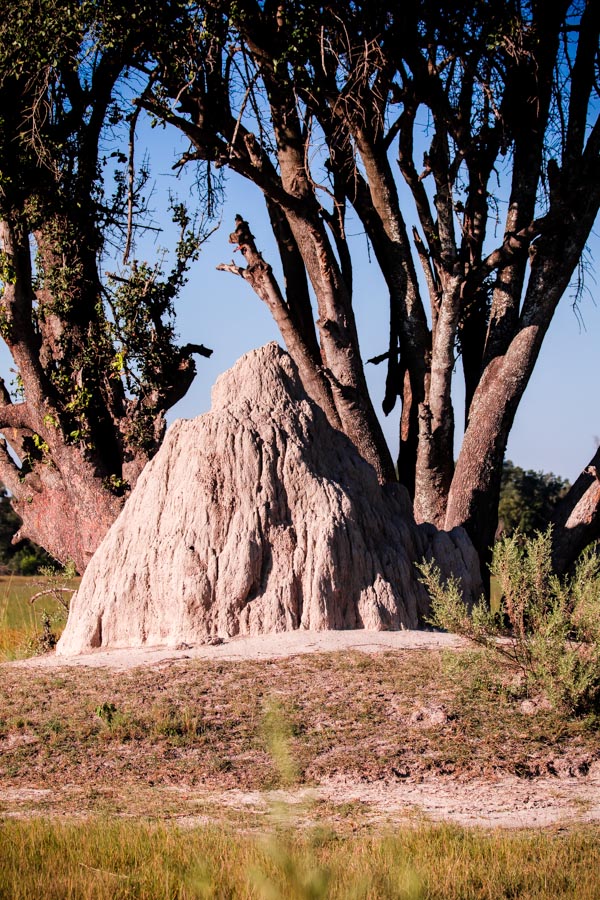 That afternoon, we left for our game drive. We saw our friend, the broken tusk elephant, once again and our first larger herd of wildebeest, but for the most part, our first hour or so of driving was relatively quiet.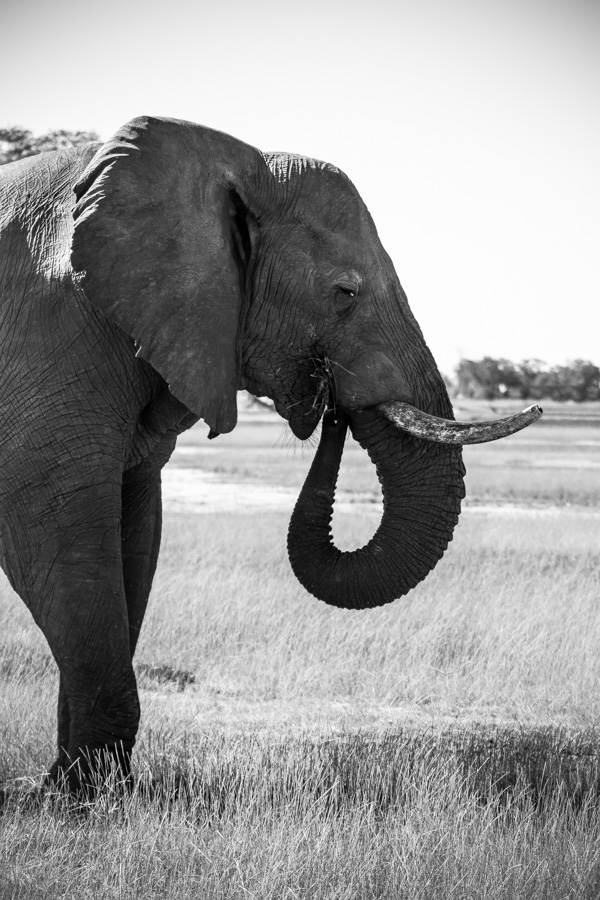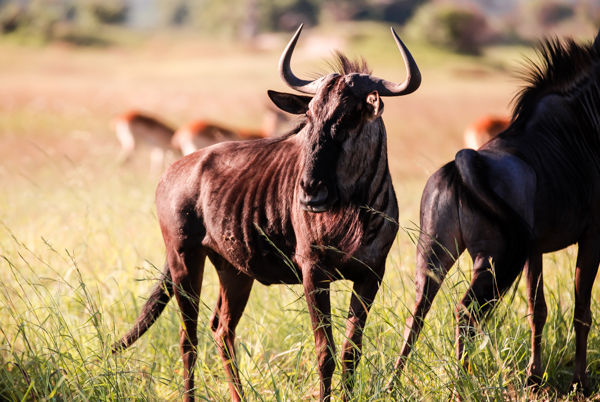 Within one open plain, we came across a ginormous hippo skull and vertebrae. We hadn't come across many animal remains or bones up to this point (aside from the leopard and lion kill), and it was remarkable and in a weird way, just as exciting as seeing real live animals.
Our guide explained that the hippo had probably been killed in a fight (most likely with another hippo) about five months prior. The tusk-like teeth were almost six inches long and it almost looked prehistoric.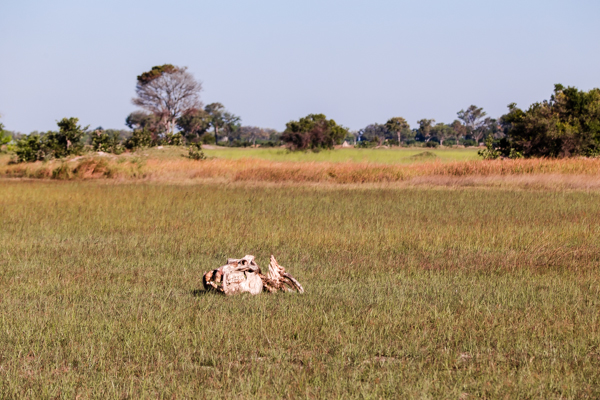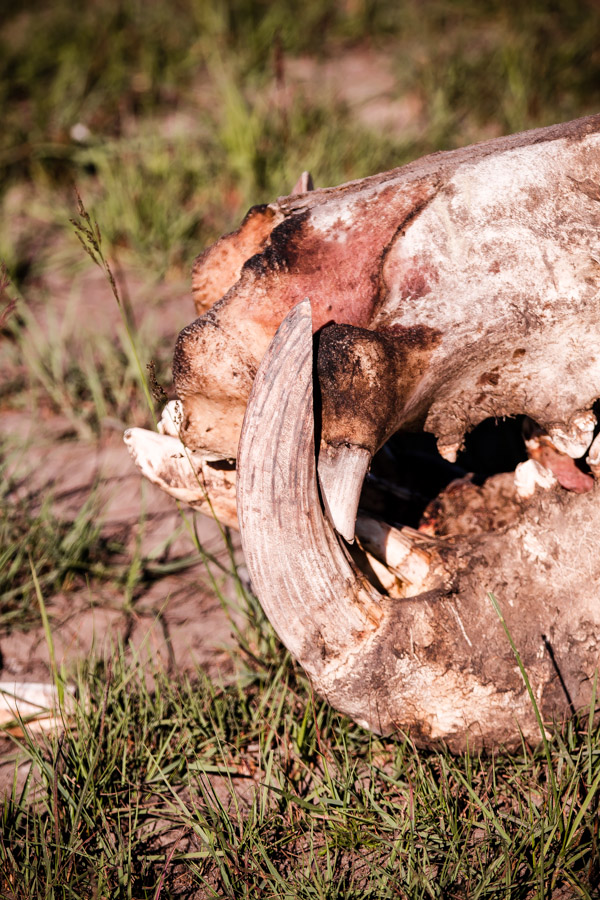 I knew this leading up to the trip, but hippos are actually the most dangerous (defined by number of people killed each year) animal in all of Africa. Another reason why I was extremely happy that we were staying in a raised tent, as we had most likely been just a few feet of one the previous night.
They are incredibly territorial, especially over anything that gets between them and the water, which is essentially their only line of defense against other predators.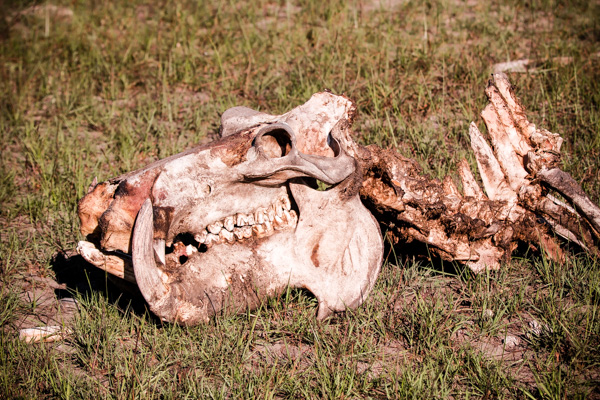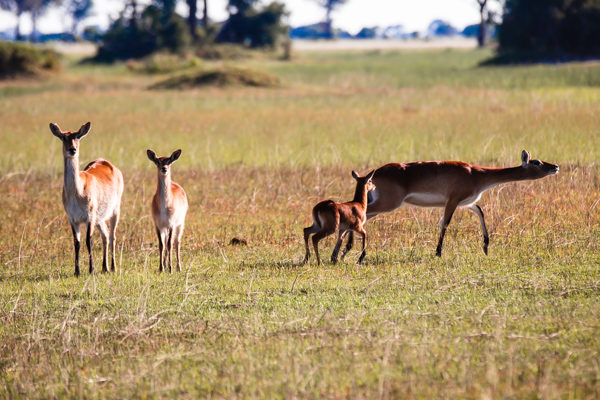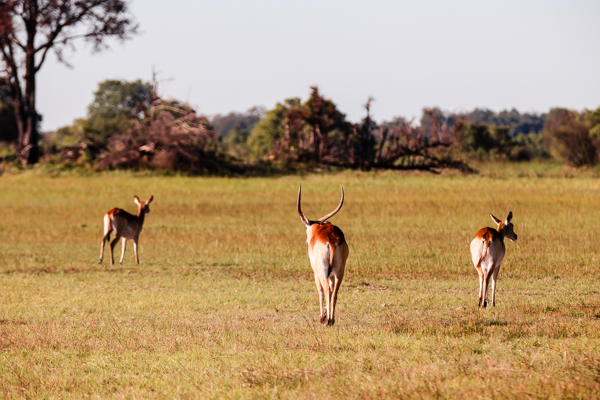 After stepping out of the vehicle to look at the hippo remains, we kept driving for about a half hour, seeing only a few impala every now and then. As much as our first few days almost make it seem like animals are everywhere, this is not really true.
There are so many places for these animals to hide, and unless you have an experienced tracker, I'm sure you could drive for hours and see very little. Just another reason why Connor and I were pinching ourselves that we had seen so much in a such a short amount of time.
I was pretty sure we wouldn't see much else during this drive, and then our guide said, "There is a leopard in the tree ahead of us." At this point, we were still hundreds of feet away and if he hadn't have pointed it out to me, I probably would have missed it altogether. Sure enough, after straining my eyes, there in a huge tree smack dab in the center of a huge plain, was a leopard.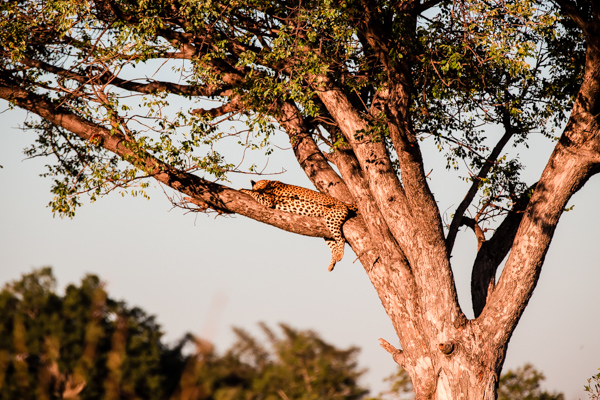 We drove to the tree and stopped about 15 feet away from it. The leopard (the same female leopard as the day before), about 20 feet above us, looked down at us groggily. As you can imagine, it was an unbelievable moment (again, we stayed at this tree for probably 45 minutes longer). The previous day the leopard had been lying in very, very tall grass, so although it had been an amazing sighting, it was nothing like seeing the leopard out in the open and in all of its full glory.
Literally jaw-dropping. Oh, and if that wasn't enough, the sun was slowly starting to set, so the lighting was literally perfect.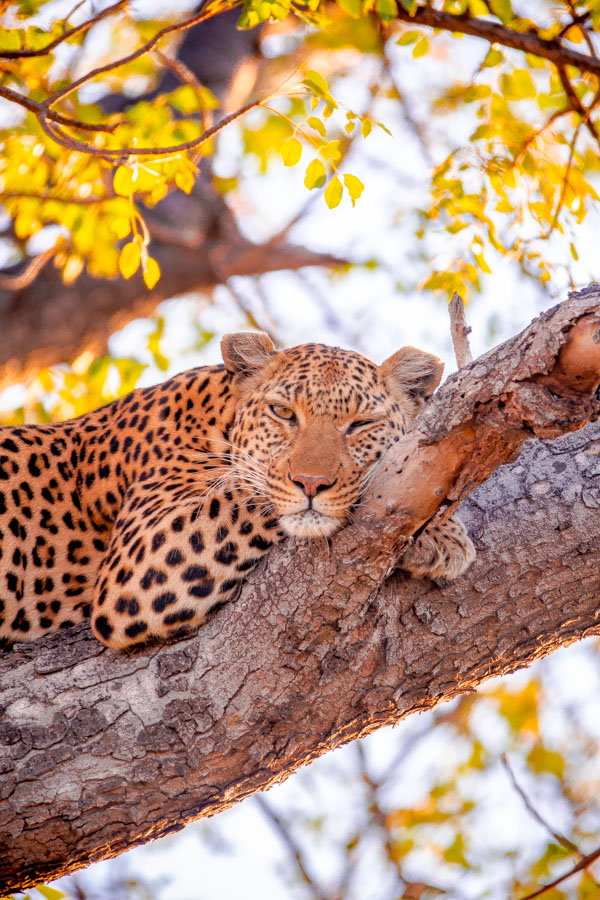 It could not have been more picturesque. Its legs were straddling this huge branch with its tail sticking out from the other side of the tree. This was literally a once-in-a-lifetime sighting, and as you can predict, I probably took more than 200 photos.
Let me tell you, it is hard to stop taking photos when you are looking at an animal this beautiful. Let alone one that is posing perfectly in a tree just 15 feet away from you. I had to force myself to put away the camera and just enjoy the moment.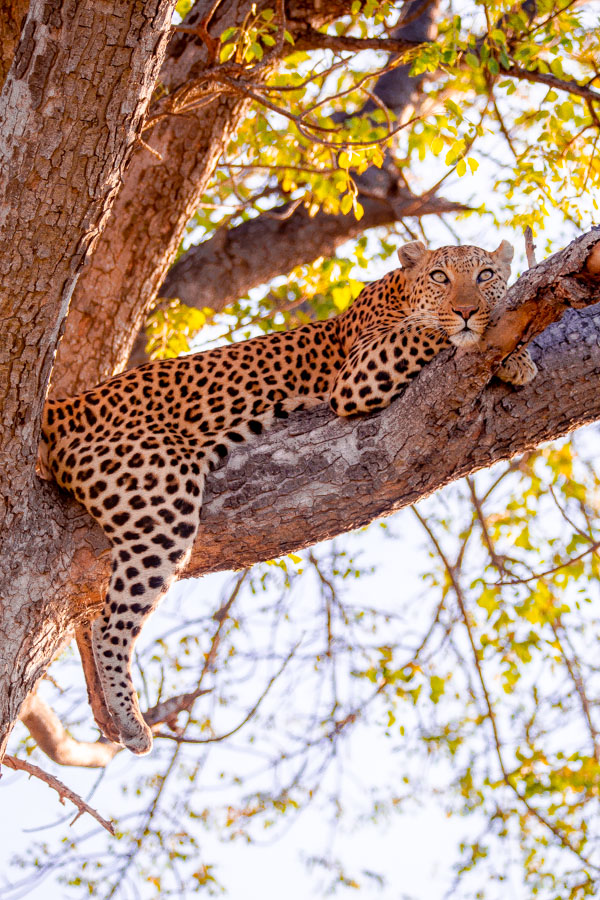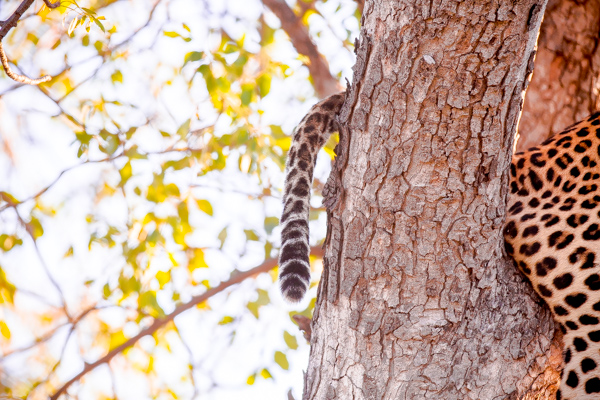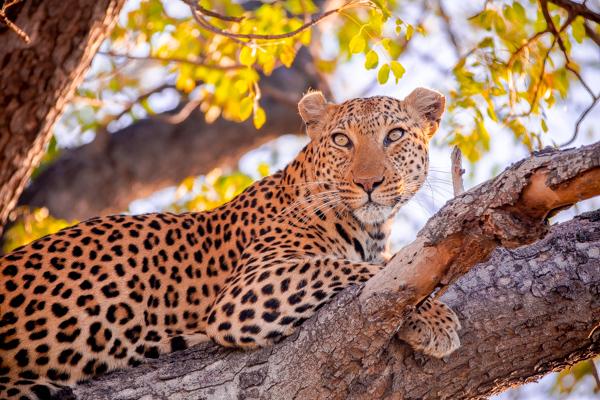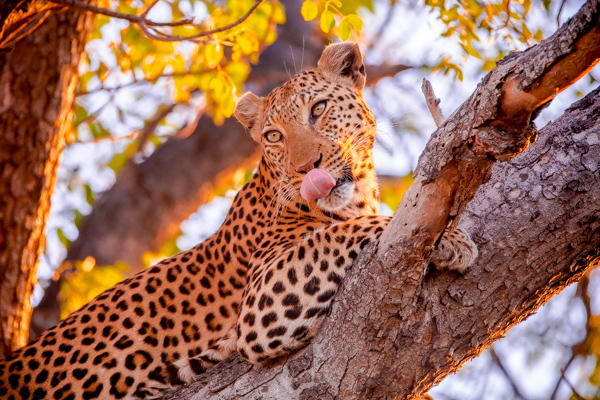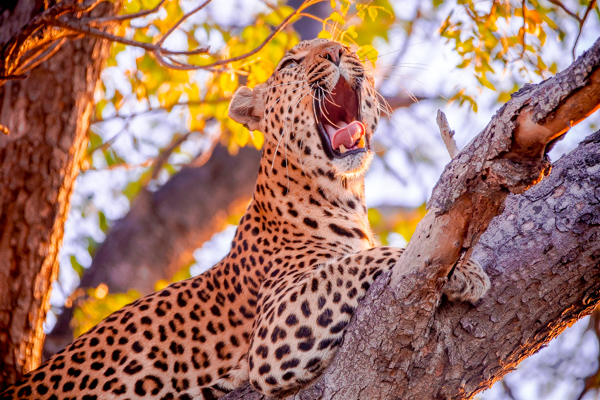 About 45 minutes later, the leopard jumped out of the tree (another experience to watch in and of itself–um, it's almost terrifyingly easy for them) and slowly strolled off. Our guide explained that they usually will lounge during the day and hunt in the late afternoons/evenings.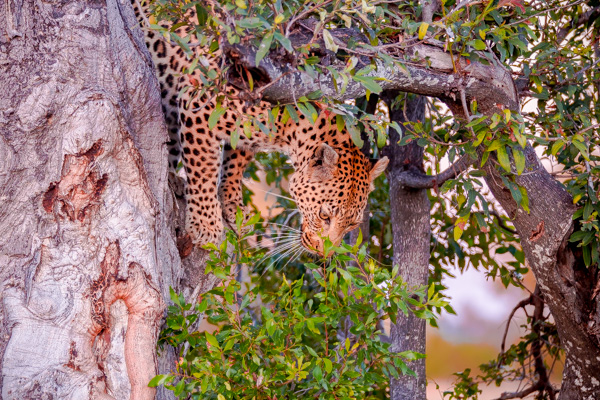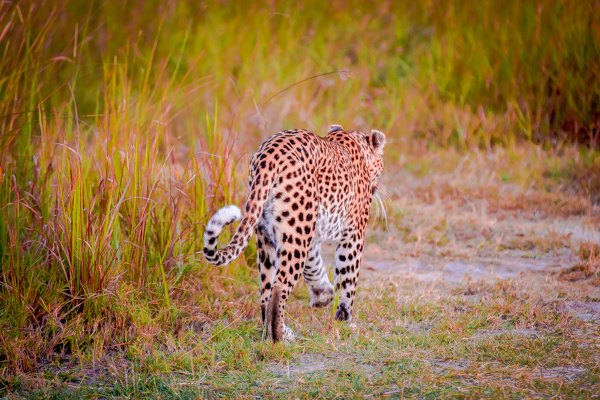 During this time, we had learned that our guide, Aubrey, had actually been quietly tracking the leopard during the entire afternoon drive.
Just as the day before, we drove back to the camp feeling incredibly, incredibly lucky–and excited for our all-day game drive the following day (something our guide offered to us earlier that day).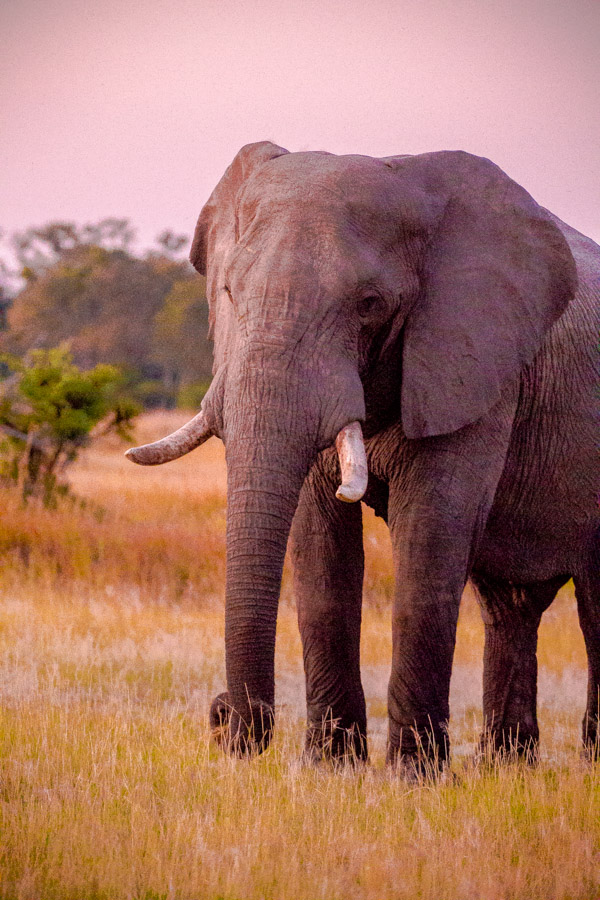 Oh, and the sunset was just as beautiful as the day before.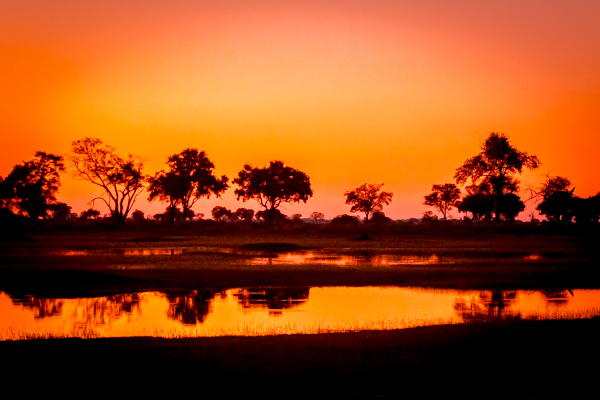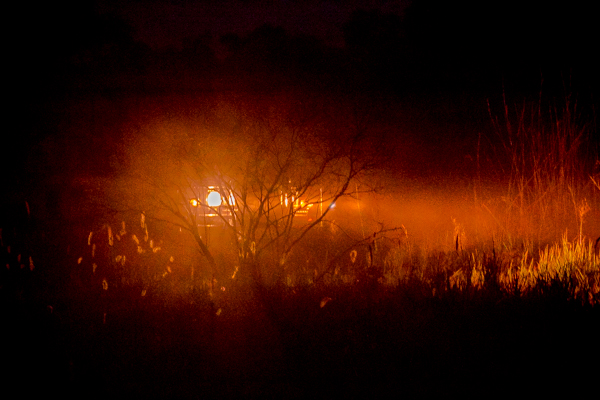 Stay tuned for Part III of our honeymoon recap in the Okavango Delta Botswana (you won't want to miss this next one!)…
This post contains affiliate links, which means that I make a small commission off items you purchase at no additional cost to you. Please read my
privacy policy
for more information.