The Okavango Delta Botswana: Part I
Looking for more? Read part two, part three, part four, and part five of our African honeymoon posts.
A little more than two weeks ago, Connor and I were traveling all over Africa on our honeymoon and here I am, finally sitting down to write this post (full disclosure: of many) from our apartment in Chicago.
Did all of this just happen?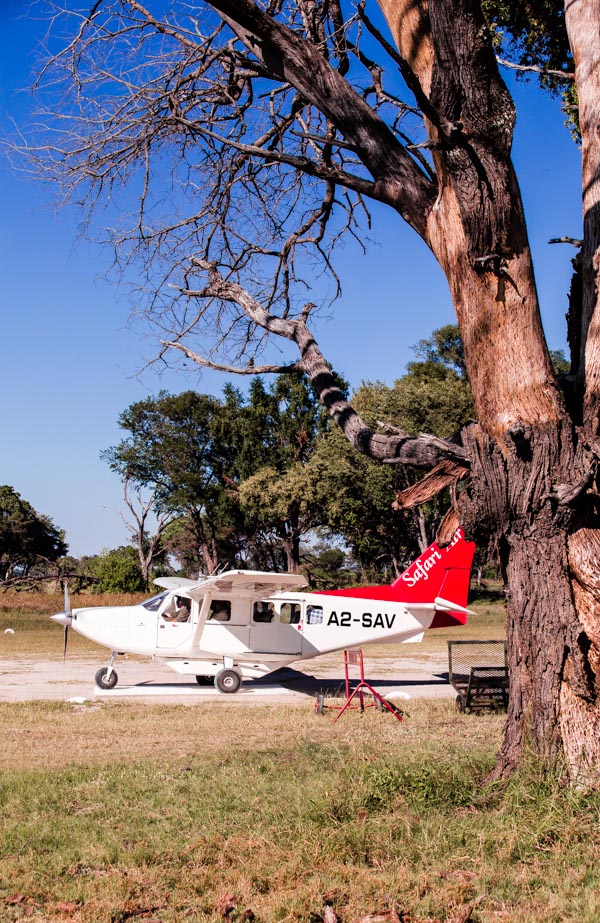 Just over three months ago, we were in the thick of wedding planning and had no idea where life would take us in the crazy weeks ahead. Within the next eight weeks, we learned we would be moving to Chicago for the next five years, got married (no big deal), searched and found our new home in Chicago, visited four different countries in Africa, packed up all of our stuff, rented a U-Haul truck, and drove the 700 miles (with our sedated cat, Max, and my obliging, non-sedated parents) to Chi-town.
Aside from feeling an immense amount of guilt over my lack of posts or updates in the past several weeks (in hindsight, my plans were way too unrealistic), I feel pretty good. I think? I'm either in denial, shock, or have quickly transformed into the most relaxed version of myself that exists.
But, oh boy, do I have some stories for you…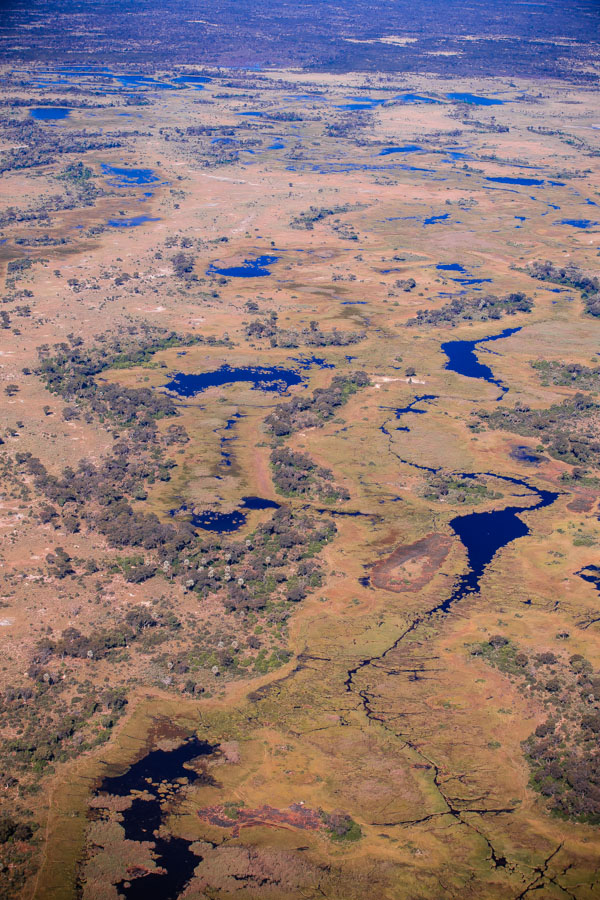 Let's start with the honeymoon, shall we?
It didn't take either of us long to decide that Africa (and specifically, a safari) was our dream honeymoon destination. Africa has been on both of our travel bucket lists for as long as we can remember, and we knew this might be one of the last opportunities we would have to take a trip like this for a very long time. In fact, we started planning the honeymoon before we even started thinking about wedding details.
Due to Connor's schedule, we knew we would have to wait a few weeks after the wedding (we literally left the morning after his medical school graduation and returned home with just seven days left to pack and move), but we could make it work.
After speaking with a travel agency, we focused in on Botswana (specifically the Okavango Delta and Chobe National Park area) and South Africa for several reasons. Depending on the time of year and water levels, different countries are more ideal for viewing game than others. We had also heard amazing things about Botswana from a few family friends! It was remote, wild, and offered a true, authentic safari experience.
Since Botswana borders Zimbabwe and Zambia, we also decided to squeeze in two nights at Victoria Falls. It was an ambitious travel schedule (and most likely the opposite of most people's version of a relaxing honeymoon), but we knew we wanted to see as much as we could during our trip.
On Monday, May 18th, we left Washington, DC and started the long journey to Johannesburg, South Africa. We used practically every single airline mile that we've ever accumulated to get business tickets on Ethiopian Airlines for the journey–and let me tell you, it was totally worth it. Fourteen hours later, we arrived in Addis Ababa, Ethiopia to make our connecting 5.5 hour flight to Johannesburg.
We even got to enjoy some traditional Ethiopian food on the plane!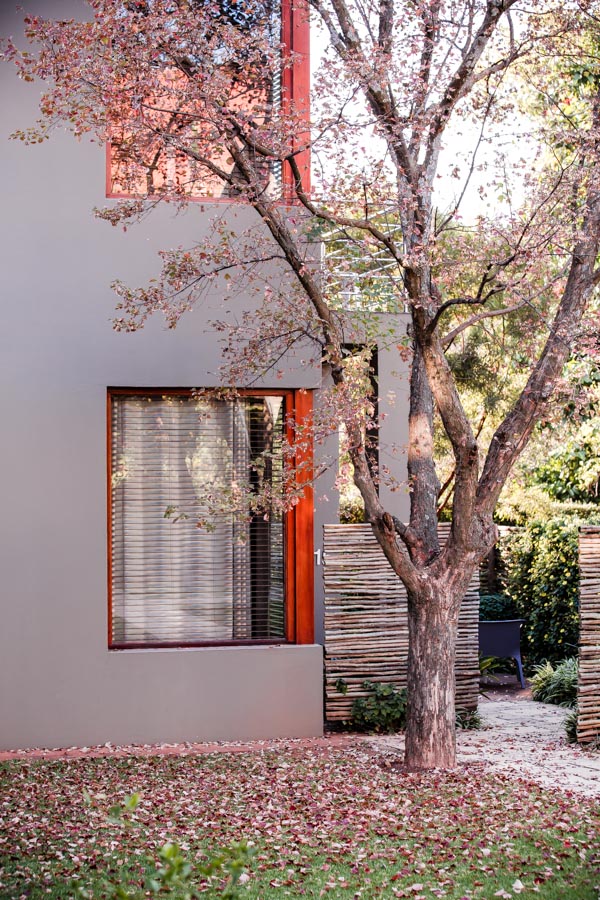 We arrived in Johannesburg in the early afternoon, and spent one night at a beautiful, boutique hotel (where we happened to try springbok carpaccio of all things!) on the outskirts of the city before catching our flight to Botswana the next day. Despite having not slept that much on our flights and having jet lag, we were in pretty good shape and ended up sleeping through most of the night.
The next morning, we drove back to the airport, where we boarded a short regional flight to Maun, Botswana. Once we arrived in Botswana, we boarded a six-seat Safari Air puddle jumper to our first safari camp in the Okavango Delta.
Let me tell you, a six-seat puddle jumper is as small as you think it is (Connor actually sat in the co-pilot's seat during one flight–I kept repeating, "Don't touch anything!" the entire time). Depending on where people are traveling, it will also make several stops similar to that of a bus.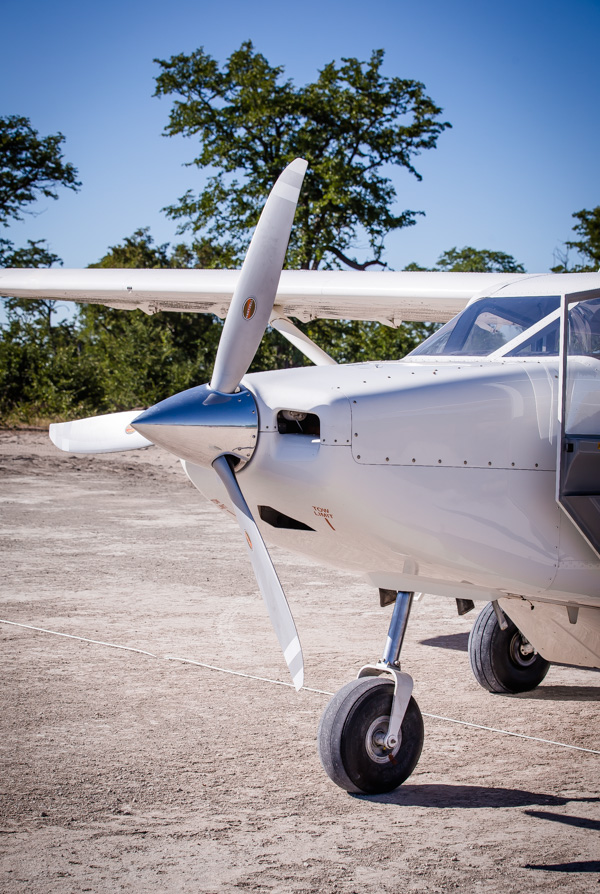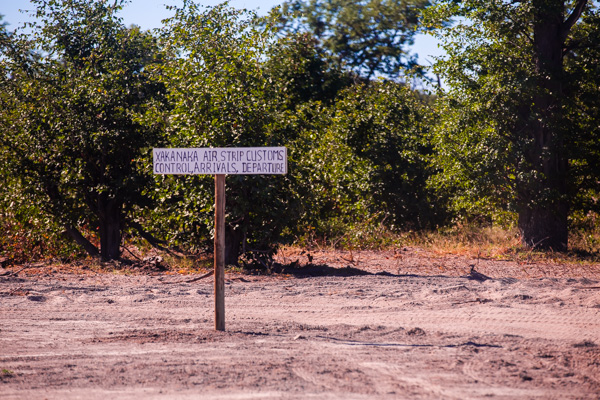 After departing Maun, paved airstrips were replaced with incredibly remote, dirt airstrips. Since the dirt airstrips have no lighting or signage, the planes can't even land or take off when it is dark. These airstrips were smack dab in the center of the delta, so most of the time wildlife was strolling across it (including several warthogs, which greeted us at our first camp much to my delight!).
The country of Botswana is roughly the same size as France and only has two million residents. Our Safari Air flights ranged anywhere from 30 minutes to 1 hour in length. To give you a little perspective, we saw practically no signs of human civilization during these entire flights.
Botswana is that remote.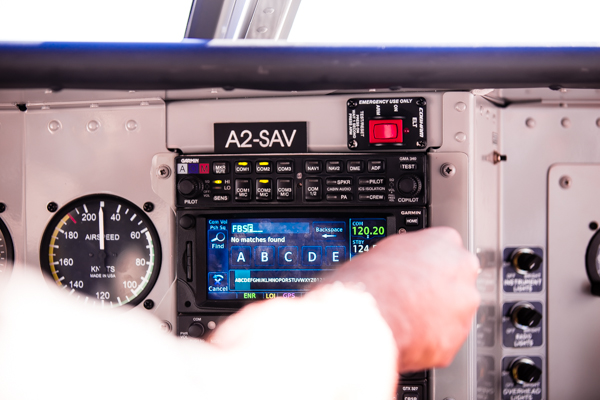 Most of the time, the pilots would fly only a few thousand feet off the ground, so the puddle jumper flights also happened to be a lot of fun because you could often spot wildlife from above. We actually saw our first elephants, impala, and wildebeest of the trip from our tiny Safari Air plane.
The Okavango Delta, one of the largest inland deltas in the world, is actually one of the Seven Natural Wonders of Africa and is a Natural Heritage site. Although the water levels vary throughout the year, the year-long access to water allows animals and birds to live there all year long.
Our first camp in Botswana (where we spent the next three nights) was located within just half a mile of our first dirt airstrip. Although we had left Johannesburg that morning, we didn't arrive at our first camp until almost 4 o'clock in the afternoon. Since most safari camps organize morning and afternoon drives every day, within about five minutes of getting to the camp, we actually dropped off our things and went on our very first safari game drive!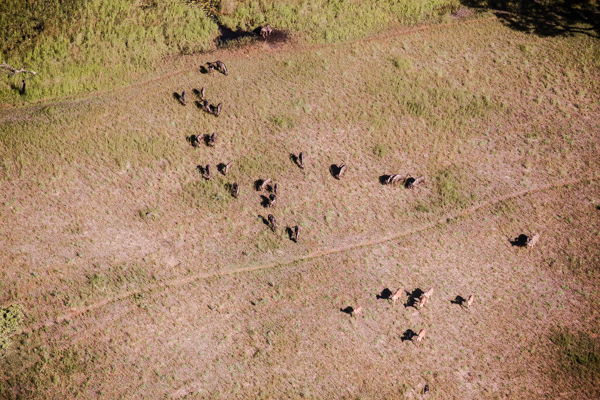 Although our camp could accommodate about 18 guests, they would break us into small groups for game drives, which made for a much more enjoyable safari experience. From that point on, we traveled with the same, incredibly knowledgeable and experienced safari guide (Aubrey) and one guest (Cindy) for the remainder of our time at the camp.
It was great, because it gave us a chance to get to know our guide, ask as many questions as we wanted, and made the entire experience more intimate.
Whether we had luck on our side, we couldn't have asked for a better first game drive experience! Within just under three hours, we saw our first elephants (up-close!), leopard and lion (both feasting on separate kills), baboons, kudu, impalas, warthog, jackal, and countless birds.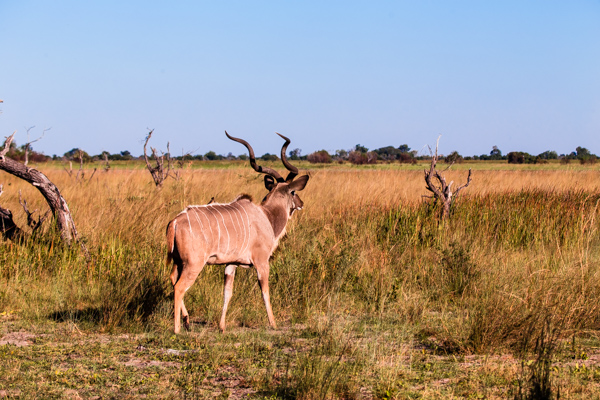 One of my favorite animals that we saw on the entire trip (on several occasions), much to my surprise, were kudu. A species of antelope, they were roughly twice of the size of a deer, and the adult males had the most beautiful spiral horns.
This guy was providing a ride to several oxpecker birds, which were busy eating parasites and bugs off of its back.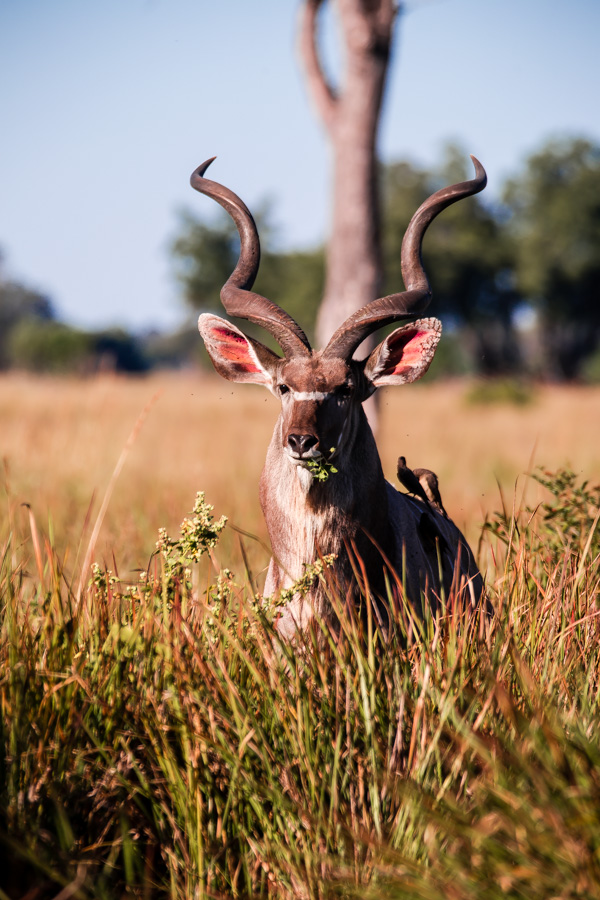 The Okavango Delta has extremely diverse landscape. Most of Botswana is completely flat, but we would drive through flat, wide open plains, areas that had more shrubbery and small trees, as well as drive through water that was often times several feet deep.
I can't even begin to describe (or even show) just how amazing the landscape was, but the smell was absolutely incredible! I know that sounds a little bit strange–after all, there's a lot of wildlife in the area–but we soon learned on our drive that the area is filled with tons of wild sage (picture below) and wild basil.
As the jeep would drive through the grasses, the air would fill with the smell of it! I wanted to bottle it up.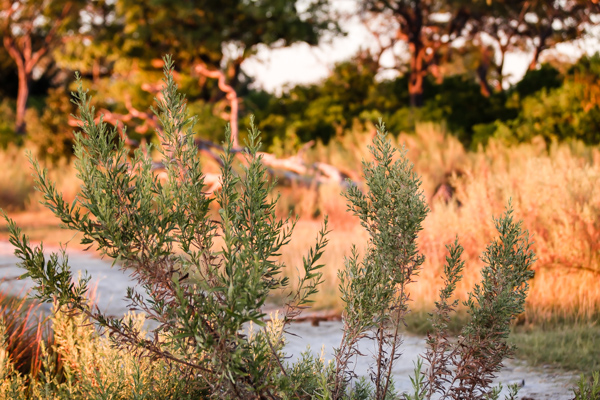 Within just ten minutes of driving from the camp, we had already spotted our first male bull elephant. It had just taken a swim, and was busy eating.
Of course, I immediately started snapping pictures assuming we wouldn't be getting much closer. I had rented a mid-level telephoto lens (and extender, which essentially doubles the length of the telephoto lens) for the trip, and assumed that it would be necessary to get close-up pictures during our safari drives.
However, I couldn't have been more wrong. Don't be deceived by my pictures! It was rare that we were more than 30 feet away from any animal that we spotted during our drives (most of the time, we were within about 10 to 20 feet), so most of the time, the lens was an added bonus–and certainly helpful and worth it–but not necessary in the least.
To give you an idea, we were less than 20 feet away from this elephant when I snapped this photo!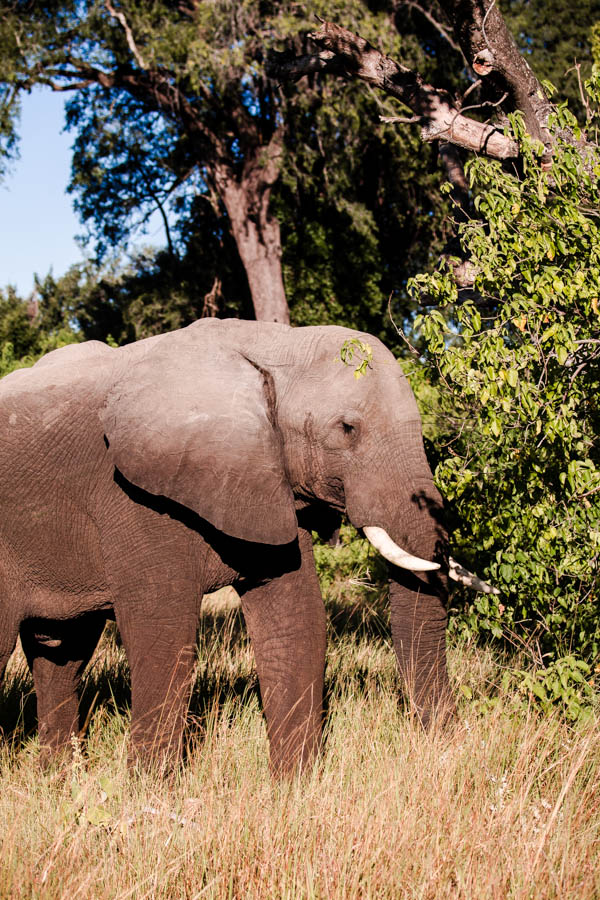 Meanwhile, Connor and I couldn't stop grinning from ear to ear (clearly our first safari high). Within about five minutes of that, our guide, Aubrey, mentioned that they had tracked a female leopard earlier that day not far away (eating an impala kill) and we would be heading there next.
Honestly, we weren't sure if we would see a leopard during the entire trip, let alone within just an hour of our very first game drive. It was surreal and incredibly exciting.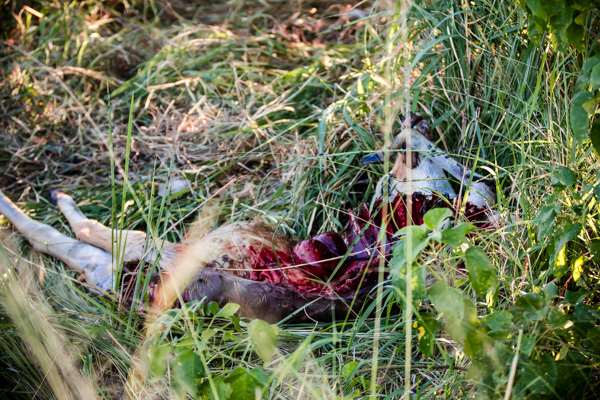 About twenty minutes later, we arrived in a grassy area and within just ten feet of the kill, there was the leopard lying perfectly hidden amongst the tall grass. Our first leopard. Ten feet away from our safari jeep. I couldn't believe it.
We turned off the jeep and probably watched that one leopard for more than 20 minutes just lying there. It was exhilarating and quite honestly, a bit terrifying at the same time. I was never expecting to get this close to anything, let alone a leopard. Even more surprising? It didn't seem bothered by us in the least.
In fact, it seemed pretty bored by the whole thing. We learned later that animals tend to see the safari vehicles and the people in them as one large object/animal (similar in size to an elephant), which is why you are instructed never to stand up, stick your arms out of the truck, or make sudden movements.
Granted, this did not stop me from thinking it could leap up onto the truck at any time and eat me for dinner.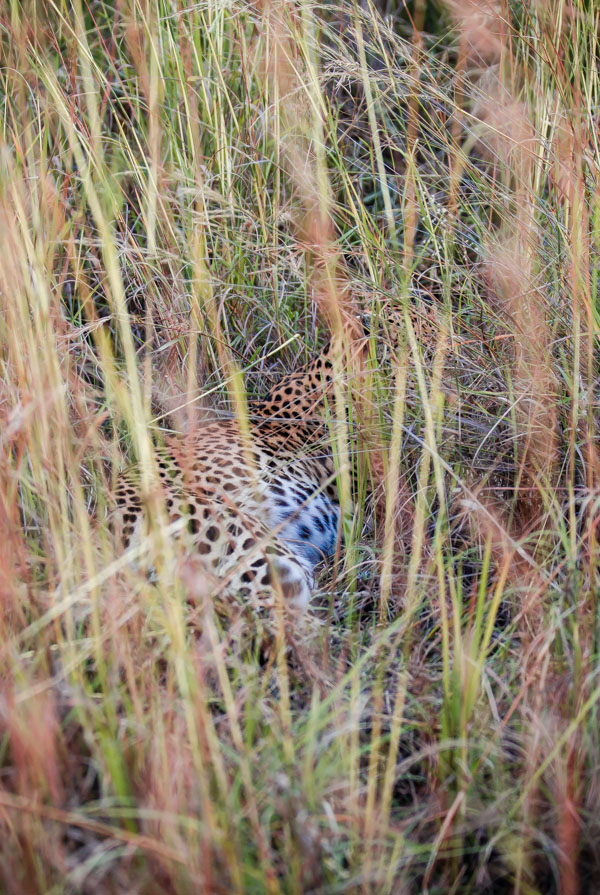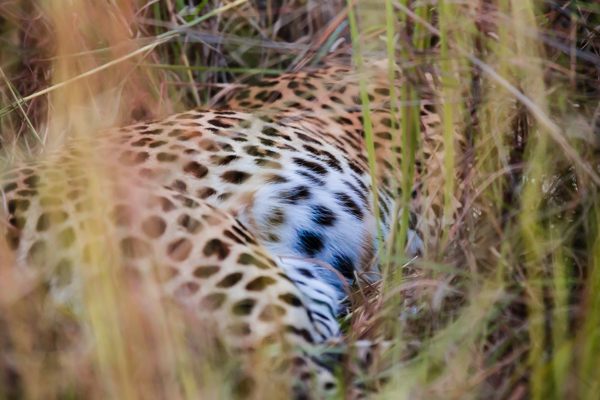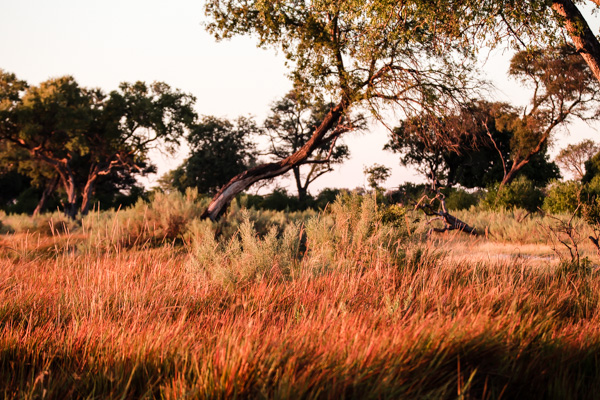 Just thirty minutes later, we saw our very first, relatively young, male lion eating a male kudu. Once again, luck was on our side that day (and we were also incredibly lucky to have a very, very skilled guide who could track practically any animal print he came across).
We came just within about 15 feet of this guy, and he couldn't have cared less. He was far too busy eating his dinner (we could actually hear bones crunching).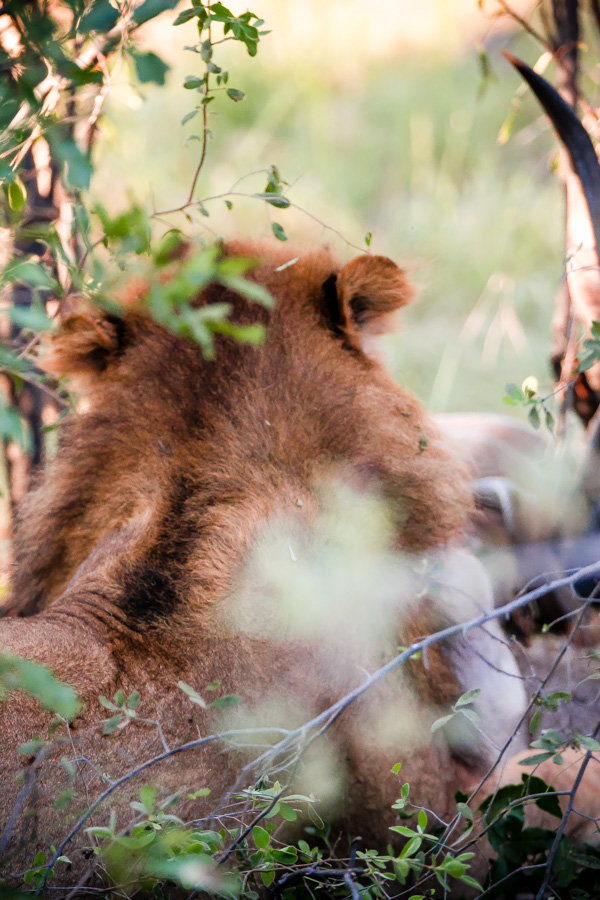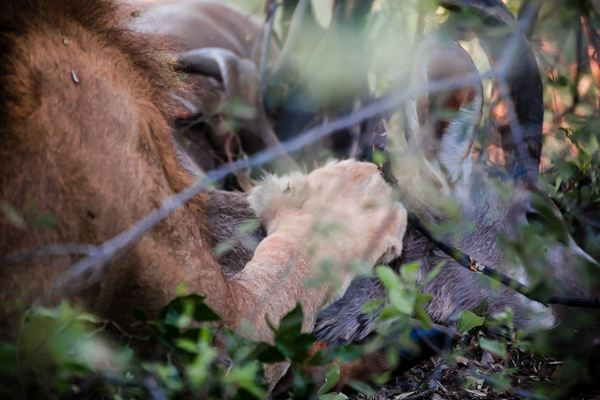 At this point, it was getting close to sunset (it is currently winter in Botswana, and the sunset was usually at 5:30-ish), and we started heading back to the camp.
I sound like a broken record, but I can't even begin to describe just how beautiful the sunsets were in Africa, particularly on our game drives. There was literally not a cloud in the sky for the first week and a half of our entire trip.
It was pretty spectacular and I quickly gave up trying to capture the sunsets and, equally as spectacular, sunrises on camera (not possible).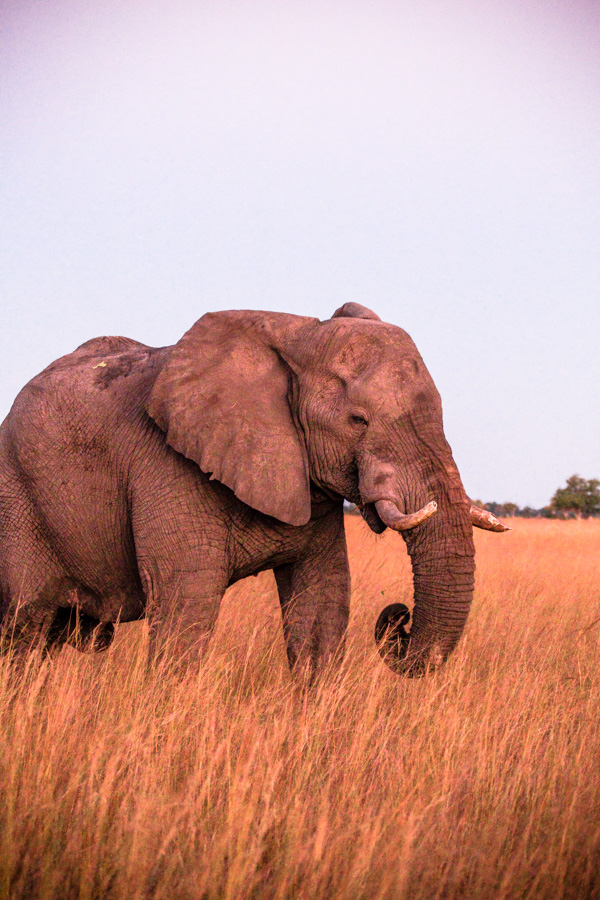 On the way back to the camp, we came across a different, equally as large bull elephant. The light could not have been better, and these were probably my favorite elephant photos from the entire trip.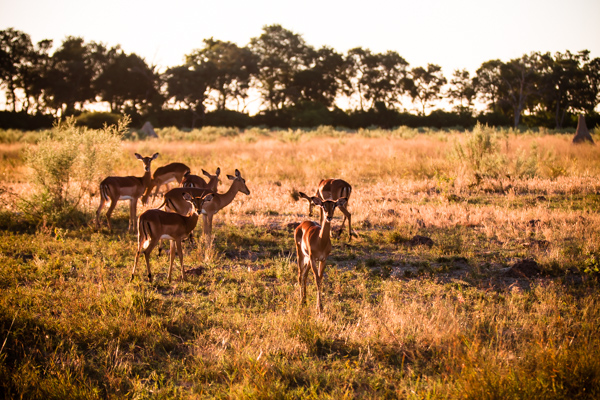 Chin hairs!!! This guy became known as the 'broken tusk' elephant during the trip, and we ended up seeing him at some point almost every single day.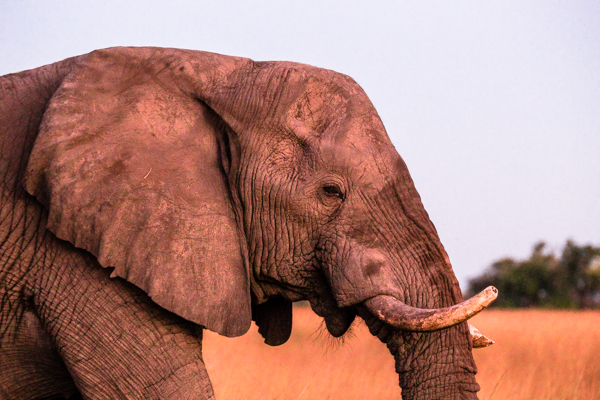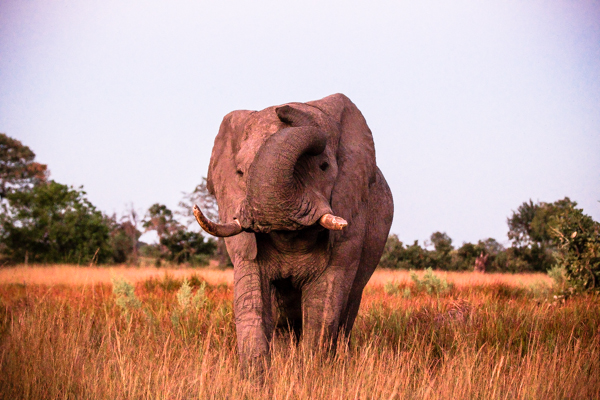 Once we arrived back at the camp, we had a beautiful family-style dinner before heading to our own raised tent. Although the camp had running hot water and electricity (everything ran on a generator), the entire camp was nestled in a patch of trees amongst the Delta.
Though the camp had an electric pole fence–not nearly as intimidating or sophisticated as it sounds (to keep out elephants only)–the rest of the camp was open and totally accessible by all of the surrounding wildlife. For this reason, we were always accompanied by flashlight back to our individual tents at night.
That first night, we actually woke up to the sound of a hippo munching, incredibly loudly, on the grasses within just feet of our tent. A day or so later, we saw leopard tracks throughout the camp, and not soon after, we discovered a resident warthog that came to sleep under one of the camp's decked sitting areas each night.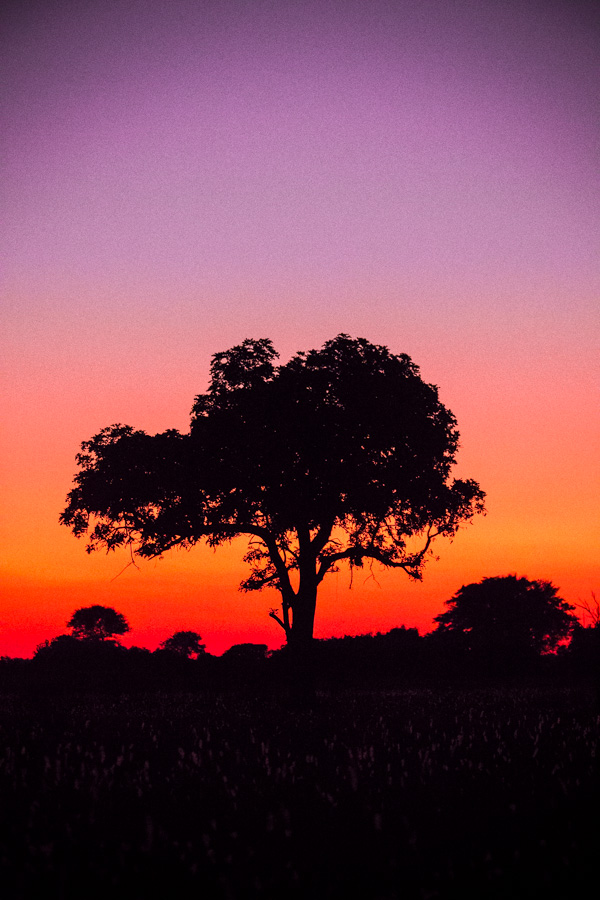 We went to bed that night feeling incredibly grateful for having had such an amazing first day at camp, and overwhelmed by the beauty of the area. Things could only get better from this point on!
Looking for more? Read part two, part three, part four, and part five of our African honeymoon posts.
This post contains affiliate links, which means that I make a small commission off items you purchase at no additional cost to you. Please read my
privacy policy
for more information.