Tidbits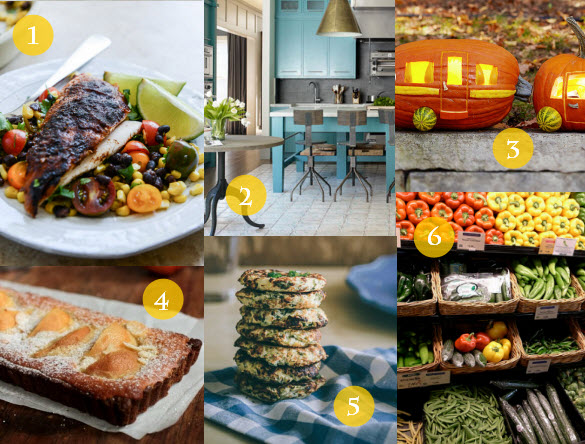 Better late than never, right?
1)  Chipotle Lime Roast Chicken.  It just looks so good!  This girl knows her chicken.  (via How Sweet It Is)
2)  The most amazing blue kitchen.  P.S. It's Bobby Flay's!   A girl can dream… (via Elle Decor)
3)  How cute are these pumpkin carvings?  If only I had more patience when it came to crafty projects like this.  (via BHG)

4)  This pear almond graham cracker tart.  A perfect tart for fall feather.  Love it. (via Vintage Kitchen Notes)
5)  Two of my favorite foods.  Cauliflower and feta cheese–combined into one delectable fritter. (via Souvlaki for the Soul)
6)  You might have already discovered this, but if not, be sure to read this hysterical piece about the shopping experience at Whole Foods.  That part about the parking lots is totally true.  (via Huffington Post)
This post contains affiliate links, which means that I make a small commission off items you purchase at no additional cost to you. Please read my
privacy policy
for more information.