Tidbits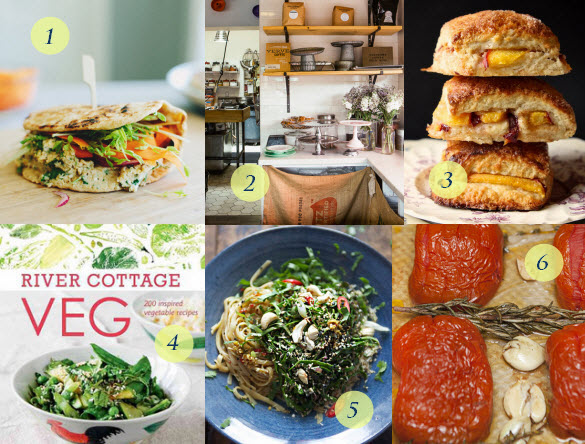 1)  I am slightly obsessed with feta right now (well, I sort of always am, but the obsession is in high gear the moment), so veggie naan'wich with chickpea feta mash is totally calling my name.  (via Sprouted Kitchen)
2)  I absolutely love Adrianna's new blog series.  The first post essentially highlights a local bakery or restaurant in the LA area and the second post goes behind the scenes–sharing the chef's favorite recipe or technique.  Apparently we should all be burning our brown butter–who knew?! (via A Cozy Kitchen)
3)  Peach cobbler scones. It's happening… (via Joy the Baker)
4)  My mom recently gave me Hugh Fearnley-Whittingstall's new cookbook, River Cottage Veg—I have to admit, I sometimes find "vegetarian" cookbooks uninspired (as in–I don't think many of them qualify as true "recipes"), but I love this book.  Everything is really creative and unique.  I highly recommend it!
5)  Someone please make me a bowl of these flavor bomb noodles! Ok, thanks. (via My New Roots)
6)  Another great series that I've been following the last few months–this recent edition is all about slow roasted tomatoes.  Now that the farmer's markets near me are starting to have really great ones, I have a feeling I might just make a few jars of this to keep in the fridge.  Insta-meal. (via Tasting Table's Sous Chef Series)
This post contains affiliate links, which means that I make a small commission off items you purchase at no additional cost to you. Please read my
privacy policy
for more information.