Roasted Eggplant Dip
Easy roasted eggplant dip made with five ingredients – roasted eggplant, tahini, lemon juice, garlic, and olive oil.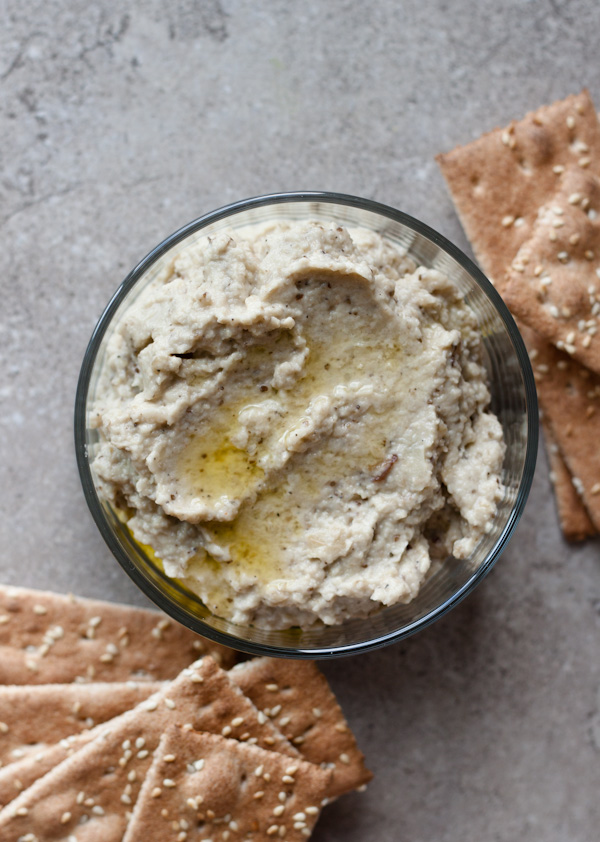 I am back with a new, incredibly simple recipe! It sort of sums up my entire attitude towards cooking in the summer: simple, uncomplicated dishes that are flavorful, fresh, and highlight produce at its best.
This roasted eggplant dip is delicious, simple to make, and makes a wonderful appetizer or snack.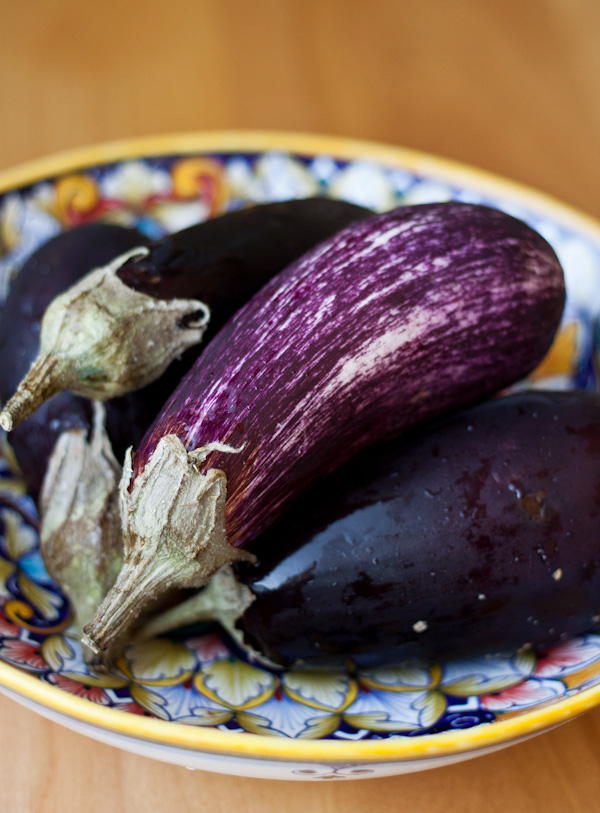 Favorite Types of Eggplant:
Have I told you guys how much I love eggplant? It is probably one of my favorite foods.
My favorite varieties are baby Italian, graffiti, and Japanese eggplant, which are considerably sweeter and carry significantly less seeds than standard eggplants, which can occasionally be bitter and more bland.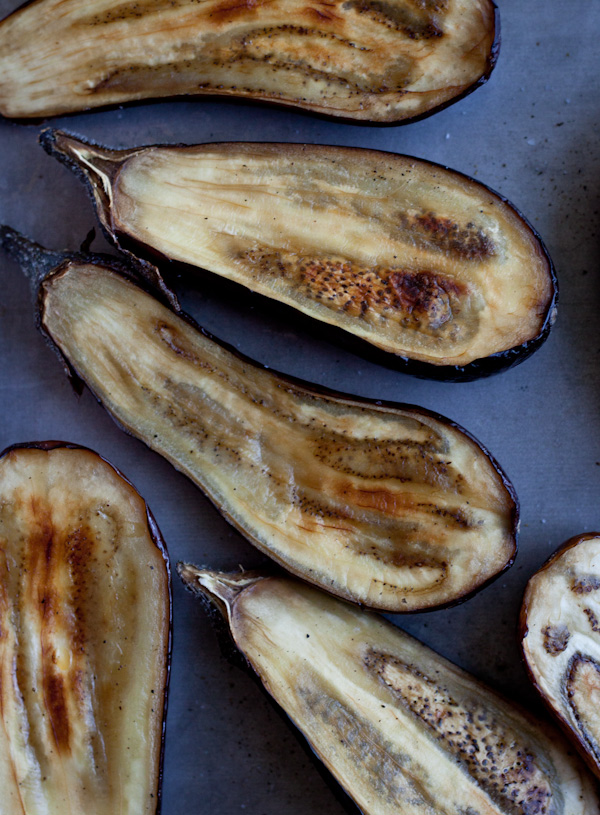 It took a lot for me not to just dig into the roasted eggplant halves and call it a day, but I had an ounce of self control left in me.
Instead I turned it into a dip, which I promptly dug into with a spoon. The crackers were just sort of getting in the way, what can I say? Enjoy!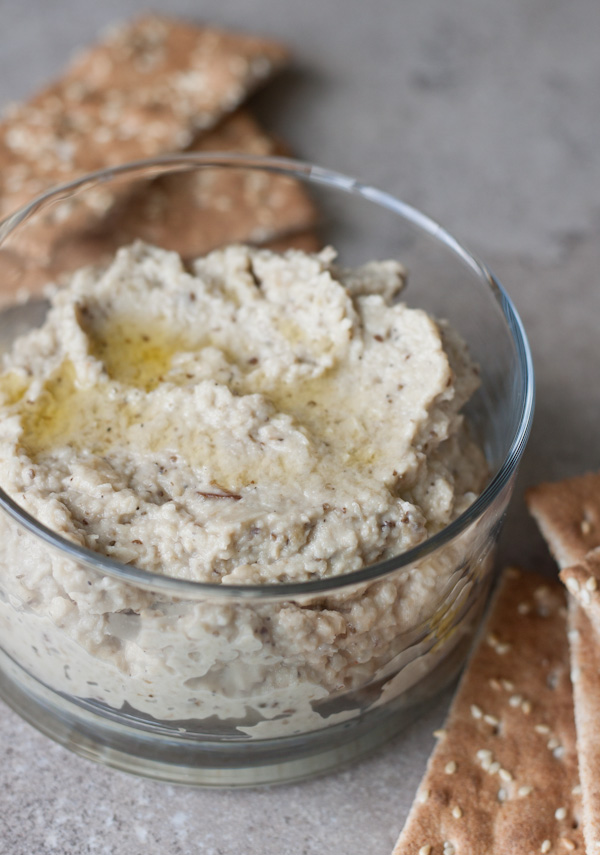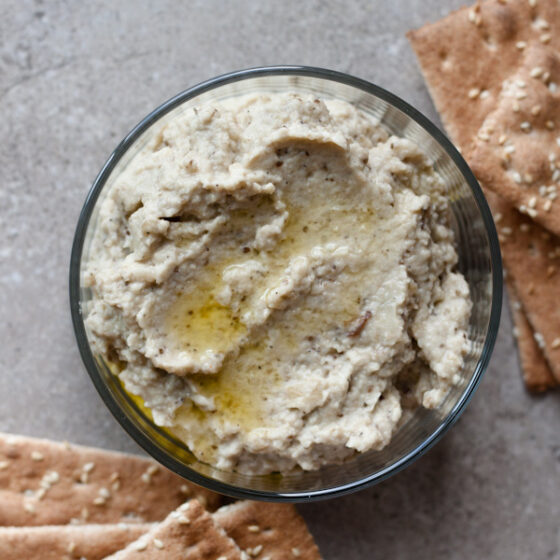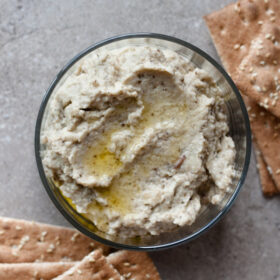 Roasted Eggplant Dip
Inspired by Baba Ganoush, this easy roasted eggplant dip is made with less than 5 ingredients - roasted eggplant, tahini, lemon juice, garlic cloves, and olive oil. Serve with crackers or vegetables as an easy appetizer!
Ingredients
4 small Italian or Graffiti eggplant approximately 1¼ lbs
2 tablespoons (30 mL) extra virgin olive oil
1 small clove garlic
2 tablespoons tahini paste
2 tablespoons (30 mL) freshly squeezed lemon juice
freshly ground black pepper
pinch ground cayenne optional
Instructions
Preheat oven to 425°F (220°C). Slice the eggplants in half lengthwise and place on a half sheet pan. Brush the cut sides lightly with olive oil. Season generously with salt and pepper.

Roast the eggplant for roughly 30 minutes or until golden brown and tender. Allow the eggplant to cool on a rack for 15 to 20 minutes. Remove and scoop out the flesh from the eggplant and transfer to the bowl of a large food processor bowl. Discard the skins.

Add the garlic clove to food processor along with the eggplant. Puree the mixture until it is mostly smooth. Add the tahini, lemon juice, salt and pepper, and cayenne (if using) and pulse several times until mostly smooth. Season to taste, adding more salt or lemon juice if needed.

Transfer to a container, cover, and refrigerate for at least an hour to allow the flavors to develop. Serve slightly chilled or at room temperature with chips or crackers.
Serving: 1serving, Calories: 47kcal, Carbohydrates: 8g, Protein: 1g, Fat: 2g, Polyunsaturated Fat: 1g, Sodium: 25mg, Fiber: 2g, Sugar: 3g
This post contains affiliate links, which means that I make a small commission off items you purchase at no additional cost to you. Please read my
privacy policy
for more information.