I thought it might be fun to start a new series, called "Tidbits"  which I'm hoping to share once a week from this point forward!  It is a bit random and different, but I hope you all enjoy it (and of course, your feedback is greatly appreciated).  I've always wanted a way to share random thoughts, link discoveries, showcase other blogs and products, and dishes that I've been dying to try or have made recently–ones that don't necessarily make it on the blog.  And that is exactly what this series will be about.  Here we go!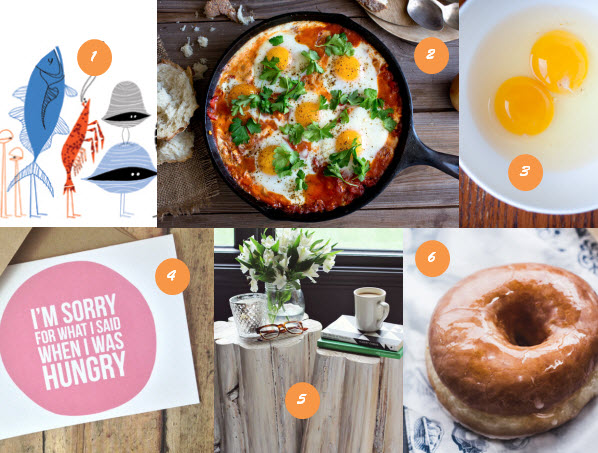 1)  This Food & Wine article, aptly named "Sustainable Seafood: The Good News" was really interesting.  I'm dying to head to my local Asian supermarket and see if they have Northern Porgy!
2)  I can't wait to try this Shakshuka recipe from the New York Times Dining section.  Feta, eggs, tomato, peppers, short prep time.  I'm sold.
3)  Speaking of eggs, while making banana bread, I was lucky to get a "twin" double-yolk egg!  Thank you Google for informing me that you have about a 1/1000 chance of getting one of these.
4)  Need to invest in some of these PrintSmitten cards.  In fact, I should probably buy them for every member of my immediately family, since we are all guilty of "hangry" outbursts on quite a regular basis.
5)  If I was more patient and had a random tree stump lying around, I would totally make these DIY Tree Stump Side Tables from A Beautiful Mess blog.
6)  These doughnuts from Top With Cinnamon blog.  Real {fried yeast} donuts will be making an appearance in my kitchen in the near future–and in the mean time, I'll just stare at these pictures every other day.  And now you will too…