Wheatberry Caesar Salad
This post contains affiliate links.
Wow! Thank you all so much for your great feedback on the new layout and header.  I'm thrilled that you like as it as much I do, not to mention a bunch of you prefer the cleaner layout as well.  Even better!
A few weeks ago, I cooked wheat berries for the first time.  Wheatberries are the unprocessed wheat kernel complete with bran, endosperm, and germ.  Because of this, wheat berries are full of protein, fiber, and a lot of other great things.
I've definitely eaten wheat berries in the past, but for some reason never have prepared them at home.  Why, I don't know, because it is very simple.  Don't be intimidated by dried beans or grains.  Even though many of them require soaking for several hours, most of the process can be done unsupervised in the fridge overnight.  The actual cooking time does require a little bit more attention–but only in the form of stirring every once in a while and not leaving the house.
Many health food stores (like Whole Foods) carry wheat berries in the bulk bins as well, so no need to shell out lots of dollars for a large amount of something you're not completely familiar with…yet.  Only 2-3 dollars and no guilt.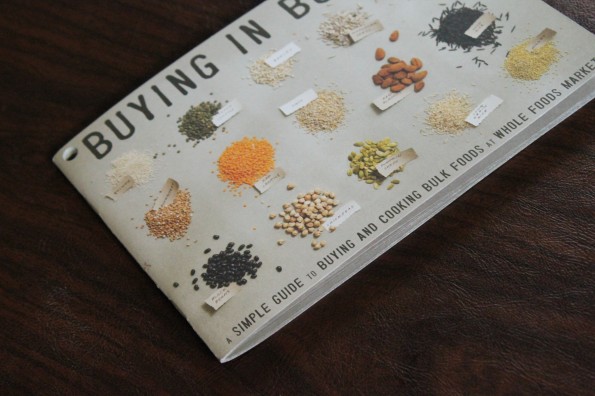 Ever since I picked up this fun (and FREE!) guide to buying in bulk at Whole Foods, I've been even more encouraged to try out new things.  It's a great resource, as it goes over in detail how to cook, store, and prepare many of the usual bulk bin items–like wild rice, polenta, lentils, dried beans, grains, flours, and lots more.  It also gives substitution ideas for flours, as well as a description of what you'll taste in the end product.  Did I mention it was free?
As for the wheat berries, here's a quick guide on how to prepare them:
(Below: Cooked Wheatberries)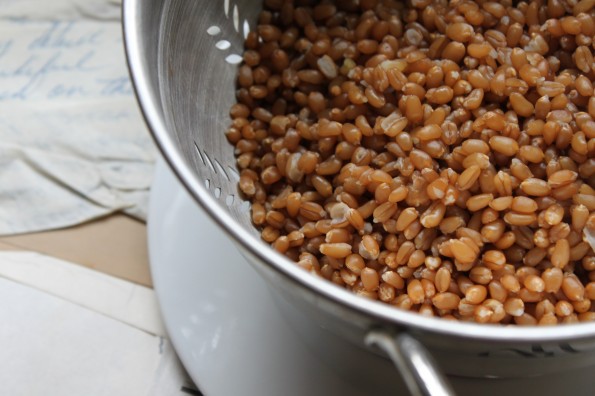 One of my Holiday Challenges was to try out more recipes from blogs, cookbooks, and my old & new Bon Appetite magazines.  Even though I haven't tackled any of the baking recipes (yet…), I'm pleased to announce that I have tried several new recipes from Bon Appetit since starting the challenge.  I've even added my own little twist to them.  Here's one of them!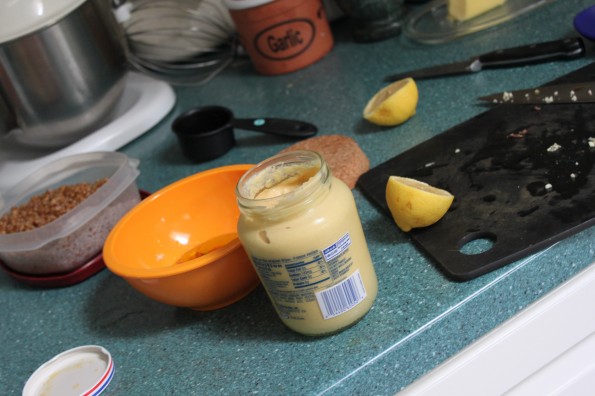 For inspiration, I used a recipe I've been eyeing for quite a while in an old issue of Bon Appetite (June 2006 to be exact…that's when I graduated from high school actually).  It was for Caesar Salad with Sourdough Croutons.
Caesar salads used to be one of my favorite things to eat at restaurants when I was younger, but I was pretty picky about them.  Most of the Caesar salad dressings you get at cafes, restaurants, and in the store are very acidic and have very little resemblance to a homemade Caesar made with good ingredients.
Unlike a lot of recipes for homemade Caesar dressing, this one is a lot healthier.  One of the reasons for this is that it doesn't include pasteurized raw egg yolks, one of the common ingredients in a good homemade Caesar.  Keeping that in mind though, this recipe doesn't sacrifice the taste of what a good Caesar should taste like.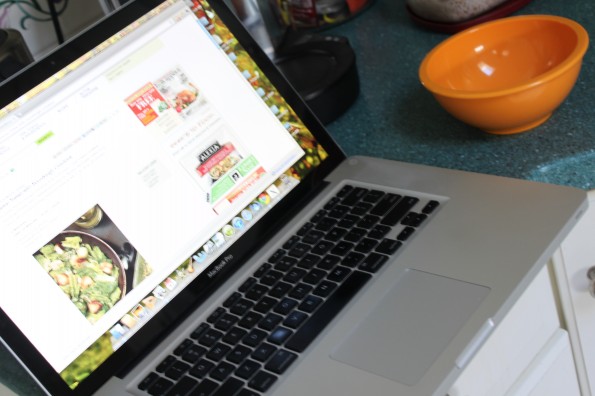 Another crucial ingredient for a good Caesar is great quality parmesan cheese, preferably Parmigiano-Reggiano.  This can make all the difference!  Here's my twist on the original: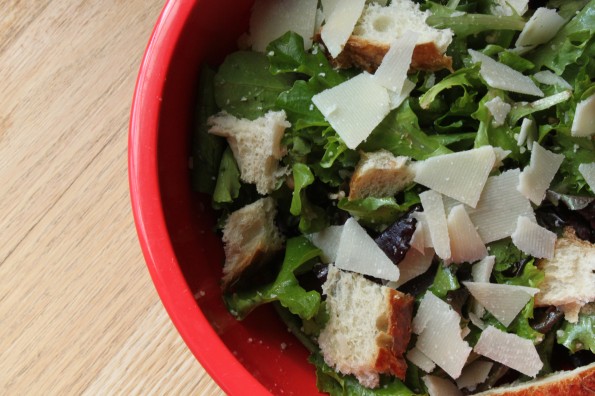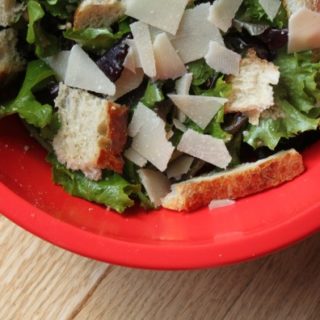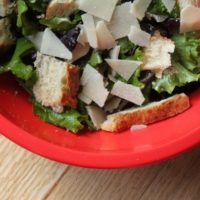 Wheatberry Caesar Salad
Yield: 1-2 Servings
Prep Time: 15 minutes
Total Time: 15 minutes
Ingredients
Salad Dressing:
2 anchovies, finely chopped
1 medium clove of garlic, finely minced
1.5 tablespoons lemon juice, freshly squeezed
1/2 tablespoon red wine vinegar
1 teaspoon low-sodium Worcestershire sauce
1/2 tablespoon Dijon mustard
1/6 cup extra virgin olive oil
2 tablespoon grated Parmigiano-Reggiano cheese
freshly ground pepper
Salad:
big bowl of baby greens or romaine lettuce
3/4 cup cooked wheatberries
Parmigiano-Reggiano shavings
1 slice of good quality Sourdough bread, toasted (optional)
Instructions
Prepare Wheat Berries: Night Before: Rinse in colander. Place in saucepan covered with 2-3 inches of water. Let soak overnight in the fridge.
Drain, use a 1:3 ratio of wheat berries to liquid (1 cup wheatberries = 3 cups water), add a few teaspoons of salt, and bring to a boil on the stove. Immediately, turn down the heat to simmer and cook for 45-60 minutes or until the kernels split open and are chewy.
Assemble Salad: Whisk together first six ingredients in small bowl. Slowly whisk in oil and stir in (2 tablespoons) cheese.
Place wheatberries in bottom of salad bowl (this will prevent the salad greens from being weighed down). Add lettuce.
Toast bread until crispy. Slice (or tear) into crouton-sized pieces. Add "croutons" to salad. Toss. Garnish with Parmigiano-Reggiano shavings.
Notes
Dressing adapted from Bon Appetit.
Nutrition Information:
Yield: 2
Serving Size: 1
Amount Per Serving:
Calories: 412
Total Fat: 23g
Saturated Fat: 4g
Trans Fat: 0g
Unsaturated Fat: 18g
Cholesterol: 10mg
Sodium: 461mg
Carbohydrates: 42g
Fiber: 15g
Sugar: 5g
Protein: 16g
A Beautiful Plate provides nutritional information, but these figures should be considered estimates, as they are not calculated by a registered dietician.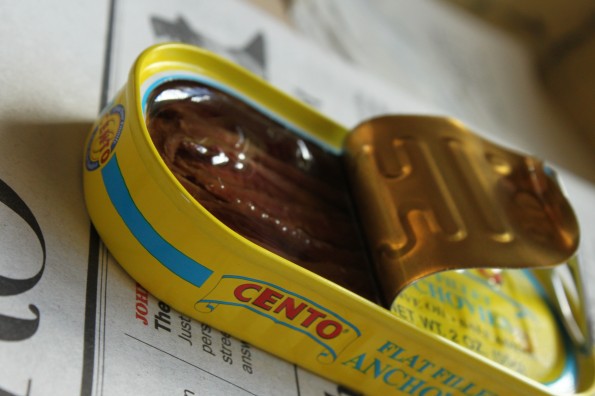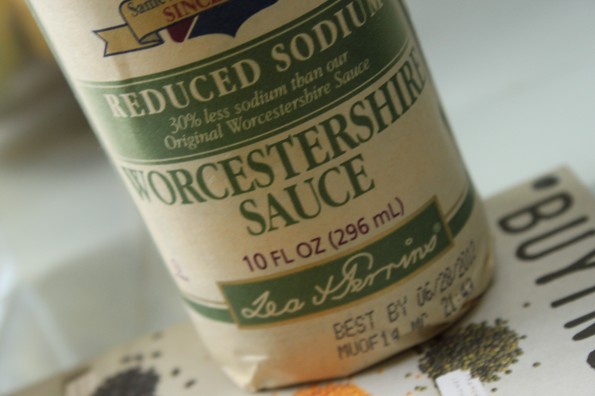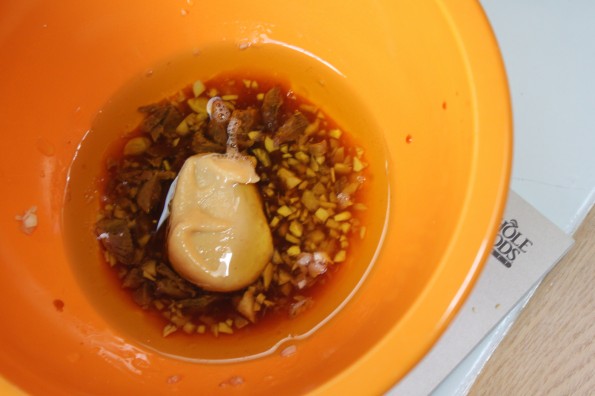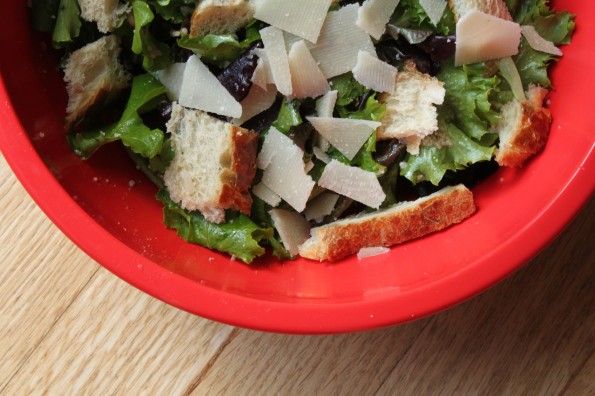 I promise the wheatberries were in there!  They were hiding at the bottom of the bowl.
The salad dressing recipe should be enough for about 2-3 servings, so just add as much dressing as you need to just lightly coat the greens.  A little will go a long way!  The dressing should last in the fridge for another day or two.  Of course, you could make real croutons (coated in olive oil and toasted in the oven), but my "crouton" alternative was super easy, as you only need a toaster.  It is also a lighter alternative and still gives that great crunch of a traditional crouton.
This salad was really delicious as a meal and was a nice change from my usual lemon vinaigrette.  The wheat berries and "croutons" added nice texture and gave it bulk.  This ended up being very filling!  But beware, you will have major garlic breath once you eat this.  Completely worth it in my opinion though.
And that is how I tackled yet another challenge off my list and acquired another great recipe in the process.
The End.
This post contains some affiliate links, which means that I make a small commission off items you purchase at no additional cost to you. Please read my
disclosure policy
for more information.