Wheat Berry Caesar Salad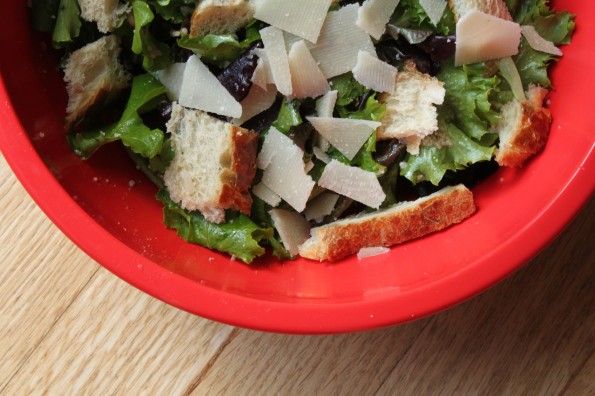 A few weeks ago, I cooked wheat berries for the first time. Wheat berries are the unprocessed wheat kernel complete with bran, endosperm, and germ. Due to this, they are full of protein and fiber.
Don't be intimidated by dried beans or grains. Even though many of them require soaking, most of the process can be done unsupervised in the fridge overnight. The actual cooking time does require a little bit more attention, but only in the form of stirring every once in a while and not leaving the house.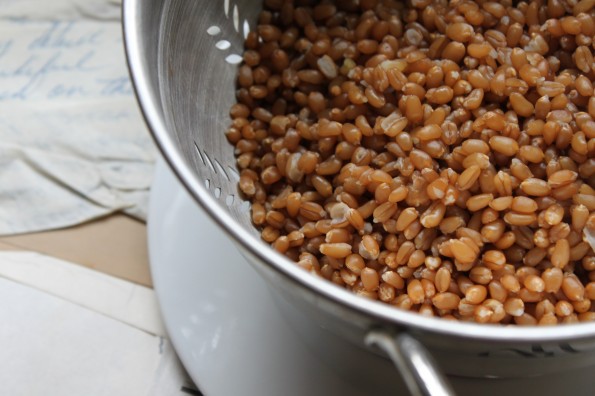 Caesar salads used to be one of my favorite things to eat at restaurants when I was younger, but I was pretty picky about them. Most of the Caesar salad dressings you get at cafes and restaurants are very acidic and have little resemblance to a homemade Caesar made with good ingredients.
Unlike a lot of recipes for homemade Caesar dressing, this one is a lot healthier. One of the reasons for this is that it doesn't include pasteurized raw egg yolks, one of the common ingredients in a good homemade Caesar. However this recipe doesn't sacrifice good flavor.
Another crucial ingredient for a good Caesar is great quality parmesan cheese, preferably Parmigiano-Reggiano. As the name suggest, this Caesar salad is prepared with mixed greens or romaine lettuce and cooked wheat berries. They add texture and heartiness to this main course salad.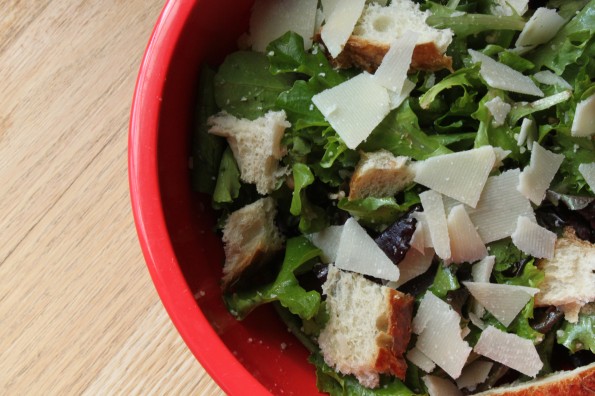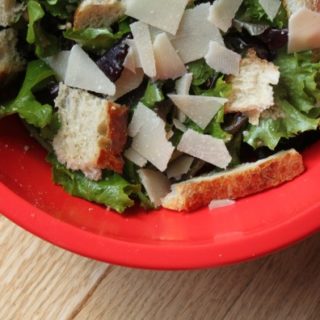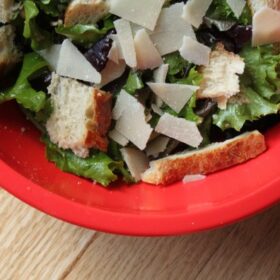 Wheat Berry Caesar Salad
A simple, heartier Caesar salad prepared with greens and cooked wheat berries.
Ingredients
Caesar Dressing:
2 oil-packed anchovies
1 medium garlic clove
1½ tablespoons fresh lemon juice
½ tablespoon red wine vinegar
1 teaspoon low-sodium Worcestershire sauce
½ tablespoon Dijon mustard
3-4 tablespoons extra virgin olive oil
2 tablespoons finely grated Parmigiano-Reggiano cheese
kosher salt
freshly cracked black pepper
For the Salad:
baby mixed greens or romaine lettuce
¾ cup cooked wheatberries
Parmigiano-Reggiano shavings
Instructions
Mash the anchovies and garlic clove with the side of a knife until a paste forms. Add to a large bowl and whisk in the lemon juice, vinegar, Worcestershire sauce, and Dijon mustard. Slowly pour in the olive oil, whisking continuously until well emulsified. Stir in the grated parmesan and season to taste with salt and lots of freshly cracked black pepper.

Add the wheat berries and lettuce. Toss to coat. Serve and top with Parmigiano-Reggiano shavings.
Dressing adapted from Bon Appetit.
Serving: 1serving, Calories: 412kcal, Carbohydrates: 42g, Protein: 16g, Fat: 23g, Saturated Fat: 4g, Polyunsaturated Fat: 18g, Cholesterol: 10mg, Sodium: 461mg, Fiber: 15g, Sugar: 5g
This post contains affiliate links, which means that I make a small commission off items you purchase at no additional cost to you. Please read my
privacy policy
for more information.