Windy City Hot Dogs with a Twist
Chicago-style hot dogs topped with crispy onions, cornichon, sport peppers, chopped tomato, and Dijon mustard. An fun, elevated twist on a classic!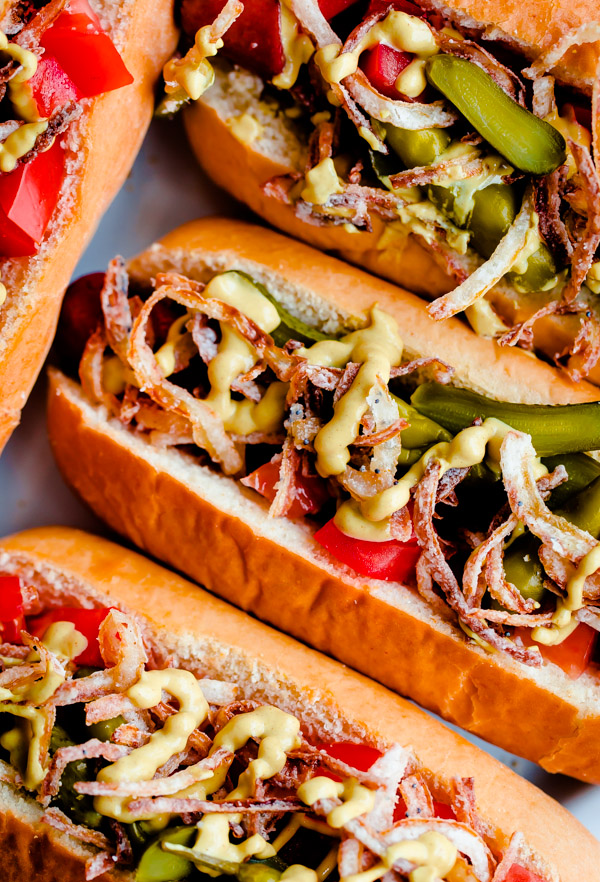 I apologize in advance for the excessive use of exclamation points in today's post. But, really, how could I not be excited about these hot dogs? Can I officially call myself a Chicagoan now?
And yes, I realize that I just used the word 'excited' and 'hot dog' in the same sentence. Hear me out. I promise that I haven't completely lost my mind. [Also, my version is made with grass-fed 100% hot dogs, so there's that.]
When I had the opportunity to partner with Cobblestone Bread Co. for a fun tailgating-inspired recipe, the idea for these Windy City Hot Dogs was quickly born.
Truthfully, these hot dogs might be the most out-there recipe that I've ever posted on this blog. They are topped with crispy (a.k.a. fried) onions for heaven's sake.
On that note, I don't think I could love them more and I had so much fun developing this recipe!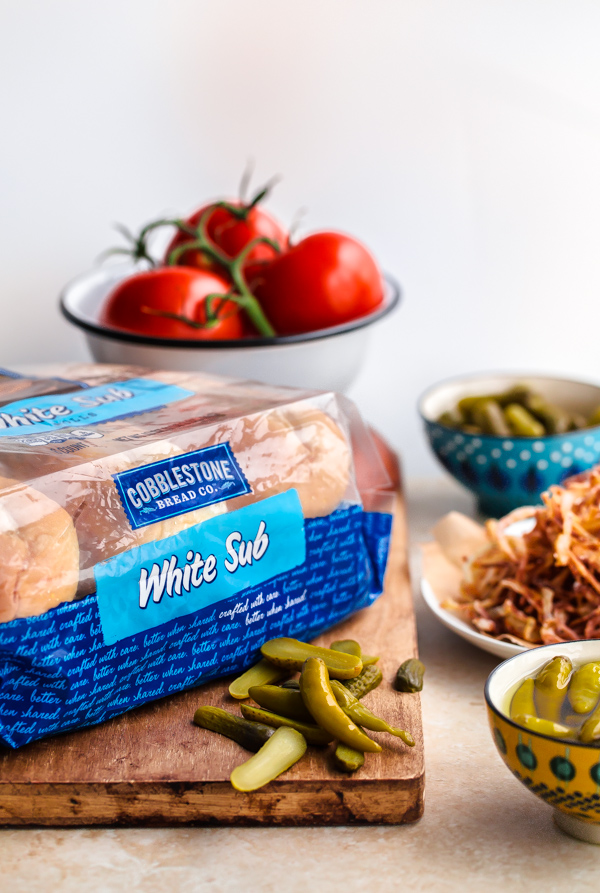 If you're from Chicago (or have ever visited this city), you are probably familiar with the phenomenon that is a Chicago-style hot dog. This tradition started during the Great Depression and remains just as strong to this day.
They are a big deal around here.
Deep-dish pizza has nothing on a Chicago-style dog. But with this tradition, comes a few (actually, several) rules!
If there is one thing that I've learned since moving to this city a few months ago, it is that Chicagoans take their food incredibly seriously.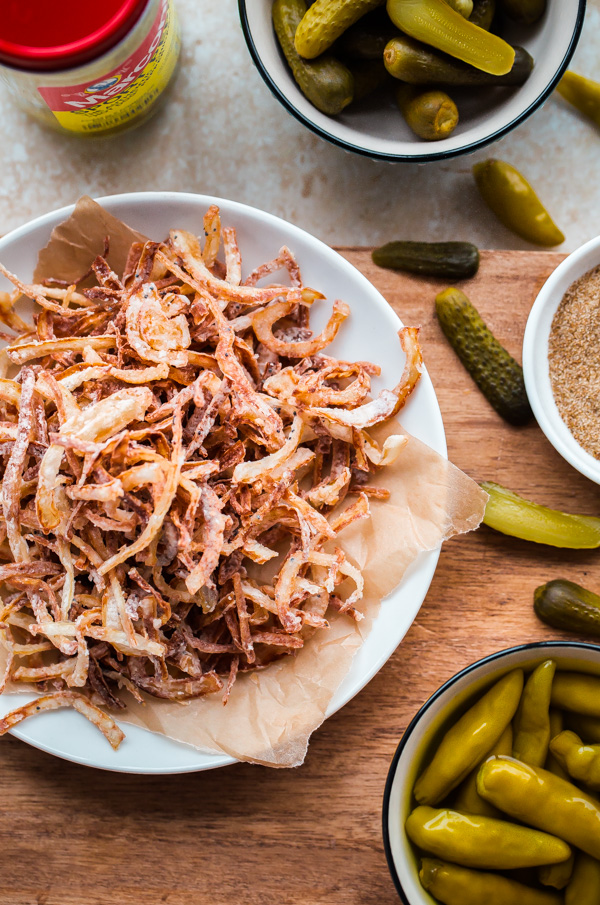 Traditionally, a Windy City hot dog is prepared with a steamed hot dog and has a few key toppings: yellow mustard, absurdly bright green relish, fresh chopped onions, fresh tomato, pickles, spicy sport peppers, and a sprinkling of celery salt.
If you're wondering where the ketchup fits in this equation (as I did before I moved here and was educated on the matter), than you are clearly not from Chicago.
No ketchup allowed. Ever.
In fact, someone will probably yell at you if you ever make this mistake in public. I'm not even kidding.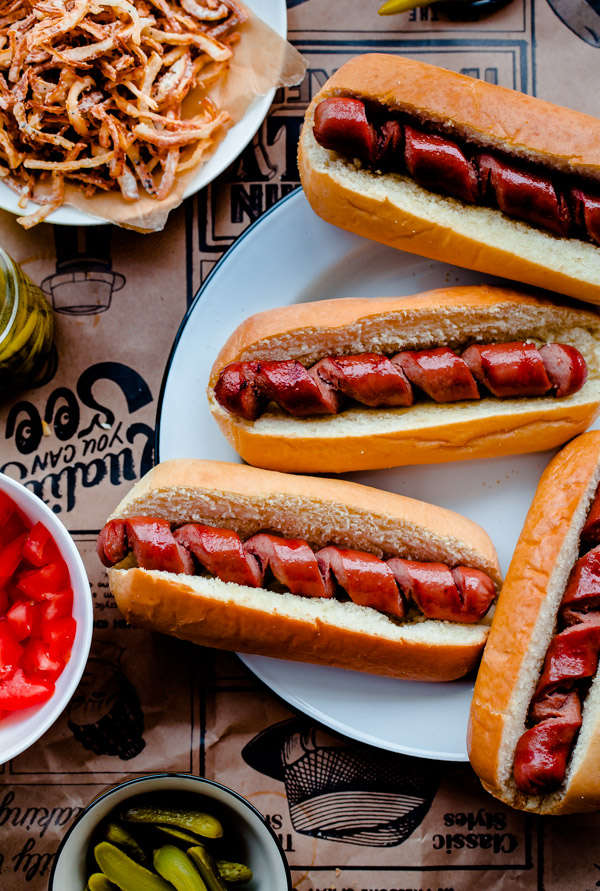 You have most likely have already noticed that today's Windy City Hot Dog is a little bit…different.
I'm all for traditions, but I love coloring outside the lines more!
With that being said, I've attempted to represent my current hometown as best as possible with my own "fancied-up" version of a Chicago-style hot dog.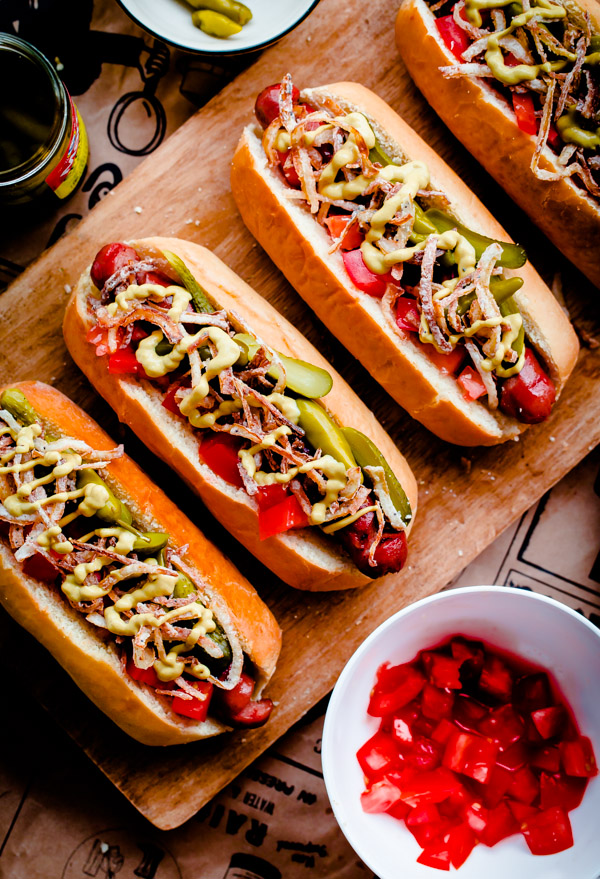 What does a fancy Chicago-style hot dog entail exactly? First, spiralized grilled hot dogs! It's a thing and it is glorious. It allows the hot dogs to get extra crispy and allows all of those delicious toppings to fall into the crevices. I used an indoor grill pan, which worked perfectly. An outdoor grill would be even better.
Instead of topping the hot dog with chopped onion, my version is topped with crispy fried onions seasoned with celery salt! Yes, yes, yes! Don't skip 'em.
Next up: sliced cornichon (instead of traditional kosher pickles), Dijon mustard (in place of yellow mustard), and chopped vine-ripened tomatoes (in place of tomato wedges).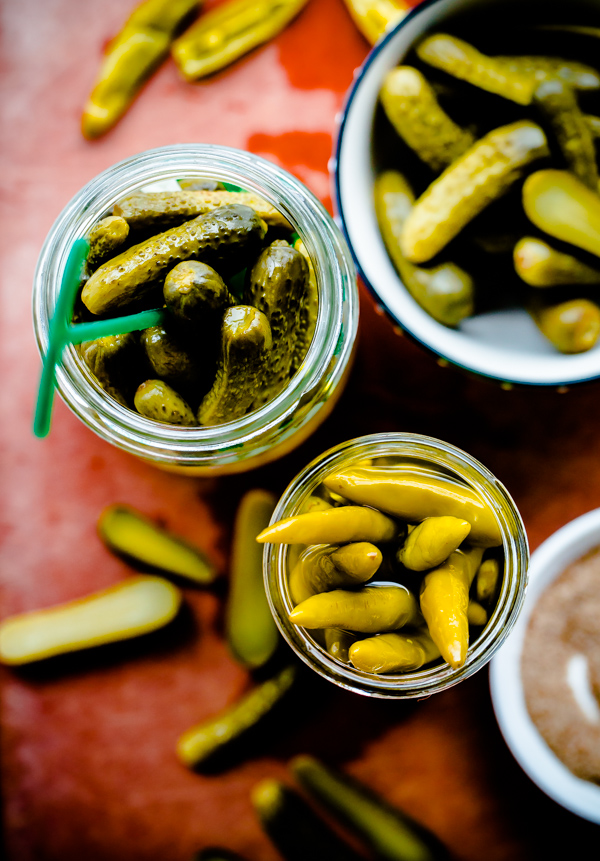 To keep a little bit of tradition, the hot dogs are topped with a few spicy sport peppers. These things are really spicy, so I only recommend using 1-2 per hot dog.
I skipped the (insanely) bright green relish, because…well…I can't handle it. Fellow Chicagoans, please don't hate me!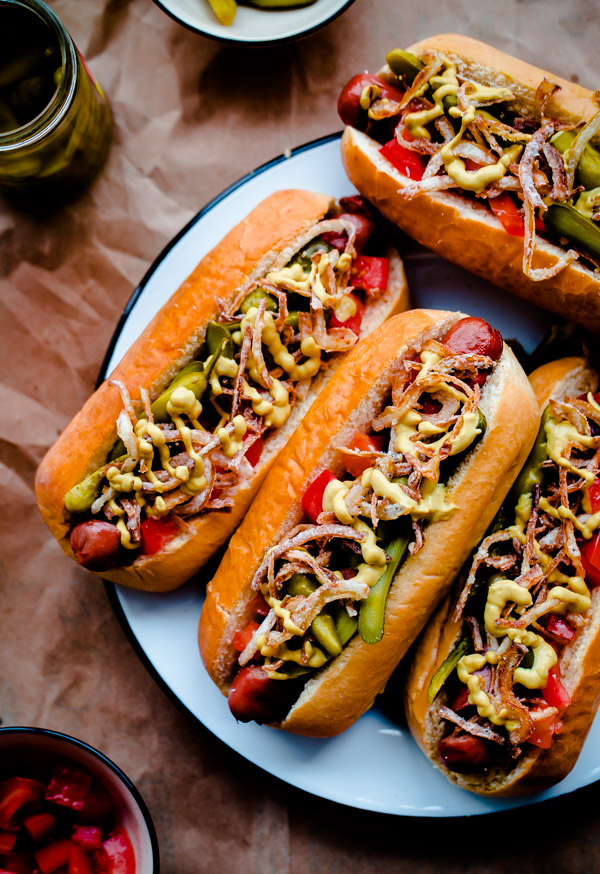 To hold all of these delicious toppings, I used Cobblestone White Sub Rolls, which are much sturdier than the average hot dog bun. The last thing you want is for all of those delicious toppings to fall out before you can even take a bite out of them.
The most fun thing about these Windy City Hot Dogs is that you can prepare all of the components, set out all of the toppings in small bowls, and allow everyone to top their own hot dog accordingly. Basically, an instant fancy hot dog bar.
Make these for your next tailgating or game-day viewing party. People will go absolutely nuts over them!
Compensation for this post was provided by Cobblestone Bread Co. via AOL Media. The opinions expressed herein are those of the author and are not indicative of the opinions or positions of Cobblestone Bread Co. or AOL. 
For other tailgating and at-home game viewing inspired recipes, check this out!