Mexican Granola with Cocao Nibs and Pumpkin Seeds
Clumpy Mexican granola with cocoa nibs and pumpkins! A salty and naturally sweetened healthy granola that is packed with texture and delicious add-ins, including coconut, peanuts, puffed amaranth, and cinnamon.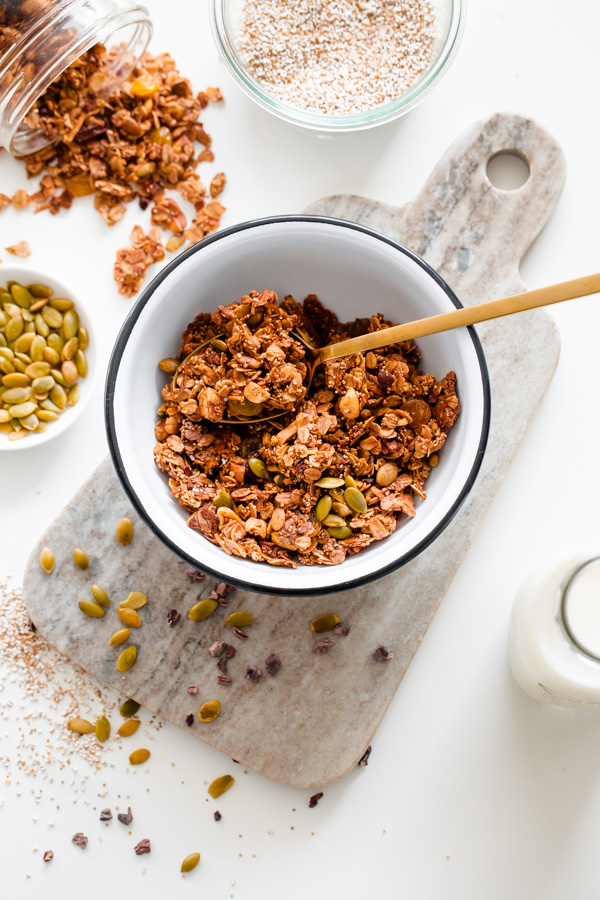 I'm very excited to tell you about today's granola! It is my first granola recipe to date, and it is a pretty exciting one at that. This is not your average, everyday granola filled with the standard mix-in's.
It is a Mexican granola inspired by my culinary idol, Rick Bayless. I'll refrain from waxing poetic about how much I love that guy (please, oh please, try this authentic Mexican tortilla soup!). I've already done that once before on this blog and I won't do that to you again.
Instead, I'll tell you about this granola! So many things happening in this bowl, I'm not quite sure where to start.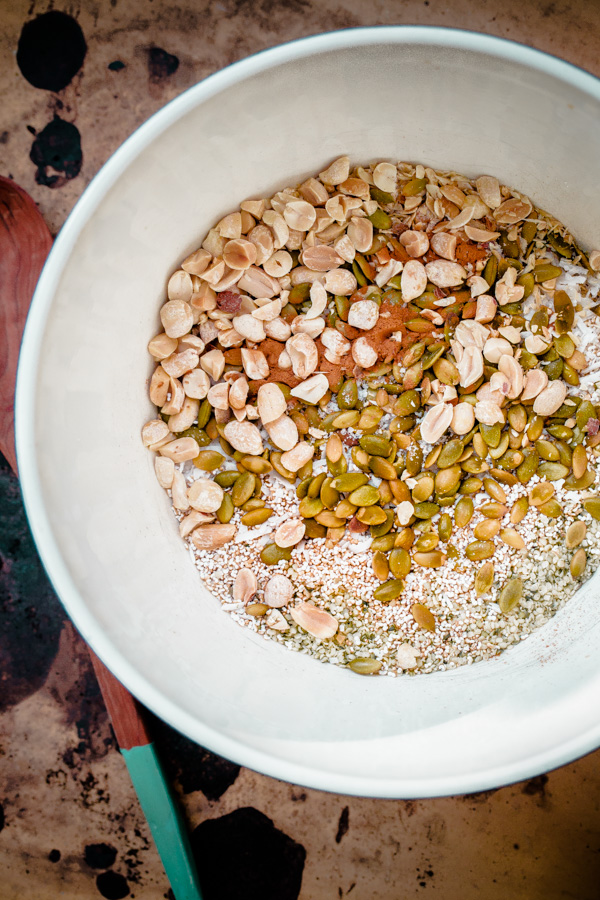 Let me start off by saying that Rick Bayless makes his own granola, so I didn't invent this concept. Yes, it's a thing and the package stares at me tauntingly every time I walk down the cereal aisle of my local grocery store.
The name immediately caught my eye: Mexican granola. Mexican granola? What does that even mean? I'll tell you.
Upon further inspection (if you ever spot me in a grocery store, I'm doing some version of this) of the package, I discovered that this Mexican-style granola contained all sorts of interesting and nutritious ingredients: puffed amaranth, peanuts, unsweetened coconut, cocao nibs (!), pumpkin (aka. pepita) seeds, red flame raisins, and cinnamon.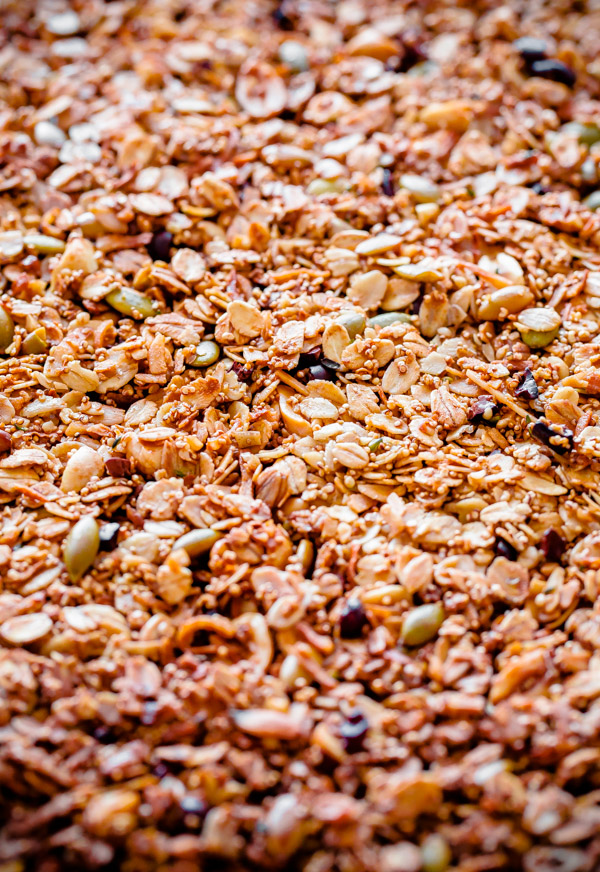 I was totally intrigued, but torn. The cocao nib addition was calling my name, but I wasn't particularly excited at the idea of spending almost seven dollars on a small package of specialty granola, especially when I had practically every single one of those ingredients sitting in my pantry at home.
So, fast forward a few recipe tests later (and several amaranth puffing trials) and this granola recipe was born. Voila!
If any of you have made homemade granola, you know that is quite possibly one of the easiest things to bake in your kitchen. You can pretty much throw together the ingredients in minutes and it doesn't require any prep or equipment other than a sheet pan, large mixing bowl, and spoon.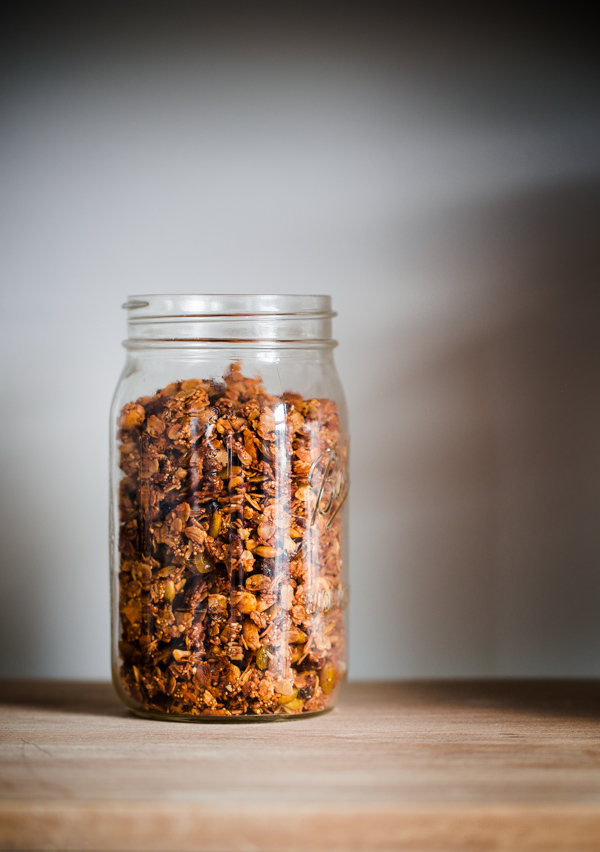 This granola recipe is equally as easy, but requires a tiny bit more work and effort. Today's ingredient list is admittedly more fancy. I recommend trying to buy the ingredients (pumpkin seeds, coconut, amaranth, etc.) from the bulk bin section, as it will be considerably more wallet-friendly. The good news is that most of these ingredients will last for a long time, so you will get a lot of use out of them!
The trickiest part to this recipe is puffing the raw amaranth. It is similar in process to popping homemade popcorn (except you do not add any fat). You can buy raw amaranth at most grocery stores in the bulk grain section, or Bob's Red Mill sells it in bags.
You can skip this ingredient entirely, but it does add texture and lots of nutrition to this granola. As an aside, only 1/4 cup of raw amaranth contains 7 ingredients of dietary fiber, 8 grains of protein, and 20% of your iron needs. You can also substitute with the slightly larger puffed millet (which you can buy at most Whole Foods or specialty stores).
If you are going to try your hand at puffing amaranth, I highly recommend checking out this post by my friend, Ashley!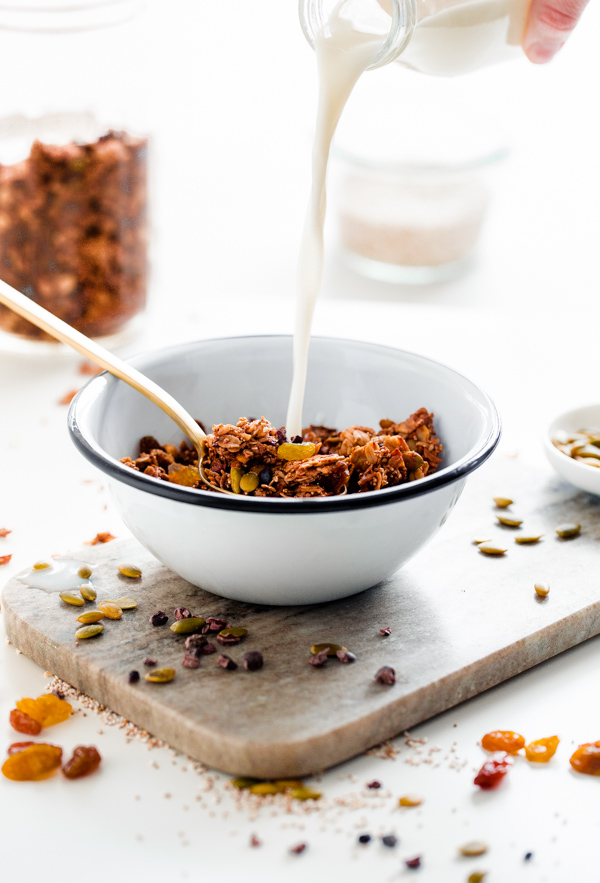 My favorite thing about making homemade granola is that it allows you to control the sweetness to your own taste, which I love, as I'm personally not a fan of super sweet granola.
This Mexican granola is naturally sweetened with honey and maple syrup only.
I substituted red flame raisins (which are tricky to find) with golden raisins–regular will also be fine–and added some unshelled hemp seeds too. I find that the bitter, chocolate tones of the cocao nibs is balanced out with the sweetness of the raisins!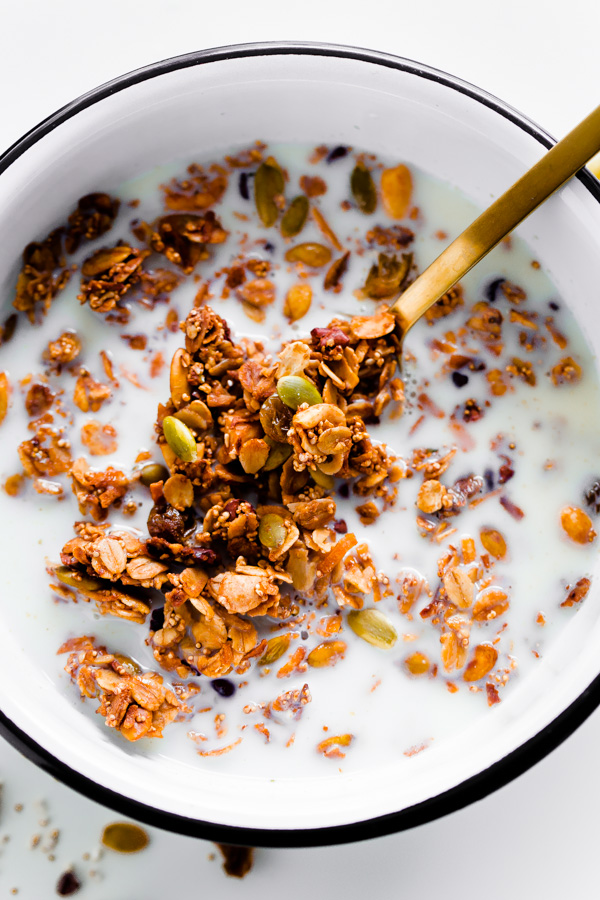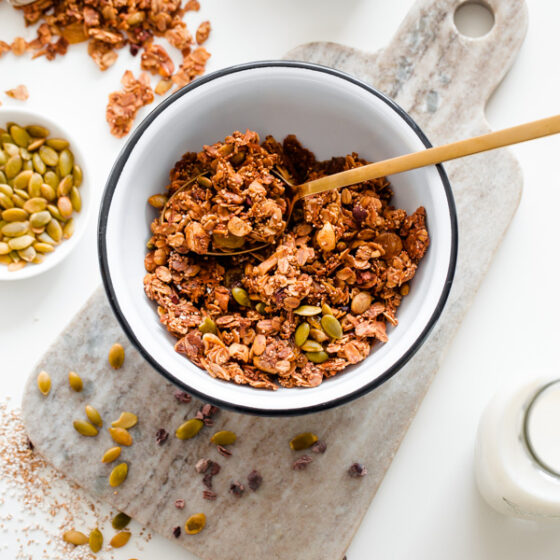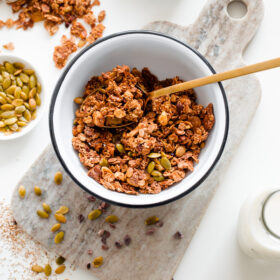 Mexican Granola with Cocao Nibs and Pumpkin Seeds
Clumpy Mexican granola with cocoa nibs and pumpkins! A salty and naturally sweetened healthy granola, inspired by Rick Bayless, that is packed with texture and delicious add-ins, including coconut, peanuts, puffed amaranth, and cinnamon.
Ingredients
½ cup puffed amaranth (roughly 2-3 tablespoons raw amaranth) see note section for directions
2 cups old-fashioned rolled oats
½ cup unsweetened shredded coconut
¼ cup raw or dry-roasted peanuts roughly chopped
¼ cup raw or roasted pumpkin seeds
2 tablespoons cocao nibs
1 tablespoon shelled hemp seeds optional
2 tablespoons (30 mL) pure maple syrup
2 tablespoons pure honey
¼ cup (60 mL) grapeseed or avocado oil
½ teaspoon pure vanilla extract
½ teaspoon ground cinnamon
½ teaspoon Diamond Crystal kosher salt
1 large egg white beaten
¼ cup golden or regular raisins
Instructions
Preheat the oven to 325°F (162°C) with a rack in the center position. Line a half sheet pan with parchment paper. Note: If you are puffing your own raw amaranth for this recipe (it is not difficult, but it does take some trial and error to do properly), I highly recommend reading the note section below and this how-to post beforehand. It goes over the process in greater detail.

Combine the puffed amaranth, oats, unsweetened coconut, chopped peanuts, pumpkin seeds, cocao nibs, and hemp seeds (if using) in a large mixing bowl. In a separate small bowl, whisk together the maple syrup, honey, oil, vanilla, cinnamon, and salt until smooth. Pour this mixture over the dry ingredients and toss until evenly coated.

In a separate bowl, using a large whisk, beat the egg white until foamy and frothy. Add the beaten egg white to the granola mixture and mix gently (the protein the egg white will help bind some of the granola together, giving you clumps). Transfer the granola onto the lined baking sheet, and spread into an even, thin layer. Press the granola down with the palms of your hands.

Bake for 20 to 25 minutes or until golden brown. Allow the granola to cool completely on a cooling rack before breaking into clusters. Gently toss in the golden raisins. Store in an airtight container at room temperature for up to 3 weeks.
How to Puff Amaranth: 
Buy extra raw amaranth, because you may need to toss the first few batches. You can puff the amaranth ahead of time and keep it in a airtight container as well. If you do not wish to puff your own amaranth for this recipe, you can substitute puffed millet cereal or leave it out entirely. 
How to Puff Raw Amaranth: If you are using a gas stovetop, place a medium sauce pan over very high heat. It is ready when you add a few drops of water and they immediately dance and evaporate across the surface of the pan. Add one tablespoon of amaranth at a time, cover the pot immediately, and start to shake the pan back and forth across the burner (the amaranth should audibly start to pop within seconds; if it does not, your pan was not hot enough and your amaranth will most likely burn before it can pop properly). The amaranth should fully pop within 10 to 15 seconds, remove when the popping noise starts to slow down, and immediately place the puffed amaranth in a bowl. Most of the amaranth should be fully popped, but if some are not, you can still use them. If they are burned, discard and keep practicing – it took me at least 3 to 4 trial runs before I started to see good results. Continue until you have roughly 1/2 cup of puffed amaranth.
Granola inspired by Rick Bayless's
Mexican Granola
. Clumping trick inspired by
Food52
.
Serving: 1serving, Calories: 181kcal, Carbohydrates: 23g, Protein: 4g, Fat: 9g, Saturated Fat: 2g, Polyunsaturated Fat: 6g, Cholesterol: 12mg, Sodium: 80mg, Fiber: 3g, Sugar: 11g
This post contains affiliate links, which means that I make a small commission off items you purchase at no additional cost to you. Please read my
privacy policy
for more information.