Zucchini Bites with Harissa, Goat Cheese, Lime & Mint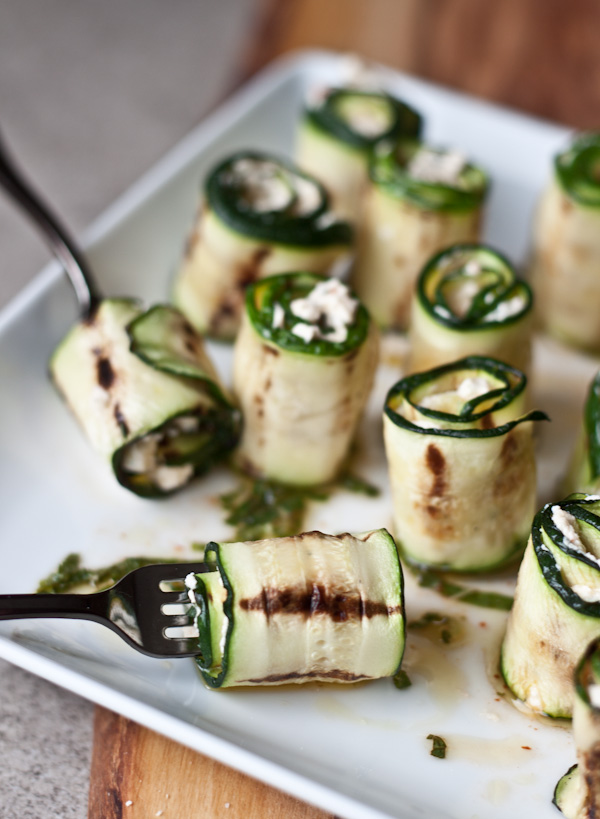 Tiny food is so much fun. There is a reason why small plates and appetizers tend to be the most creative and satisfying dishes on any restaurant menu. It all boils down to the law of diminishing returns.
Flavor-packed dishes that leave you wanting more. Because nothing tastes quite as good as that first bite…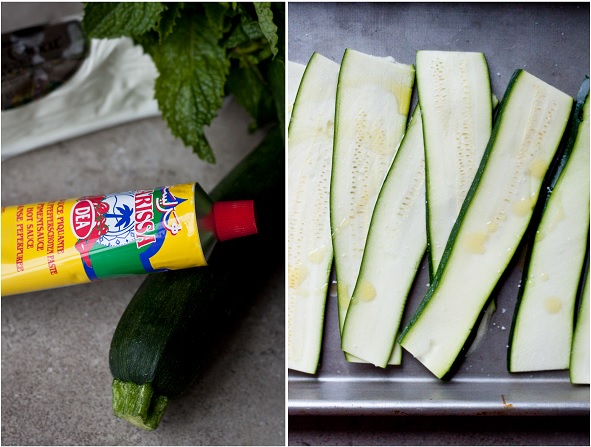 These zucchini rolls, filled with spicy goat cheese, fresh lime juice, zest, and mint, are exactly that. Little parcels of flavor with just the right amount of punch when you're least expecting it.
Whenever I think of zucchini, my brain automatically thinks of Mediterranean or Italian flavors–but I really wanted to do something a bit different and unexpected.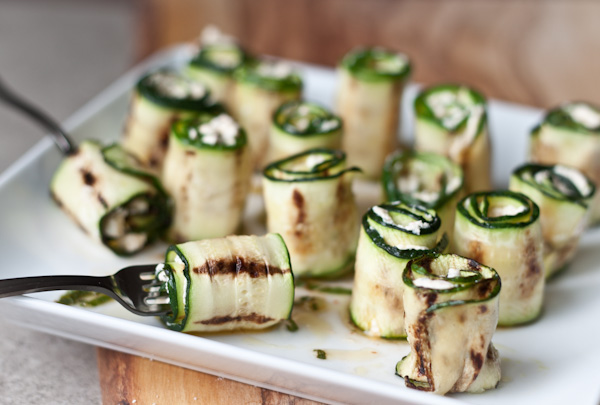 The inspiration for this dish was really just a jumble of thoughts and ideas that eventually made their way onto a plate–and as luck would turn out, tasted yummy. Sometimes it's just that simple.
Vague, I know. But I had finally gotten my hands on some harissa paste (Tunisian/Moroccan paste made from chili peppers and spices) and I was determined to use some in a fun, creative way.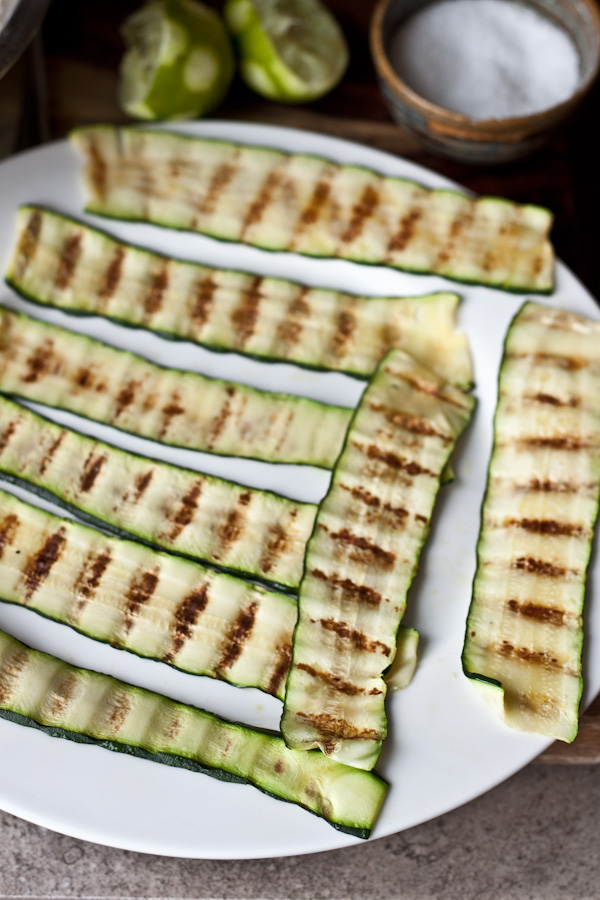 At that point, I just added some of my favorite foods, zucchini and goat cheese, into the mix and things took off from there. Um, I also ate a fruit roll-up (for the first time in years!) the other week too, which sort of stuck with me. Random, I tell you.
The addition of fresh mint and lime juice helps brighten up the flavors and pairs extremely well with the spicy harissa and tangy goat cheese. Perfect summer entertaining food, if you ask me.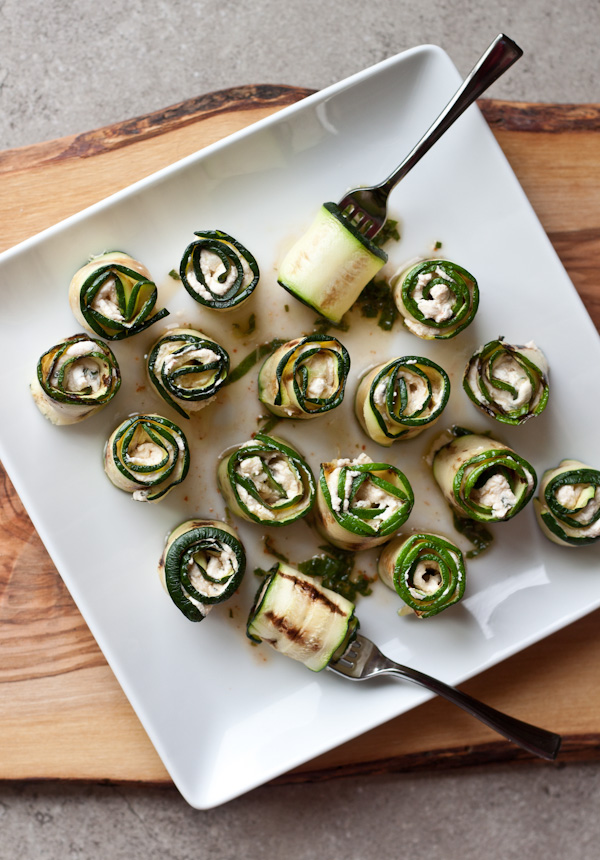 Despite looking somewhat labor-intensive, this dish is pretty easy to put together. The most time-consuming part of making this dish involves the slicing (made much easier by using a mandolin) and subsequent grilling of the zucchini.
After this step, you simply spread on a thin layer of the goat cheese mixture and roll them up! It is really fun, actually. Especially when you sneak little bites along the way. Enjoy!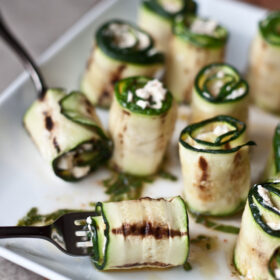 Zucchini Bites with Harissa, Goat Cheese, Lime & Mint
Ingredients:
1 lb (roughly two zucchini, preferably long and at least an inch in diameter), sliced into 1/8″ inch lengths
extra virgin olive oil
8 ounces soft goat cheese, room temperature
2 tablespoon finely minced fresh mint
2 teaspoon extra virgin olive oil
2 teaspoon harissa paste
1 teaspoon fresh lime zest
1/2 teaspoon freshly squeeze lime juice
salt
pepper
Optional Vinaigrette:
1 tablespoon extra virgin olive oil
1 tablespoon chiffonade of mint leaves
2 teaspoons fresh lime juice
1/4 teaspoon harissa paste
salt
pepper
Directions:
In medium sized bowl, combine goat cheese (room temperature), harissa paste, fresh mint, lime juice, zest, and olive oil. Season with salt and pepper.
Using a mandolin, carefully slice the zucchini lengthwise into 1/8 inch slices. Set the slices aside on a large rimmed baking sheet, until all of the zucchini has been sliced.
Drizzle the slices lightly with extra virgin olive and season lightly with salt and pepper. Use your hands to carefully toss the zucchini, so each slice is very lightly covered with oil.
Preheat a grill pan over medium heat. Add slices in batches and allow to brown on each side–avoid overcrowding the pan. Carefully remove and set aside on a large plate or clean baking sheet (once the zucchini is grilled, it will be much more delicate, so be careful not to manhandle it too much.).
Assemble:
One at time, lay the zucchini slices on a work surface and using a butter knife or small offset spatula, spread a very thin layer of the goat cheese mixture evenly onto each slice (not too much, as you don't want to overpower the flavor of the zucchini). Starting with one end, roll up into small rolls and set aside.
Repeat with remaining zucchini slices.
Drizzle a serving platter lightly with the vinaigrette (optional), top with the zucchini rolls, and serve at room temperature.
If necessary, the rolls can be made several hours ahead of time and kept in the fridge covered with plastic wrap. They are best served at room temperature.
All images and text ©
.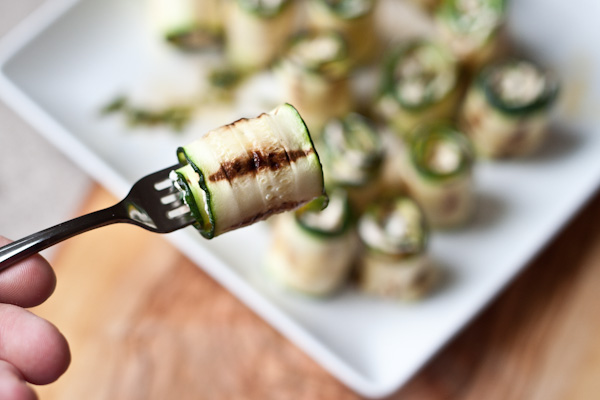 P.S. You know something that's even more fun than tiny food? Tiny forks. Yep. They're a thing.