Tidbits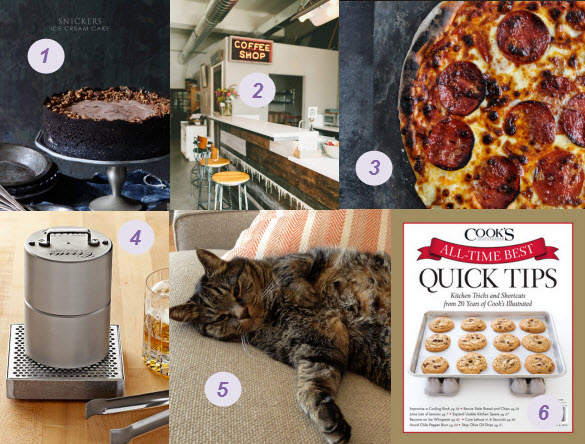 1) Someone please make me this Snickers Ice Cream Cake. Then again, I sort of want to eat everything that appears on Naomi's site.
2) Love photo tours of independent shops and cafes (maybe because I have a sort-of-maybe-not-really dream to have one of my own someday)–I could totally envision spending hours lounging in this coffee shop.
3) After weeks of drooling over pictures of Jessica's cast-iron skillet pizzas, I am officially planning on making one this weekend. No excuses!
4) Um, I wish I were joking, but I came across this little gadget whilst browsing on Williams-Sonoma's website the other day. Please tell me that people don't actually buy $1,100 dollar ice molds. Granted, the video is kinda cool, but good lord.
5) This "Sad Cat Diary" video is one of the funniest I've seen in a while. One of my favorite quotes, "Dear Diary, the authorities have removed the pair of black pants from the couch. There is no longer any place for me to sleep." P.S. They have a dog version too, in case that is more your thing.
6) My mom recently bought me this fun edition of Cook's Illustrated, which is packed with great kitchen tips and tricks, including the idea to use a Bundt pan as an impromptu vertical chicken roaster. Genius! (Remember to place it on top of a lined baking sheet.)
This post contains affiliate links, which means that I make a small commission off items you purchase at no additional cost to you. Please read my
privacy policy
for more information.