15-Minute DIY Holiday Centerpiece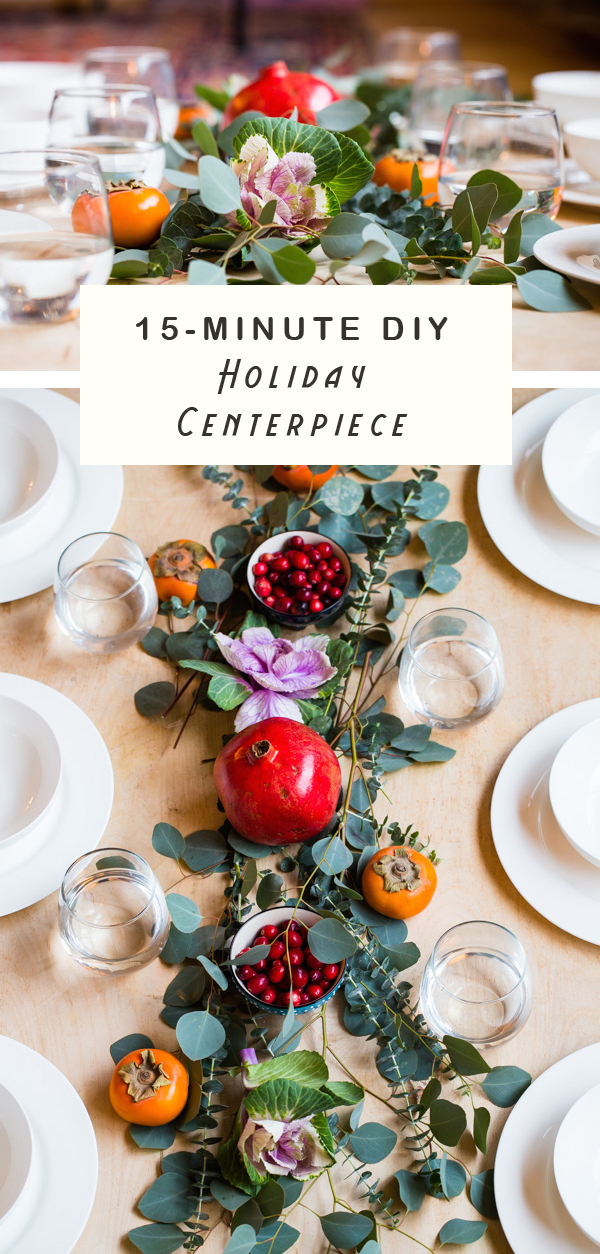 Today we're doing something completely different and totally outside of my comfort zone. And yet, I don't think I've ever been more proud (and completely shocked) of a single post on the blog than today's 15-minute DIY holiday centerpiece project.
I feel like Martha Stewart temporarily invaded my body and took over. She's welcome back at any time, because I am NOT crafty! Really, I swear.
I could be a crafty person (maybe…), I just don't have the patience to be a crafty person. Like at all. My half-finished college study abroad scrapbook is evidence of this fact.
Luckily, this holiday centerpiece is very forgiving and takes only 15 minutes to put together. Plus, it is made up of more than 50% edible fruits like pomegranates, persimmons, and fresh cranberries! What's better than a half-edible floral arrangement? Nothing. If I can do it and more importantly, had the patience and attention span to do it, you can do it! Promise.
Let's get started!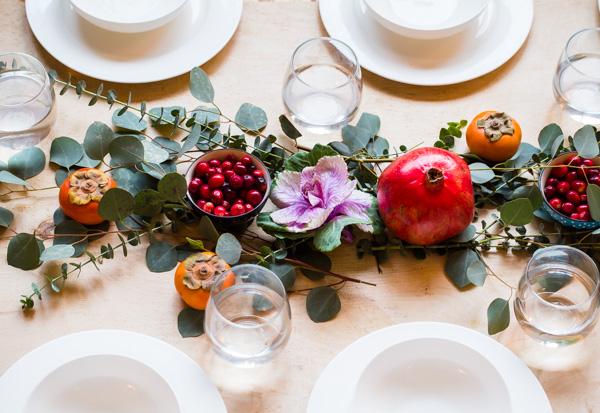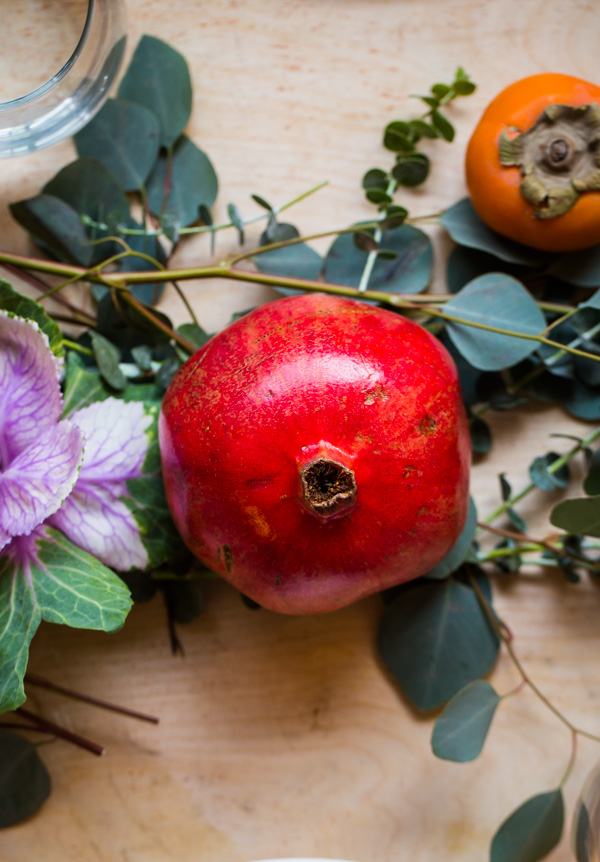 Ever since helping put together this pomegranate centerpiece in California a few weeks back, I've been itching to do something similar again. I've always loved when people incorporate fresh fruit into centerpieces, and the fall and winter seasons offer some of the most beautiful fruit and vegetables to work with!
Edible arrangements are so cost-effective (hello, you can eat half the arrangement when you're done with it–what's better than that?), rustic, and have that just thrown-together quality that make them so beautiful.
I love traditional vase floral arrangements, but I find them much more difficult to put together–and let's be honest, they are usually so tall that they obstruct the view of your dinner guests. There is nothing worse than ducking and stretching to make eye contact and dinner conversation.
Most of the time I end up just removing them from the table altogether and setting them aside, which sort of defeats their purpose. It is the worst.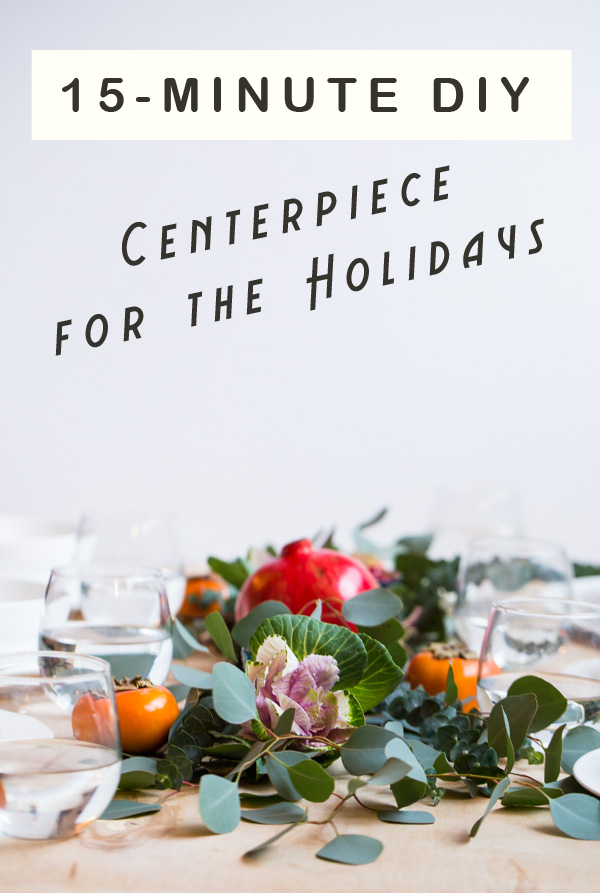 Plus, I'm having a serious pomegranate (and now, ornamental cabbage flower) life moment, so I had do something with them other than..you know…just eating them.
This centerpiece is comprised of just six things, all of which are very easy to find at this time of year. In fact, I found all of them at my local Trader Joe's. I could have easily made a centerpiece twice the length with what I bought, and all of the components cost less than $20 dollars. Amazing, right?
Here's what you'll need!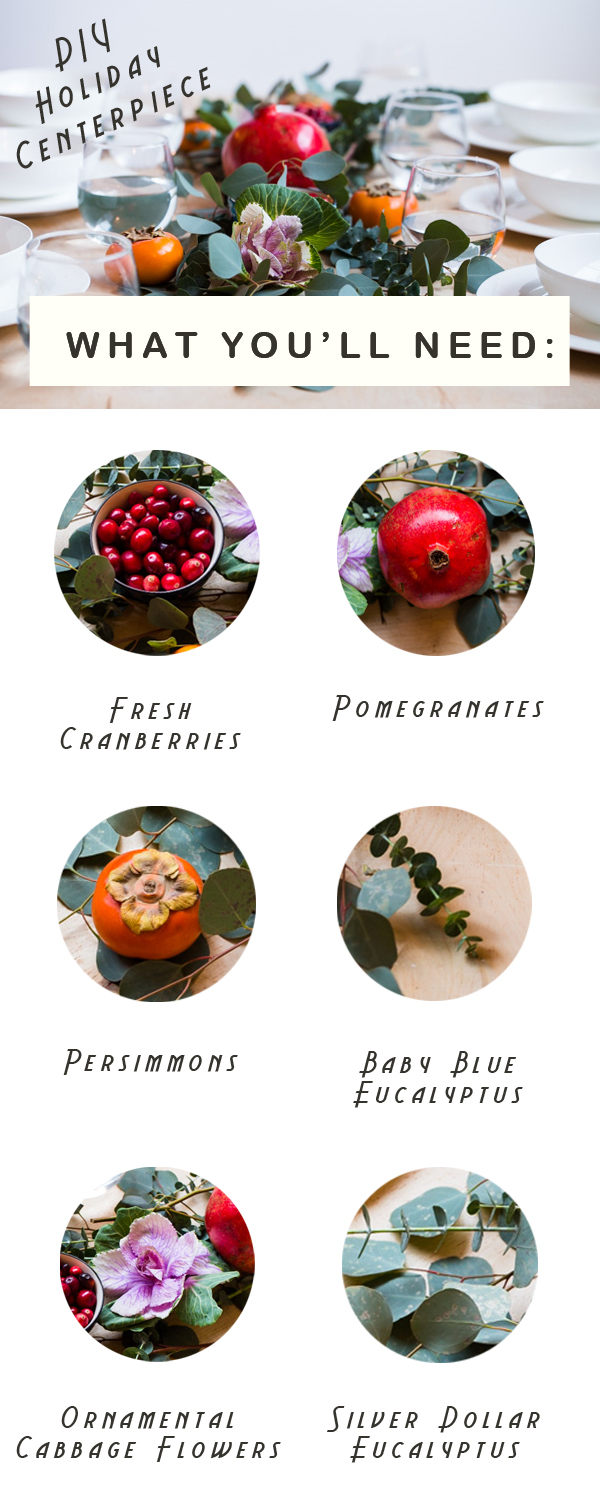 I filled two small colored bowls with fresh cranberries, but you could easily go the 'cranberry sauce' route and make them even more practical for the table. This produces a low height arrangement, which is perfect for a larger gathering.
Since silver dollar and baby blue eucalyptus, pomegranates, cranberries, and fresh persimmons require barely any care or attention, the arrangement will last for days and days as well. You can then eat the fruit (seriously, how cool is that?) and replace them with new ones as necessary. [The eucalyptus will last much longer if you store them in a water-filled vase when you are not using them on the table as well.]
The ornamental cabbage flowers are best added to the arrangement just before your guests arrive, as like any flower, they have a tendency to wilt with time.
[Seriously. I feel like I am having an out-of-body experience talking about ornamental cabbage flowers. Martha?! Are you in there?]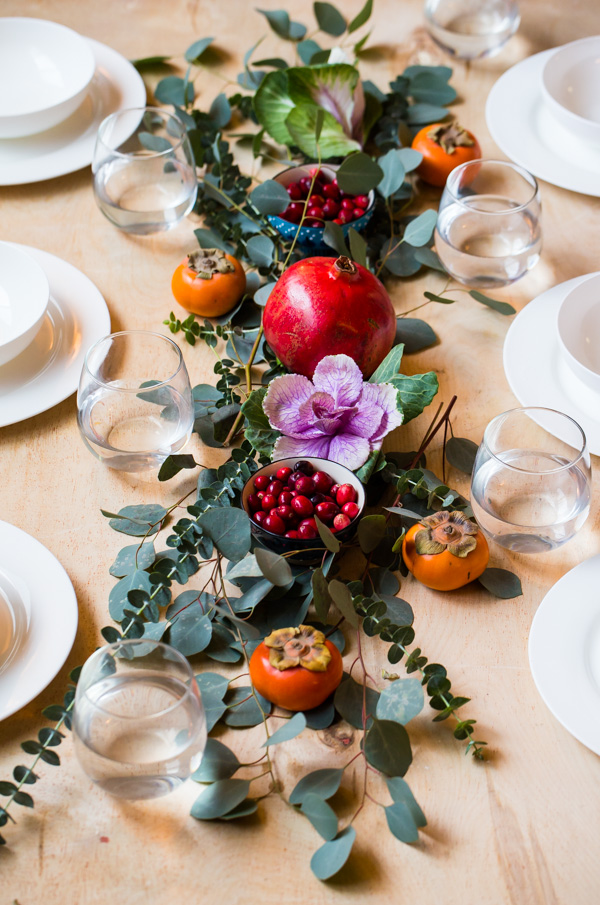 Ok, so here's the deal on how to arrange this thing:
1) Start with the silver dollar and baby blue eucalyptus branches. Take two or three small branches of each and set them on your (bare or tablecloth-covered) table, so that branch bases are in the center of the table, and the ends of the branches face outward and naturally fall and extend onto the left-hand side of table. Repeat with the right side. The trick is to naturally overlap and lay them on the table, so it looks random and not forced–and you can see the texture of each types of eucalyptus. If the ends of the branches are too thick or difficult to work with, trim them with kitchen scissors.
2) Place the pomegranate in the center of the arrangement–this will help cover up the area where the eucalyptus branches meet in the center of the table. Alternatively, you can use cluster a few pomegranates, if they are smaller in size. [The one I used was the size of my head.]
3) Fill two very small bowls with fresh cranberries (or cranberry sauce!) to the left and right of the center of the arrangement. I prefer if they are slightly off center, so it doesn't look too lined-up or forced. Trim the stems of the ornamental cabbage flowers–and use your fingers to open up the blossoms–and set them on either side of the arrangement, or as desired.
4) Scatter the persimmons (I used four of them) asymmetrically in the arrangement. Feel free to move things around until they look natural, rustic, some elements overlap each other, and the height of the arrangement is varied throughout.
5) At this point, set out your dishware and glasses–and adjust the arrangement, if needed. This arrangement is not conducive to a family-style meal–as the arrangement will take up the majority of the table center.
My main advice is to avoid over-thinking it–and just do what looks and feels right! I promise, this took me 15 minutes–that's it! The beauty of the fruit and eucalyptus do the majority the work for you.
Revel in the fact that you just put together a less-than-$20 centerpiece in 15 minutes or less! Martha Stewart would be proud right now.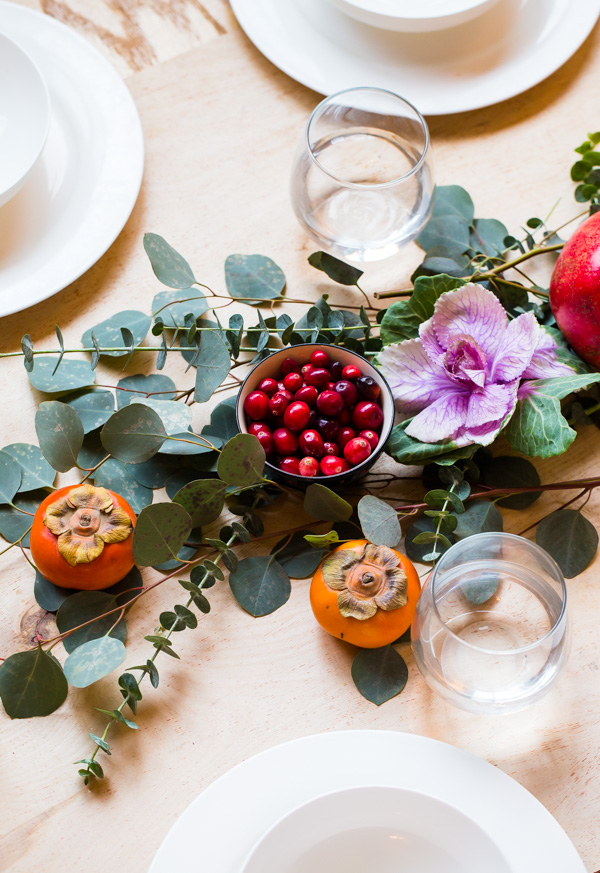 P.S. But seriously…how freaking cool are those ornamental cabbage flowers! Gah. I might need to send our wedding florist an email about those.
P.S.S. I had to google the various names of eucalyptus branches for about 10 minutes to educate myself in order to write this post (rather than just calling them 'those eucalyptus things'). Seriously, I am that clueless when it comes to floral anything.
This post contains affiliate links, which means that I make a small commission off items you purchase at no additional cost to you. Please read my
privacy policy
for more information.