Individual Phyllo Apple Walnut Pies (…for people who hate to make pie dough)
This post contains affiliate links.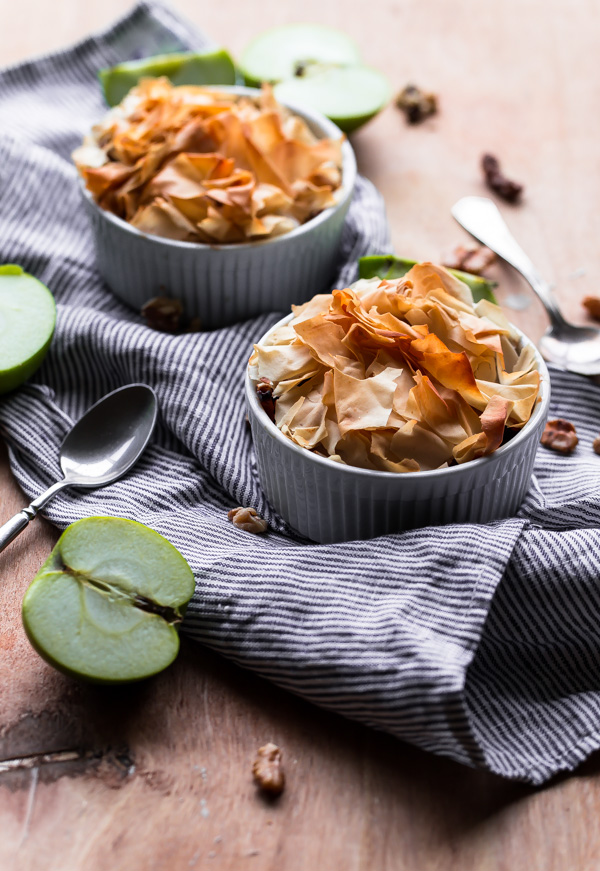 Raise your hand if you hate making pie dough? Obviously, I can't see you…but I have a feeling a decent portion of you might have just emphatically nodded at your computer screen. I' m actually one of those people that doesn't hate to make pie dough from scratch, but I totally get it.
Today's last-minute Thanksgiving individual apple walnut phyllo "pies" are for you. As you can probably already tell, instead of using traditional pie dough as a topping, today we're going to be using phyllo dough.
If you've ever worked with phyllo dough in the past, you've probably come to realize that it can be tricky to work with, as it has a tendency to dry and crack easily, and you have to work rather quickly.
However, tearing the phyllo dough (particularly when you are only using one sheet per individual "pie", as we do in this recipe) definitely removes the complication factor from phyllo dough.
Does phyllo dough taste like pie dough? No, not at all. But it has a lot of texture, and is definitely a fun alternative to a crisp or crumble, which is pretty much the only alternative out there. Plus, this recipe is more time-friendly than traditional pie!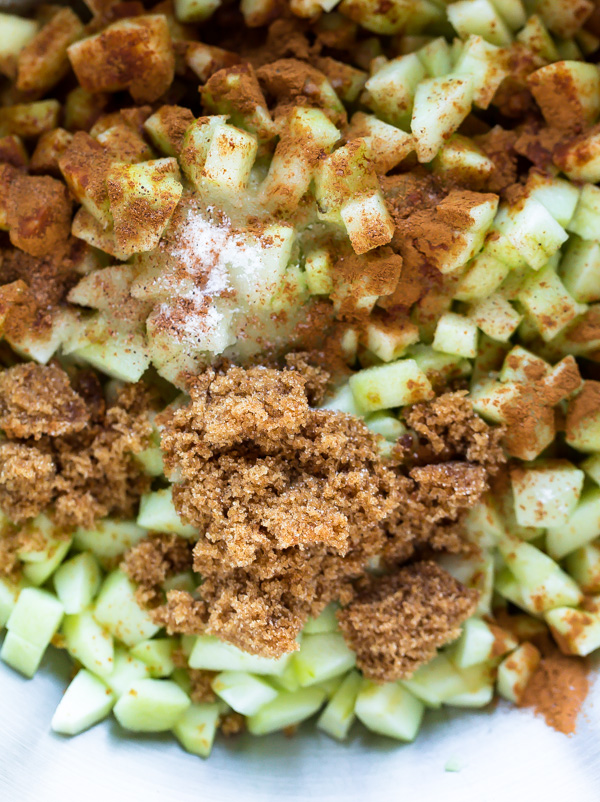 Another benefit is that using phyllo dough allows this recipe to be scaled very easily. You can prepare just as much apple filling as you need, and as long as you have the same number of phyllo sheets on hand as the number of servings–you are good to go.
On that note, can we discuss this amazing apple filling? Although the ingredients are very similar to a traditional apple pie (apple, lemon juice, sugar, brown sugar, cinnamon, etc.), the method is a little bit different.
The method is the brainchild of Rose Levy Beranbaum, and she discusses the reasoning behind it in length in her cookbook, The Pie and Pastry Bible.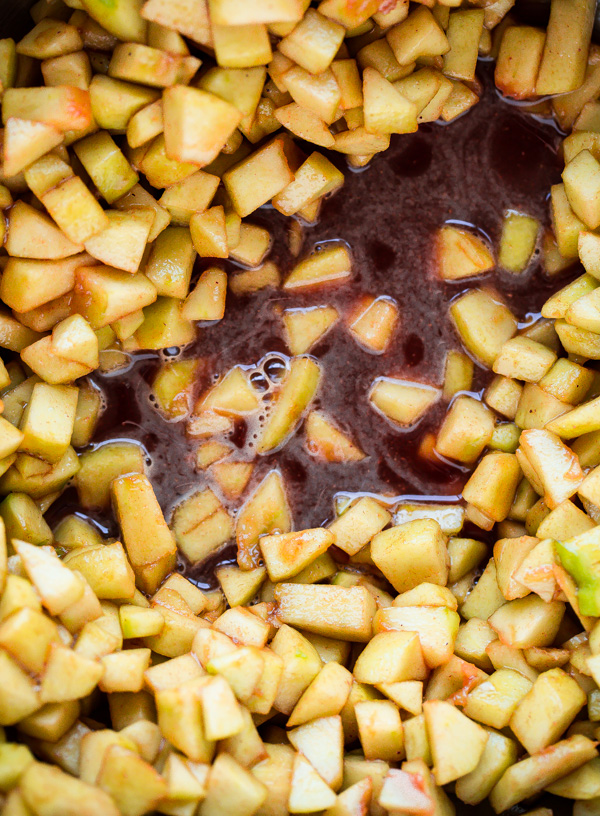 If you've ever made a traditional apple pie filling, you've probably noticed that once you mix the ingredients together, the apples release quite a bit of liquid. Actually, a lot of liquid. This generally happens whenever you mix any fruit with sugar, and allow it to macerate for a length of time.
Usually, you compensate by adding quite a bit of cornstarch (or other thickener like tapioca).
Instead, Beranbaum has the genius idea of allowing the apple mixture to sit for some time (minimum of 30 minutes), straining out the collected liquid, and reducing it over the stove to produce a very highly concentrated caramel-like syrup. Not only does this increase the flavor exponentially, it also helps result in a less liquid-y filling.
This recipe uses the same method, but instead of stirring the reduced liquid into the chopped apples, I actually cooked the apples in the syrup over the stove top for 5 minutes before transferring them to the ramekins.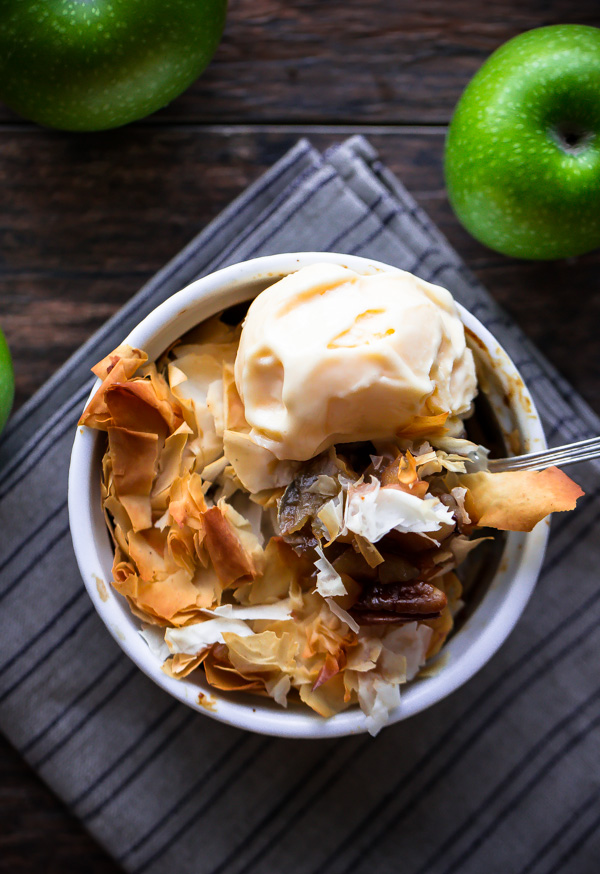 Stir in some chopped walnuts, top the "pies" with phyllo dough, brush on some butter, and pop them into the oven for 40-5o minutes. After sitting for 5-10 minutes, the desserts are ready to be served (the filling does not need setting time).
Don't forget a scoop of vanilla ice cream!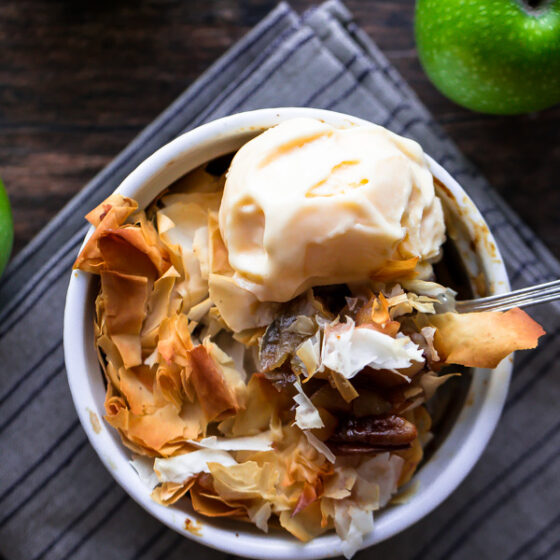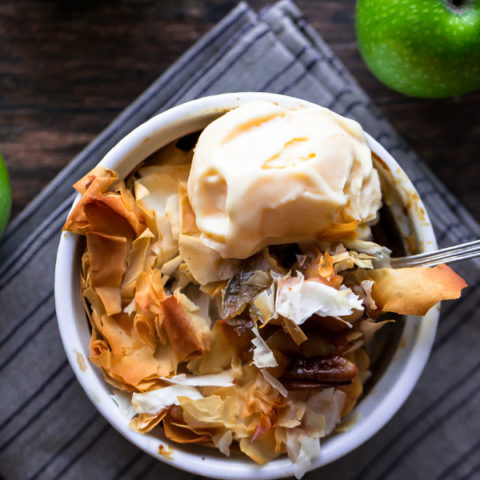 Individual Phyllo Apple Walnut Pies
Yield: 4 Servings
Prep Time: 30 minutes
Cook Time: 55 minutes
Additional Time: 5 minutes
Total Time: 1 hour 30 minutes
Ingredients
2 pounds Granny Smith apples (about 6 medium or 8 cups ), peeled, cored, and cut into 1/2 inch chunks 
1 tablespoon freshly squeezed lemon juice
1/4 cup light brown sugar, packed
1/4 cup granulated sugar
1 tablespoon maple syrup
1.5 teaspoons ground cinnamon
1/4 teaspoon nutmeg, 
1/4 teaspoon salt
1/2 tablespoon butter
2 teaspoons cornstarch
3/4 cup toasted walnuts, coarsely chopped
4 sheets of phyllo dough (roughly 18 inches x 13 inches), thawed
2-3 tablespoons of clarified or melted butter
Instructions
Combine the apple chunks, lemon juice, brown sugar, granulated sugar, maple syrup, cinnamon, nutmeg, and salt in a large bowl until well mixed. Allow the mixture to macerate and sit for a minimum of 30 minutes (and as long as 8 hours). As it macerates, the mixture will yield at minimum 1/2 cup of liquid to as much as 1 full cup, depending on how long it sits.
Preheat the oven to 350 degrees Fahrenheit. Set aside four (8 ounce) ramekins and place them on a large baking sheet. Place a colander over a large (10-inch) skillet and drain the apples over the pan until all of the liquid has been collected. Place the apple chunks back into the bowl and set aside.
Place the skillet of liquid over medium-high heat and bring to a boil. Boil the liquid until it reduces by almost half, and becomes syrupy and significantly thicker. Add the apple chunks to the skillet and sprinkle them with cornstarch, and stir them into reduced liquid. Cook the apples over medium-high heat, stirring frequently, for 5 to 7 minutes or until the apples have softened slightly and the syrup has mostly been absorbed. Remove the apples from the heat, stir in the toasted walnuts, and allow them to cool for 5-10 minutes while you prepare to assemble the phyllo dough.
Prepare a clean work surface and set the melted butter and pastry brush within easy reach before you start assembling the ramekins. Distribute the warm apple mixture among the four ramekins–the apples should fill them all the way to the top. Remove the thawed phyllo dough from the fridge, and unroll the sheets. Cover phyllo with a barely damp kitchen towel to prevent from drying, and place one full sheet on top of a clean and dry cutting board.
Brush the top of the phyllo sheet lightly with melted butter. Using your hands, tear the sheet into three or four thin strips and lay them on top of each other roughly, before tearing them into small pieces. Place the torn and crumpled phyllo sheet pieces on top of one ramekin, covering the apple mixture completely, to create the "pie" crust (don't flatten the phyllo, you want texture). Repeat with the remaining three sheets of phyllo dough, until all of the "pies" are assembled.
Carefully brush the exposed phyllo dough tops with butter. Bake the "pies" at 350 degrees for 40-50 minutes, or until the tops are golden brown. Allow them to cool for 5 to 10 minutes before serving. Top with a scoop of vanilla ice cream and serve.
Notes
Apple filling adapted from Rose Levy Beranbaum's Pie and Pastry Bible.
Nutrition Information:
Yield: 4
Serving Size: 1
Amount Per Serving:
Calories: 496
Total Fat: 19g
Saturated Fat: 4g
Trans Fat: 0g
Unsaturated Fat: 13g
Cholesterol: 11mg
Sodium: 311mg
Carbohydrates: 78g
Fiber: 9g
Sugar: 49g
Protein: 6g
A Beautiful Plate provides nutritional information, but these figures should be considered estimates, as they are not calculated by a registered dietician.
This post contains some affiliate links, which means that I make a small commission off items you purchase at no additional cost to you. Please read my
disclosure policy
for more information.