15-Minute Shrimp, Snow Pea, and Ginger Stir Fry
An easy (healthy!) shrimp, snow pea, and ginger stir fry that can be made in less than 15 minutes! Serve on its own or with sushi rice, brown rice, or soba noodles!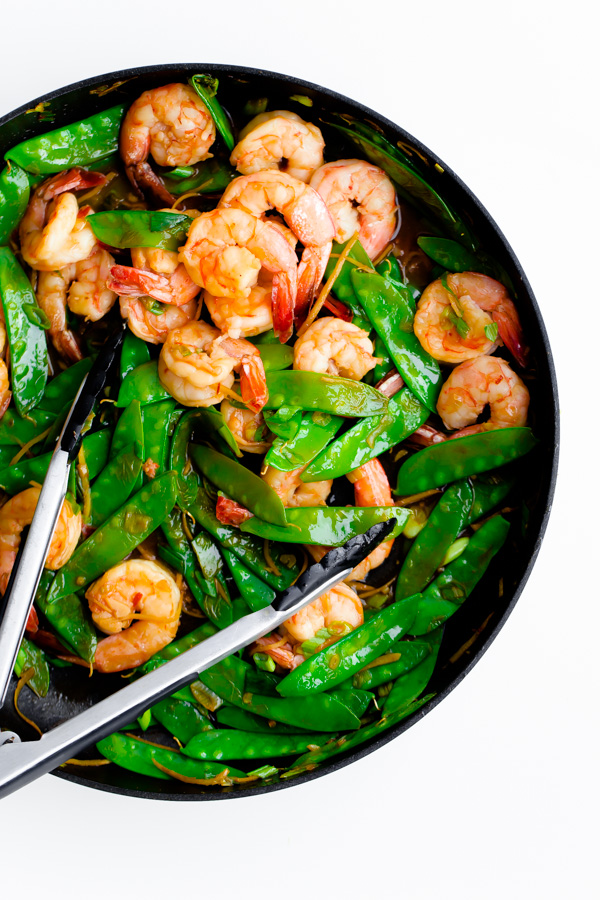 This week has flown by! How in the world is it almost the weekend? I'm actually on a plane right now (most likely as you are reading this) flying to San Francisco to visit my sister for the next few days.
I'll be spending the majority of the time in the Oakland and Berkeley area, but might take a day trip to Sonoma. If you want to follow along with what we're doing, where we're going, and what we're eating, I'll be on snapping as much as my sad phone battery allows (username: blogoverthyme).
In the meantime, I think it's about time that I share a dinner recipe with you! Specifically, a super easy, flavor-packed dinner, which uses only a handful of ingredients, and can be made in just 15 minutes. Yes, really! Grab the ingredients at the grocery store after work and make this tonight!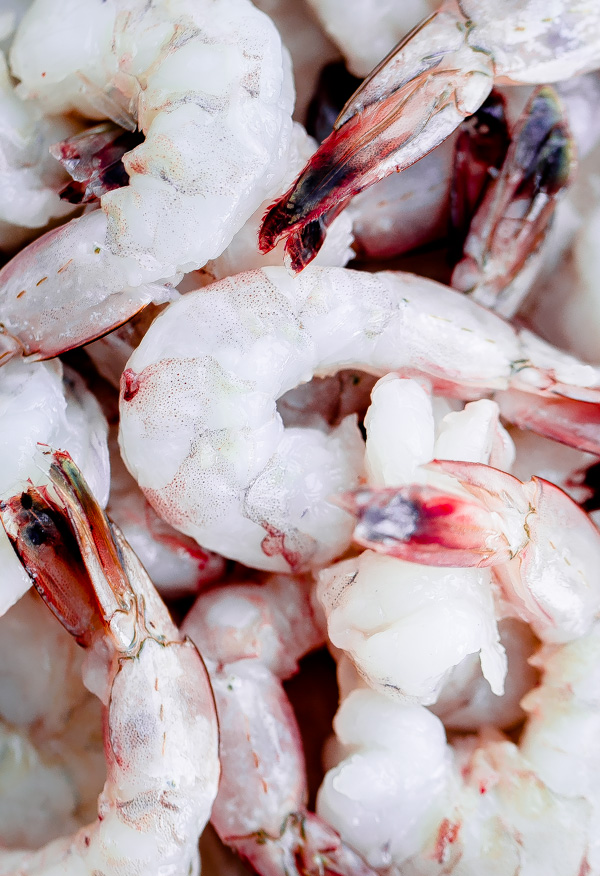 This dish has already joined my running list of recipes that I keep on hand for those busy nights, when I have absolutely no energy to cook or spend a lot of time prepping ingredients. Thankfully, this dish has minimal prep, yet does not lack on flavor.
The original recipe was discovered in an old issue of Food & Wine magazine, and I tweaked it slightly by adding sesame oil, fresh lime juice (truthfully, I love adding freshly squeezed lime juice to just about anything these days–particularly any dish with an Asian influence), garlic, and adjusting the ingredient amounts just a tad.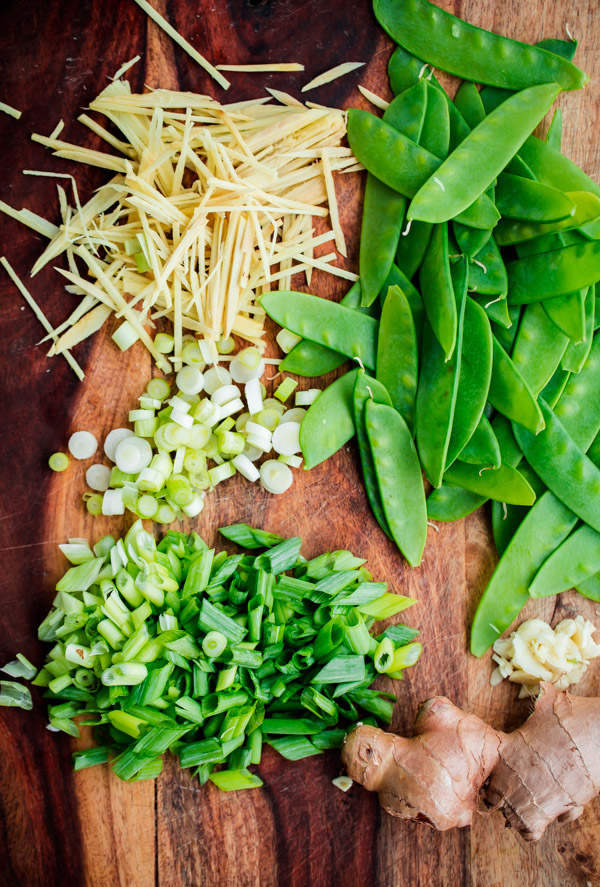 If you're a ginger fan, you will love this dish! It is loaded with fresh ginger. The original recipe called for slicing the peel ginger root into very thin matchsticks (essentially a very fine julienne) and sauteing it before adding the rest of the ingredients.
I loved doing it this way–as opposed to grating or finely chopping it– as it made the ginger flavor more pronounced with each bite. The ginger, along with the chile-garlic sauce (I use this brand!), adds just the right amount of heat, without it being overpowering in the slightest. If you prefer more spicy, I suggest adding another 1/2 to 1 teaspoon of chile-garlic sauce.
My biggest tip for buying ginger is to find the least knobbly piece available at the grocery store. It saves a ton of time and frustrating when peeling, and you end up with less waste and extremely fibrous bits and pieces. I prefer to peel ginger with the edge of a spoon, but a vegetable peeler will work as well!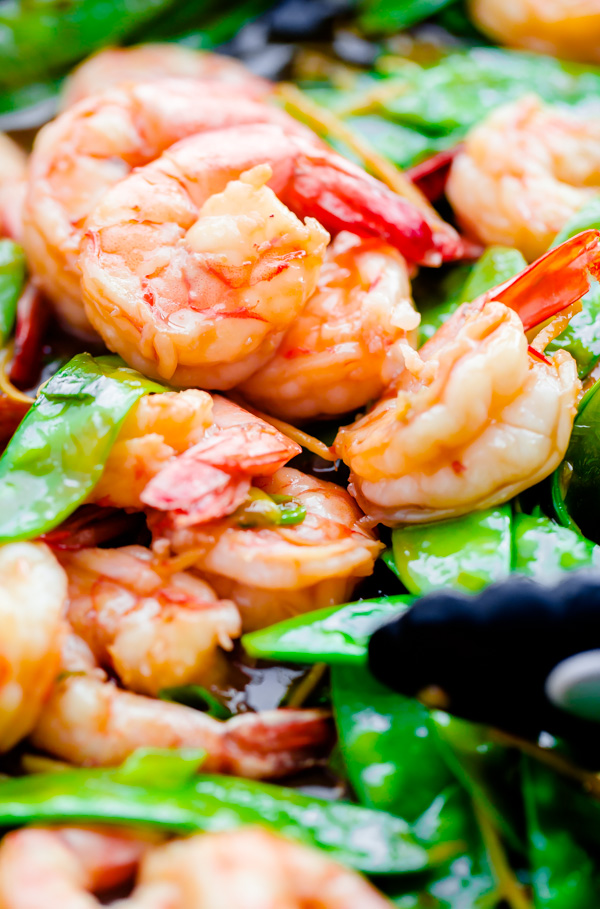 Biggest time-saving tip? Buy peeled and deveined wild shrimp from your fish monger. Deveining shrimp might be one of my least favorite kitchen tasks ever. It is tedious, fairly disgusting, and makes a mess. Deveined and peeled shrimp cost a bit more per pound, but the added convenience and ease make it totally worth it!
This stir fry tastes great with steamed sushi rice (you could easily use short-grain or long-grain brown rice as well!), and it would also taste great on top or tossed with soba noodles.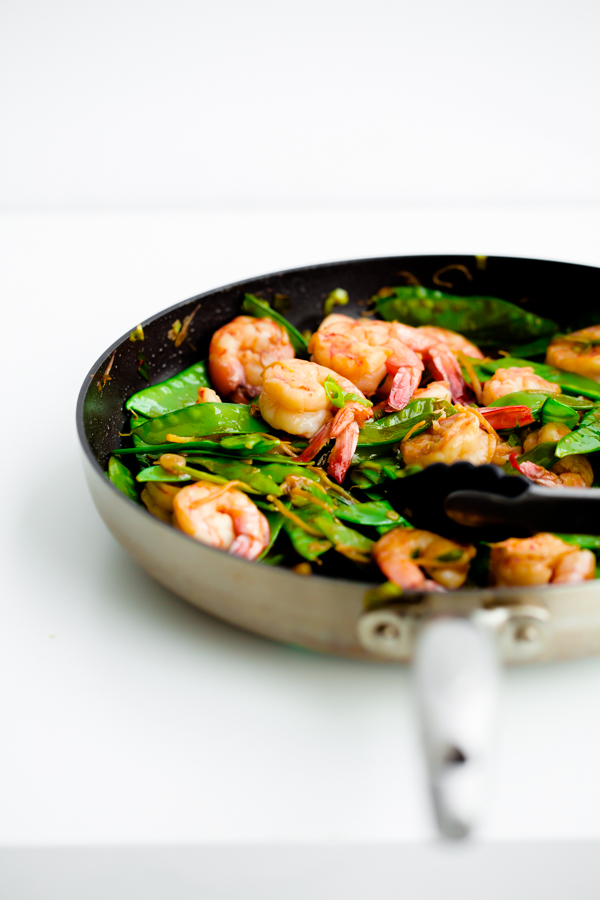 Plus, I'm pretty sure nothing beats dinner in less 15 minutes! Nothing. 
This post contains a few Amazon affiliate links. Thank you for your support!!