Belgian Buttermilk Waffles with Roasted Peaches and Vanilla Mascarpone
Fluffy Belgian buttermilk waffles topped with maple-syrup roasted peaches and decadent vanilla mascarpone.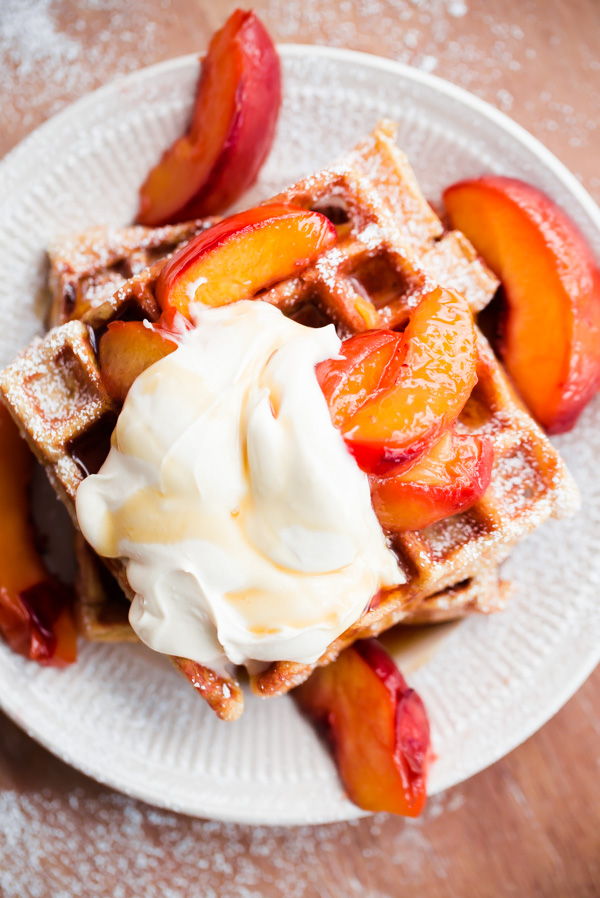 These Belgian buttermilk waffles were created on National Waffle Day! If you're not following the ridiculousness that is national food holidays, National Waffle Day was last Monday. Thanks Instagram!
Can we talk about national food and other random holidays for a second? I'd like to know who makes these types of decisions, because I have some beef with these people.
While I was at the grocery store the other day (where I spend approximately 75% of my life), I stumbled into the greeting card aisle and came across advertisements for upcoming Sweetest Day–October 17th. Umm….what?! Did I miss a national announcement or something?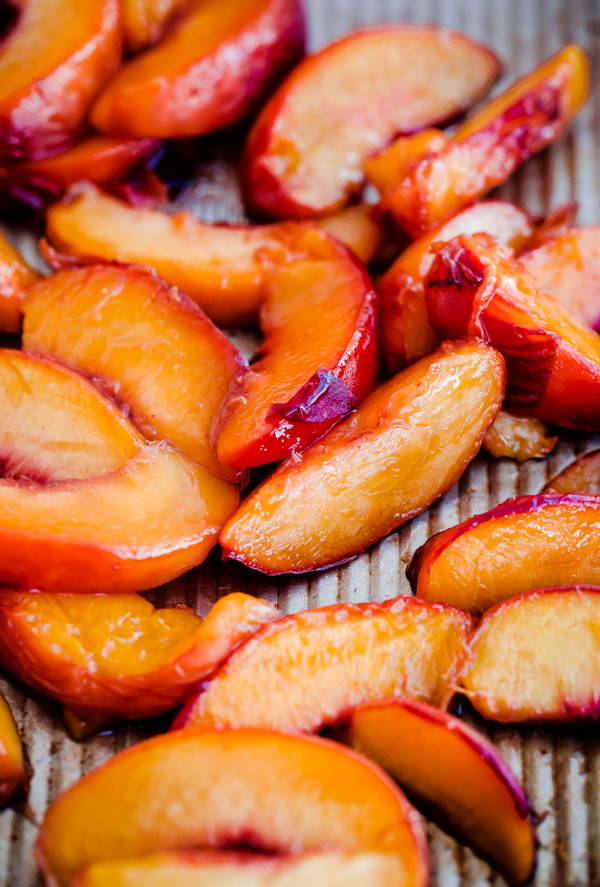 According to Wikipedia, Sweetest Day has been around since the early 1920's and is observed predominantly in the Midwest and Great Lakes region. Aka, where I live now. I'm not sure how I feel about this.
Does anyone else find this entire concept comical? Does this mean that we're supposed to be extra nice to our loved ones on October 17th (as opposed to just somewhat or not-so-nice every other day of the year)? Or are we just supposed to eat a lot of candy?
Haaaalp. I only have two more months to figure this out.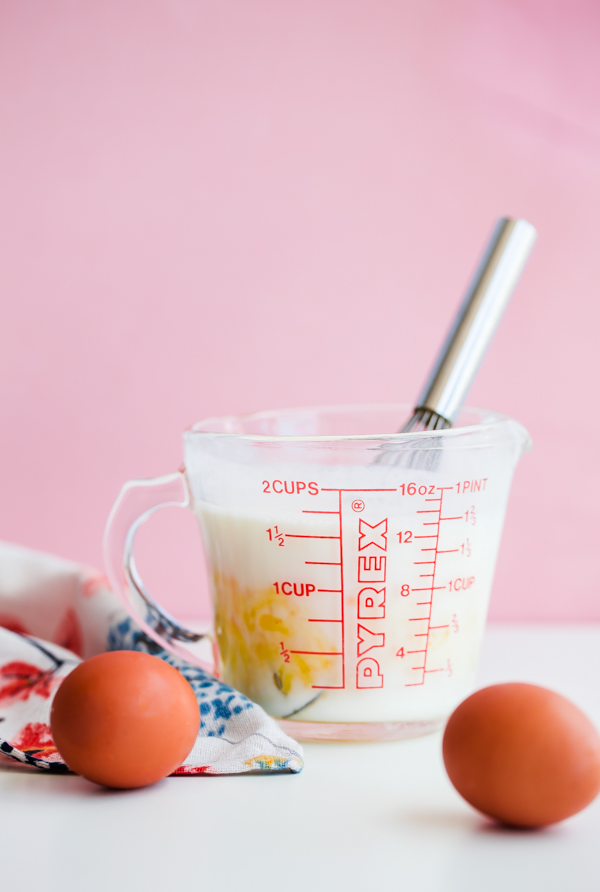 I'll all for fake food holidays that give me excuses to eat donuts, but things are getting a bit out of control. Case in point? This past Saturday was Lemon Juice Day. No, just no.
Personally, now that I own a Belgian waffle maker, I don't need any additional excuses to make waffles. Sweet or savory, I'll take them all.
These ones are topped with maple syrup roasted peaches and decadent vanilla mascarpone! In other words, they taste like deconstructed peach pie in waffle form. I'm into it.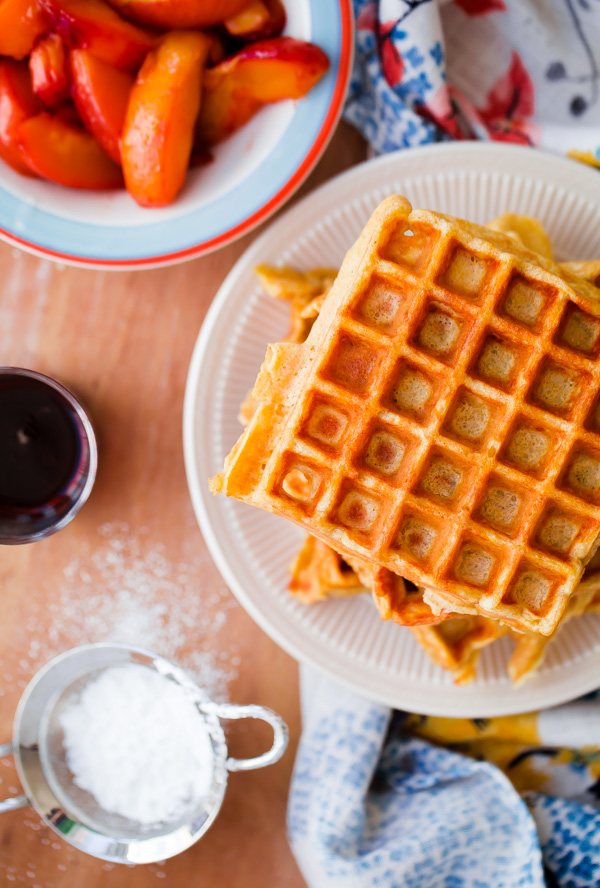 Usually, by this time of year, I'm beginning to embrace the idea of cooking with fall ingredients, but this year I'm absolutely dreading it!
This inevitably has something to do with my fear of the upcoming Chicago winter season, but I'm just not ready to say goodbye to summer produce, specifically peaches and fresh berries.
I'll take roasted peaches over pumpkin any day of the week. Who's with me?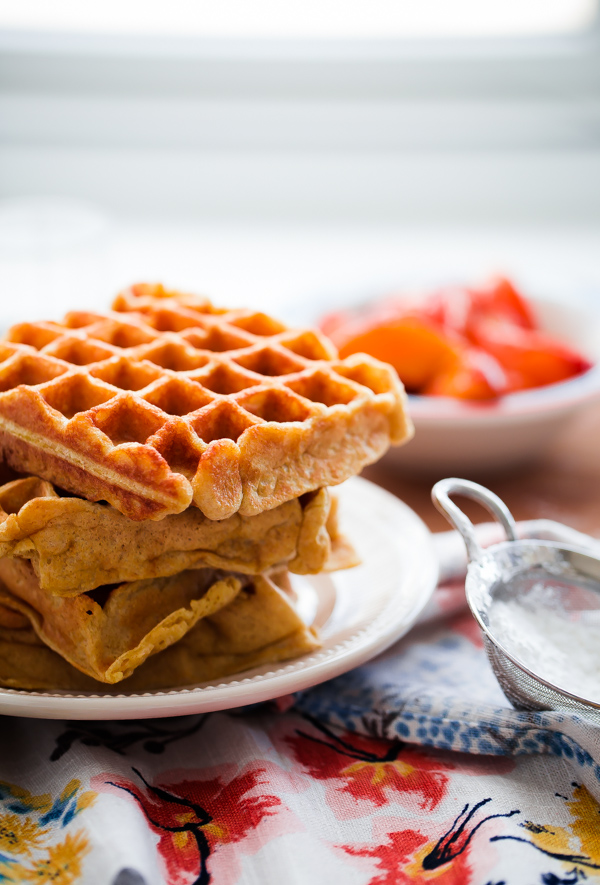 Maybe we can institute a Vanilla Mascarpone Day to seal the deal?
Cool? Cool.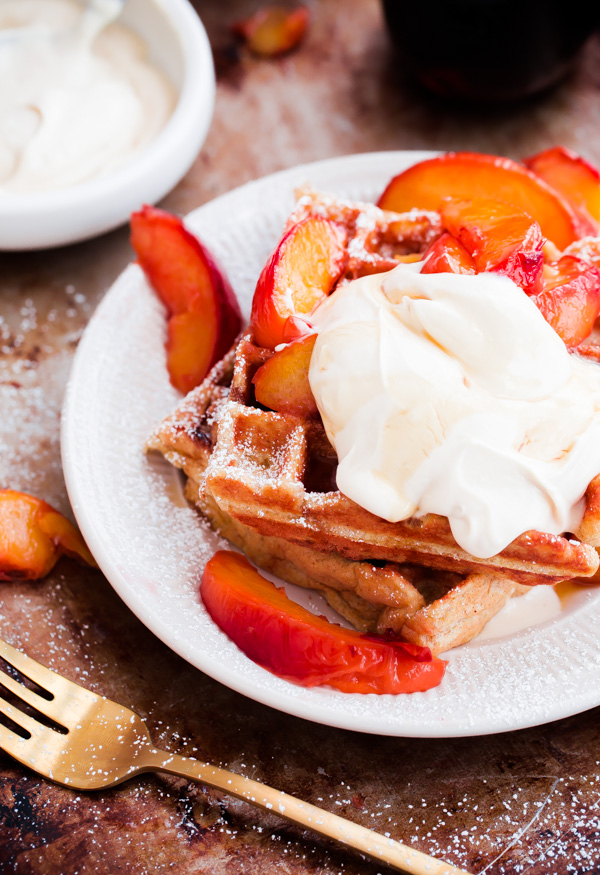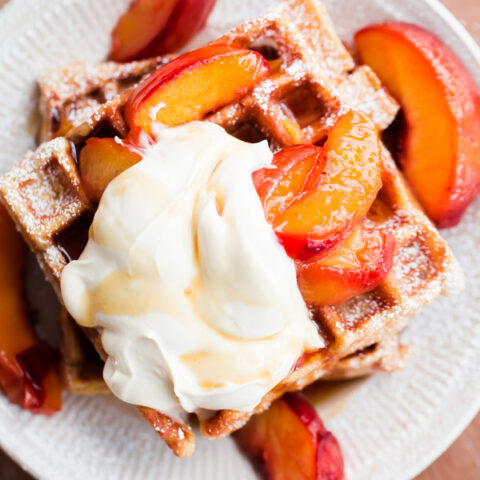 Belgian Buttermilk Waffles with Roasted Peaches and Vanilla Mascarpone
Yield: 4-6 Servings
Fluffy Belgian buttermilk waffles topped with maple syrup roasted peaches and decadent vanilla mascarpone topping.
Prep Time: 15 minutes
Cook Time: 45 minutes
Total Time: 1 hour
Ingredients
Roasted Peaches:
3 large ripe peaches, cut into wedges
1 tablespoon pure maple syrup (I prefer and recommend Grade B)
Belgian Waffles:
1 cup (120 grams) whole wheat flour
1 cup (120 grams) unbleached all-purpose flour
3 tablespoons granulated sugar
1.5 teaspoons baking powder
1 teaspoon baking soda
1/2 teaspoon kosher sea salt
4 large eggs
2 cups buttermilk (shake before measuring)
2 tablespoon unsalted butter, melted
powdered sugar, for garnishing
pure maple syrup, for serving
Vanilla Mascarpone:
1 cup (8 ounces) mascarpone cheese, room temperature
1 teaspoon pure maple syrup
1 teaspoon pure vanilla extract
pinch of kosher salt
Instructions
Roast Peaches: Preheat the oven to 400 degrees Fahrenheit. Line a quarter sheet pan with parchment paper. Toss the peach wedges with the 1 tablespoon of maple syrup, and spread them evenly on the baking sheet. Roast for 15 to 20 minutes, tossing halfway through or until they are lightly caramelized and fragrant. Remove and allow to cool on a rack as you prepare the waffles.
Prepare Waffles: As the peaches are roasting, prepare the waffle batter. In a large mixing bowl, whisk together the whole wheat flour, unbleached all-purpose flour, sugar, baking powder, baking soda, and salt. In a separate medium bowl, whisk together the eggs, buttermilk, and melted butter.
Add the wet ingredients to the dry ingredients, and mix until the dry ingredients are just incorporated and no large lumps remain. Allow the batter to sit for 10 minutes. Preheat your waffle maker, and lightly grease the plates with vegetable oil or spray.
Pour the waffle batter into your waffle maker (depending on the size and brand of your waffle maker, this amount will vary) and cook according to the manufacturer's directions or desired texture. I prefer to cook mine on medium-low heat to get them a little crispy on the outside, but still soft and fluffy on the inside.
Prepare Mascarpone: Combine the mascarpone cheese, maple syrup, vanilla extract, and salt in a medium bowl. Whisk together, and whip mixture by hand until the mascarpone thickens slightly.
Top the warm waffles with a roasted peaches and a large spoonful of whipped vanilla mascarpone. Dust with powdered sugar and serve with warm maple syrup. Serve immediately.
Nutrition Information:
Yield: 6
Serving Size: 1
Amount Per Serving:
Calories: 434
Total Fat: 7g
Saturated Fat: 4g
Trans Fat: 0g
Unsaturated Fat: 3g
Cholesterol: 107mg
Sodium: 579mg
Carbohydrates: 83g
Fiber: 2g
Sugar: 55g
Protein: 10g