2017 Favorite Stocking Stuffers Gift Guide (Under $25)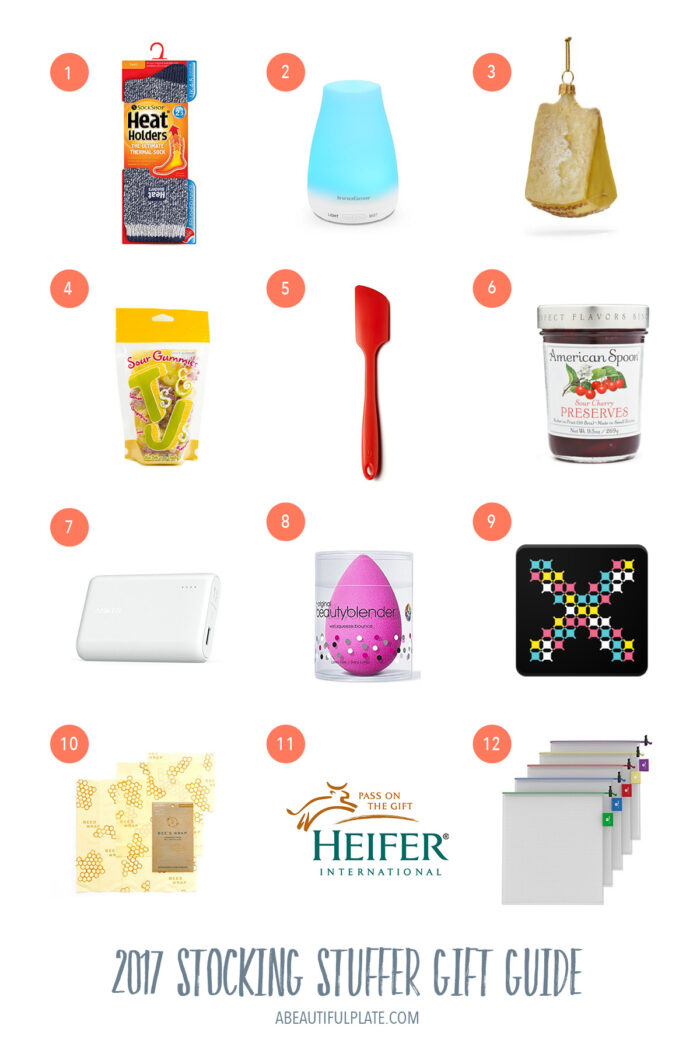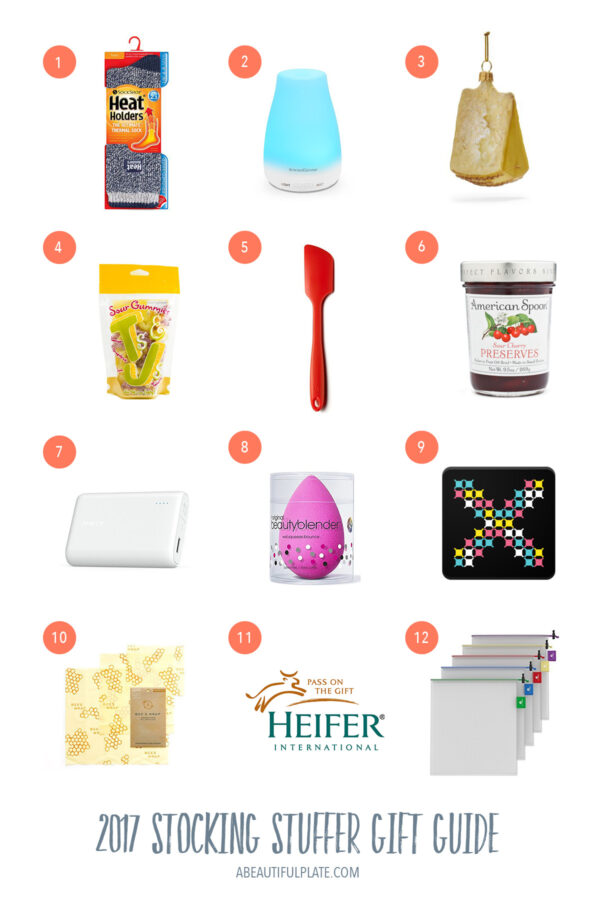 ---
This post contains affiliate links.
Hi! Hope you all survived the craziness of Thanksgiving Day. After enjoying a wonderful few days with my family, I'm back with more holiday gift guides for you! As someone that's always looking for fun, affordable stocking stuffers, I've rounded up twelve of my personal favorites (under $25) below.
These are all items that I've bought for myself, been gifted by family, or have heard wonderful things about from other close friends. If you missed it, be sure to check out my 2017 Cookbook Gift Guide. I'll also be sharing my ultimate favorite-things gift guide very soon!
If you have stocking stuffers that you've loved in the past, please share them below in the comments!
---
2017 Stocking Stuffers Under $25
Heat Holder Thermal Socks – I've mentioned these socks in years past, but they really are the most comfortable cozy socks ever. So fuzzy and warm in the inside, but not so thick that I can't use them with my boots or shoes. I'm the type of person that tends to hate wearing socks around the house and I live in these during the winter months. They also happen to be really affordable and come in a variety of colors.
Essential Oil Diffuser – I bought this very same diffuser a few weeks ago and have been really loving it. It's small and I love that it functions as an air freshener while being healthier and more environmentally friendly than traditional candles. We love to diffuse lavender in our bedroom before we go to bed, and I've been doing a mixture of lemon and eucalyptus in our kitchen. [You can also turn off the light function if you want.]
Sur La Table Food Ornaments – For the past five years, I've been gifting these ornaments to every single one of my family members. It's become a tradition of sorts. I pick ones that are tailored to that person's favorite food, family memories, etc. They are beautifully made and so fun to collect over the years!
Trader Joe's Sour Gummies – I'm a sour gummy fanatic and these are some of my favorites. But really, Trader Joe's is an awesome spot to find edible stocking stuffers!
GIR Spatula – My favorite kitchen spatula. I love that these are silicone, can withstand extremely hot temperatures, and don't have any seams or holes that lead to wear, tear, or stains. They also have a lifetime guarantee.
American Spoon Sour Cherry Preserves – You guys! I know ordering jam or preserves (if you don't live in Michigan) is probably not high on your to-do list, but these sour cherry preserves are worth it. We picked up a few jars of these during a road trip to Saugatuck last year and this one is my all-time favorite jam/preserve ever. So, so good. If you're not into sour cherry, there are a million other equally-as-good options.
Anker Phone Charger – These portable phone chargers are a lifesaver for travel – this was so helpful during our recent trip to Japan – or just everyday use. As someone that uses their phone a lot, these have become essential for me. This one can fit in my purse and can charge an iPhone on a single charge at least twice.
BeautyBlender – After buying the knock-off versions of these for like two years, I finally bought the real one and it is worth it. I don't wear much makeup on a regular basis, but this is a staple in my toiletry bag.
3-Month Texture App Certificate – I mentioned this app in last year's gift guide, but it's worth mentioning again! It's basically an app that gives you access to 200 digital magazine subscriptions all in one interface (including Bon Appetit, Food & Wine, EatingWell, Cooking Light, Clean Eating, etc.). It also happens to be crazy affordable! You can gift a three-month subscription for just ten dollars right now. Love. So perfect for any travelers or magazine fanatics in your life.
Bee's Wrap – One of my goals in 2018 is to focus on reducing the amount of single-plastic waste that I generate in the kitchen. These eco-friendly, reusable wraps (made from a cotton-beeswax blend) are so amazing! I like to use mine for wrapping cheese, covering bowls in the fridge, etc.
Flock of Chicks (Heifer International) – I love the idea of giving donations in other people's names, and I feel like this is such an awesome one to do as a stocking stuffer gift because it feels more tangible and personal. A small donation can make a huge difference in one family's life.
Reusable Grocery Bags – I'm all for practical stocking stuffers that you can use in everyday life and these reusable produce bags have been on my must-buy list for a while. Again, see my goal for 2018 above. Foldable, washable, and portable too.
None of these items have been sponsored or provided to me. This post contains Amazon and RewardStyle affiliate links. This means that I will earn a very small commission (at no cost to you!) if you purchase an item through my links. 
This post contains affiliate links, which means that I make a small commission off items you purchase at no additional cost to you. Please read my
privacy policy
for more information.