2017 Cookbook Gift Guide
My most-loved (and coveted!) cookbooks from the past year. See last year's cookbook guide, complete with pairing gift ideas, here.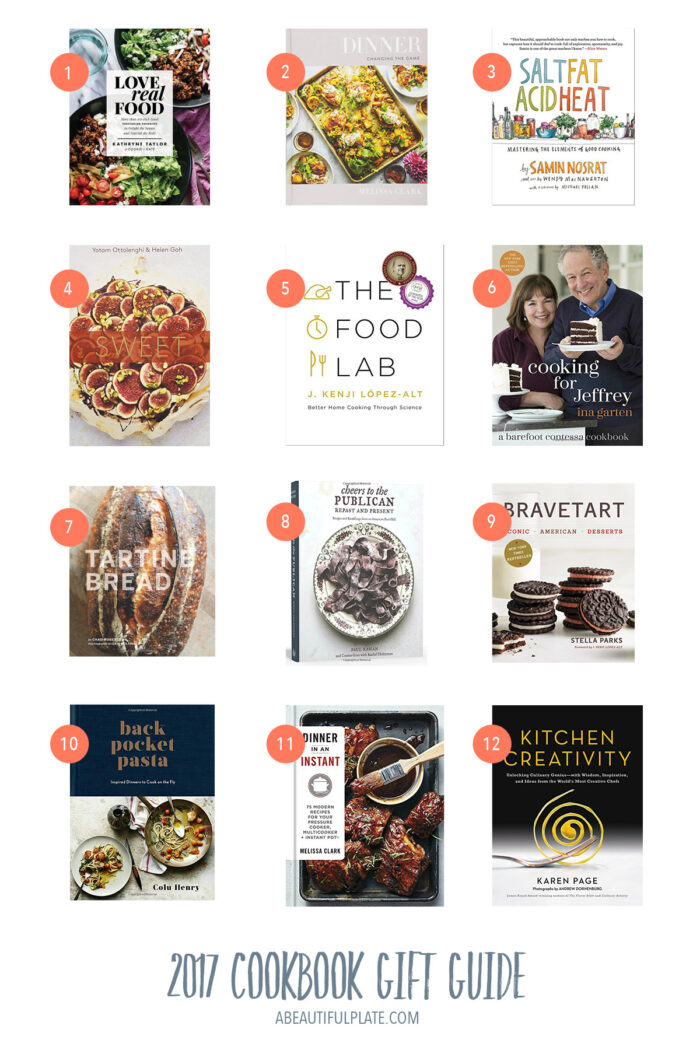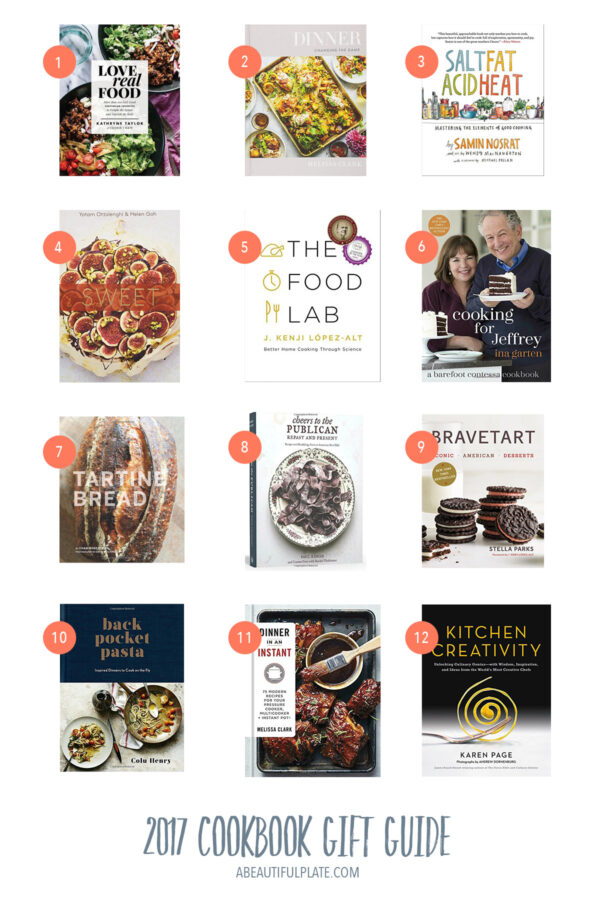 ---
This post contains affiliate links.
Welcome to gift guide week! I got my act together earlier this year and will be coming at you with various gift guides all week long. I wanted to get these to you sooner this year, so that you would be able to take advantage of the great deals and discounts that happen over the next week. [Shopping Tip: Amazon usually offers massive discounts on books on Cyber Monday.]
One of my favorites is my annual cookbook gift guide. While a few of these are more than a year old, these are the cookbooks that I've been turning to time and time in my own kitchen. I've also included a handful of books that I've been coveting.
If you have a cookbook that you've loved this year, please share it below in the comments!
---
2017 Cookbook Gift Guide
Love Real Food. This is one of my favorite cookbooks (written by my fellow blogger friend Kathryne) this year and everyone else agrees, because it has garnered over 300 five-star ratings on Amazon. If you're looking for approachable, delicious, and wholesome meat-free recipes that can be made any day of the week, this is the book for you.
Dinner: Changing The Game. I gifted this book to my mom and mother-in-law for Mother's Day.  After hearing great things, I proceeded to buy it for myself a few weeks later. I haven't made a ton of recipes from the book, but everything that I have made has been delicious, creative, and good enough to make again. Some of the recipes do call for harder-to-find ingredients, but I love that it is packed with actual dinner recipes. It makes weeknight cooking more interesting.
Salt Fat Acid Heat. This is my all-time favorite cookbook from 2017. As you know, I'm a sucker for any sort of cooking reference book. Samin Nostrat does an incredible job of teaching the fundamentals of cooking (balancing salt, fat, acid, and heat) in an approachable, easy-to-understand way. It is an invaluable resource for cooks of all levels. I literally read this book like a novel in just a few days time.
Sweet. I've always been a huge fan of Ottolenghi's cookbooks. His newest book is packed with sweet and dessert recipes from their London restaurants. I've followed them on Instagram for years and am constantly inspired by their creations. The recipes are incredibly unique and always have an incredible twist that takes them above other sweet recipes. This book would be awesome for any bakers in your life, especially if you paired it with a baking tool.
The Food Lab. If you are a Serious Eats fan or just love learning the science behind cooking, this is the ultimate cooking reference book for you. This is a huge book (it is textbook sized), but it covers a ton. Kenji uses his scientific approach to cooking to demonstrate the best most effective way to cook just about everything. It includes a fairly large number of recipes too.
Cooking For Jeffrey. Ok, I've always loved Ina, but even I have surprised myself by how often I've turned to this cookbook over the past year. While I wish it had more dinner recipes, it still has a broad range of options for everyday or special occasion meals. Ina's recipes always work for me and match my own taste preferences. Her roasted salmon tacos are one of our new favorite dinners, and I'm actually making her curried shrimp and swordfish stew on Wednesday!
Tartine Bread. You guys! I got onto a huge bread baking (sourdough starting) kick at the beginning of this year. I ended up getting a little sidetracked by travel, but one of my goals next year is to maintain my own sourdough starter and share more posts on bread baking with you. This cookbook has an incredible reputation, but also happens to be really fascinating to read. If someone you love is interested in traditional bread baking, this is a must-have.
Cheers to the Publican. Connor gifted this cookbook to me recently as a surprise gift, because it is an ode to one of our favorite West Loop restaurants in Chicago. While I'm not sure if this would be a good choice for non-Chicagoans, it is full of incredible stories from local farmers and packed with beautiful images. The recipes are incredibly unique (warning: a lot of them require harder-to-find ingredients and are on the more challenging side), but the ones that I have tried are delicious and thought-provoking.
Bravetart. This is one of those coveted cookbooks that I've been holding out on over the last month or so. Again, if you're a Serious Eats fan, this is the baking cookbook for you. It is packed with recipes, techniques, and baking science for making nostalgic American treats in your own kitchen (homemade Oreos, etc.). I've only heard incredible things!
Back Pocket Pasta. As a pasta lover, I'm a big fan of this cookbook. I feel like most other pasta cookbooks are fairly time-intensive and this one is packed with everyday, inspired pasta recipes for any day of the week.
Dinner in an Instant. This is Melissa Clark's latest cookbook and it is 100% dedicated to pressure-cooker recipes. I love that this cookbook is packed with creative, modern meals that stray from the more basic pressure-cooker recipes out there. If you know someone that owns an Instant Pot (or are interested in purchasing one!), this would be an awesome gift.
Kitchen Creativity. Written by the same authors behind my favorite Flavor Bible and Vegetarian Flavor  Bible, this latest book is about learning how to become more creative in the kitchen. It draws on knowledge and ideas from chefs, teaches you how to jump-start the idea process, and shares information about historic dishes from all over the world.
None of these items have been sponsored; however, I did receive two of these cookbooks for review purposes. This post contains Amazon and RewardStyle affiliate links. This means that I will earn a very small commission (at no cost to you!) if you purchase an item through my links. 
This post contains affiliate links, which means that I make a small commission off items you purchase at no additional cost to you. Please read my
privacy policy
for more information.