2018 Favorite Things Gift Guide
My annual Favorite Things Holiday Gift Guide – a collection of my most loved items from the past year!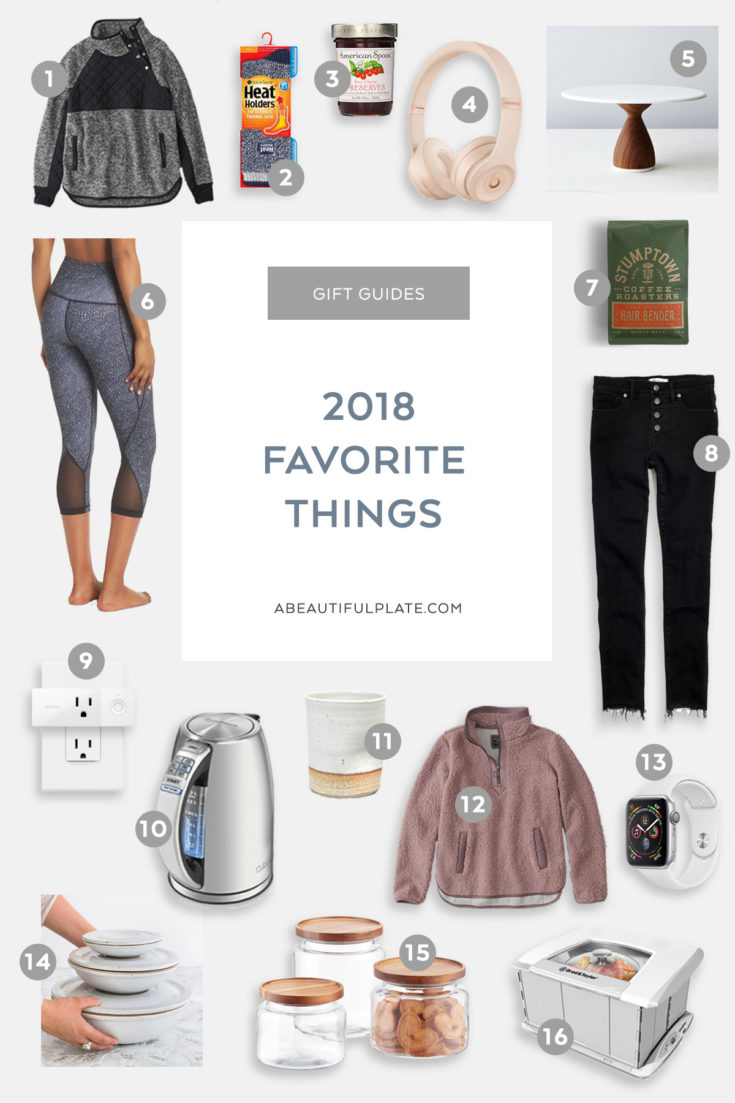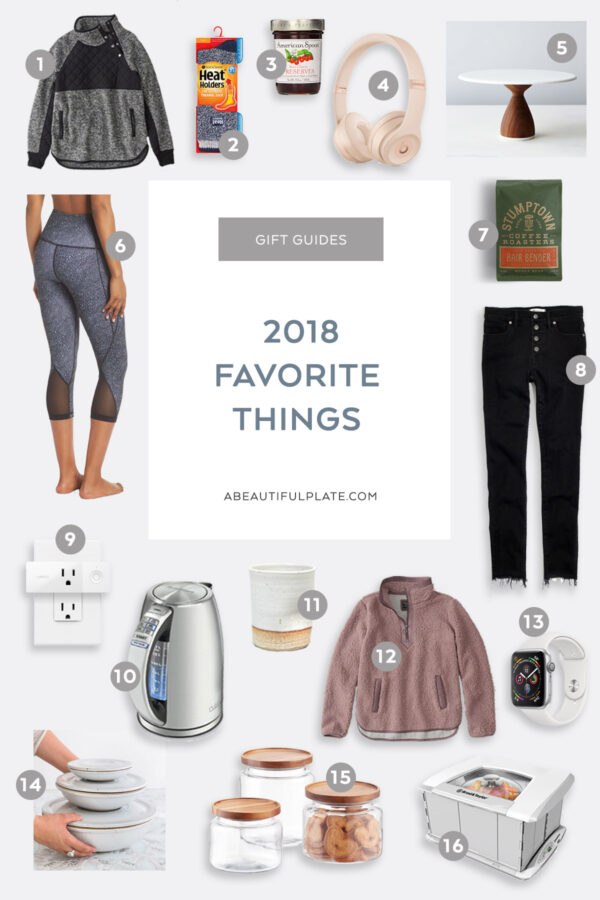 This post contains affiliate links. This means I may earn a small commission, at no cost to you, if you purchase items using these links.
I'm back with one of my favorite annual holiday gift guides: my favorite things! This is my (pun intended) favorite guide to date as it contains all of my most-loved items from 2018. You can view last year's favorites here.
We're covering a wide range of items today: clothing, kitchen appliances, houseware, gadgets, etc. All the things! I've put * signs next to ones that have special sales right now, but I expect many of items will be on sale in the next few days.
If you have any personal favorites from the past year, be sure to share them below in the comments!
---
Asymmetrical Snap-Up Fleece* – while I haven't bought anything from Abercrombie & Fitch since I was in my pre-teen years, this is one of my favorite clothing purchases this past year! A total shock, but I've been living in it for the past month. It's extremely flattering (fits true to size; slightly large in a good way), very warm, and has a nice kangaroo pocket in the center. While they're currently out of stock for this color, it comes in different colors and it is on sale now through Black Friday!
Thermal Socks – I think I've mentioned these socks in practically every gift guide that I've ever shared, but these socks are so incredible cozy, fluffy, and warm! They're also very affordable. I barely take these things off December through April.
American Spoon Sour Cherry Preserves – Ever since moving to Chicago, I've been lucky enough to visit an American Spoon store in Michigan every summer. They make incredible jams, preserves, pickles, and other high-quality condiments. I always stock up on my favorite sour cherry preserves, gift them to friends and family, and savor every last spoonful.
Beats Solo3 Wireless Headphones – I got these headphones as my main Christmas gift last year, and I love them even more than I expected to! They're flattering, the sound quality is very good, but best of all: the battery charge lasts forever and they sync seamlessly with Apple products. I use them all the time, and I think I've charged them only five times in the past year. Even better, you can get a 3-hour battery life with just five minutes of charge.
Walnut Cake Stand – I love a beautiful, timeless cake stand that can be put on display year round and this one made from corian and FSC walnut wood is one of my all-time favorites. If you have a baker in your life, they would love this.
Zella 'Hatha' High Waist Crop Leggings – These are my favorite workout crop leggings. They are high-compression, extremely comfortable, and very flattering (and not at all see-through). Be sure to check for sales on Nordstrom, as they are often available at a discounted price.
Stumptown Hair Bender – Our favorite coffee that we use in our beloved espresso machine. The taste is smooth and strong, and works for all types of coffee (espresso, pour over, etc.).
Madewell Berkeley Black 9-Inch High Rise Skinny Jeans* – I am obsessed with these pants from Madewell. They are insanely comfortable, flattering, and work with almost everything. The button details are great and I love the slightly chewed hem at the bottom of each leg. I've had them for close to a year, and they still look just as good. Madewell is offering a 25% discount on any purchase now through Black Friday with the code DEALWITHIT.
Wemo Smart Plug – Connor bought a few of these last year, and while at first I thought the concept was a little silly (since we live in a small apartment and don't have a smart home), we've grown to really love these things. We use them for a few lights in our apartment and have paired them with our Alexa. There's nothing quite like being cozied up in bed, realizing you left your living room light on and being able to say "Alexa, turn off living room light." You can also control them through an app on your phone, schedule items to turn on/off, etc.
Cuisinart PerfecTemp Electric Kettle – I had to replace our previous electric kettle when we moved to our new apartment, and I've been super impressed with this Cuisinart model! It comes with multiple temperature pre-sets (great for tea lovers or French press / pour over lovers!), has a 'stay warm' function, and is relatively compact and attractive. It also is very affordable compared to other brands.
Hanselmann Pottery Thumb Mug – one of my favorite mugs from one of my favorite ceramic artisans. Hanselmann's signature handmade thumb mug is so comfortable to hold and beautiful. It's also microwave, dishwasher, and oven safe. Pair it with some great coffee, tea, or fill it with treats.
Sherpa Half-Zip Pullover – another unexpected favorite clothing purchase of the year! This sherpa pullover is also from Abercrombie & Fitch. It is super comfortable, fits loosely, and I love the half-zip and loose sleeve ends. This is great for lounging around the house, throwing on over workout clothes, or layering with a lighter shell jacket. It has also washed very well. Look for sales on Black Friday and Cyber Monday, they usually offer them!
Apple Watch – Connor and I both gave each other Apple Watches this past year for our 30th birthdays. I absolutely love mine, and think it is one of the best investments that you can make if you're looking for a health or fitness tracker. It is also extremely helpful in the kitchen, as I'll set timers on it for cooking, etc.
Sarah Kersten Covered Bowls – Sarah Kersten is another one of my favorite ceramic artists, and I have several pieces from her. These covered bowls are beautiful, and extremely functional – which is high on my list of priorities for kitchen items! One easier way to reduce waste (plastic wrap, etc.) in the kitchen.
Anchor Glass Containers with Acacia Wood Lids – I recently replaced several of my plastic air tight containers with these beautiful anchor glass containers with wood lids, and I've been so happy with them. While they're definitely heavier and more fragile, they're gorgeous (I leave them out on floating shelves in my kitchen) and really easy to use and clean. I have them in several sizes, and use them for everything.
Brod and Taylor Folding Proofer – this little appliance (which uses almost no energy) has been a game-changer for my sourdough bread making over the past few months. I never thought I would own one of these, but it has become one of my most-loved appliances. It is proofer box that also functions as a slow cooker, and can be programmed to any temperature ranging between 70 to 195 degree Fahrenheit. It can also be used to make yogurt and ferment a wide variety of foods.
For more gift ideas, check out my 2018 cookbook gift guide and past gift guides.
This post contains affiliate links, which means that I make a small commission off items you purchase at no additional cost to you. Please read my
privacy policy
for more information.