2018 Cookbook Gift Guide
My favorite cookbooks for the holiday season, complete with fun pairing gift ideas. Perfect for beginner, intermediate, or experienced home cooks!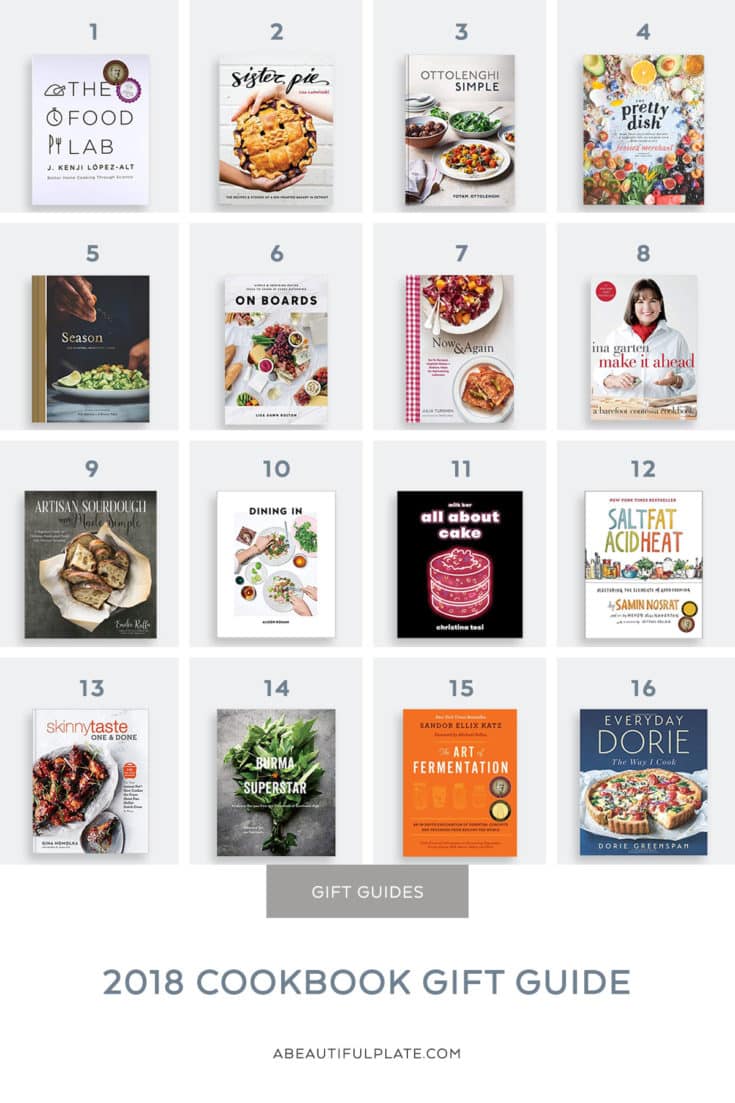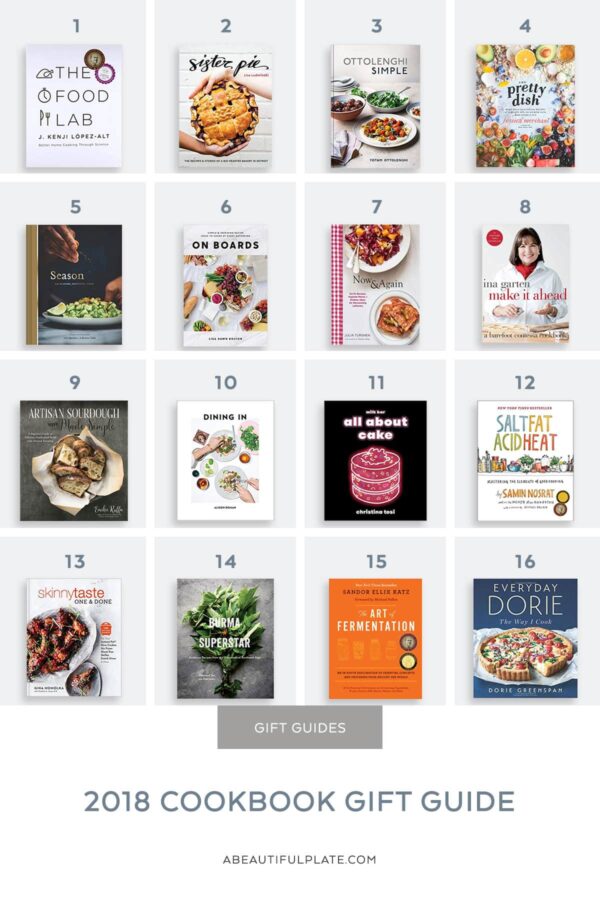 This post contains affiliate links. This means I may earn a small commission, at no cost to you, if you purchase items using these links.
Welcome to gift guide week! Similarly to last year, I wanted to get these gift guides into your hands early this year so that you can take advantage of any sales that happen in the next few weeks.
While I never look forward to the post-holiday shopping craze, it can be really nice to check off some holiday shopping lists. These next four or five weeks fly by and I'd much rather spend that time with family and friends.
Today I'm bringing you one of my favorites, my annual cookbook gift guide. I've been sharing these for the past two years (you can find all of my holiday gift guides here). Cookbooks are one of my favorite gifts over the holidays. They're meaningful, useful, and with a few simple additions, can be transformed into a very thoughtful and unique gift for anyone who loves to cook.
My Favorite Way To Gift Cookbooks
My favorite way to gift cookbooks is to pair them with a kitchen tool or ingredient relevant to that cookbook. To make this gift guide more helpful, I've included a unique pairing gift idea for each of the cookbooks below. These add a touch of personalization, and will also inspire your friend or family member to get started!
Nearly all of the cookbooks in this year's guide are newly published, but I've also thrown in a handful of current and old favorites that I've been turning to time and time again!
---
The Food Lab by J. Kenji Lopez-Alt – if you have a friend or family member who loves to learn the science (why's and how's) of cooking, this is the ultimate cooking reference book for you. Kenji uses his scientific approach to demonstrate the best most effective way to cook just about everything. Pairing Gift Idea: My Favorite Boos Wood Cutting Board or an 8-Inch Chef's Knife.
Sister Pie by Lisa Ludwinski – this is a new cookbook from the famous Sister Pie bakery in Detroit. It's practical, informative, heart-warming, and full of creative pie recipes. Pairing Gift Idea: Classic glass pie baking dishes or French rolling pin.
Ottolenghi Simple by Yotam Ottolenghi – my mom recently gifted me this highly anticipated cookbook, and it has met every expectation! If you are a fan of Ottolenghi recipes, you will love this cookbook. While some recipes still call for slightly more unique ingredients (preserved lemons, black garlic, etc.), they're more time-friendly and practical for everyday cooking. I'm planning on cooking my way through this book! Pairing Gift Idea: Rose Harissa Paste (recommended) or Soom Tahini.
The Pretty Dish by Jessica Merchant – written my friend Jessica (How Sweet Eats), this beautiful cookbook makes such a fun cookbook gift! It is packed with creative, everyday recipes, as well as 50 beauty DIYs. Pairing Gift Idea: A fun serving platter or set of face masks for pampering.
Season by Nik Sharma – this cookbook is full of visual inspiration, gorgeous photography, and a wonderful, unique introduction to baking and cooking with Indian flavors. Pairing Gift Idea: Nigella seeds or Asofetida.
On Boards by Lisa Dawn Bolton – a recent addition to my collection, this book is packed with gorgeous ideas for styling and assembling entertaining boards (cheese boards, charcuterie, vegetable, etc.). If you know someone who loves to entertain, this book is beautiful and a fun change of pace from most cookbooks! Pairing Gift Idea: Fun cheese knives or marble and wood inlay cheese board.
Now and Again by Julia Turshen – this is a follow-up cookbook from Julia'a first cookbook, Small Victories, which is one of my favorites from the past few years. I love Julia's writing style and recipes. They are unique, but incredibly approachable, making her cookbooks great for both novice and experienced cooks. This one also includes inventive ways to use leftovers. Pairing Gift Idea: My favorite glass nesting prep bowls or Hedley & Bennett kitchen apron.
Make It Ahead by Ina Garten – this cookbook isn't new, but it might be my favorite Ina Garten cookbook to date! Make-ahead recipes are so incredibly helpful, and I always trust Ina's recipes. If you know someone who loves to entertain (but doesn't have this book yet), grab it for them. Pairing Gift Idea: Vanilla Extract or my favorite Dutch oven.
Artisan Sourdough Bread Made Simple by Emilie Raffa – if you know anyone who is interested in exploring homemade sourdough at home, this is a great beginner cookbook with which to get started. Pairing Gift Idea: Baker's scale or bread lame.
Dining In by Alison Roman – another one of my favorite recent cookbooks, I've turned to this one many times over the past year or so! I love the diversity of recipes, special enough for an occasion, but practical enough for everyday. Pairing Gift Idea: A great bottle of olive oil, flaky sea salt, or preserved lemons.
All About Cake by Christina Tosi – if you know someone who is a huge fan of Milk Bar products or simply loves playful desserts, this cookbook would make such a fun gift for the baker in your life. Pairing Gift Idea: box of your favorite cereal, my favorite revolving cake stand, or good-quality cake pans.
Salt Fat Acid Heat by Samin Nostrat – I've mentioned this cookbook several times, but it is probably one of my top five cookbooks/cooking resources ever. If you know someone who doesn't have a copy or loved her recent series on Netflix, this would make an excellent, long-loved gift. Pairing Gift Idea: box of her (and my) favorite cooking salt or cast iron skillet.
Skinnytaste One and Done by Gina Homolka – the latest cookbook from Skinnytaste is full of recipes that can be made in your Instant Pot, Dutch oven, slow cooker, air fryer, and more. If you know someone who is a lover of gadgets or mostly hands-off cooking, this would be perfect! Pairing Gift Idea: Instant Pot.
Burma Superstar by Desmond Tan and Kate Leahy – I've made so many recipes from this cookbook the past year and absolutely loved all of them. If you adored this Burmese chicken salad, you'll want this cookbook in your kitchen. It is my most well-loved cookbook (in terms of usage) this past year. Pairing Gift Idea: Red Boat Fish Sauce, high-quality wok, or chickpea flour.
The Art of Fermentation by Sandor Ellix Katz – fermentation has become the hottest trend in cooking lately. If you have a friend who loves to cook and is very experienced (and interested in sourdough baking, kombucha, pickling, etc.), this is an amazing resource. Pairing Gift Idea: Set of Weck Jars or handmade ceramic fermentation jar.
Everyday Dorie by Dorie Greenspan – I love all of Dorie's cookbooks and this new addition is no exception. It is packed with the types of recipes that she makes on a regular basis. If you're a fan of her work (and love French-inspired cuisine and amazing desserts), this is a great addition to the collection. Pairing Gift Idea: A great quality spatula, Silpat baking sheet, or round tart pan.
For more cookbook gift ideas, check out my 2016 cookbook gift guide and 2017 cookbook gift guide.
Some of the links above are affiliate links. This means I will earn a small commission if you purchase items through my links (at no cost to you!).
This post contains affiliate links, which means that I make a small commission off items you purchase at no additional cost to you. Please read my
privacy policy
for more information.