A Day of Birthday Surprises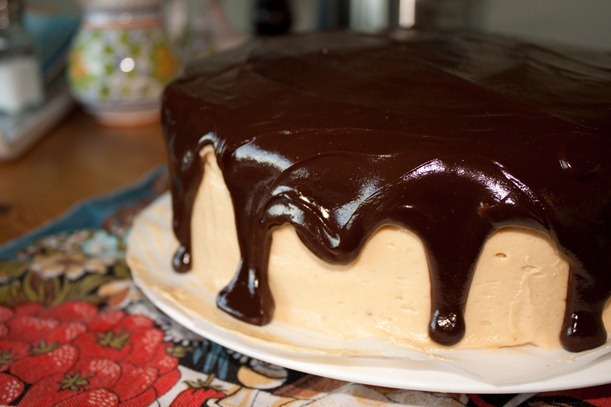 Wednesday was Laura's birthday and I wasn't sure that I could top the surprise mint chocolate chip ice cream cake I that made for her birthday last year.  At the risk of continuing a dangerous precedent for all future birthdays I decided to tackle another cake regardless. I knew that Laura has a sweet spot for Reese's peanut butter cups and thought to myself, "rather than buy her a bag of Reese's, why not make her a chocolate peanut butter cake??"
A quick Google search returned a mere 15 million results, but I was quickly drawn to one at the top of the list (mostly because of the delicious looking picture attached), a recipe from Smitten Kitchen.  After I dropped Laura off at work in DC on Wednesday, I sped back to Trader Joe's to pick up the baking supplies I needed before getting to work in the kitchen.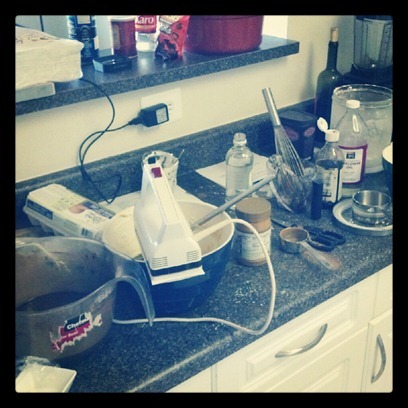 The first hurdle I encountered was that we only have two round cake pans in the apartment (this is an improvement from only having one when I made the cake last year!).  Having only 2 pans meant that I had to bake two layers, allow them to cool enough to take them out of the pans, and then bake the third.  We also only have a sad hand mixer frmo the 80s (Laura talks about her need for a stand mixer on a regular basis).  Fortunately, I learned from my mistake last year and I put buttered wax paper rounds down to keep the cake from sticking to the pan.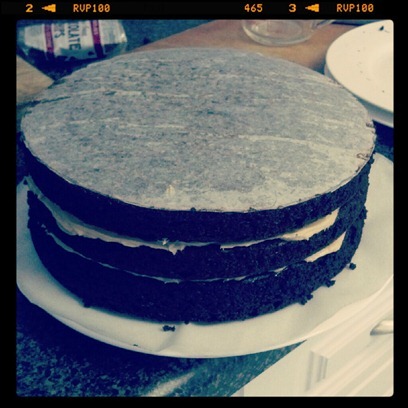 Deb recomended freezing the layers before icing them to make them easier to work with. I even did a crumb coat (granted, I didn't even know what one was before I started) and used Laura's offset spatula from school for the icing!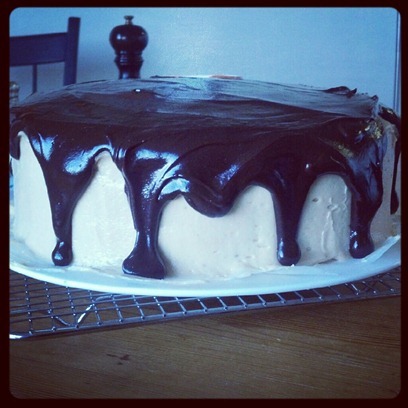 I finished icing the cake just in time to go pick up Laura's best friend, Caroline.  In the two weeks prior, I had actually planned on going to dinner at the restaurant in DC, where Laura works, and surprise her.  Laura was working the Garde manger station that night, so she made all the cold appetizers we had at the start of the meal (without her even realizing).  Caroline and I loved the food, particularly this starter of salt cured smoked salmon.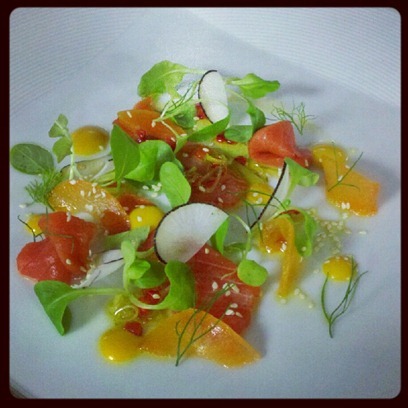 After we got the bill, I asked our server if we could sneak back to the kitchen and surprise Laura for her birthday. He went back to the kitchen to check, told her some "friends" were there (Laura was super confused apparently and wasn't entirely sure she wanted to go out of the kitchen) and returned a few minutes later saying "I brought Laura to you!"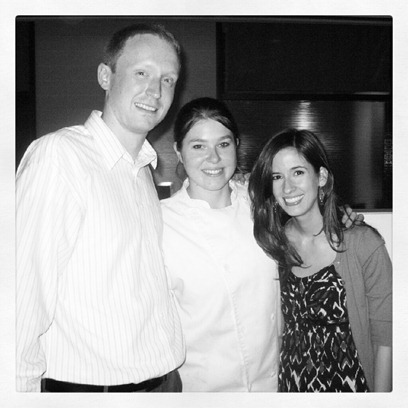 Laura was definitely surprised and happy to see us. We told her what we had ordered and how much we loved the food, before she had to get back into the kitchen to finish cleaning up. Once she got home Caroline and I surprised her (once again) with the cake, which she was very impressed with (her words, not mine).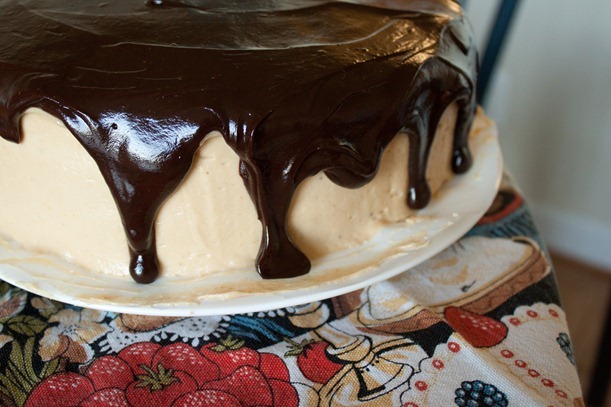 The cake was a hit! It is incredibly rich, but very moist and pairs perfectly with a glass of milk.
Laura admits she was amazed, especially considering that this was only the second cake I have ever made in my life.  At the end of the night, Laura mentioned that birthdays can often feel anti-climactic, but that this had been one of her best in recent memory!
Mission Accomplished.
-Connor
This post contains affiliate links, which means that I make a small commission off items you purchase at no additional cost to you. Please read my
privacy policy
for more information.