How to Make Hummus (+ My Favorite Flavor Twist)
How to Make Hummus – an easy hummus recipe made with canned chickpeas that takes just minutes to prepare, plus my favorite roasted garlic serrano chile recipe variation!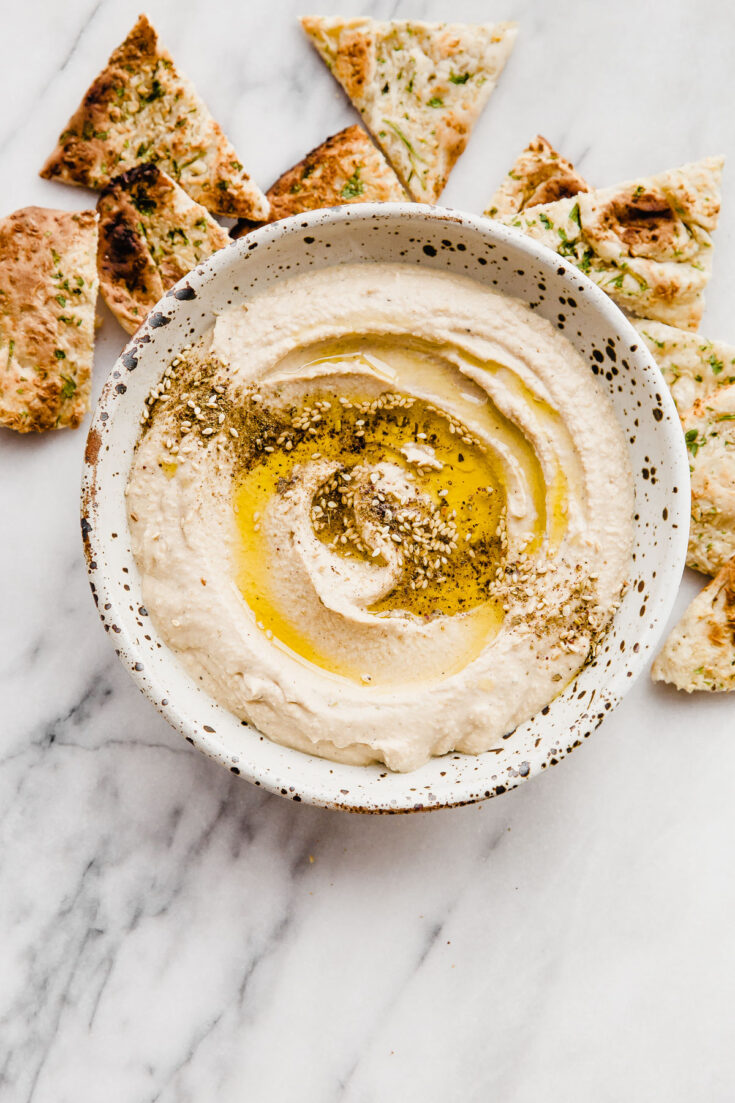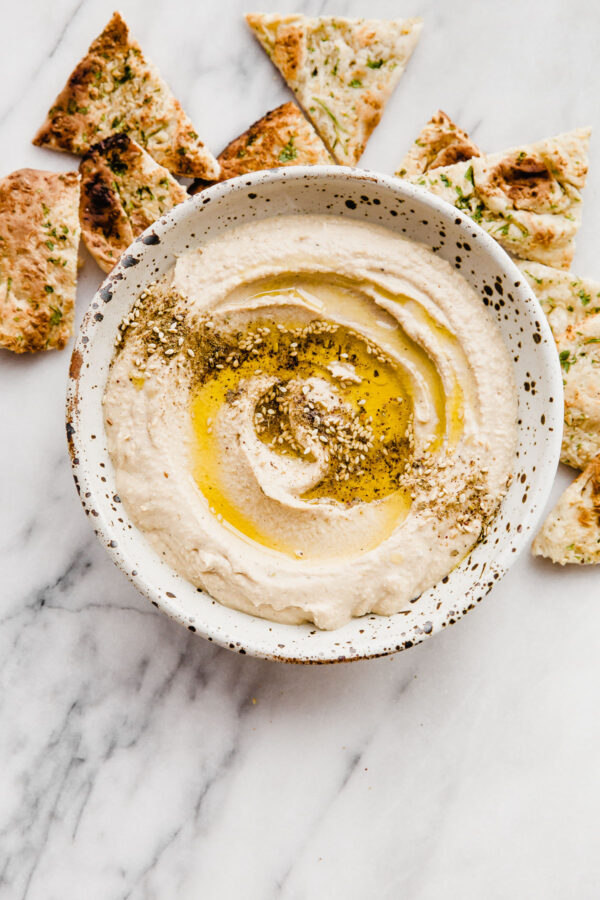 Being that we're in the thick of the holidays, I'm here to bring you the world's easiest appetizer! My favorite supremely easy homemade hummus recipe. We're keeping things very simple today.
Homemade hummus isn't exactly groundbreaking, but I've been wanting to share my own version with you for weeks. We've been making this hummus recipe once (sometimes twice!) a week for the past few months. It has become a staple in our fridge and never lasts long.
If you're looking for a crowd-pleasing snack to serve to friends and family over the next week and want to keep things easy, you should definitely bookmark this post. Hummus will forever be my go-to appetizer of choice because its healthy and offers great flavor with minimal effort.


While I'm not above buying store-bought hummus, homemade can be even easier. It can also be customized to your taste preferences and mixed up with add-ins.
My favorite twist includes dry-roasted garlic cloves and serrano chile, which give it just the slightest amount of heat and smokiness.
Dry roasting is when you roast or char an ingredient in a dry skillet on the stove. In this case, we'll be charring unpeeled garlic cloves (the skin protects them from burning) and one serrano chile. It adds an extra 10 to 15 minutes, but adds great flavor. I also like to finish my hummus with a drizzle of extra virgin olive oil and sprinkling of za'atar spice.
You'll find a basic hummus recipe, as well as the instructions and ingredients to make my roasted garlic-chile variation at the bottom of this post.

How to Make Hummus
This hummus recipe requires very few ingredients, most of which I keep on hand at all times. This allows me to make it at the drop of a hat without having to run to the grocery store for various ingredients. It's very, very convenient.
For my version, we won't be soaking or cooking dried chickpeas from scratch. Cooking dried chickpeas will produce excellent hummus, but sometimes life requires recipes that we can throw together in minutes. Canned chickpeas will do just fine.
You'll Need the Following Ingredients:
canned chickpeas (garbanzo) beans – drained and rinsed well
tahini paste – this is the most important component in hummus, so don't skimp on it. I always keep a jar of tahini in my fridge for salad dressings and sauces. This easy lemon tahini sauce tastes great on everything. Soom makes my favorite brand of tahini, but any kind will do.
fresh garlic – raw or roasted, depending on your flavor preference
lemon juice – I prefer a lot of it!
extra virgin olive oil – for flavor and richness
kosher salt and freshly ground black pepper
water – I prefer my hummus on the thinner side. water helps thin and smooth it out and improve the overall texture. No super thick, pasty hummus allowed around here.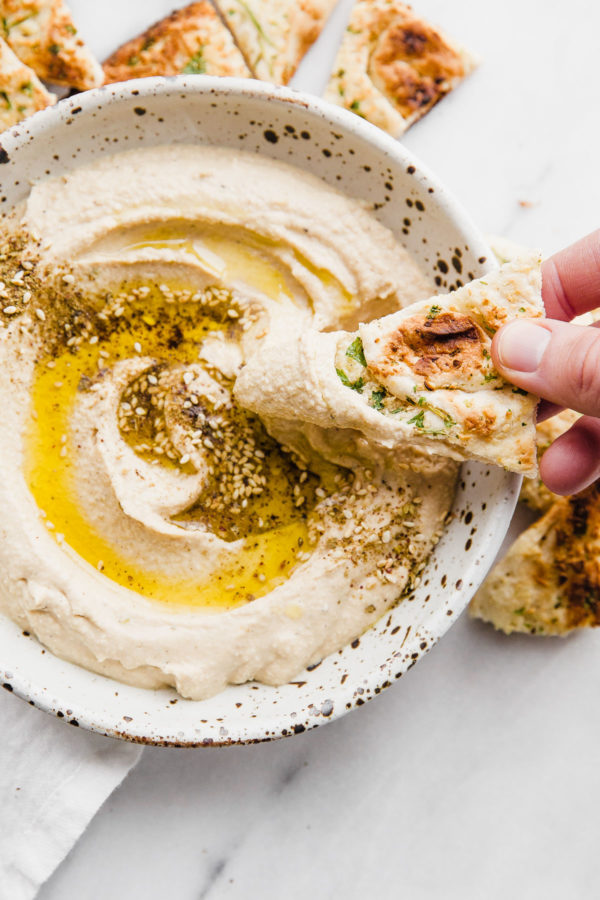 Is Peeling the Chickpeas Worth It?
You guys! I used to wax poetic about the added value of peeling your cooked chickpeas. If you're not familiar with this, it's when you gently rub the chickpeas between your fingers and discard the papery peels.
While peeled chickpeas will result in a smoother textured hummus, I've found that you can still create a very smooth hummus without doing this. Plus, you'll save about 10 minutes and and likely not miss the extra step.
Chickpea skins also happen to be a great source of dietary fiber. Instead of peeling, I always thin my hummus with a splash of water (roughly 2 tablespoons or more) and this helps to achieve a similar result.
A good-quality food processor helps too. Serve this homemade hummus with raw vegetables, rice crackers, or toasted naan or pita! Or use it to for hummus avocado toast, Greek-Style potato skins, or homemade falafel bites.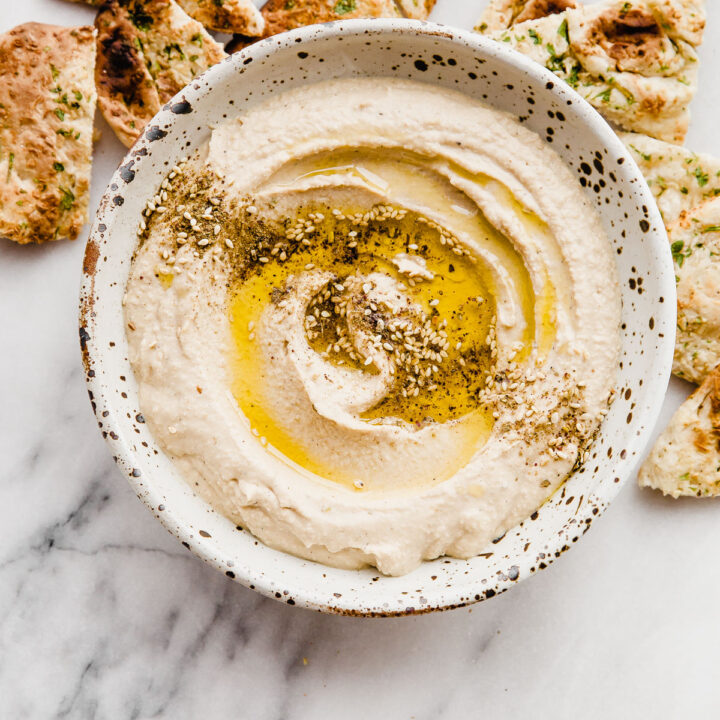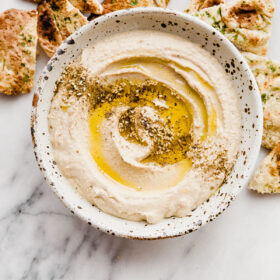 How to Make Hummus
This easy hummus recipe is made with canned chickpeas and takes just minutes to prepare. Below you'll find my favorite roasted garlic serrano chile recipe variation! Feel free to leave it out and substitute with grated fresh garlic, roasted red peppers, or fresh herbs, such as cilantro or basil leaves, or any number of additions.
Ingredients
3 medium garlic cloves, unpeeled optional (*if you're not choosing not to dry-roast the garlic, substitute with only 1 finely grated clove)
1 serrano pepper optional
1 can (15 ounces) chickpeas drained and rinsed well
⅓ cup tahini paste I recommend Soom brand
¼ cup fresh lemon juice
1 tablespoon extra virgin olive oil
¾ teaspoon Diamond Crystal kosher salt
¼ teaspoon ground black pepper
2 tablespoons water or more, as necessary
extra virgin olive oil for drizzling
1 teaspoon za'atar spice blend or toasted sesame seeds, optional
Instructions
If using garlic and serrano pepper addition: Place the unpeeled garlic cloves and serrano chile in a small skillet and place over medium heat. Dry roast the garlic cloves and chile for 10 to 12 minutes (it will take about 5 minutes to notice anything happening), flipping them once or twice, until they are charred black in some spots. Remove the chile and place on a cutting board. Continue dry roasting the garlic cloves for an additional 3 to 5 minutes, or until they are charred in spots and they are beginning to soften. Transfer to the cutting board with the chiles and allow to cool slightly before handling.

Trim the stem and slice the serrano chile in half lengthwise. Gently scrape out and discard the seeds and ribs (see notes section). Remove and discard the skins of the garlic cloves. The unpeeled garlic cloves should be charred, fragrant, and slightly soft.

Place the drained chickpeas, peeled roasted garlic cloves (or finely grated garlic clove, if substituting), roasted serrano chile (if using), tahini paste, lemon juice, olive oil, kosher salt, black pepper, and water in the bowl of a large food processor. Puree until smooth, scraping down the sides of the bowl with a spatula several times to ensure all of the ingredients are incorporated evenly. Continue pulsing until completely smooth. If you prefer a thinner hummus, add another teaspoon or more of water and puree again. Season to taste, adding additional salt and pepper if necessary.

Spoon the hummus into a large bowl, using the back of a large spoon to create a large divet and swirl in the center. Just before serving, garnish with a generous drizzle of extra virgin olive oil and za'atar spice or toasted sesame seeds. Serve immediately.
Hummus can be prepared and stored in the refrigerator in a covered container for up to 5 days. 
Serving: 1serving, Calories: 124kcal, Carbohydrates: 9g, Protein: 6g, Fat: 8g, Saturated Fat: 1g, Polyunsaturated Fat: 6g, Cholesterol: 9mg, Sodium: 245mg, Fiber: 2g, Sugar: 1g
This post contains affiliate links, which means that I make a small commission off items you purchase at no additional cost to you. Please read my
privacy policy
for more information.