Apple Oatmeal Breakfast Bread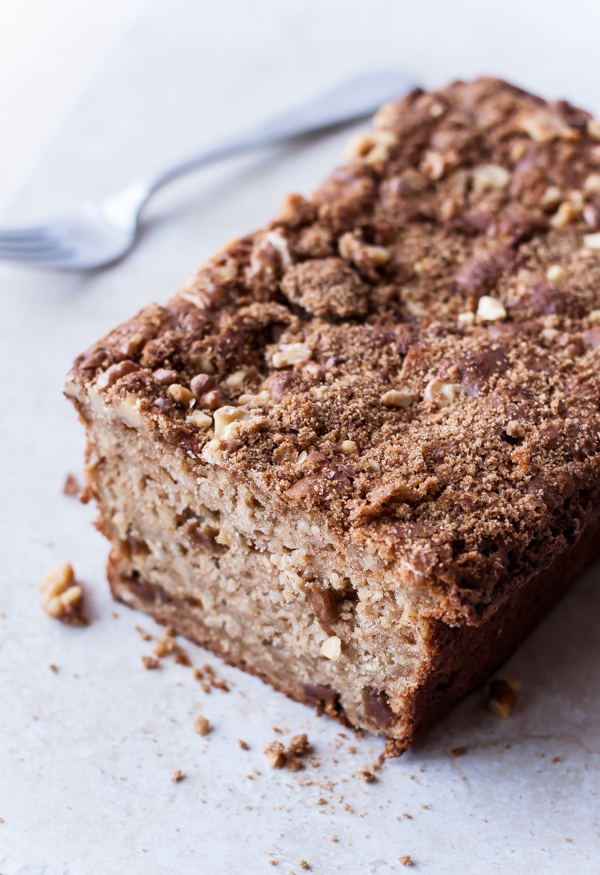 Cooking and baking have always been a form of therapy for me.  Cheap, delicious therapy.
Whenever I was stressed out in high school or college (i.e. avoiding papers and homework), I would get in the kitchen and bake.  Usually, it was either cookies or quick breads.  I had a handful of recipes that I would always go back to time and time again.  This apple oatmeal breakfast bread (from Dorie Greenspan's Baking: From My Home to Yours) was one of them.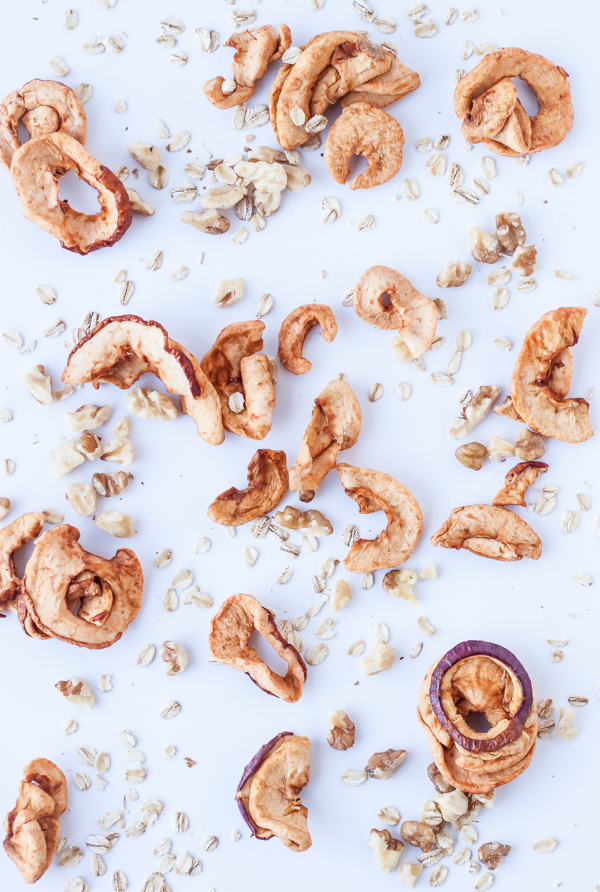 There was something so wonderful about not only creating something from scratch, but knowing that it would always turn out the same each time (except that time I forgot all of the sugar).  It was familiar and comforting.  And that was exactly what I was looking for.
Over the years, cooking and baking have taken on very different roles in my life.  When I began working at the bakery, it became all about consistency, repetition, and speed.  In culinary school, it morphed into a competitive, almost athletic daily competition.  And it was very much the same way when I worked as a line cook.
The days were fast-paced and revolved around efficiency–and figuring out how to become even more efficient the following day.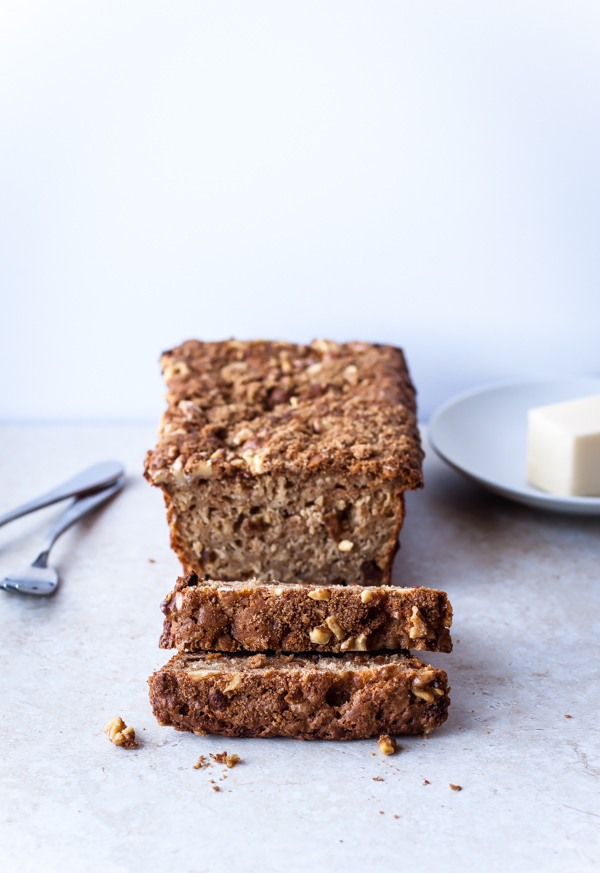 That isn't to say that it wasn't therapeutic in its own sense.  Or fun or creative.  Because it was all of those things.  It was just different.  I actually enjoyed in many ways.
But I would be lying if I didn't say that this mindset hasn't affected the way that I cook (even at home) to this day.  I'm a very go-go-go person, and am the first to admit that I struggle with living in the moment when it comes to most things in life.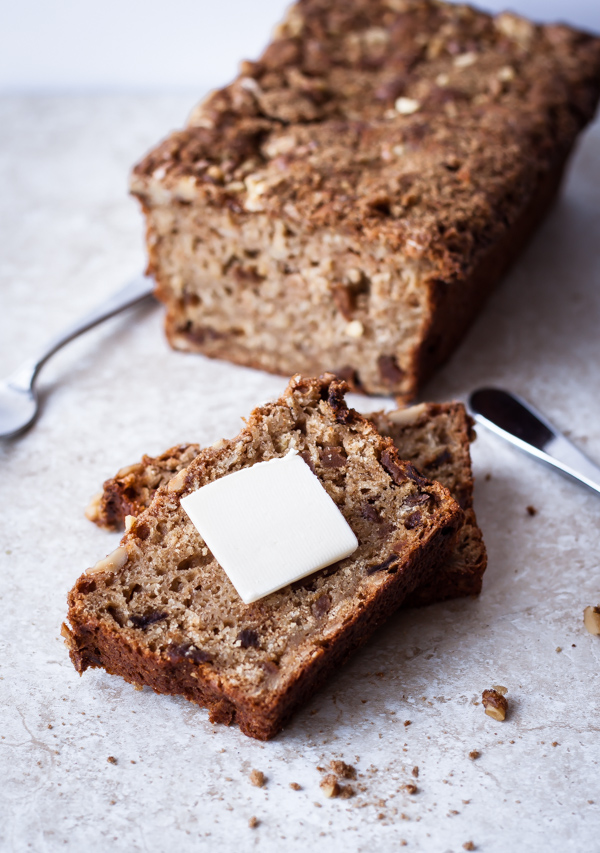 It sounds so easy, but it is actually surprisingly difficult to pull off.
Sometimes all it takes is baking your favorite, simple quick bread–filled with oats, dried apples, and topped with a cinnamon-y, walnut, brown sugar topping–to make you nostalgic and remember what this is all about.
See? What did I tell you?
Cheap, delicious therapy in quick bread form.  Works every time.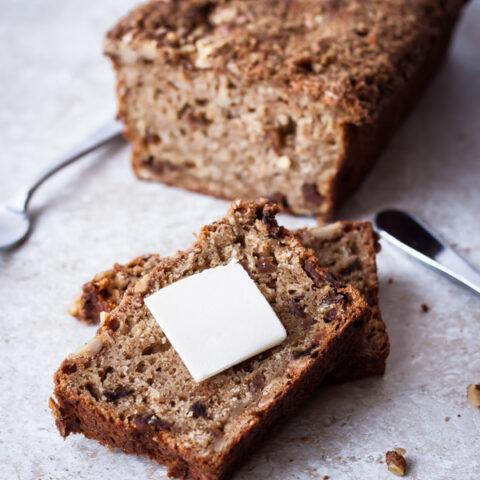 Apple Oatmeal Breakfast Bread
Yield: 1 (9 x 5 inch) Loaf
Prep Time: 20 minutes
Cook Time: 50 minutes
Additional Time: 5 minutes
Total Time: 1 hour 15 minutes
Ingredients
Topping:
1/4 cup brown sugar, packed
1/4 chopped walnuts
1/4 teaspoon ground cinnamon
Bread:
2 large eggs
1 1/4 cup unsweetened applesauce
1/3 cup safflower oil
1/4 cup buttermilk (or whole milk)
1 1/4 all-purpose flour
3/4 cup sugar
1.5 teaspoons baking powder
3/4 teaspoon ground cinnamon
1/2 teaspoon baking soda
1/2 teaspoon salt
1/4 teaspoon ground nutmeg
pinch of ground cloves
1/2 cup dried apples, diced
1 cup old-fashioned oats
Instructions
Topping: Combine the topping ingredients in a small bowl and set aside.
Bread: Preheat the oven to 350 degrees Fahrenheit. Lightly grease a 9 x 5 inch loaf pan–and set on top of a large baking sheet. Set aside.
In a bowl, whisk together the eggs, applesauce, oil, and buttermilk.
In a separate large bowl, whisk together the flour, sugar, baking powder, cinnamon, baking soda, salt, nutmeg, and cloves. Remove 1/2 teaspoon of the dry ingredient mixture and toss it lightly with the diced apples to coat (and prevent them from sinking during baking). Stir the oats into the dry ingredients.
Pour the wet ingredients over the dry ingredients and using a spatula, stir until just barely combined. Scatter the dried apples over the batter and fold them in carefully.
Pour batter into the greased loaf pan–and sprinkle over the topping, patting it down lightly with your fingers to help it stick.
Bake for 50-60 minutes (on a sheet pan), or until bread is browned and a toothpick inserted in center comes clean. Allow to cool in the pan on a rack for 5 minutes. Remove the loaf carefully and allow it to cool completely.
Notes
Loaf can be wrapped tightly and kept in an Ziploc bag for up to 3-4 days at room temperature.
Recipe from (one of my favorite cookbooks) Baking: From my Home to Yours by Dorie Greenspan.
Nutrition Information:
Yield: 10
Serving Size: 1
Amount Per Serving:
Calories: 269
Total Fat: 9g
Saturated Fat: 1g
Trans Fat: 0g
Unsaturated Fat: 7g
Cholesterol: 37mg
Sodium: 274mg
Carbohydrates: 44g
Fiber: 2g
Sugar: 25g
Protein: 4g
A Beautiful Plate provides nutritional information, but these figures should be considered estimates, as they are not calculated by a registered dietician.