Asian Noodle Salad
A simple cold soba noodle salad flavored with sesame oil, fresh cilantro, scallions, jalapeno pepper, soy sauce, vinegar, and lots of crushed peanuts.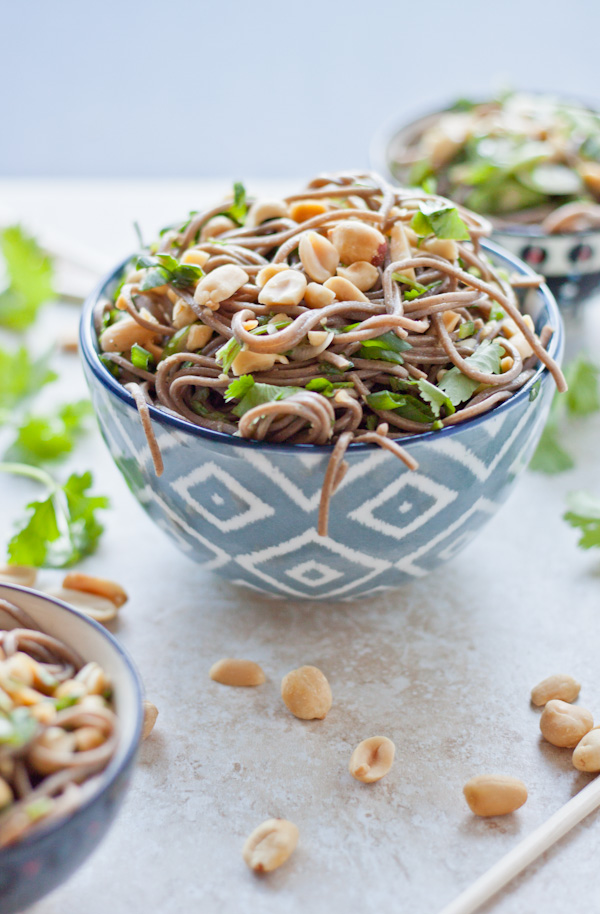 Things that scare me: centipedes, dill, the sixty seconds that follow after you drive away from a tollbooth (why are there never any lane lines?!), American cheese, animals dressed as humans (just kidding…name that TV show!), running out of parmigiano, and lastly…
…Asian recipes from twenty year old American magazines. Not necessarily in that order.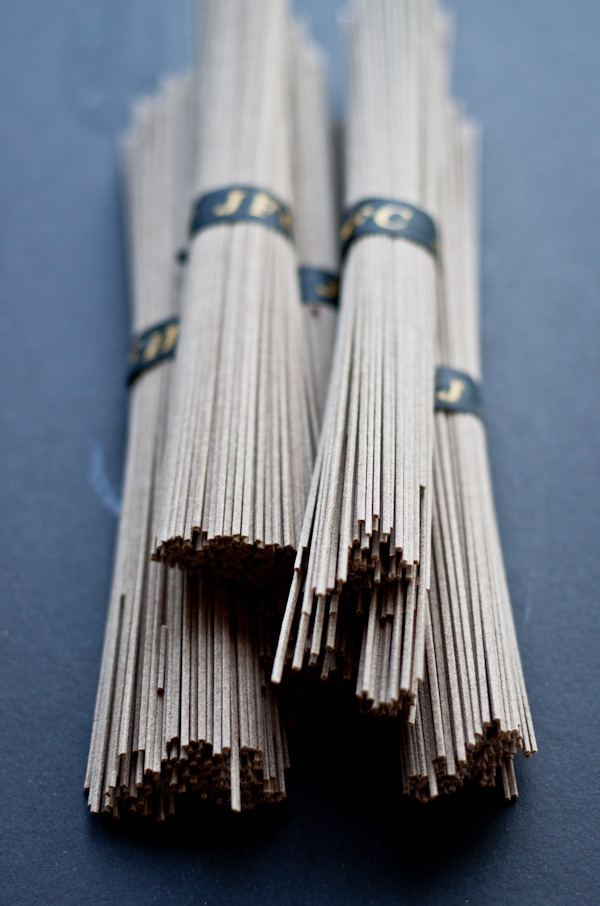 So I was a little worried to make another Asian dish from an old issue of Bon Appetit. Maybe I was pushing my luck a little bit with this. But the first recipe was a winner so I decided to just go for it.
After all, the ingredients sort of spoke for themselves. Soba noodles, sesame oil, cilantro (lots of it!), spring onions, jalapeno, soy sauce, vinegar, and most importantly, lots and lots of crushed peanuts.
Crushed peanuts are my favorite, forever and for always.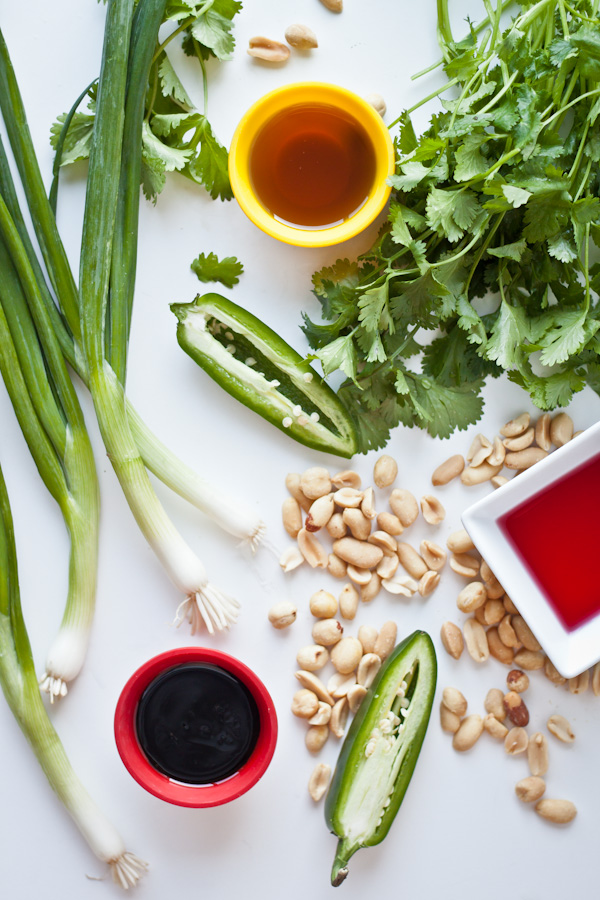 When a dish is this simple, it all boils down to balancing the flavors and making sure one ingredient isn't overpowering the next.
I can't tell you how tempted I was to mess with this recipe. I kept wanting to add more and more–namely fresh lime juice, possibly a dash of fish sauce, sriracha, you name it. Just MORE!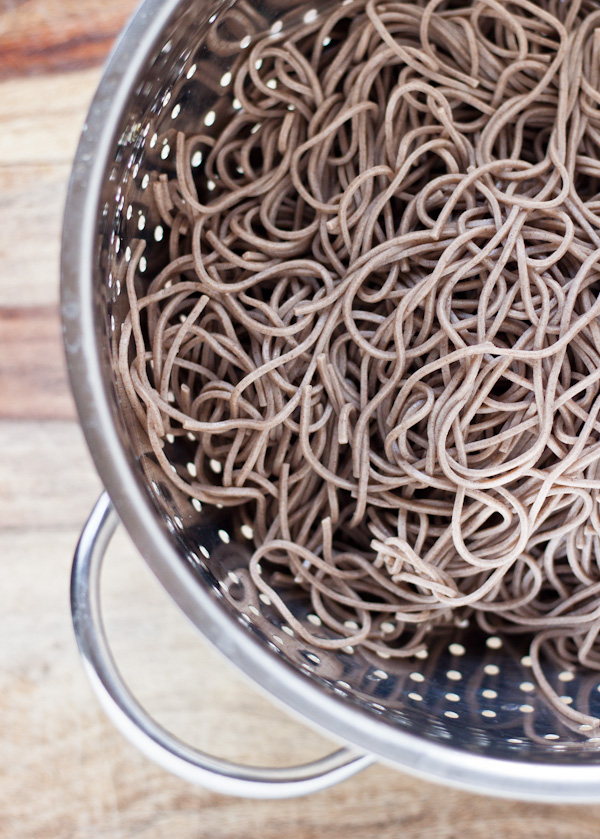 But I held myself back. Mostly because it really doesn't need anything else and part of the beauty of this salad is that it is so simple. It is delicate, but still leaves you wanting some more.
If you had an extra fifteen or twenty minutes in the morning, you could totally throw this dish together to pack up for lunch or even get ahead on dinner plans that evening.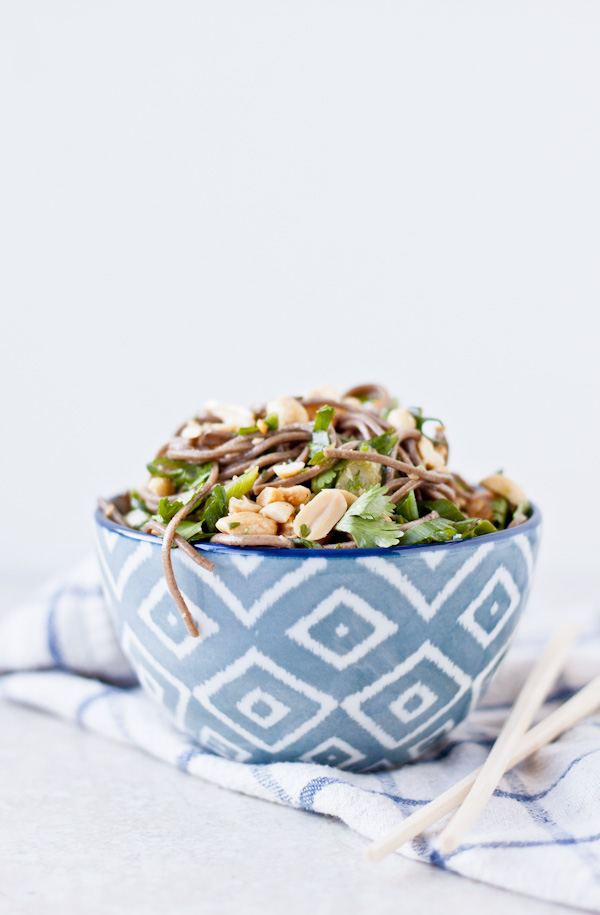 Even though I usually crave warm meals at this time of the year, it's sort of a nice change in pace to have a cold salad every now and then. Especially if you used this as a base for a more substantial meal and topped it with marinated salmon, shrimp, or grilled tofu.
Plus, it's supposed to be 70 degrees here on Sunday and I'm sort of freaking out about that. What is happening with the world?!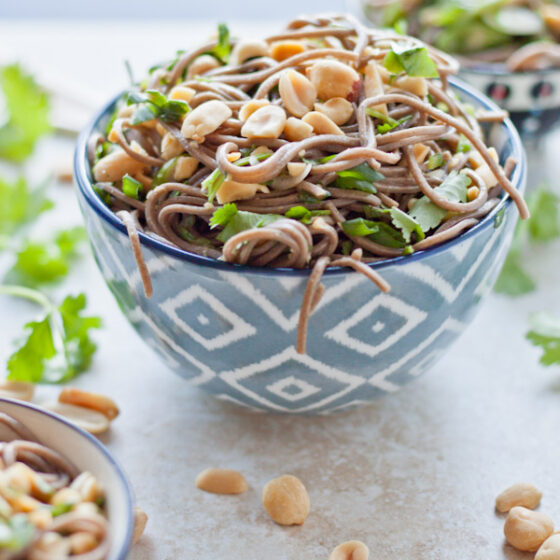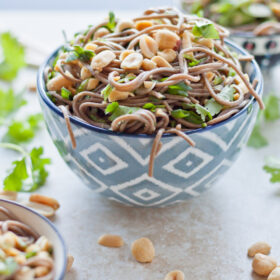 Asian Noodle Salad
A simple cold soba noodle salad flavored with sesame oil, fresh cilantro, scallions, jalapeno pepper, soy sauce, vinegar, and lots of crushed peanuts.
Ingredients
½ lb (8 oz) dried soba (Japanese buckwheat noodles)
2 tablespoons (30 mL) toasted sesame oil
2 tablespoons (30 mL) soy sauce
1 teaspoon granulated sugar
2½ teaspoons rice vinegar
½ teaspoon Diamond Crystal kosher salt
½ cup coarsely chopped cilantro leaves
4 scallions sliced thinly on a diagonal
½ jalapeno pepper seeded, veins removed and finely minced
¾ cup toasted unsalted peanuts coarsely chopped
2 tablespoons toasted sesame seeds optional
Instructions
Bring a large pot of water to a boil. Season generously with salt. Add the soba noodles and cook until al dente (just firm to bite). Drain and rinse noodles under cold water until cool. Allow to drain and place in a large bowl.

In a separate bowl, whisk together the sesame oil, soy sauce, sugar, vinegar, and salt the until sugar has dissolved completely.

Pour the sauce over the cold noodles and toss to coat evenly. Add the cilantro, jalapeno, peanuts, and sesame seeds and toss gently. Season to taste with additional salt and pepper if necessary.

Salad can be prepared up to a day in advance, but can be served immediately or cold from the refrigerator. It does imrpove in flavor after sitting for 30 minutes or longer. Garnish with additional crushed peanuts, cilantro, and scallions if desired.
Recipe (tweaked slightly) from 1994 issue of
Bon Appetit
magazine.
Serving: 1serving, Calories: 428kcal, Carbohydrates: 36g, Protein: 15g, Fat: 27g, Saturated Fat: 4g, Polyunsaturated Fat: 20g, Sodium: 893mg, Fiber: 5g, Sugar: 6g
This post contains affiliate links, which means that I make a small commission off items you purchase at no additional cost to you. Please read my
privacy policy
for more information.