Chocolate Peppermint Marshmallows
This post contains affiliate links.
Homemade fluffy chocolate dipped peppermint marshmallows are dusted with crushed candy canes. Add to a mug of steaming hot chocolate, box them up and give them to friends, or just eat them on their own!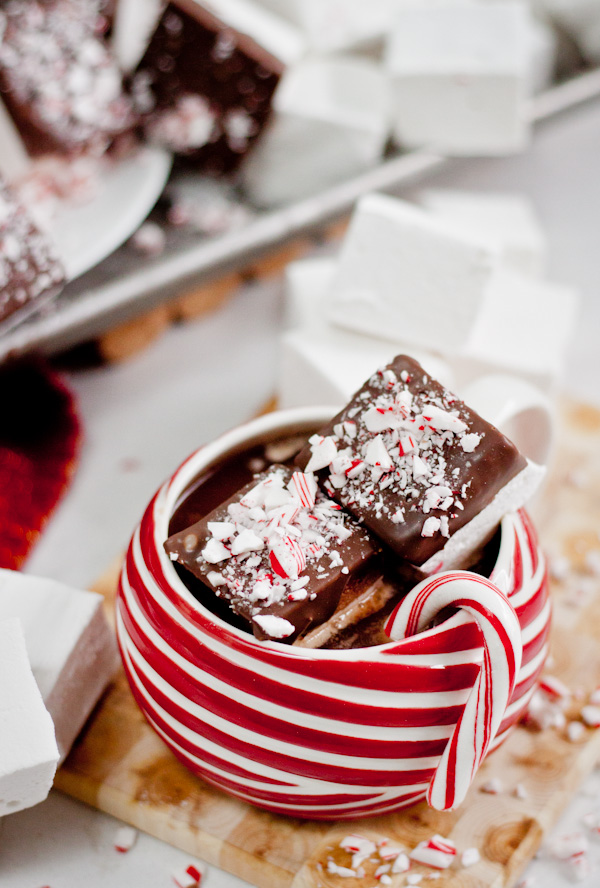 Merry Christmas Eve!  Today's post will probably be my last this week, so I sort of felt like I should go out with a bang.  Plus, my mom gave me these holiday mugs two weeks ago and I couldn't bear the thought of not sharing them on the blog.
They're practically begging to be filled with steaming hot cocoa and topped with homemade chocolate dipped peppermint marshmallows.  Right?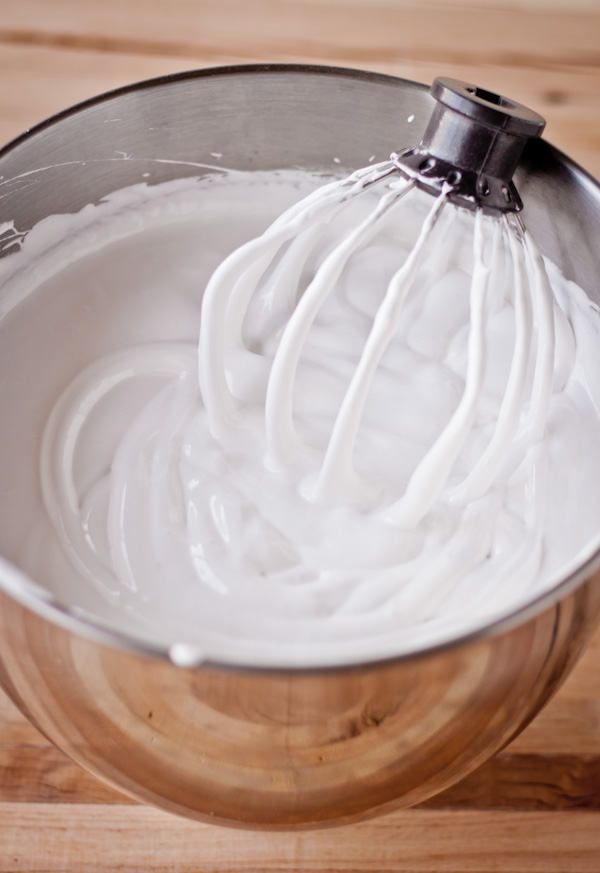 Despite having never made an appearance on the blog, I've actually made quite a few batches of marshmallows in my life.
When I was working in the restaurant, we would regularly make passionfruit marshmallows as complimentary petit fours to go along with the check at the end of the meal.  On one particularly slow night, I remember just standing there and day dreaming about marshmallow flavors.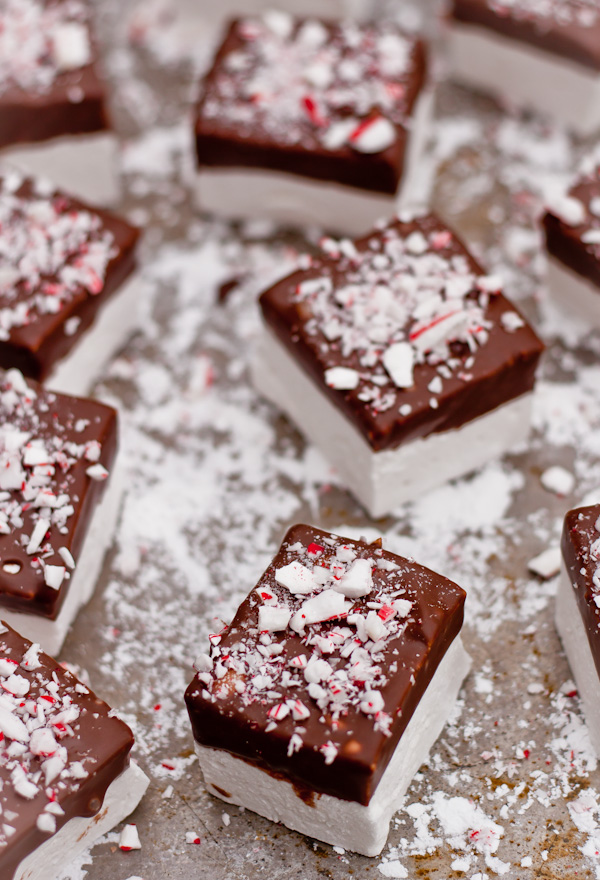 The possibilities truly are endless.  The standard water (with added gelatin) can easily be swapped out with various fruit juices or purees.  You can even choose to forgo powdered sugar and roll them in flavored granulated sugar, dried coconut flakes, etc, etc.
Despite being kind of a messy affair (there is nothing quite as sticky as homemade marshmallow fluff–it literally gets on everything!), homemade marshmallows are very simple to make.
The trickiest part to this recipe is boiling the sugar, corn syrup, and water mixture, to 238 degrees Fahrenheit, as it does require a candy thermometer and a watchful eye.  However, the rest is extremely straight-forward.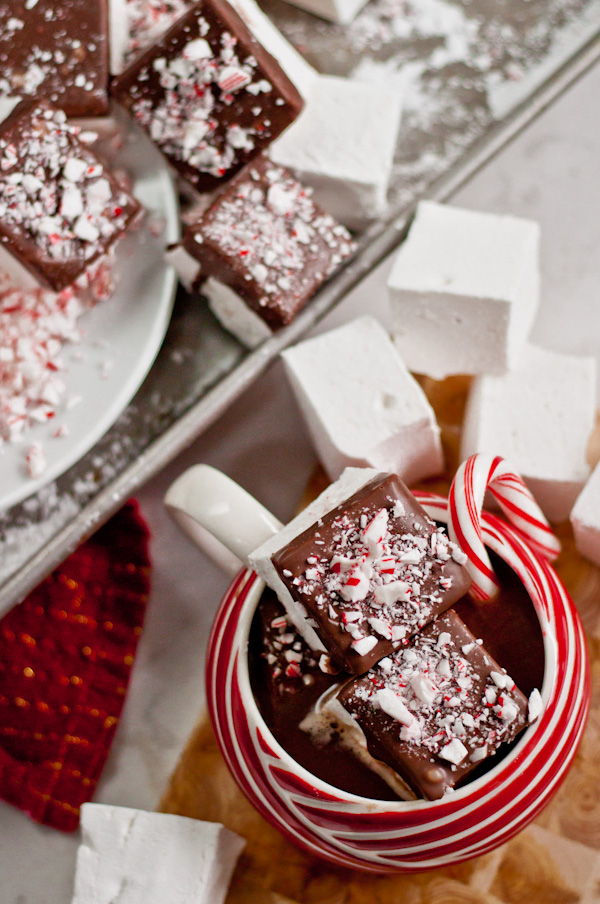 As the name suggests, these marshmallows are flavored slightly with a small amount of peppermint extract, before being allowed to set completely in a large baking pan.  The next step involves un-molding and cutting them into large squares, dipping them halfway into melted glazing chocolate, and generously dusting them with crushed candy cane pieces.
Although they are delicious plain, these marshmallows are the perfect accompaniment to homemade hot cocoa–as the extra chocolate layer and candy cane pieces melt alongside the creamy marshmallow, to produce the perfect drink for the holiday season.
I mean, does it get better than this?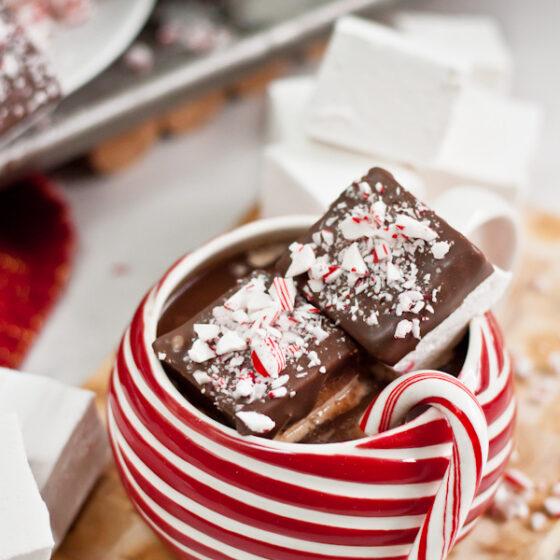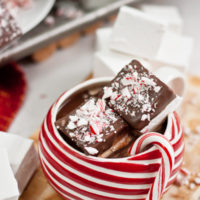 Chocolate Peppermint Marshmallows
Yield: 30 Servings
Homemade fluffy chocolate dipped peppermint marshmallows are dusted with crushed candy canes. Add to a mug of steaming hot chocolate, box them up and give them to friends, or just eat them on their own!
Prep Time: 15 minutes
Cook Time: 15 minutes
Additional Time: 2 hours 30 minutes
Total Time: 3 hours
Ingredients
Peppermint Marshmallows
vegetable oil, for brushing
4 envelopes unflavored gelatin (3 tablespoons plus 1 1/2 teaspoons)
3 cups granulated sugar
1 1/4 cups light corn syrup
1/4 teaspoon salt
2 teaspoons pure vanilla extract
1/8 teaspoon pure peppermint extract
1 1/2 cups confectioners' sugar
Chocolate Coating:
8 ounces glazing chocolate (dark or milk, depending on preference)
6-7 candy canes, crushed
Instructions
Lightly oil a 9 x 13 inch baking pan, line with parchment paper and lightly oil the paper. Set aside.
In bowl of stand mixer (fitted with whisk attachment) add 3/4 cup of cold water. Sprinkle surface of water slowly with gelatin–but do not agitate. Allow to sit for 5 minutes.
Combine sugar, corn syrup, salt, and 3/4 cup of water in a medium saucepan. Stir over medium heat until sugar has dissolved. urn up heat to medium-high and bring sugar mixture to a low boil until candy thermometer reaches 238 degrees Fahrenheit.
Remove from heat and slowly pour it into gelatin mixture, over low speed. Gradually turn up to high speed and continue to beat mixture for another 12-15 minutes, or until stiff and holds peak.
Beat in the vanilla and peppermint extract.
Pour into the prepared baking sheet, smooth with an offset spatula and allow to sit uncovered for 3-4 hours, or until marshmallow has set completely.
Sift 1 cup of powdered sugar over a large sheet or wax or parchment paper. Unmold the marshmallows onto the powdered sugar (trim the edges if you want them to look very uniform)–and using a lightly oiled long knife, cut the marshmallows into 1.5″ squares. Place another 1/2 cup of sifted powdered sugar into a bowl and coat each marshmallow lightly in powdered sugar. Set aside on a large baking sheet.
Place candy canes in a large freezer bag, removing any excess air. Using a rolling pin or edge of a large wooden spoon, crush the candy canes until they are in small uniform pieces.
Melt 8 ounces of glazing milk (or dark) chocolate in a heatproof bowl in the microwave at 15 second increments, stirring with a spatula each time. Allow to cool until barely lukewarm and dip each marshmallow, one at a time, into the chocolate, until it is covered halfway. Allow any excess chocolate to drip into bowl, before turning upside down and allow to set (chocolate side faced up) on the baking sheet. Repeat with remaining marshmallows. Allow chocolate to set for a minute or two (depending on the temperature of your kitchen, this may take longer), before sprinkling with crushed candy canes (if you do it too early, they will melt or sink into the chocolate. If you wait too long, they won't stick.).
Serve immediately with hot chocolate or store seperately by wax paper in an airtight container.
Notes
Basic marshmallow recipe from Martha.
Nutrition Information:
Yield: 30
Serving Size: 1
Amount Per Serving:
Calories: 161
Total Fat: 1g
Saturated Fat: 0g
Trans Fat: 0g
Unsaturated Fat: 0g
Cholesterol: 0mg
Sodium: 30mg
Carbohydrates: 40g
Fiber: 0g
Sugar: 38g
Protein: 1g
A Beautiful Plate provides nutritional information, but these figures should be considered estimates, as they are not calculated by a registered dietician.
This post contains some affiliate links, which means that I make a small commission off items you purchase at no additional cost to you. Please read my
disclosure policy
for more information.