Asian Style Baked Rockfish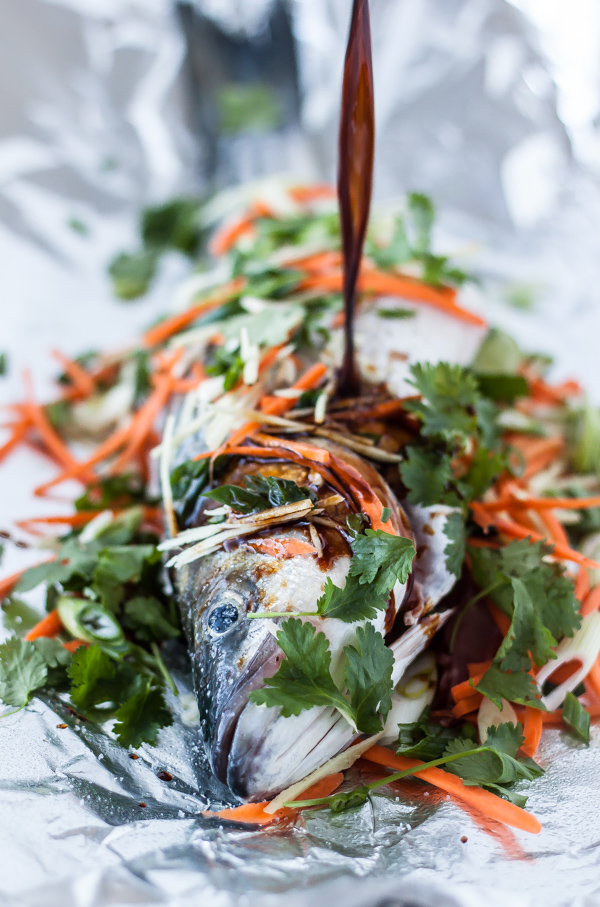 This Asian Style Baked Rockfish is a great easy weeknight dinner idea.
Dishes that call for cooking an entire fish (bones and all) sound extremely intimidating, I know. But they are actually incredibly simple to prepare and so flavorful.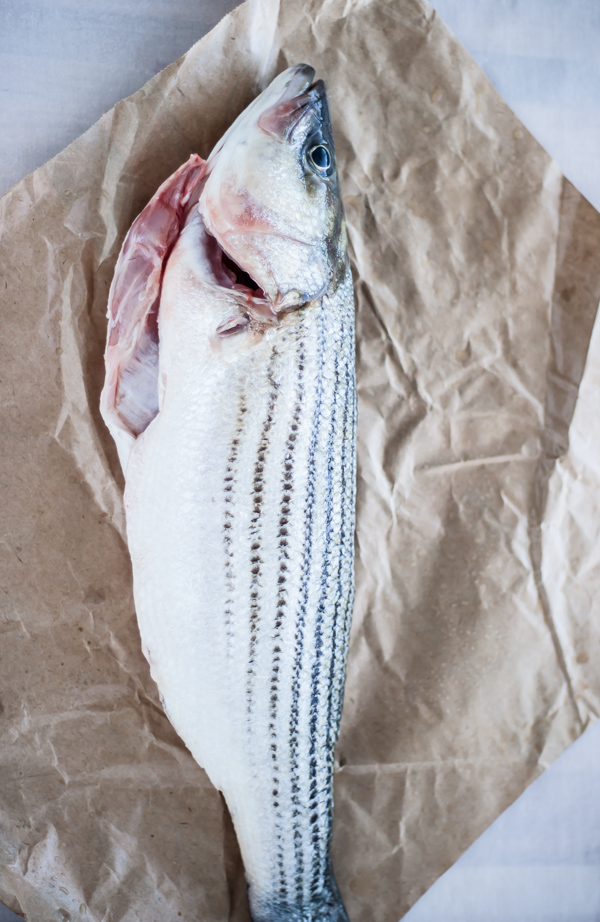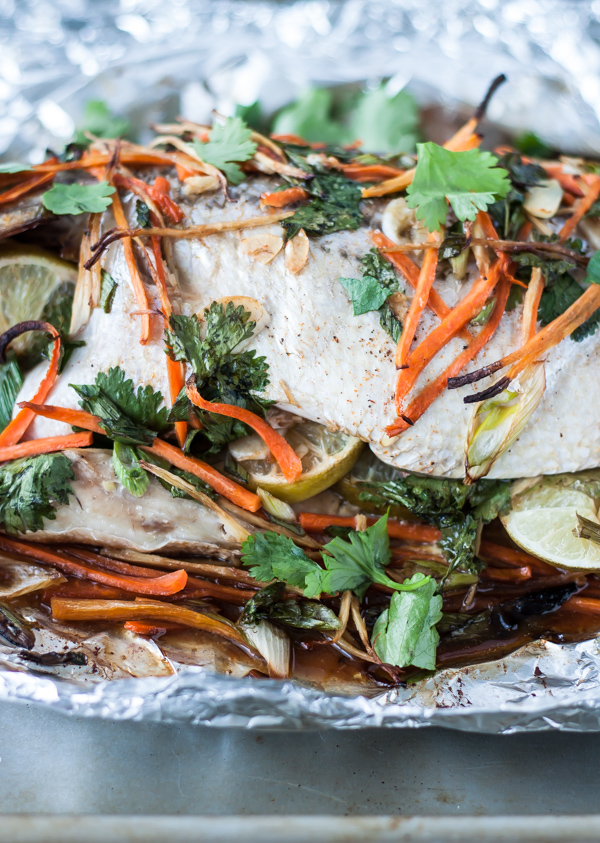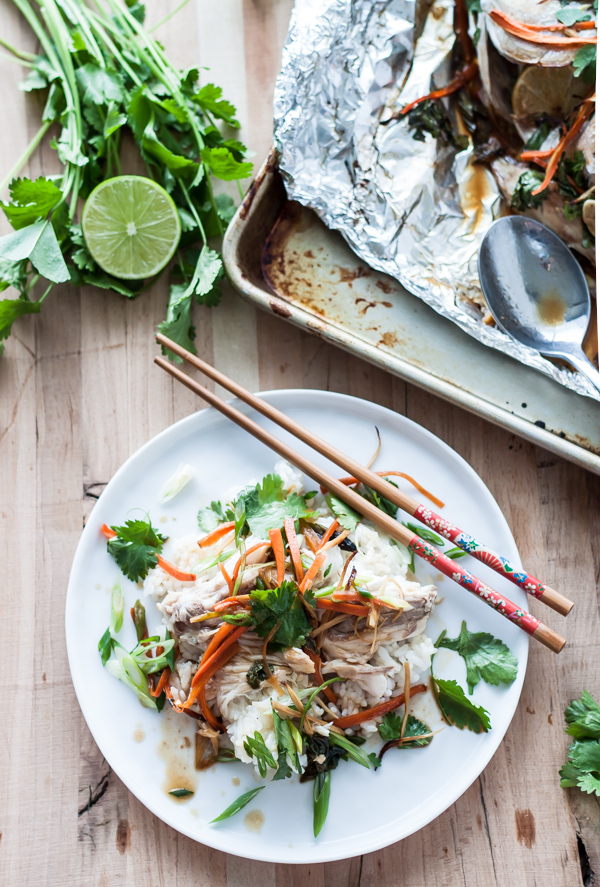 Trust me though, it is actually much easier to cook an entire fish than it is to cook a perfect fish fillet. Whole fish are more forgiving.
Nothing is prettier than a whole-baked fish anyway.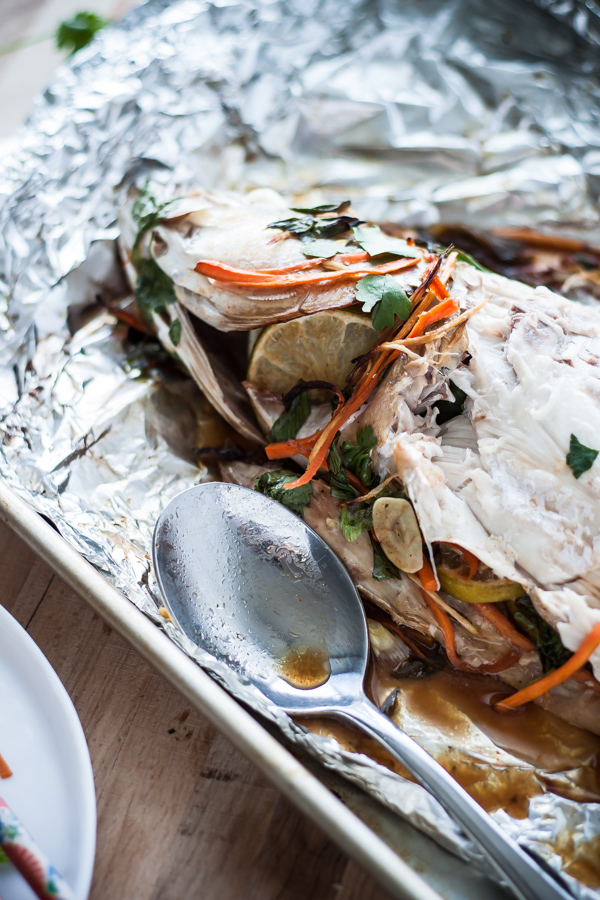 This one is flavored with all of my favorite Asian pantry staples: sesame oil, fresh lime slices, soy sauce, red pepper powder (gochugaru), julienned carrots and ginger, garlic, and lots of cilantro.
Ask your fish monger to scale, gut, and butterfly the fish for you. We'll stuff the cavity with cilantro and lime, sprinkle on the remaining of the ingredients, add a soy sesame sauce, and let the fish bake in an aluminum tent for 30 to 45 minutes.
My favorite way to serve it is alongside hot sushi (or brown) rice and a squeeze of fresh lime juice, cilantro, a drizzling of soy sauce, and crushed peanuts. It couldn't be easier!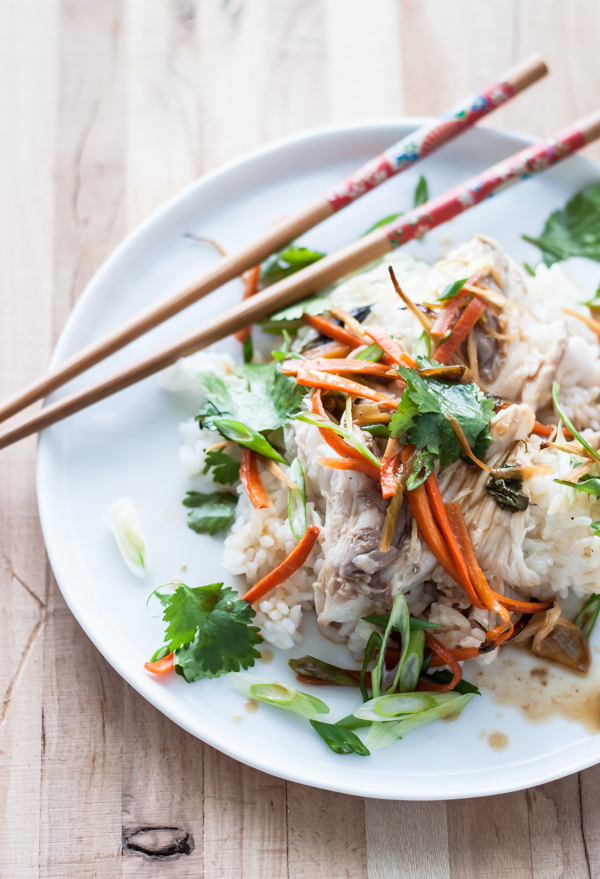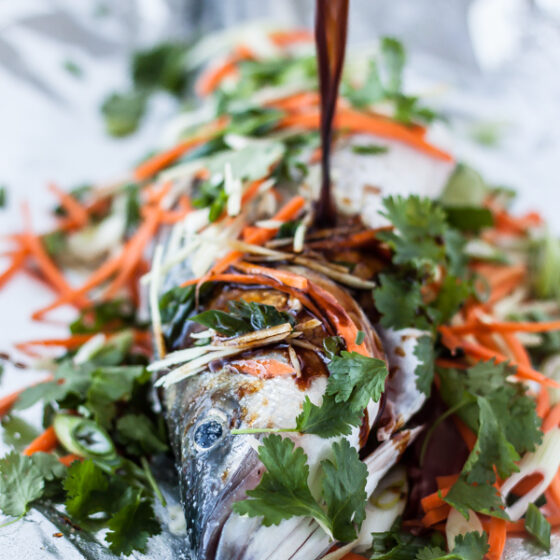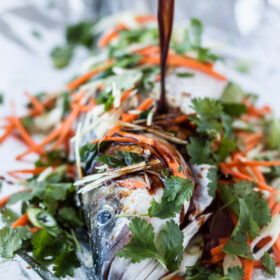 Asian Style Baked Rockfish
A simple recipe for Asian Style Baked Rockfish. Whole butterflied rockfish is stuffed with carrot, ginger, and other aromatics and baked in the oven with a soy sesame sauce.
Ingredients
2½-3 lb whole scaled and butterflied rockfish or substitute sea bass or red snapper
freshly ground black pepper
3 scallions finely sliced on a diagonal
1 lime thinly sliced
1 medium carrot peeled and finely julienned
1½ inch chunk ginger root peeled and finely julienned
2 garlic cloves finely sliced
handful fresh cilantro leaves
2 tablespoons + 1 teaspoon soy sauce
1 tablespoon toasted sesame oil
½ teaspoon Korean red pepper powder (gochugaru)
Instructions
Preheat the oven to 425°F (220°C) with a rack in the center position. Line a half sheet pan with aluminum foil. Place the scaled, gutted, and butterflied rockfish on top of the aluminum foil. Season all sides and the fish cavity with kosher salt and freshly ground black pepper.

Stuff the cavity with the scallions, lime slices and half of the cilantro leaves. Sprinkle the top of the fish with the carrot, ginger, garlic, and remaining cilantro. In a separate bowl, whisk together the soy sauce, sesame oil, and red pepper powder. Pour the sauce evenly over the fish.

Top the fish with another large sheet of aluminum foil bringing the edges of both pieces together to fold and seal in the fish.

Bake for 30 minutes. Remove the top piece of foil and continue to cook, uncovered, for an additional 5 to 10 minutes or until the fish flakes easily.

Serve immediately with sushi or brown rice, fresh lime wedges for squeezing, and additional soy sauce, cilantro, and crushed peanuts (if desired).
Tips for Success:
Feel free to substitute with a larger or smaller fish and adjust cooking time accordingly. Allow roughly one pound or more of fish per serving.
Serving: 1serving, Calories: 193kcal, Carbohydrates: 1g, Protein: 35g, Fat: 4g, Saturated Fat: 1g, Polyunsaturated Fat: 3g, Cholesterol: 78mg, Sodium: 169mg
This post contains affiliate links, which means that I make a small commission off items you purchase at no additional cost to you. Please read my
privacy policy
for more information.