Asian-Style Baked Rockfish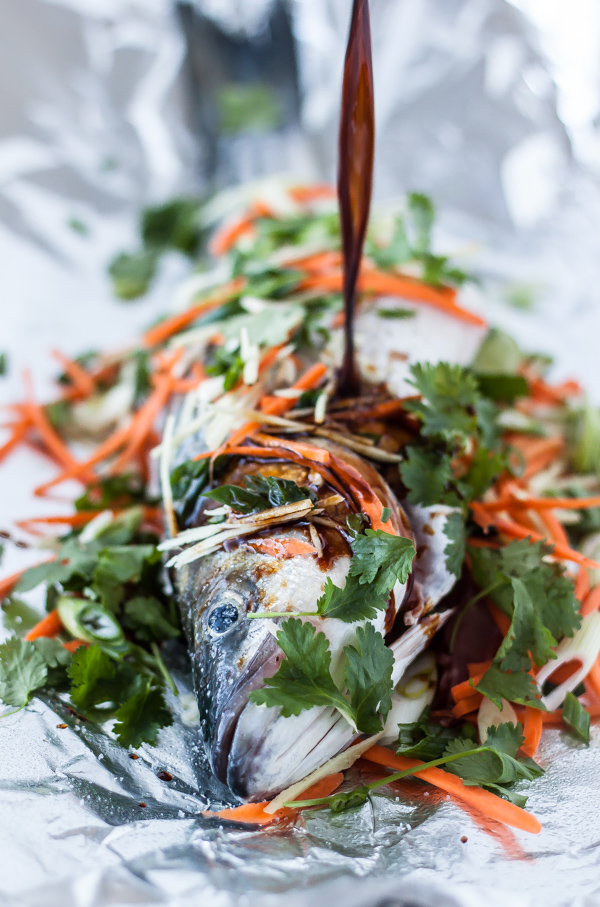 Do you guys ever have those kind of weeks that sort of disappear before your eyes?  And you barely remember any of it–but it also feels like it was a billion days long?  Yeah…that was last week for me.
Between launching the new blog design (and manually re-entering every.single.recipe within the span of three days–oof, I never want to have to do that again) and a very busy week at work, I barely could keep my eyes open last week.
Let alone piece together coherent sentences for you.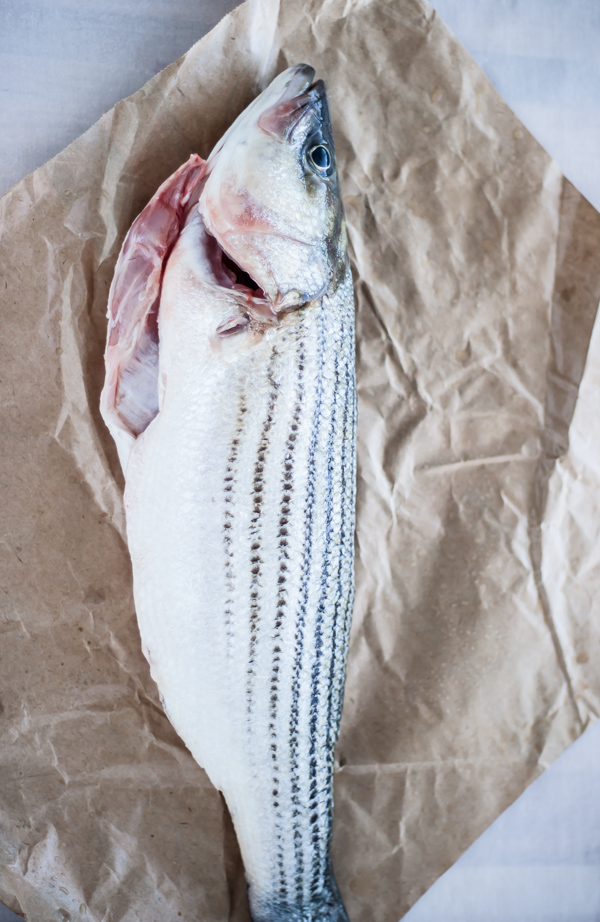 Don't worry.  I have a good feeling about this week.  This past weekend, I went to bed before 10:30 pm both nights and that hasn't happened in months.  Possibly a year?  That means I've been sleeping for more than 10 hours a night…for two nights in a row.  The Grammy's have already ruined the streak for me, but I tried.  Really, I did.
On that note, what do those Daft Punk guys look like?  You know, without the strange helmets on?  Even Google doesn't know.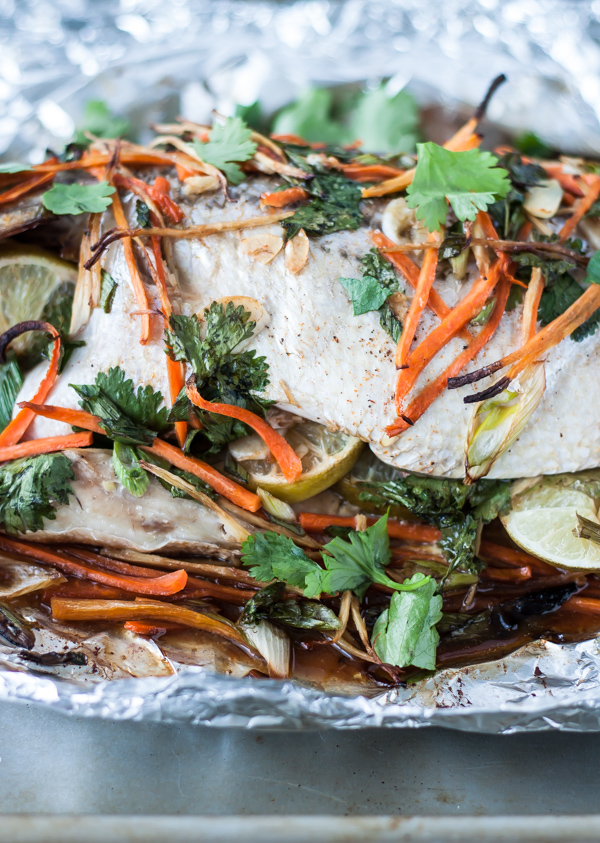 Since I'm sure I'm not the only one who stayed up a little bit too late watching TV last night, I'm here to help.  How about an easy weeknight dinner idea?  Like this Asian-style baked rockfish.
Dishes that call for cooking an entire fish (bones and all) sound extremely intimidating, I know.  But they are actually incredibly simple.
Simple and flavorful.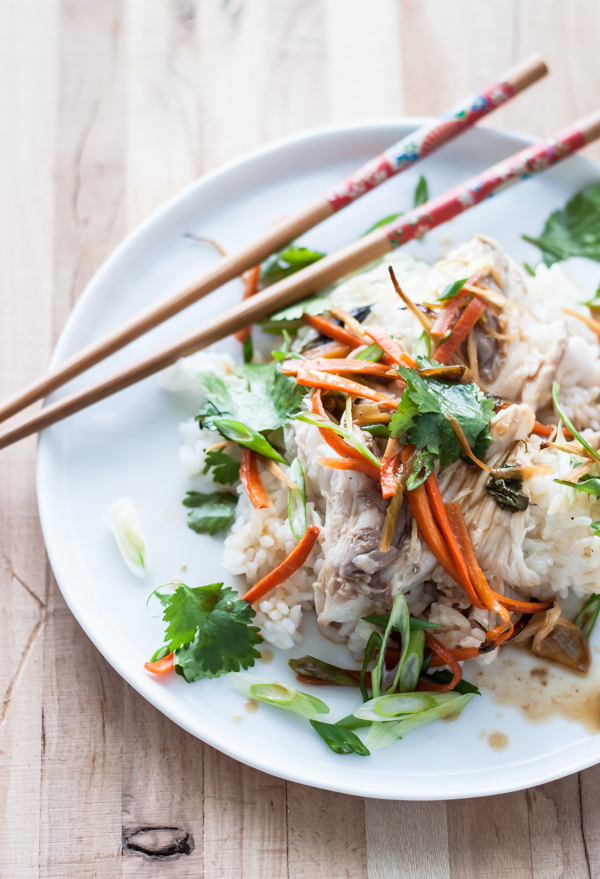 Trust me though, it is actually much easier to cook an entire fish well, than it is to cook a perfect fillet of fish on its own.  Whole fish are much more forgiving.
The hardest part involves figuring out how to serve it–but I found this video, which will hopefully get the idea and method across.  Plus, since this is a weeknight dinner, don't feel any pressure.  No one is going to care if it's not perfectly plated or picture perfect.  If they do, just remind them that you made them dinner.  That should take care of it.
And let's be honest.  Nothing is prettier than a whole-baked fish anyway.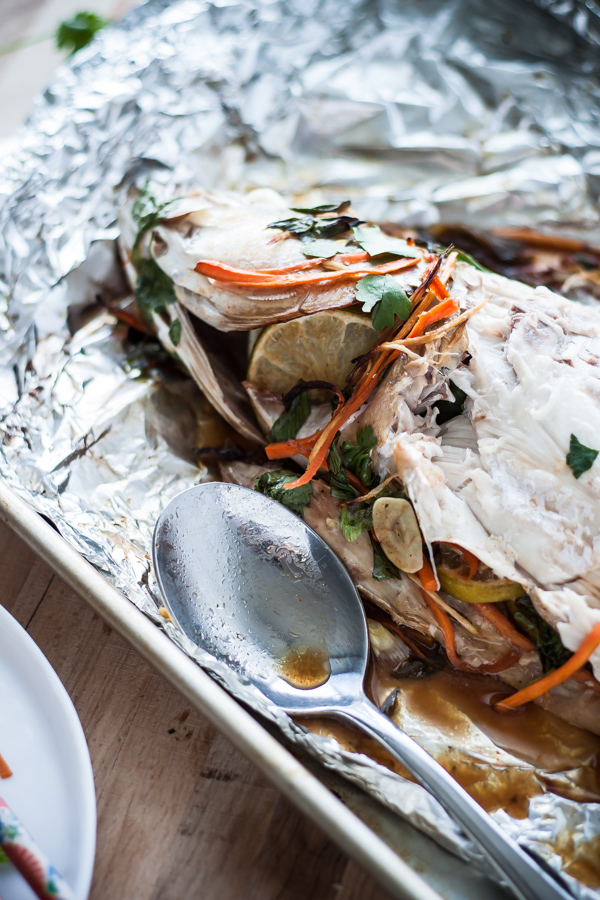 This one is flavored with all of my favorite go-to Asian ingredients: sesame oil, fresh lime slices, soy sauce, red pepper powder (gochugaru), julienned carrots and ginger, garlic, and lots of cilantro.
Ask your fish monger to scale and gut the fish for you.  Then, it is just a matter of stuffing the cavity with cilantro and lime, sprinkling on the remaining of the ingredients, and letting it bake in an aluminum tent for 30-45 minutes tops.
My favorite way to serve it is alongside hot sushi (or brown) rice, a sprinkling of lime juice, cilantro, a drizzling of soy sauce, and crushed peanuts.  Couldn't be easier!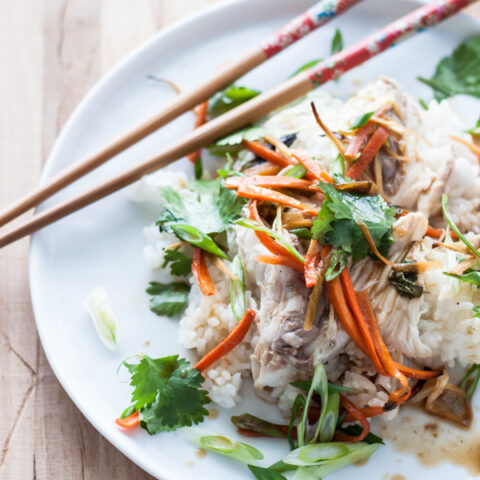 Asian Style Baked Rockfish
Yield: 2-3 Servings
Prep Time: 15 minutes
Cook Time: 40 minutes
Additional Time: 5 minutes
Total Time: 1 hour
Ingredients
2.5 – 3 lb whole rockfish, scaled and gutted (or substitute sea bass or red snapper)
kosher salt
freshly ground black pepper
3 scallions, finely sliced on a diagonal
1 lime, thinly sliced
1 whole carrot, peeled and finely julienned
1.5 inch piece of ginger, peeled and finely julienned
2 garlic cloves, finely sliced
handful of fresh cilantro
2 tablespoons + 1 teaspoon soy sauce
3 teaspoons toasted sesame oil
1/8 teaspoon Korean red pepper powder (gochugaru)
Instructions
Preheat the oven to 425 degrees Fahrenheit. Line large baking sheet with aluminum foil.
Place the gutted and scaled rockfish on top of the aluminum foil. Rub skin and cavity with coarse salt and season with pepper.
Stuff the cavity with the scallions, lime slices–and half of the cilantro leaves.
Sprinkle the top of the fish with the carrot, ginger, garlic, and remaining cilantro. In separate bowl, whisk together the soy sauce, sesame oil, and red pepper powder. Pour sauce evenly over the fish.
Top the fish with another large sheet of aluminum foil–bringing the edges of both pieces together to fold and seal in the fish.
Bake at 425 degrees for 30 minutes. Remove the top piece of foil and continue to cook, uncovered, for an additional 5-10 minutes or until fish flakes easily.
Serve the fish immediately (use these serving tips) with sushi or brown rice, fresh lime wedges, soy sauce, cilantro, and crushed peanuts.
Notes
Feel free to substitute with a larger or smaller fish and adjust cooking time accordingly–but allow roughly one pound or more of fish per serving.
Nutrition Information:
Yield: 3
Serving Size: 1
Amount Per Serving:
Calories: 193
Total Fat: 4g
Saturated Fat: 1g
Trans Fat: 0g
Unsaturated Fat: 3g
Cholesterol: 78mg
Sodium: 169mg
Carbohydrates: 1g
Fiber: 0g
Sugar: 0g
Protein: 35g
A Beautiful Plate provides nutritional information, but these figures should be considered estimates, as they are not calculated by a registered dietician.