Dark Chocolate Chunk Raspberry Muffins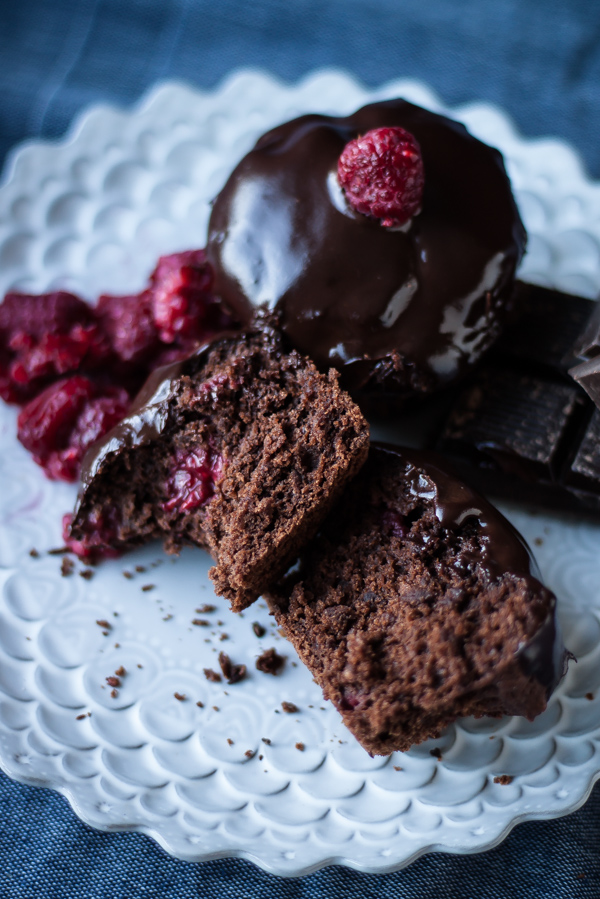 Today is Connor's birthday! Which means we're celebrating with muffins. And not just any muffins. Dark chocolate chunk raspberry muffins. Because there is no better combination in the world than raspberries and bittersweet chocolate.
Hopefully he agrees with that statement. I didn't actually ask his opinion on the matter. But he consumed three of these in less than an hour, so I'll take that as a yes.
Somehow, among mouthfuls, he did manage to tell me that I should have added even more dark chocolate chunks though. But to be fair, when are there ever enough chocolate chunks? Such a thing doesn't exist.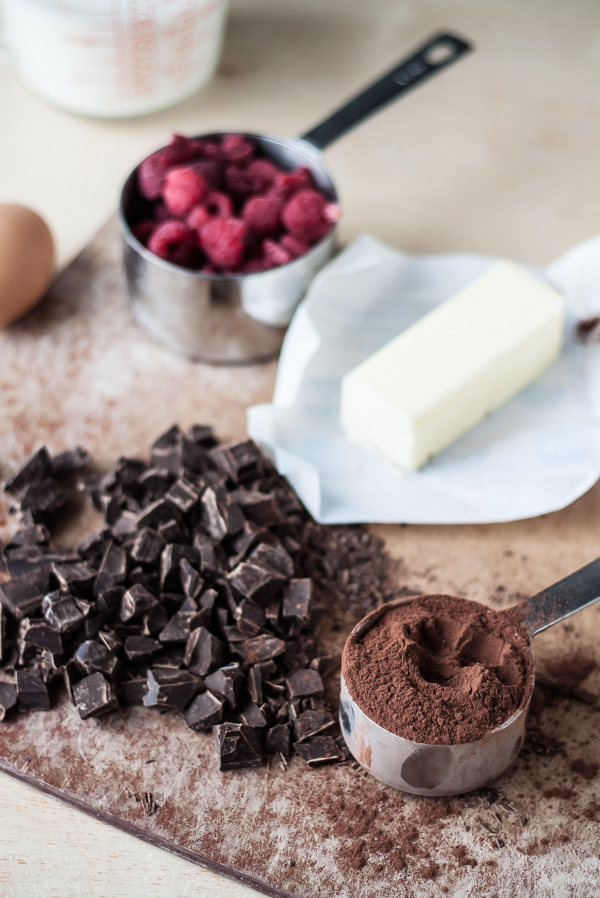 I know it's not my birthday–but I can't help but feel a little older today. Maybe it's sympathy aging. Is that a thing?
Or maybe it has to do with the fact that our apartment building has decided to re-paint all of our front doors this week and Connor has had to put out nearly 15 different visual reminders for me to remember to lock Max (the cat) into our bedroom before I leave for work today.
You know…so he doesn't escape all over again and cause me another massive, life-threatening panic attack.
Am I exaggerating? Barely.
He left a note near my keys–and at my request, put a box of Arm & Hammer kitty litter right in front of the door. If I don't notice them, the hope is that I'll at least trip over the box on the way out the door and remember it then.
I'm sure he'll come up with another type of reminder in the morning–and I'll wake up with something written on my forehead in Sharpie or something.
Just kidding, Connor wouldn't actually do that. He's a pretty nice guy.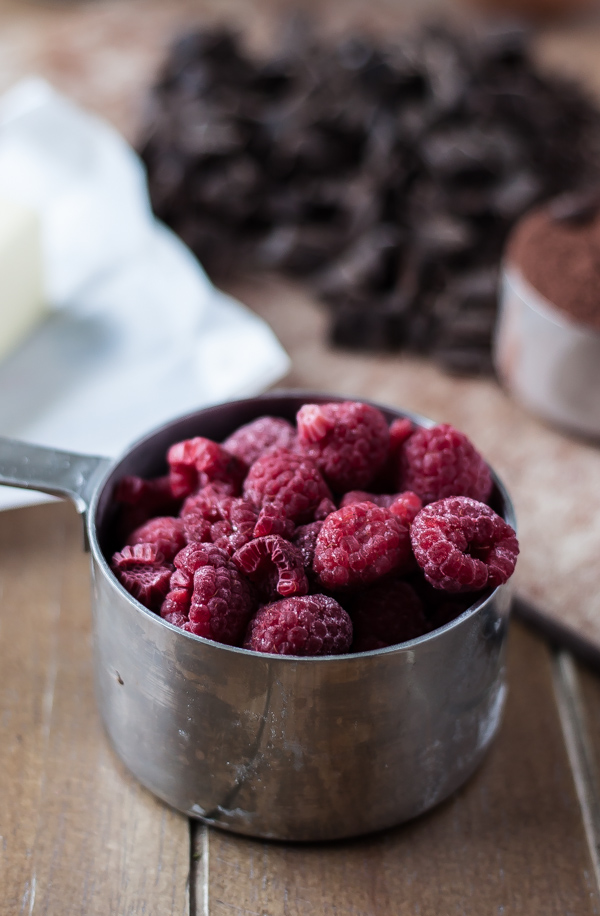 [Oh yes, and if you're wondering, they're painting our doors GOLD. Yes, gold. Apparently, gold doors equate a modernized apartment building. Who knew!]
Back to the muffins. They could not be easier to throw together.
In fact, you don't even need a stand or hand-held mixer. A couple of mixing bowls, spatula, whisk, and lots of dark, bittersweet chocolate will do the trick. I love to use 72% percent bittersweet chocolate (which I buy at Trader Joe's in massive bars).
It makes these muffins perfectly balanced. Incredibly chocolaty, but not overly sweet. Highly, highly recommend.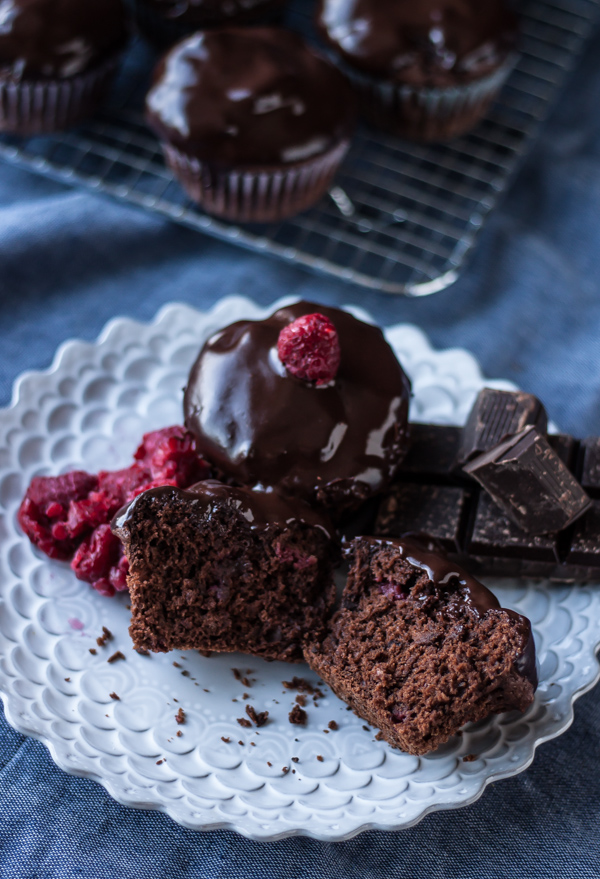 The basic muffin recipe is based off of Dorie Greenspan's dark chocolate chunk muffins–but I decided to add frozen raspberries to the mix and take it up another notch by dipping them in a pool of warm, dark chocolate ganache.
Does that technically make them cupcakes? Maybe. But let's stick with muffins. It means we get to eat them for breakfast. And nothing starts your [birth]day off better than dark chocolate chunk raspberry muffins warm out of the oven.
Here's to Connor, birthdays, gold apartment doors, and lots of lots of chocolate!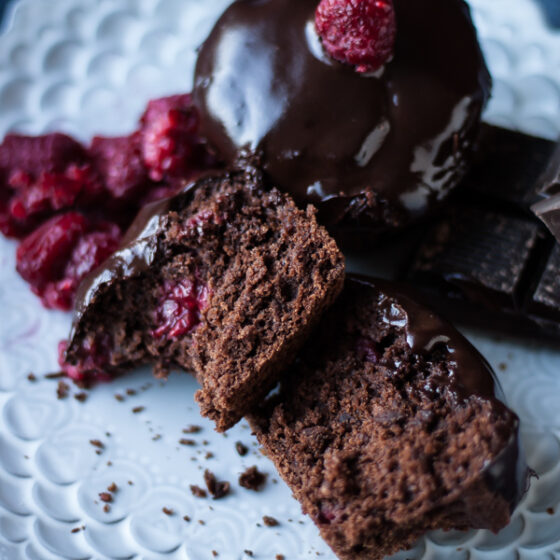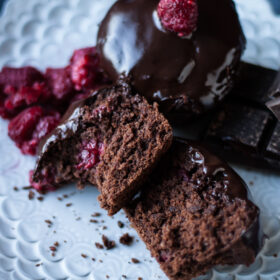 Dark Chocolate Chunk Raspberry Muffins
Decadent dark chocolate muffins filled with frozen raspberries, dark chocolate chunks, and dipped in a rich chocolate ganache topping.
Ingredients
Dark Chocolate Raspberry Muffins:
2 cups (240 g) unbleached all-purpose flour
⅔ cup (135 g) granulated sugar
⅓ cup unsweetened Dutch-processed cocoa powder sifted
1 tablespoon baking powder
½ teaspoon baking soda
½ teaspoon kosher salt
1 cup frozen raspberries
6 tablespoons (3 oz; 85 g) unsalted butter softened
4 ounces bittersweet chocolate roughly chopped and divided
1¼ cup (300 mL) buttermilk room temperature
1 large egg room temperature
1 teaspoon vanilla extract
Decoration:
2 ounces bittersweet chocolate finely chopped
¼ cup (60 mL) heavy cream
fresh raspberries for garnishing
Instructions
Bake Muffins: Preheat the oven to 375°F (190°C).  Line a standard 12-cup muffin pan with paper liners (recommended) or lightly grease with baking spray. Set aside.

Whisk the all-purpose flour, sugar, cocoa powder, baking powder, baking soda, and salt in a large bowl. Place the frozen raspberries in a seperate bowl and add one tablespoon of the dry flour mixture, and toss to coat. This helps the raspberries sink in the batter during baking. Set the raspberries in the freezer as you assemble the rest of the ingredients.

In a glass or microwave-safe bowl, combine the butter and half of the chopped bittersweet chocolate (2 ounces).  Microwave in 15 to 20 second intervals , stirring with a spatula between each interval, until the chocolate and butter has melted completely. Whisk together until smooth.

In separate measuring cup, whisk together the buttermilk, egg, and vanilla extract. Create a well in the center of the dry ingredients and add both the buttermilk and melted chocolate-butter mixture.  Fold the wet ingredients into the dry ingredients with a spatula, until just absorbed and some small lumps remain. Gently fold in the remaining chocolate chunks and frozen raspberries.

Using an ice cream scoop or spoon, distribute the batter evenly among the lined muffin pan.  Bake for 18 to 20 minutes, or until toothpick inserted comes out mostly clean with some moist crumbs attached.

Allow the muffins to cool on a rack in the pan for 3 to 5 minutes, before removing the muffins from the tin.  If you chose to skip the ganache decoration, I recommend eating the muffins warm out of the oven. If decorating, allow the muffins to cool completely.

Prepare Ganache: Place the finely chopped chocolate in a heat-proof bowl.

Heat the cream in a glass measuring cup in the microwave at 15 second intervals until very hot. Pour over the chocolate and allow to sit for 15 seconds.  Using a whisk, slowly whisk together the cream an chocolate until emulsified. Continue whisking slowly just until mixture is smooth and shiny.

Dip the tops of the cooled muffins into the ganache and place them back on a rack; allowing the ganache to set for 10 minutes before serving.  Garnish the tops of the muffins with a fresh raspberry and serve immediately.
Tips for Success:
These muffins are best served slightly warm out of the oven and the day of baking, but they can be stored in an airtight container, at room temperature, for an additional one to two days.
Dark chocolate muffin recipe adapted from Dorie Greenspan's
Baking: From My Home to Yours
.
Serving: 1serving, Calories: 303kcal, Carbohydrates: 36g, Protein: 6g, Fat: 15g, Saturated Fat: 9g, Polyunsaturated Fat: 5g, Cholesterol: 34mg, Sodium: 370mg, Fiber: 4g, Sugar: 14g
This post contains affiliate links, which means that I make a small commission off items you purchase at no additional cost to you. Please read my
privacy policy
for more information.