Grapefruit Curd Stuffed Doughnuts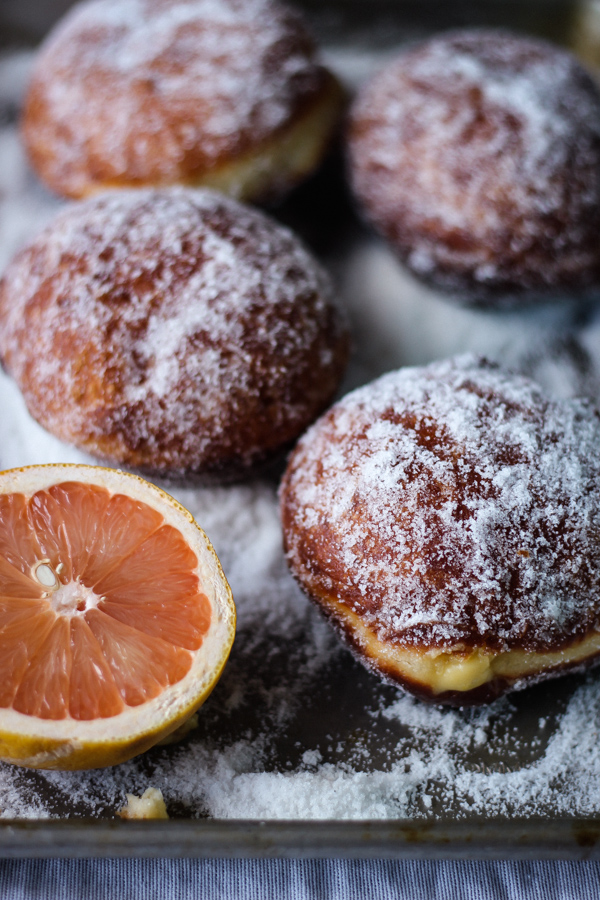 Hi, hi!  If you can't already tell, the blog got a major facelift in the last 24 hours.  I'm feeling a little giddy today–be prepared for a lot of exclamation points.  I apologize in advance.
You see, the new design has been a work in progress for nearly two months, and I am so, so excited to finally share it with you guys.  I actually started the process back in May of last year–and have been patiently waiting for my turn this whole time.
It has been very, very hard (I'm the most impatient person in the world), but I knew it would be well worth the wait in the end.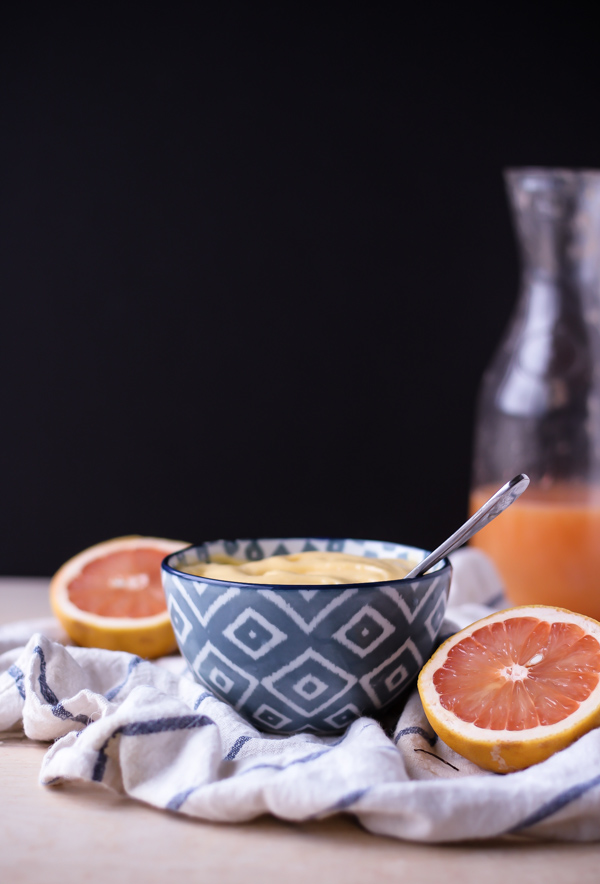 None of this could have happened without Lindsay, the incredibly talented designer of Purr Design.  Somehow, despite my incoherent and long-winded emails, she was able to come up with exactly what I was looking for.
And what better way to celebrate than with homemade doughnuts!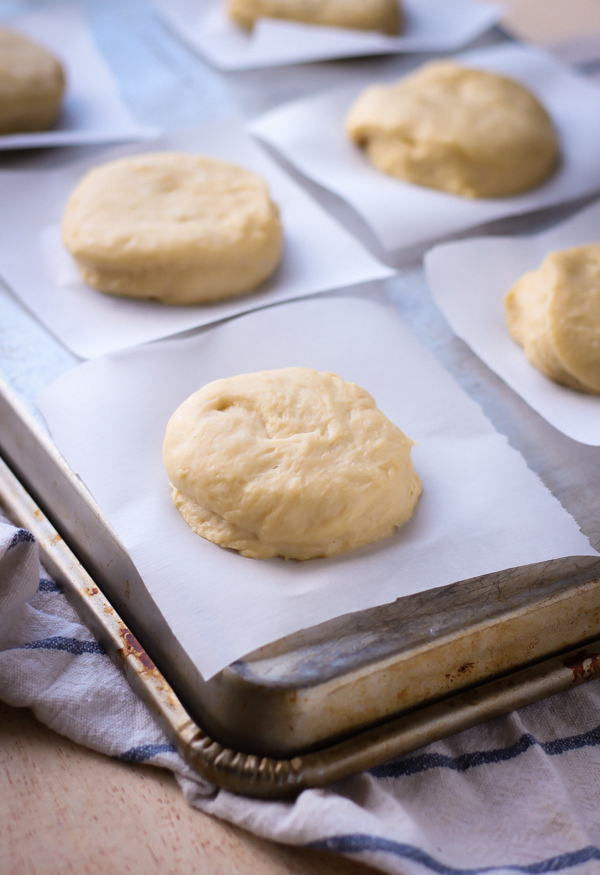 Of the fried and yeasted variety!  If that wasn't enough, I went ahead and stuffed them with homemade grapefruit curd.  I know it's January and we're still pretending to eat healthy food every meal of every day, but I couldn't help myself.
These are way too much fun not to share.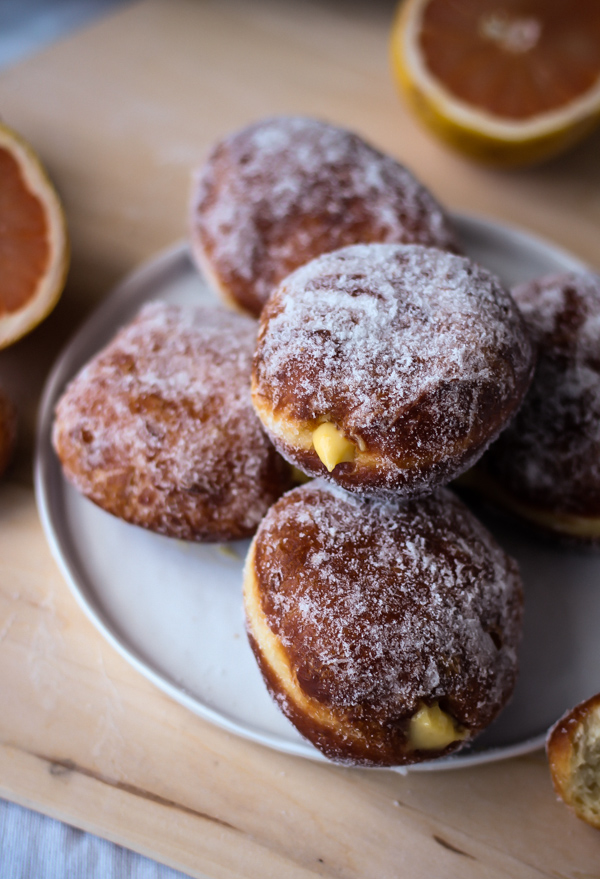 I have to admit…I'm a little surprised I made these.  I mean, I'm all for doughnuts–but I have always loathed the idea of frying at home.  Pan frying?  Sure.  Shallow frying?  Occasionally.
Deep frying?  Um…no.
It just sounds messy and obnoxious, doesn't it?   I mean, that's why people buy those machines that do all the work for them!  But the thought of homemade fried doughnuts, in the comfort of my own kitchen, lured me in.
So I sucked it up, bought the oil, found my frying thermometer, and went to town.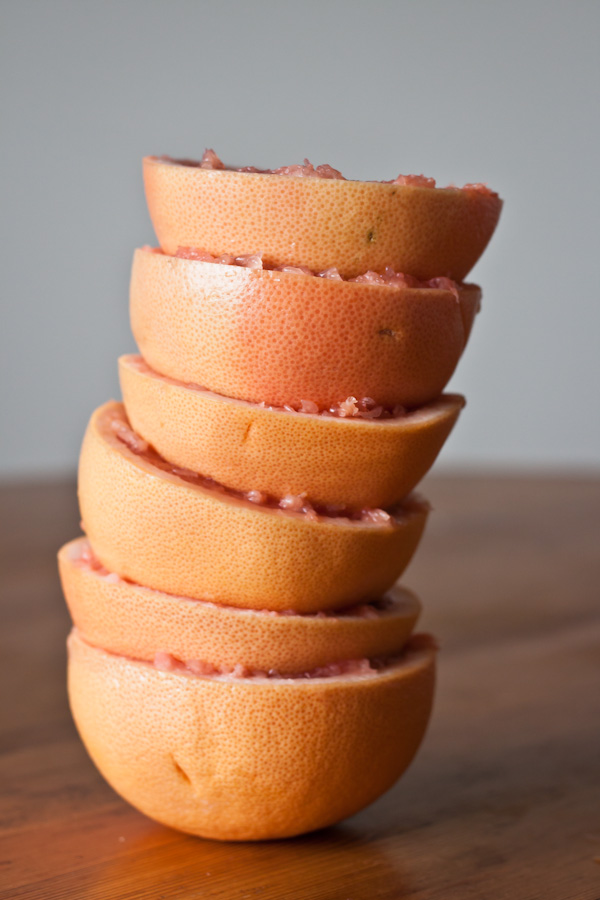 Verdict?  It's really not that bad.  In fact, it was pretty painless.  It really didn't make that much of a mess and my apartment smelled like fried donuts all day.  And trust me, there are worse things in life.  Like traffic.  In Washington, DC.
Anyway, the worst part about frying is figuring out what to do with the oil once you're done.  The most important step is to leave it alone and allow it to cool completely.  Obviously, you can then choose to find a container and discard it–but in this case, I recommend using a ladle and measuring cup, filtering it, and saving the oil (in the original container) for a future batch of doughnuts (or other fried good).
Frying oil should last for at least 2-3 additional uses–depending on the type of food you're frying–and this makes the process much more cost-effective.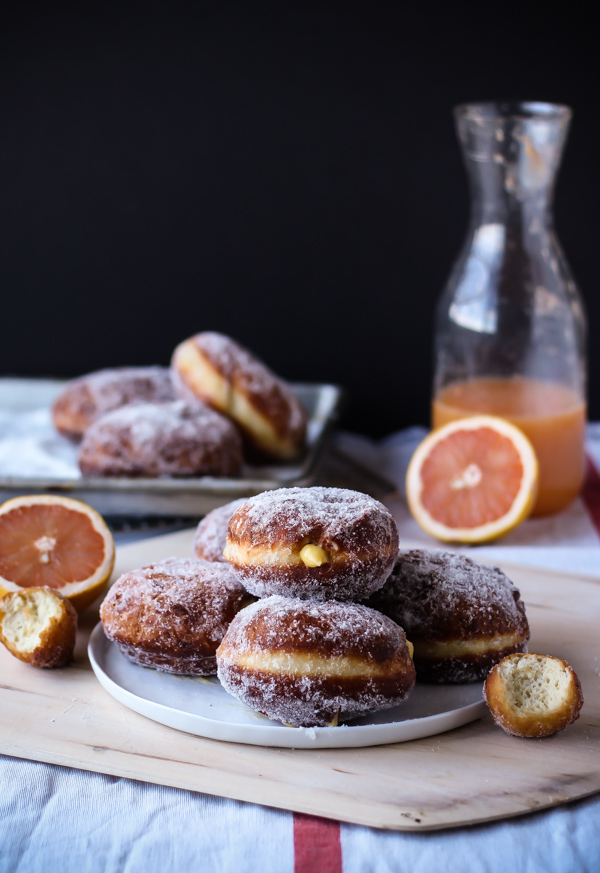 These doughnuts are a little time-intensive, but well worth the effort.  They are true, fried doughnuts–made with a yeast dough consisting of bread flour, water, active dry yeast, salt, sugar, eggs, and melted butter.
They are soft and doughy–and go perfectly with a nice dusting of granulated sugar.  Although you could certainly stop there–the sweet, creamy, and tart grapefruit curd filling takes them over the top.
It's celebration time!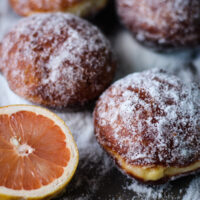 Grapefruit Curd Stuffed Doughnuts
Yield: 16 Servings
Prep Time: 1 hour
Cook Time: 30 minutes
Additional Time: 1 hour 30 minutes
Total Time: 3 hours
Ingredients
Doughnut Dough:
10 ounces water, warm
1.5 tablespoons active dry yeast
4 1/4 cup white bread flour (19 ounces)
2 whole eggs
2 ounces unsalted butter, melted
1/3 cup + 2 tablespoons granulated sugar (2.5 ounces)
1 3/4 teaspoon salt
Grapefruit Curd:
1 cup freshly squeezed grapefruit juice
2/3 cup granulated sugar
3 tablespoons cornstarch
3 egg yolks
2 whole eggs
pinch of salt
1/8 teaspoon vanilla extract
1.5 tablespoons unsalted butter, cold
Assembly:
8 cups canola oil
pinch of salt
1 – 1 1/2 cup granulated sugar
Instructions
Prepare Doughnut Dough: Combine warm water, yeast, and a pinch of sugar in a large bowl. Allow to proof for 5 minutes in a warm place.
Add roughly 1 cup of the bread flour and mix well with a whisk to make the starter. Allow to sit for 30 minutes, uncovered, in warm place.
Add the eggs, sugar, salt and melted butter and mix well. Add the remaining bread flour, stirring with a large spatula until incorporated.
Place the dough on a well floured countertop and knead until soft, smooth and well incorporated–the dough will be sticky, but avoid adding too much additional flour.
Place in a clean, greased bowl, cover tightly with plastic wrap, and allow to rest in a warm place until double in size (roughly 1 hour). Meanwhile, prepare grapefruit curd filling (see below).
Once doubled in size, place on a lightly oiled countertop and press flat with the palms of your hand–until the dough is about 3/4″ thick. Using a 3-inch biscuit cutter, shape the doughnuts and place each piece of dough on a small square of parchment paper. Cover the doughnuts with a kitchen towel and allow to rest for 15 minutes before frying (see below).
Prepare Grapefruit Curd: Put grapefruit juice, sugar, cornstarch, egg yolks, whole eggs, and salt into a small saucepan. Whisk to combine.
Place over medium-low heat and whisk continuously until mixture thickens and comes to a slow boil. Allow to boil for 2 minutes or so (to cook the cornstarch out) before removing from heat. Whisk in the cold butter and vanilla.
Strain mixture through a fine-mesh sieve, using a spatula. Set aside and allow to cool completely (if preparing ahead of time, cover and place in the refrigerator–and beat well before using).
Fry and Assemble the Doughnuts: Heat the oil to 350 degrees Fahrenheit in a large pot or Dutch oven, fitted with a frying or candy thermometer. Fry 2-3 donuts at a time–invert the parchment paper and place donut side down in the oil–until the parchment releases (discard). Fry 2-3 minutes on each side until golden brown. Drain on paper towels and allow to cool until barely warm to touch.
Place granulated sugar on a small baking sheet. Toss the cooled donuts in granulated sugar until well coated on each side. Use a paring knife to puncture the side of each doughnut to form a small hold. Place the tip of the piping bag into the hole and pipe 1-2 teaspoons of curd inside (roughly). Serve immediately.
Nutrition Information:
Yield: 16
Serving Size: 1
Amount Per Serving:
Calories: 514
Total Fat: 46g
Saturated Fat: 5g
Trans Fat: 0g
Unsaturated Fat: 41g
Cholesterol: 37mg
Sodium: 108mg
Carbohydrates: 23g
Fiber: 0g
Sugar: 12g
Protein: 3g
A Beautiful Plate provides nutritional information, but these figures should be considered estimates, as they are not calculated by a registered dietician.
P.S.  Hopefully any website glitches have already been addressed, but if any of you notice anything wonky on the site over the next few days–please send me an email or write a comment below—and I'll try to address it right away!  Thanks! 
This post contains affiliate links, which means that I make a small commission off items you purchase at no additional cost to you. Please read my
privacy policy
for more information.