Grapefruit Curd Stuffed Doughnuts
Grapefruit curd stuffed doughnuts! Traditional fried yeasted doughnuts filled with a homemade tart grapefruit curd.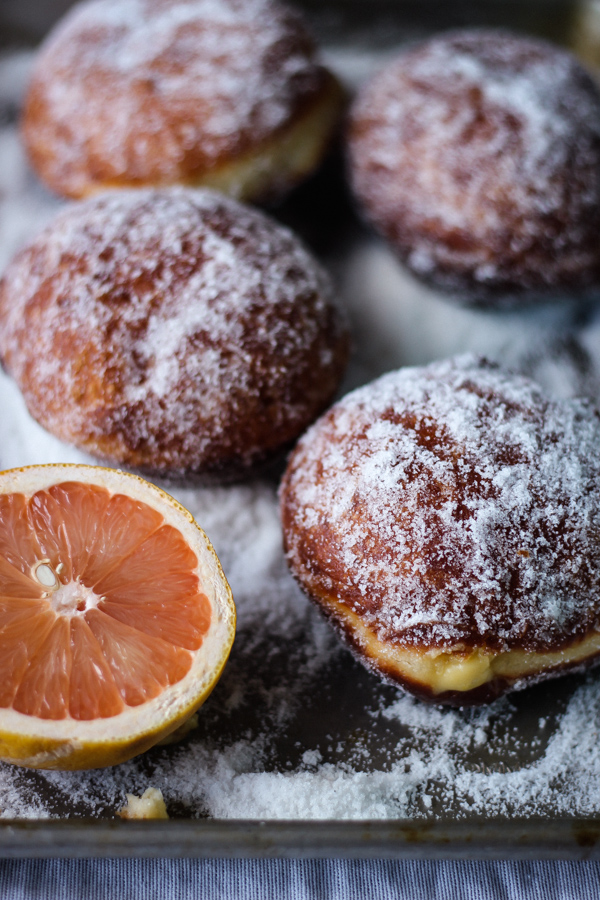 These Grapefruit Curd Stuffed Doughnuts are time-intensive, but well worth the effort.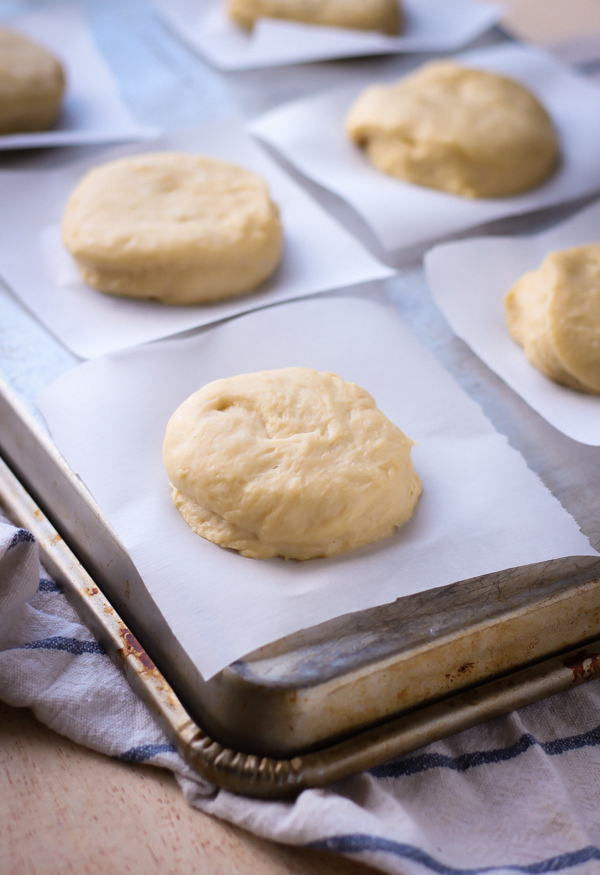 These are authentic fried yeasted doughnuts, prepared with a dough made from warm water, bread flour, active dry yeast, salt, sugar, eggs, and melted butter.
The doughnuts are soft and doughy. Once fried, they're dusted in granulated sugar and stuffed with a tart and creamy homemade grapefruit curd.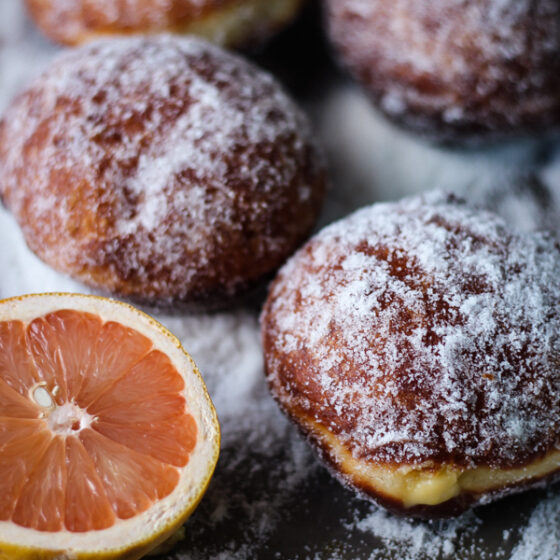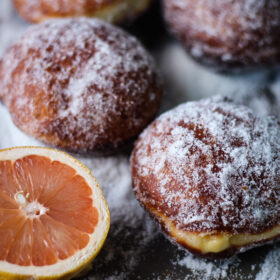 Grapefruit Curd Stuffed Doughnuts
Grapefruit curd stuffed doughnuts! Traditional fried yeasted doughnuts filled with a homemade tart grapefruit curd.
Ingredients
Doughnut Dough:
10 ounces (300 mL) warm water
1½ tablespoons active dry yeast
4¼ cups (540g) bread flour divided
2 large eggs
2 ounces (55g) unsalted butter melted
⅓ cup + 2 tablespoons (90g) granulated sugar
1¾ teaspoons kosher salt
Grapefruit Curd:
1 cup fresh grapefruit juice
⅔ cup (130g) granulated sugar
3 tablespoons cornstarch
3 large egg yolks
2 large eggs
pinch kosher salt
1½ tablespoons cold unsalted butter
¼ teaspoon pure vanilla extract
Assembly:
8 cups vegetable oil for frying (roughly 8 cups)
1-1½ cups granulated sugar for rolling
Instructions
Prepare Doughnut Dough: Combine warm water, yeast, and a pinch of the granulated sugar in a large mixing bowl. Allow to proof for 5 minutes in a warm place until foamy.

Add roughly 1 cup of the bread flour and mix well. Allow mixture dough to sit for 30 minutes, uncovered, in a warm space. Add the eggs, remaining sugar, salt, and melted butter and mix well. Add the remaining bread flour, stirring with a large wooden spoon or your hands until well incorporated.

Transfer the dough onto a well-floured countertop and knead until soft, smooth and well incorporated. The dough will be sticky, but avoid adding too much additional flour. Place the dough in a clean, lightly oiled bowl, cover tightly with plastic wrap, and allow to rest in a warm place until double in size, roughly 1 hour. Meanwhile, prepare the curd (see recipe below).

Once the dough has doubled in size, place on a lightly oiled countertop and press or roll the dough flat until it is roughly ¾-inch thick. Using a 3-inch biscuit cutter, cut the doughnuts and place each piece of dough on a small square of parchment paper. Cover the doughnuts with a kitchen towel and allow to rest for 15 minutes before frying.

Prepare Grapefruit Curd: Combine the grapefruit juice, sugar, cornstarch, egg yolks, whole eggs, and salt into a small saucepan. Whisk to combine. Place over medium-low heat and whisk continuously until the mixture thickens and comes to a slow boil. Boil for 2 minutes - this will cook the cornstarch through - before removing from heat. Whisk in the cold butter and vanilla extract.

Strain the curd through a fine-meshed sieve set over a large bowl. Use a spatula to press the curd through the sieve. Allow the curd to cool completely (if peparing in advance, cover and refrigerate, beating well before using).

Fry and Serve Doughnuts: Heat vegetable oil (roughly 8 cups) in a large Dutch oven until the temperatures reaches 350°F (175°C). Fry 2 to 3 donuts at a time, inverting the parchment paper and setting the doughnut into the oil until the parchment releases. Fry for 2 to 3 minutes on each side, flipping with a slotted spoon or skimmer, until golden brown on both sides. Transfer the fried doughnuts to a paper-towel lined sheet pan and allow to cool until just slightly warm to the touch.

Place a thin layer of granulated sugar on a small baking sheet or plate. Transfer the curd to a piping bag fitted with a round tip. Toss the cooled donuts in granulated sugar until well coated on each side. Use a pairing knife, puncture the side of each doughnut to form a small hole. Place the tip of the piping bag into the hole and pipe 1 to 2 teaspoons of grapefruit curd inside (roughly). Serve immediately.
Serving: 1serving, Calories: 514kcal, Carbohydrates: 23g, Protein: 3g, Fat: 46g, Saturated Fat: 5g, Polyunsaturated Fat: 41g, Cholesterol: 37mg, Sodium: 108mg, Sugar: 12g
This post contains affiliate links, which means that I make a small commission off items you purchase at no additional cost to you. Please read my
privacy policy
for more information.