Asparagus Egg Prosciutto Tart with Summer Salad
This post contains affiliate links.
A beautiful spring and summertime asparagus egg puff pastry tart topped with fresh arugula salad tossed in basil vinaigrette. Ideal for brunch or holiday entertaining!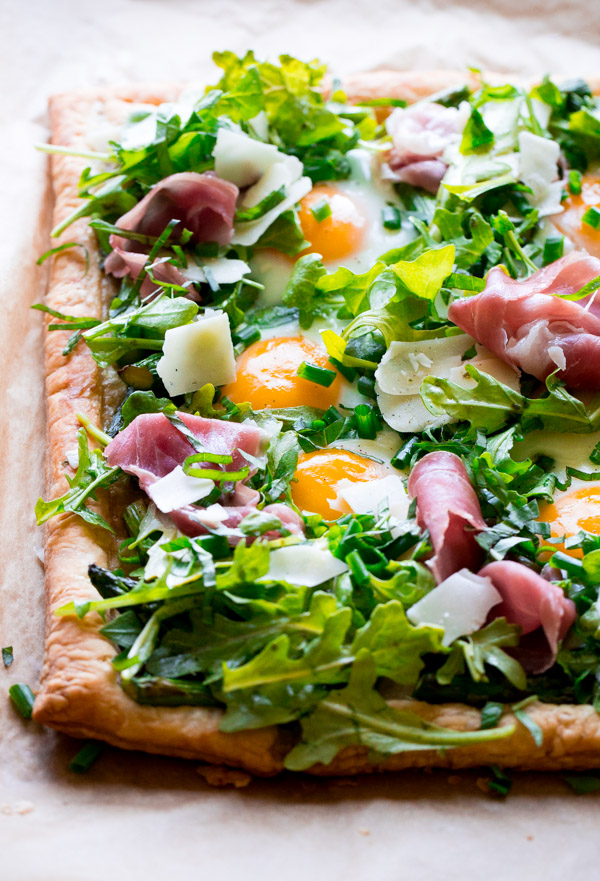 I've been waiting to share this lovely asparagus, egg, and prosciutto tart with you all for weeks! It is quite possibly the prettiest tart I've ever made in my entire life, and it's full of summer ingredients and flavor.
Puff pastry is involved too, so there's that.
Oh, and you can make it in less than an hour, which is the absolute maximum amount of time that I can spend on any recipes and dishes these days, especially as we begin to pack up our apartment (kill me now) and move to Chicago next week.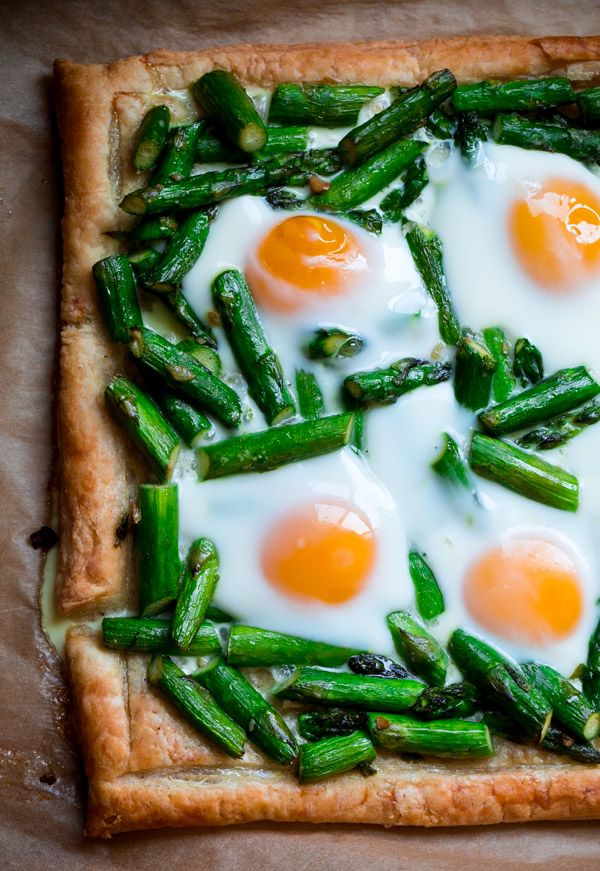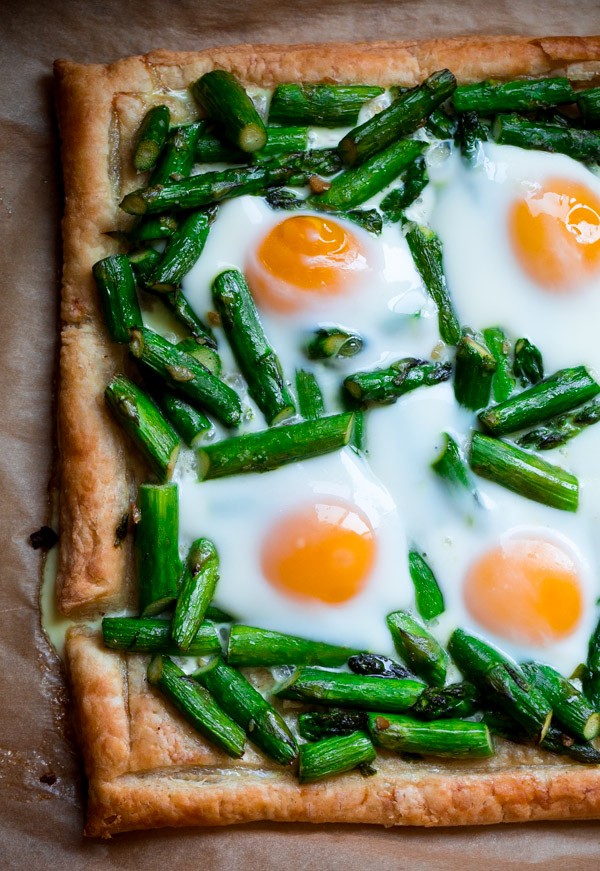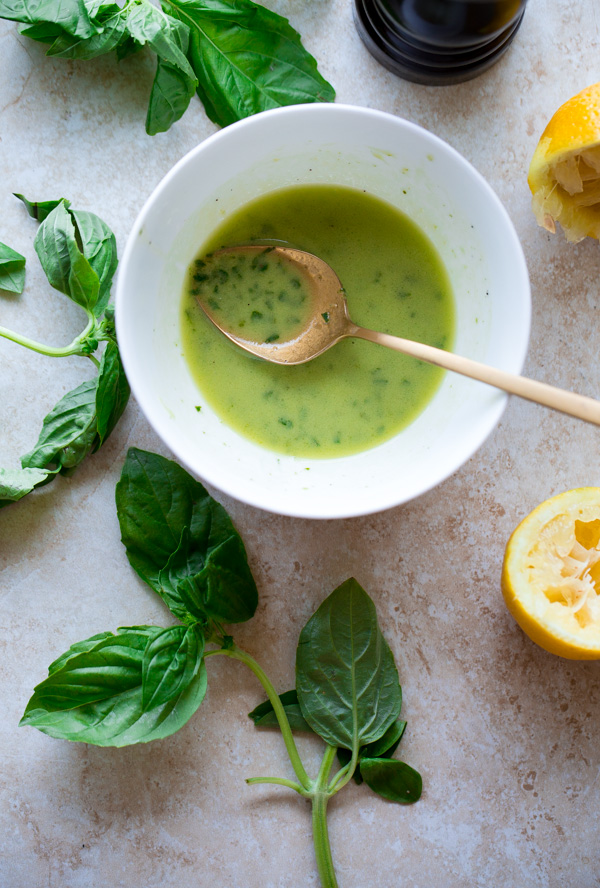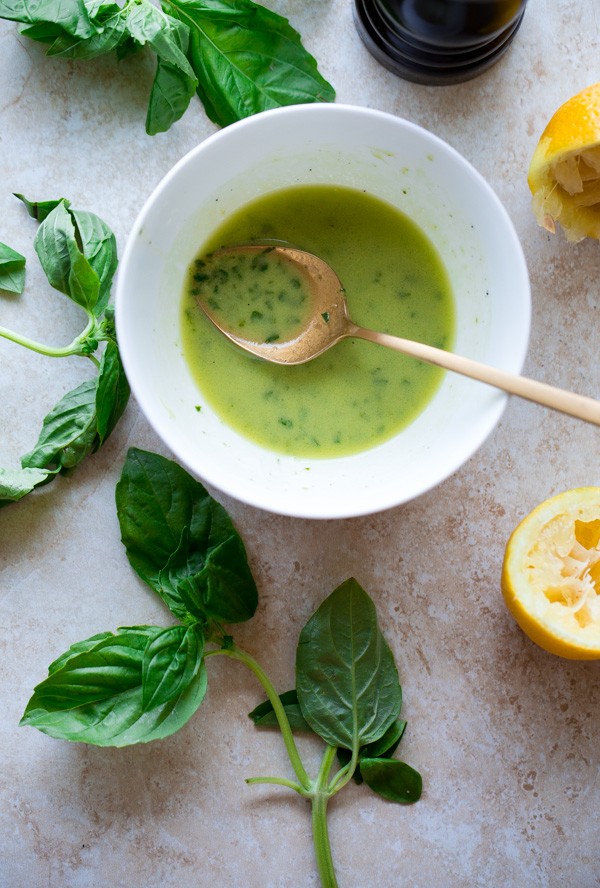 I can't take full credit for this creation, as it happens to be a Better Homes & Gardens recipe, but I did give it my own twist. When they asked me to share my own summer farmer's market twist on a BHG recipe, I instantly became fixated on this tart.
The tart itself is very straight-forward! Top partially-baked puff pastry with sautéed asparagus, crack some eggs on top, and bake until the egg whites are just set and the yolks are still deliciously runny.
My fun summer twist addition comes next…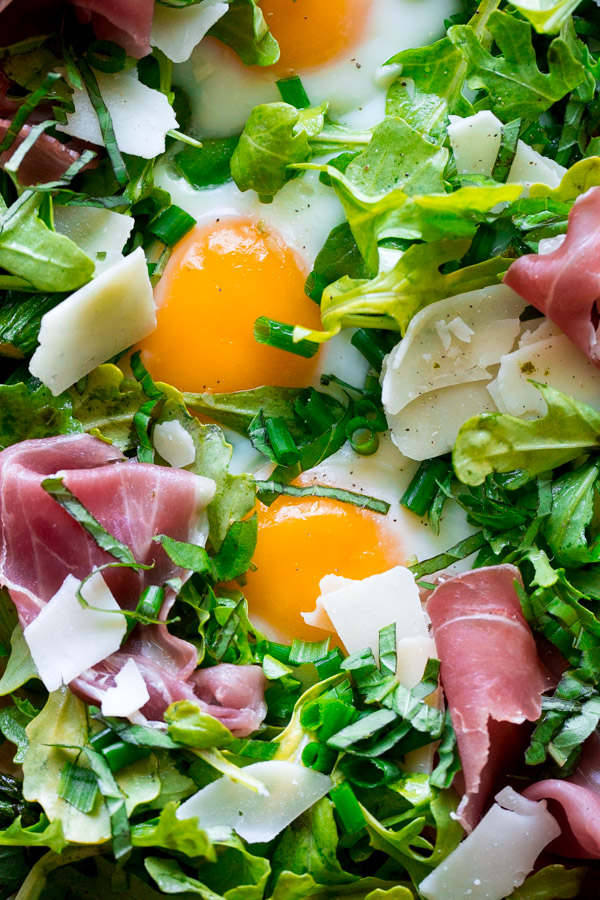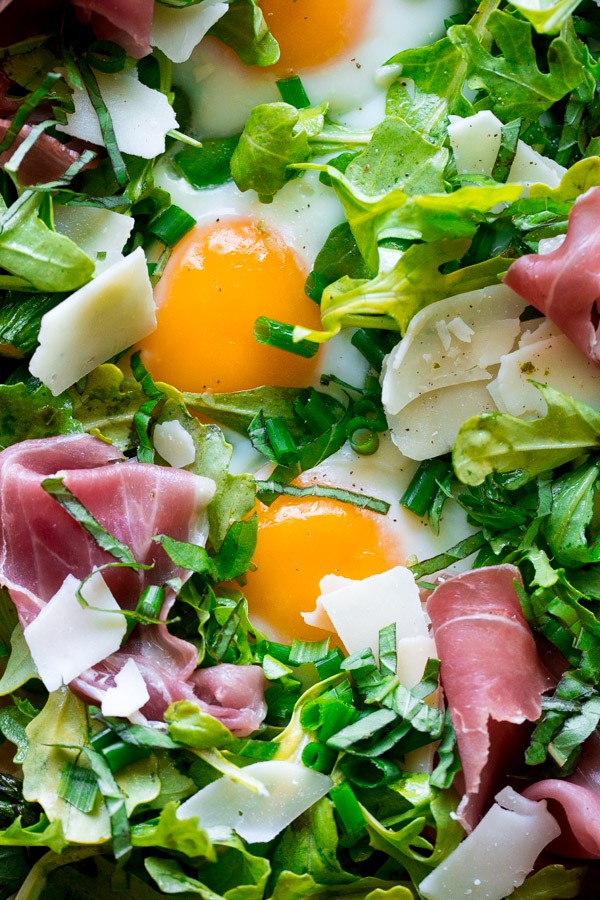 The original recipe already had so many wonderful things going for it, but I made a few small changes to highlight my favorite summer produce.
Hint? It involves fresh arugula, shaved parmigiano-cheese, and a homemade basil vinaigrette.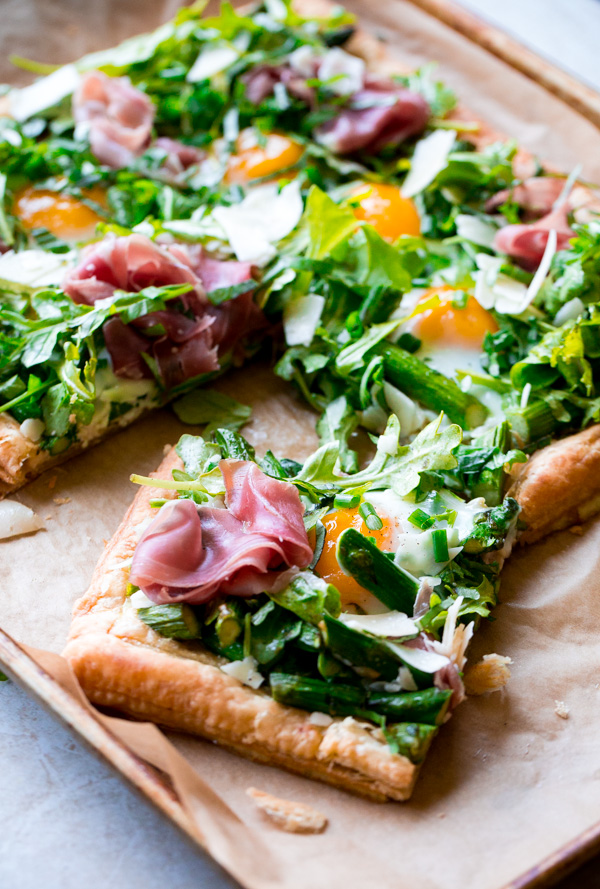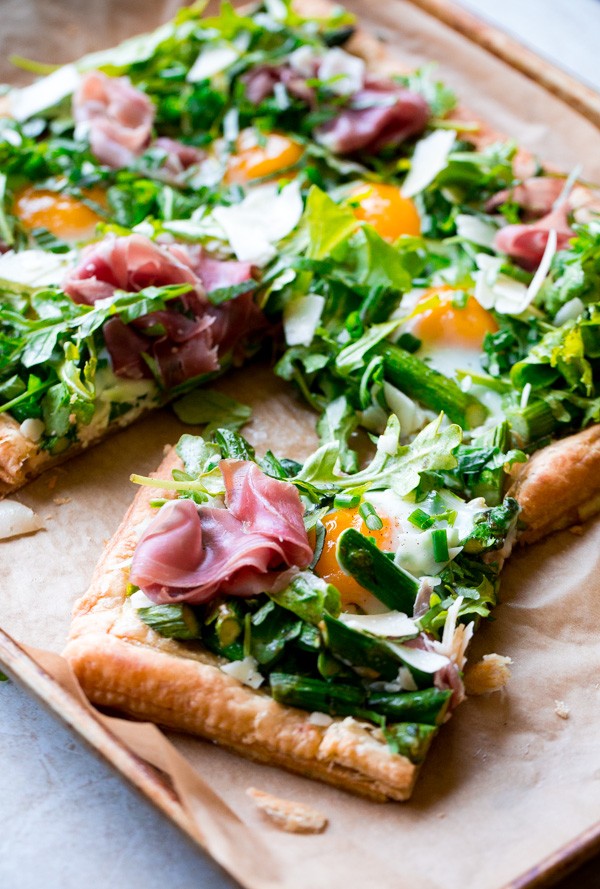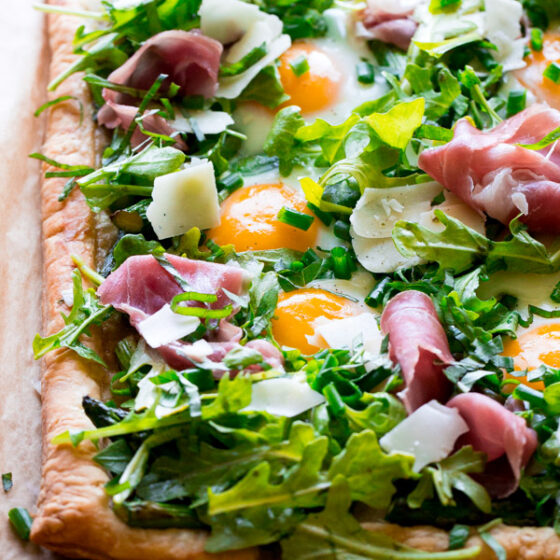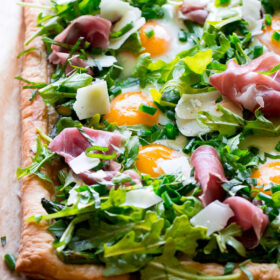 Asparagus Egg Prosciutto Tart with Summer Salad
A beautiful spring and summertime asparagus egg puff pastry tart topped with fresh arugula salad tossed in basil vinaigrette. Ideal for brunch or holiday entertaining!
Ingredients
Tart Dough:
1 sheet sheet frozen puff pastry dough, thawed about half of a 17.3-ounce package
unbleached all-purpose flour for dusting
Filling:
2 tablespoons (30 mL) extra virgin olive oil
1 lb fresh asparagus spears trimmed and cut on the bias into ¼-inch-thick pieces (about 2 cups)
2 medium garlic cloves minced
kosher salt
freshly ground black pepper
6 large eggs room temperature
3 tablespoons finely sliced fresh chives
3-4 slices (1½ ounces) Italian aged prosciutto torn into large pieces
Assembly:
1 tablespoon (15 mL) extra virgin olive oil
1 tablespoon (15 mL) fresh lemon juice
4-5 fresh basil leaves finely chopped
2 cups baby arugula leaves
shaved parmigiano-reggiano cheese for topping
Instructions
Prepare Tart: Preheat the oven to 400°F (204°C) with a rack in the center position. Line a half sheet pan with parchment paper and set aside.

Unfold the thawed puff pastry sheet onto a lightly floured work surface; roll into a 14-inch by 11-inch rectangle, trimming an uneven edges with a sharp knife. Using a sharp knife, lightly score a 1/2-inch border around the edges (do not cut through - this will effectively cause the border to puff up) - and prick the inner rectangle (do not prick the border) across the surface with a tines of a fork. Transfer the dough to the parchment-lined sheet pan. Bake for 10 minutes or until golden brown. Remove from the oven and set on a wire rack while you prepare the asparagus.

In a large skillet, heat 2 tablespoons of olive oil over medium-high heat. Add asparagus and garlic and saute for 2 to 3 minutes, stirring often. Season with salt and pepper. Arrange the sauteed asparagus pieces over the baked pastry, keeping within the border.

Break the eggs, one at a time, into a small dish; carefully pour the eggs onto asparagus mixture, spacing them evenly across the tart. Sprinkle with salt and pepper. Bake at 400°F (204°C) for 12 to 14 minutes or until the egg whites have completely set and yolks have just barely begun to thicken. Remove the tart from oven. Sprinkle with chives and distribute the torn prosciutto on top of the tart. Set on a wire rack while you prepare the salad topping.

Prepare Salad: In a large salad bowl, whisk together the extra virgin olive oil, lemon juice, and basil until mostly emulsified (or puree in a mini food processor). Add the arugula leaves to the bowl and toss to coat. Top the tart with the salad mixture. Garnish with shaved parmigiano-reggiano cheese and serve.
Serving: 1serving, Calories: 572kcal, Carbohydrates: 44g, Protein: 22g, Fat: 34g, Saturated Fat: 10g, Polyunsaturated Fat: 21g, Cholesterol: 214mg, Sodium: 1160mg, Fiber: 3g, Sugar: 2g
This post contains some affiliate links, which means that I make a small commission off items you purchase at no additional cost to you. Please read my
disclosure policy
for more information.