Strawberry Jam French Toast with Strawberry Butter
This post contains affiliate links.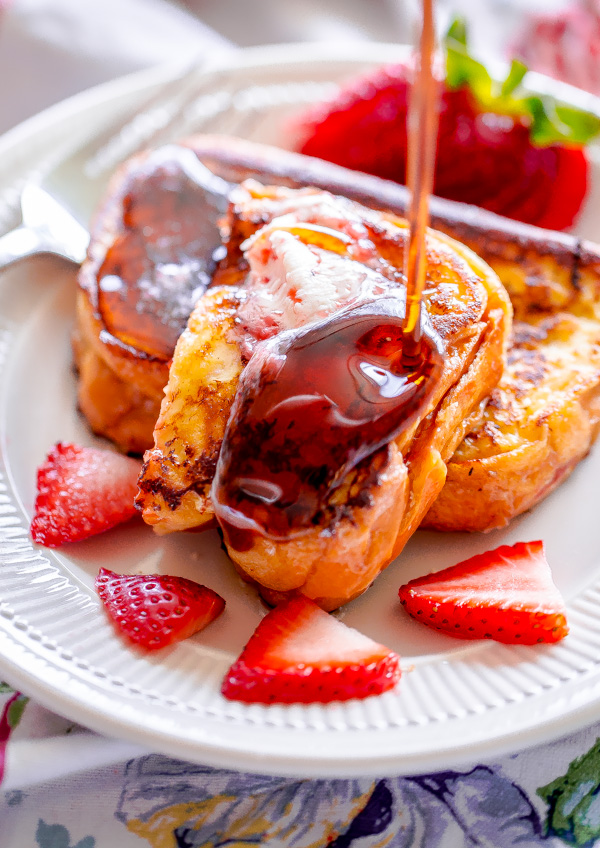 You guyyyys. I feel so behind on life at the moment, and I feel like such a jerk for not sharing more with you! The wedding, the mini-moon, the honeymoon, the upcoming move! I've barely touched the surface on any of it.
Does this have anything to do with strawberry jam French toast? No, not really. But maybe it makes up for my absence as of late? I hope so. I still plan on sharing everything (not necessarily in the order that they occurred, because wedding photos are still not 100% available yet) though!
Promise.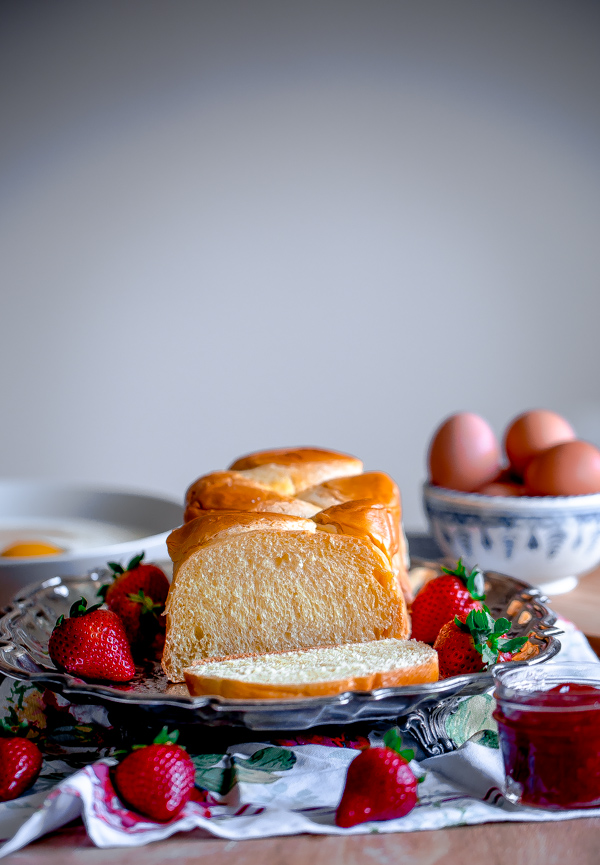 Believe it or not, this French toast was inspired by a breakfast that I had during our mini-moon many, many weeks ago. Directly after the wedding, we drove down to Charlottesville, VA to stay at The Farmhouse at Veritas, a beautiful bed and breakfast at one of the area's local wineries.
We spent two days there, and I've never felt more relaxed or spoiled. It was the perfect getaway after a hectic few weeks of wedding planning, and we did absolutely NOTHING. It was glorious. I highly recommend doing nothing every now and then.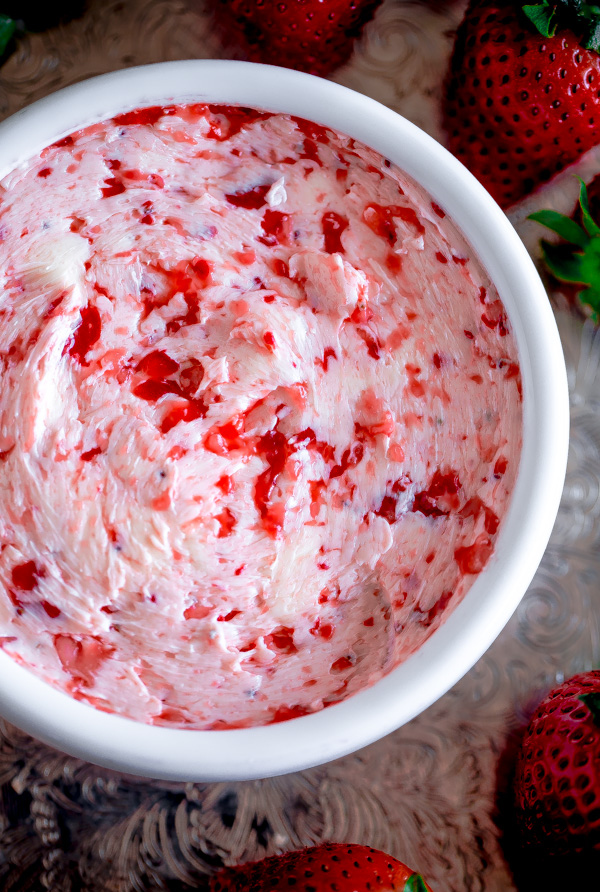 Eating was the primary activity of the day, and we had lots of opportunities to do it. My favorite meal was breakfast. Every day, we were spoiled with complimentary Veritas sparkling wine (which promptly made me feel like taking a nap directly after breakfast), freshly squeezed orange juice, flaky croissants, and our choice of either a savory or sweet breakfast.
Connor and I would always get one of each and share them equally. The thing I loved the most about the sweet breakfasts were that they were usually pancakes or French toast, and they were always topped with some sort of fun compound butter.
Salted caramel butter on banana pancakes? Yep. Chocolate butter to accompany the croissants? That happened too. And then, of course, fresh strawberry-flecked butter for French toast.
I was hooked.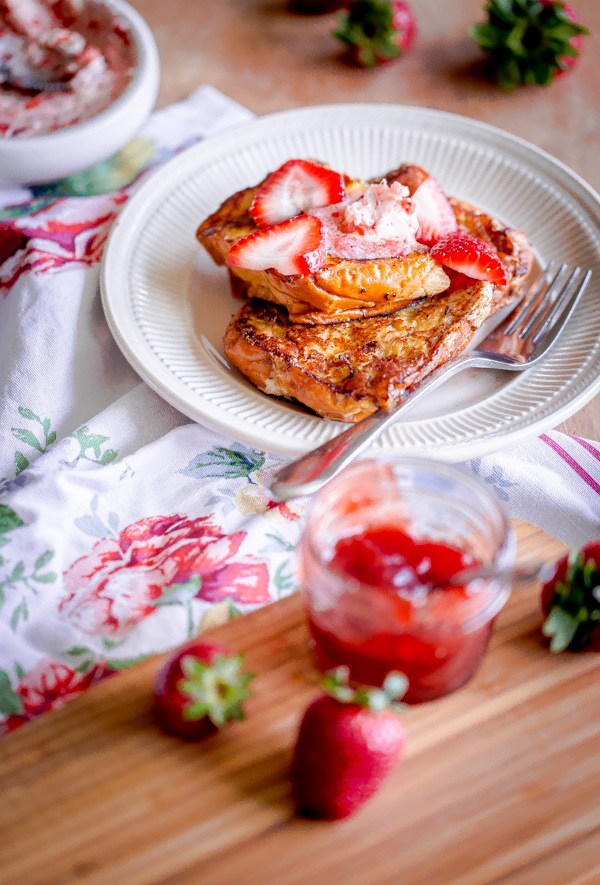 After getting home, I knew I had to recreate it in some form, and this strawberry jam French toast came into being. Though it's hard to tell from the photos, each piece of French toast is actually made up of two slices of Challah bread filled with a thin layer of strawberry jam.
My biggest recommendation for this recipe is to use slightly older Challah bread (as it will hold together better than fresh bread), and to buy a barely sweetened strawberry jam or preserve for the filling.
The whole thing is topped with homemade strawberry butter (you just need a small food processor), warm maple syrup, and fresh strawberry slices.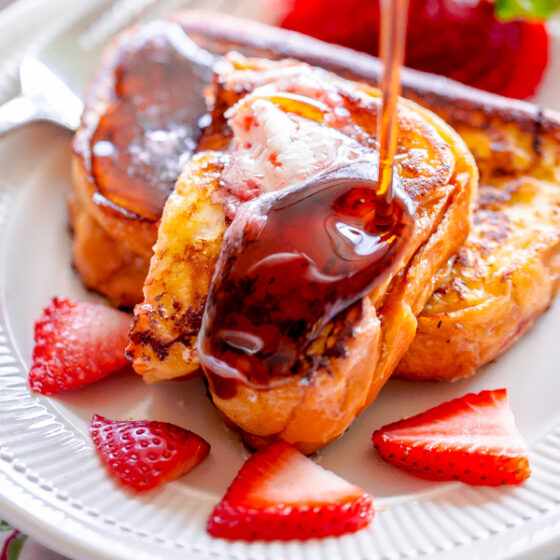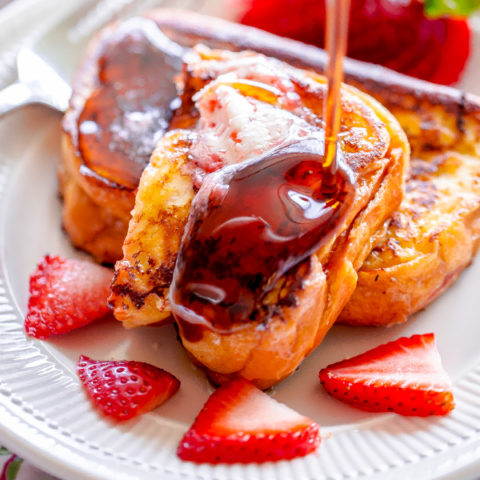 Strawberry Jam French Toast with Strawberry Butter
Yield: 4 Servings
Prep Time: 20 minutes
Cook Time: 20 minutes
Total Time: 40 minutes
Ingredients
Strawberry Butter:
1 stick unsalted butter, softened and cut into chunks
2 ounces fresh strawberries, stems removed and halved
pinch of salt
Strawberry Jam French Toast:
1 loaf of brioche bread, sliced into 1/2-inch thick slices (dry or slightly stale bread is ideal for French toast)
strawberry preserves (preferably no-sugar added)
3/4 cup buttermilk*
3 large whole eggs
1/2 teaspoon pure vanilla extract
pinch of salt
unsalted butter
warm pure maple syrup, for serving
sliced fresh strawberries, for serving
Instructions
Prepare Strawberry Butter: In the bowl of a small food processor, combine the softened butter, fresh strawberry chunks, and salt. Pulse and process until butter is comes together, scraping down the bowl with a spatula as needed, until the butter is smooth and evenly flecked with fresh strawberry pieces. Transfer to a small bowl, and set aside.
Prepare French toast: Slice the brioche into 1/2-inch thick slices (you will need two slices for each serving of French toast). Spread one slice with a thin layer of strawberry preserves, and top with another slice of brioche bread. Set aside.
In a large, shallow bowl, whisk together the buttermilk, eggs, vanilla extract and salt. Set aside.
Right before cooking, dip the sandwiched challah in the egg-buttermilk mixture, turning them until they have just become saturated. Allow any excess egg-buttermilk mixture to drip off, and place in the hot buttered pan. Avoid over-crowding the pan. Cook the french toast until golden brown on each side, flipping carefully with a wide heatproof spatula.
Top the hot French toast with a spoonful of strawberry butter, and sliced strawberries. Serve immediately with maple syrup.
Notes
Buttermilk (as opposed to traditional milk or cream) helps balance the sweetness of this dish, and pairs very well with strawberries. This method was inspired by this recipe.
Nutrition Information:
Yield: 6
Serving Size: 1
Amount Per Serving:
Calories: 562
Total Fat: 30g
Saturated Fat: 17g
Trans Fat: 0g
Unsaturated Fat: 11g
Cholesterol: 218mg
Sodium: 365mg
Carbohydrates: 67g
Fiber: 2g
Sugar: 42g
Protein: 9g
A Beautiful Plate provides nutritional information, but these figures should be considered estimates, as they are not calculated by a registered dietician.
This post contains some affiliate links, which means that I make a small commission off items you purchase at no additional cost to you. Please read my
disclosure policy
for more information.