Grilled Corn and Poblano Guacamole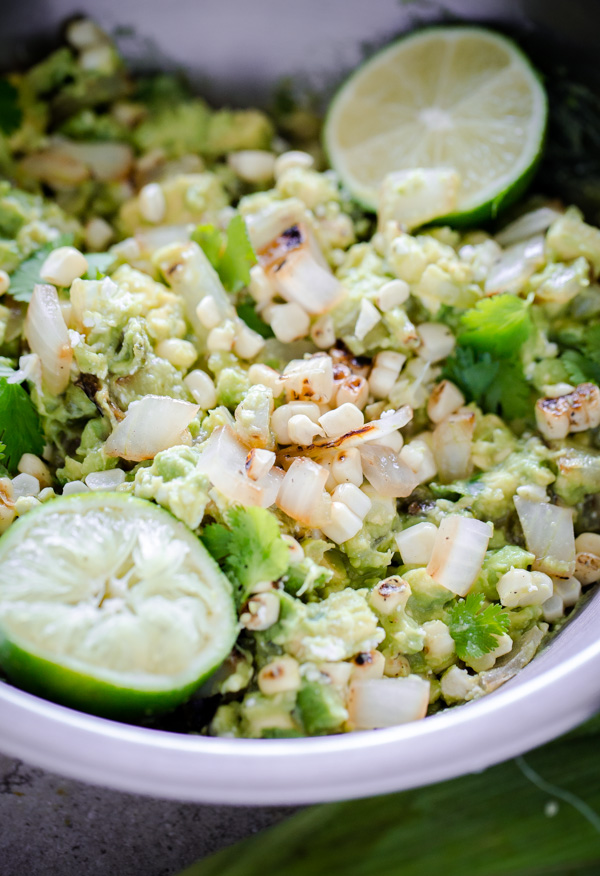 I'm having a moment with guacamole. Or you know, avocados in general. If a dish contains avocados, I'm ordering it and/or eating it. I'm making up for all of those years where I insisted I did not like avocados (what the heck was wrong with me?) and joining the ranks.
Wait, who isn't having a moment with avocados?! Avocado toast is basically taking over the internet.
I highly doubt I could ever meet a homemade guacamole that I wouldn't like or readily dip a perfectly thin and crispy tortilla chip into, but this chunky grilled corn and poblano guac is definitely a favorite at the moment!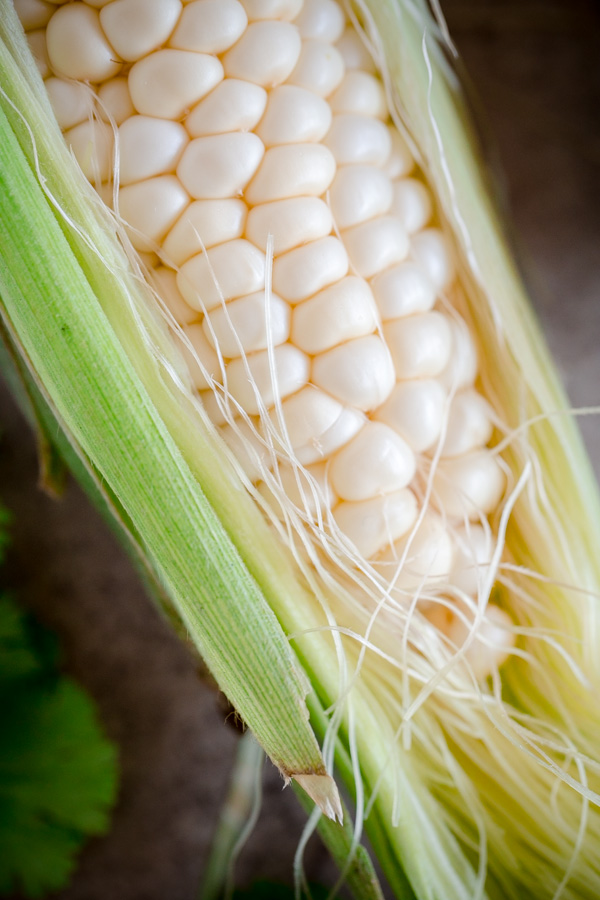 If I were to describe this recipe to anyone, I would simply say, "summer meets guacamole." This chunky guacaamole is chock-ful of so many summer ingredients!
Grilled fresh corn kernels? Check.
Roasted poblano pepper? Check.
Smoky, char-grilled onion pieces?! Definitely.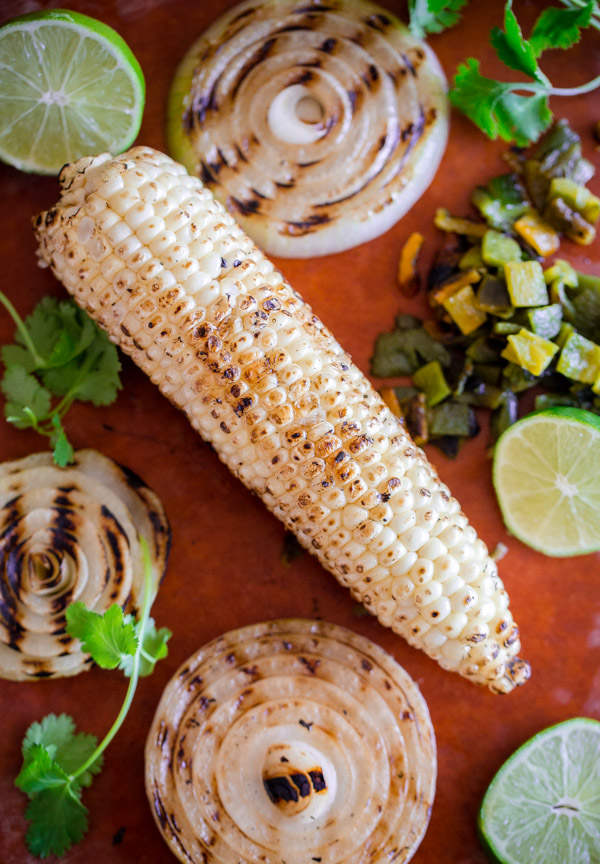 Oh, and a nice sprinkling of queso fresco cheese for good measure. Cheese is an everyday ingredient around these parts, as it should be.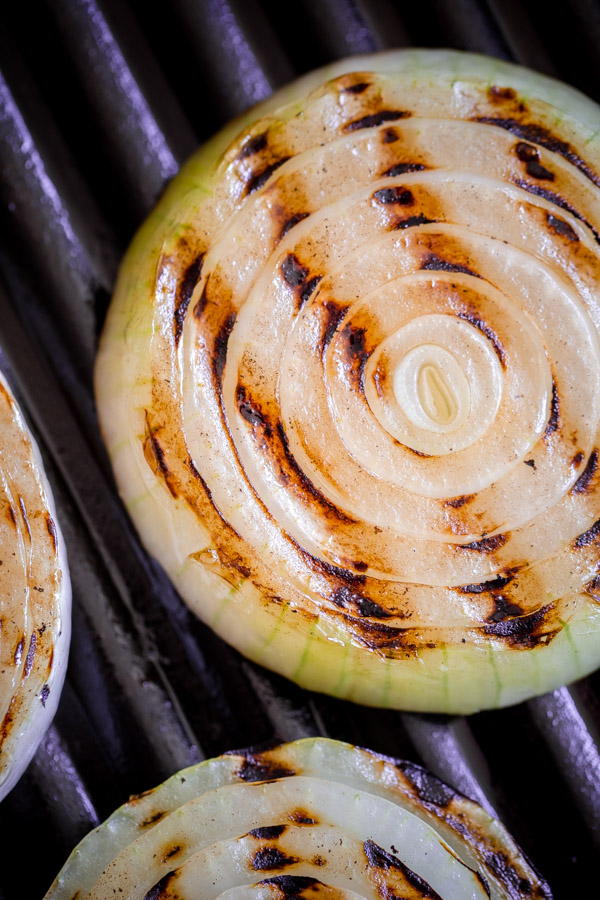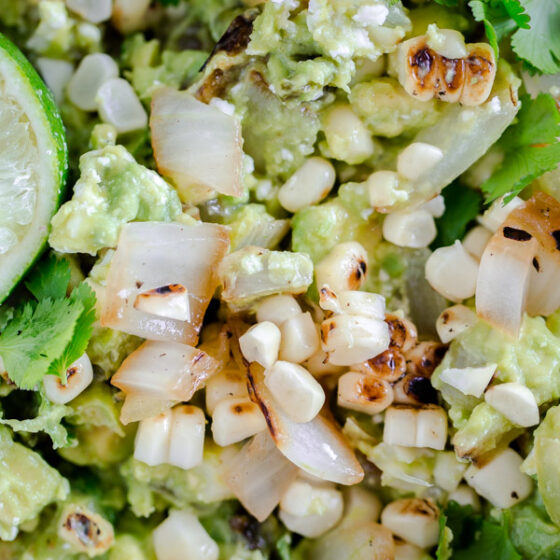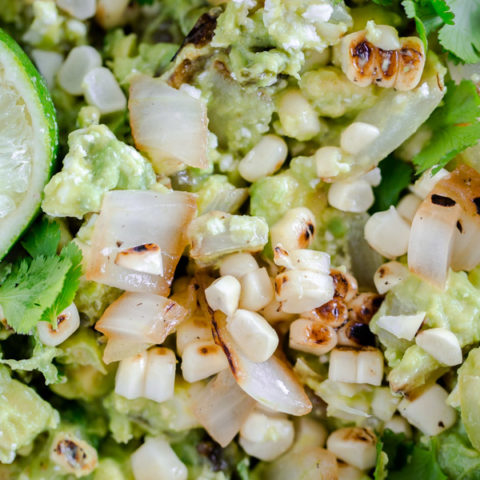 Grilled Corn and Poblano Guacamole
Yield: 3.5 Cups
Prep Time: 10 minutes
Cook Time: 20 minutes
Total Time: 30 minutes
Ingredients
1/2 medium white onion, sliced crosswise into 1/2″ thick disc rings
olive oil
kosher salt
1 medium ear of fresh corn, husked and cleaned of silk
1 fresh poblano chile
3 ripe Hass avocados
1/4 cup crumbled queso fresco cheese
3 tablespoons freshly squeezed lime juice
1/4 cup fresh cilantro leaves, torn
Instructions
Heat a grill pan (or outdoor grill) over medium-high heat. Brush the onion pieces with olive oil. Grill for 4 to 5 minutes on each side, or until browned. Set aside on a plate. Repeat with the ear of corn, turning it until it is evenly grilled on all sides.
Preheat the broiler to high. Roast the poblano chile (on a piece of foil; no oil needed) until blackened on all sides. Allow all of the vegetables to cool.
Chop the onion pieces into a medium dice. Cut the kernels of corn off the cob, and rub the blackened skin off the poblano pepper, discard the stem and seeds, and cut into a small dice.
Cut the avocados in half and pit them. Mash one avocado with a large fork in a large bowl. Cut the remaining avocados into a small dice, and add to the bowl. Add the chopped onion, grilled corn kernels, and diced poblano pepper to the bowl. Add the queso fresco cheese, lime juice, and cilantro leaves and gently stir until evenly incorporated. Season to taste with salt and pepper (and additional lime juice, if desired). Serve with chips, or with grilled fish or shrimp.
Notes
Adapted slightly from Frontera by Rick Bayless.
Nutrition Information:
Yield: 6
Serving Size: 1
Amount Per Serving:
Calories: 195
Total Fat: 16g
Saturated Fat: 3g
Trans Fat: 0g
Unsaturated Fat: 11g
Cholesterol: 8mg
Sodium: 173mg
Carbohydrates: 12g
Fiber: 5g
Sugar: 2g
Protein: 4g