Bain-Marie Scrambled Eggs with Roasted Tomatoes + Goat Cheese
This post contains affiliate links.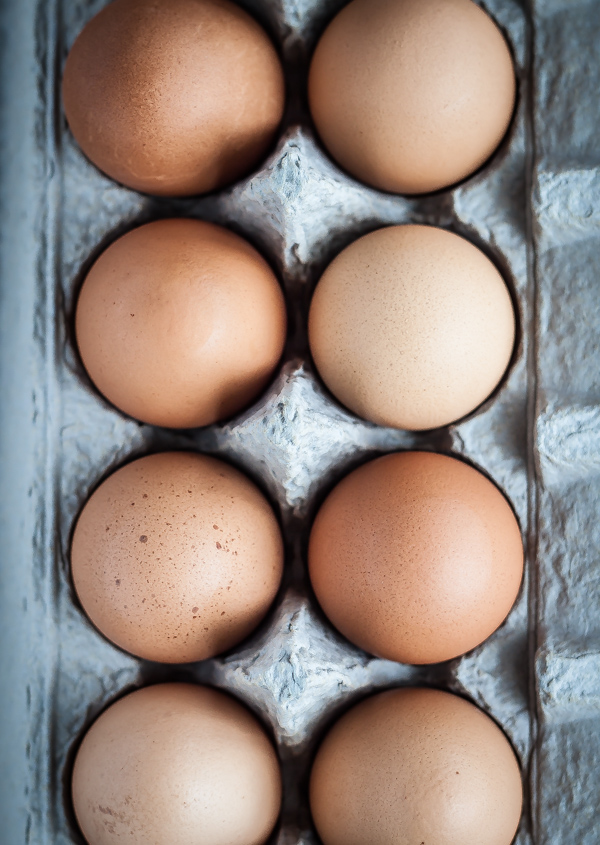 Well, apparently the universe took my complaint of the heat to heart! I might even wake up to see a few snow flurries this morning.
Definition of karma right there.
And yet, I'm secretly thrilled because it means I can sleep in total comfort (freezing temperatures) all night long. Speaking of comfort, these low and slow, bain-marie scrambled eggs are the epitome of comfort food. Especially if you are an egg lover like me.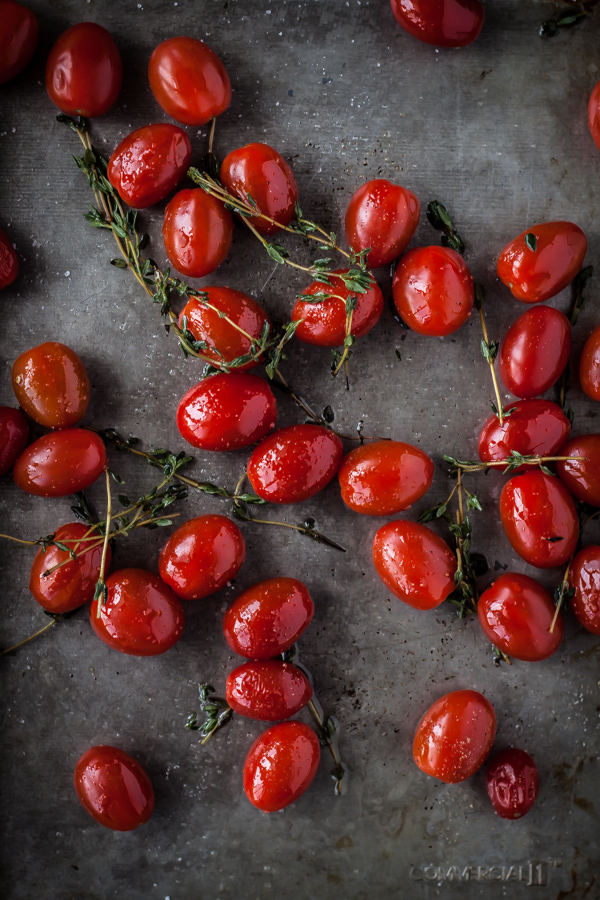 In an effort to describe this dish, the first thing that comes to mind is risotto. It is sort of the "risotto" equivalent of all egg dishes.
They take some love and attention, and about halfway through the process–as you're standing in front of the stove (sweating, in my case), stirring your spatula back and forth over and over again–you can't help but wonder whether you will be rewarded for all of your hard work.
Should you have just broken out that box of pasta and called it a day? No, no you shouldn't have. Here's why…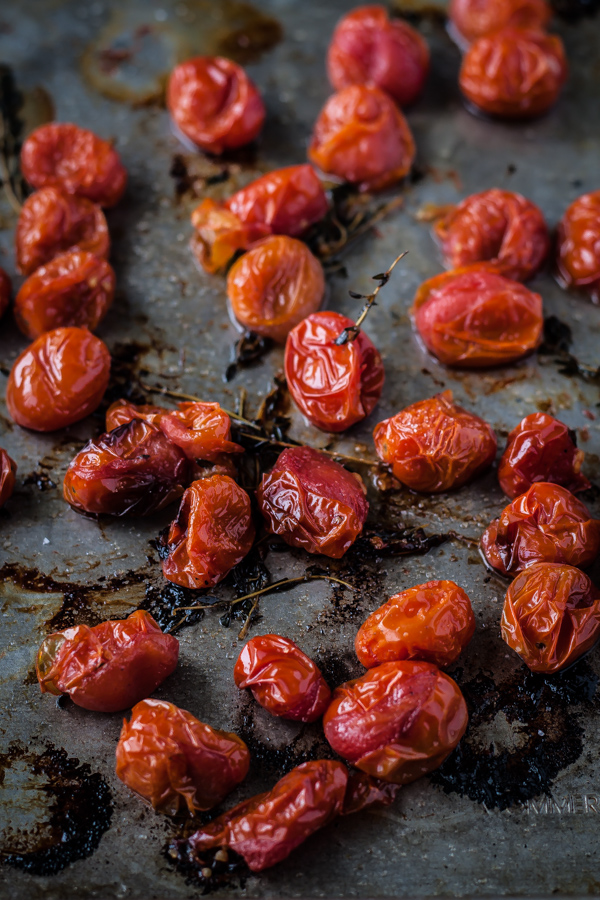 Unlike 'normal' pan scrambled eggs, which take all of 5-10 minutes (maximum) to prepare, these scrambled eggs will take at least 20 minutes-30 minutes, possibly longer depending on the number of mouths that you are feeding. Why exactly would you want to spend more time to cook the exact same dish? Because the two cooking processes yield very different results.
And while bain-marie scrambled eggs are not a daily (or even a monthly) occurrence around here, they are certainly worthy of your time on special occasions.
Perhaps for an Easter brunch?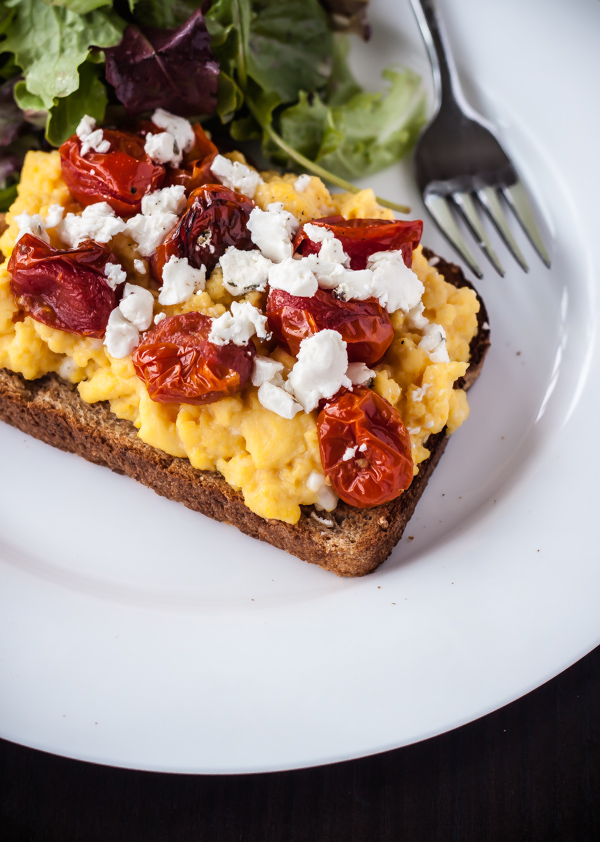 As the name suggests, these scrambled eggs are cooked over a bain-marie, otherwise known as a double broiler (a heatproof bowl resting above a pot of barely simmering water). The combination of the slow and steady low heat, as well as the continual stirring helps produce extra tender eggs with very fine curds. They are the type of eggs that will melt in your mouth.
The addition of some half and half–or heavy cream, if you prefer–makes them extra creamy. The trick to these scrambled eggs is to cook them until they are just cooked through and still somewhat loose (more so than the photos suggest–food temperature styling woes).
I served them on toast with roasted grape tomatoes and goat cheese, along with a simple mixed green salad. The combination of the sweet tomatoes, tangy salty goat cheese, and creamy eggs went really well together. But another equally as delicious option is to stir in smoked salmon and finely diced chives at the very end!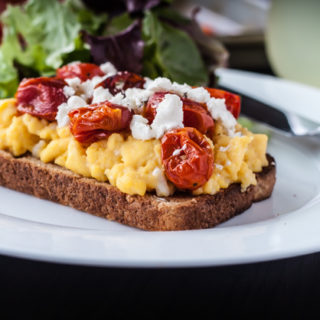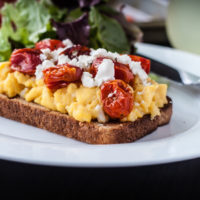 Bain Marie Scrambled Eggs with Roasted Tomatoes and Goat Cheese
Yield: 4 Servings
Prep Time: 5 minutes
Cook Time: 20 minutes
Additional Time: 5 minutes
Total Time: 30 minutes
Ingredients
Bain-Marie Scrambled Eggs:
10 whole eggs
5 tablespoons half and half
pepper
salt (see below)
Roasted Grape Tomatoes:
1 1/2 cup grape tomatoes
1 tablespoon olive oil
kosher salt
pepper
Assembly:
toasted bread (optional–sourdough is a great choice!)
roughly 2 ounces of fresh herb coated goat cheese, crumbled
Instructions
Preheat the oven to 425 degrees Fahrenheit. Toss the grape tomatoes with the olive oil, fresh thyme, salt and pepper on a small sheet pan and set aside.
Set up a bain marie (heatproof bowl set above a pot of barely simmering water–a few small bubbles per second. You want the edges of the bowl to be fully within the pot). In a separate bowl, whisk together the eggs, half and half, and pepper–wait to salt the eggs before serving.
Pour the eggs into the bain marie bowl. Use a kitchen towel to carefully hold the edge of the bowl, as it will quickly become very hot. Using a rubber heatproof spatula, stir the eggs continuously until they begin to thicken. It will appear like nothing is happening for a good 10 minutes or so, but continue to stir!
As the eggs are cooking, place the tomatoes into the oven to roast. Toss every 5 minutes or so, and roast for 12-15 minutes or until they are golden brown and just about to burst. Allow to rest for 5-10 minutes on a cooling rack.
Continue to cook the eggs, stirring continuously, until eggs have just begin to set, but are still creamy and a bit loose. It should take at least 15 to 20 minutes roughly. Check heat periodically and adjust as necessary. Season the eggs with salt to taste.
Serve eggs on top of toasted bread (ex: thick sourdough) and top with several roasted grape tomatoes. Sprinkle with goat cheese (roughly 1/2 ounce or more per serving) as desired. Serve immediately!
Notes
Do not leave out the half and half (or cream)! It helps lend the eggs an extra creamy, delicate texture and tenderizes them even more. If you would prefer to skip the roasted tomatoes and goat cheese, I also recommend stirring in chopped smoked salmon and finely diced chives to the scrambled eggs before serving as an alternative.
Nutrition Information:
Yield: 4
Serving Size: 1
Amount Per Serving:
Calories: 304
Total Fat: 20g
Saturated Fat: 7g
Trans Fat: 0g
Unsaturated Fat: 11g
Cholesterol: 475mg
Sodium: 563mg
Carbohydrates: 12g
Fiber: 3g
Sugar: 3g
Protein: 21g
A Beautiful Plate provides nutritional information, but these figures should be considered estimates, as they are not calculated by a registered dietician.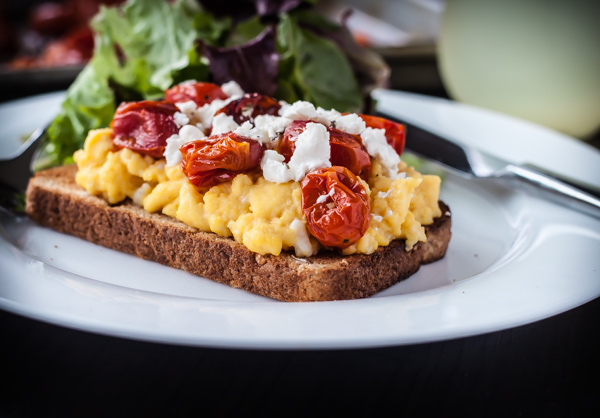 This post contains some affiliate links, which means that I make a small commission off items you purchase at no additional cost to you. Please read my
disclosure policy
for more information.