Ginger Ice Cream with Chocolate Bits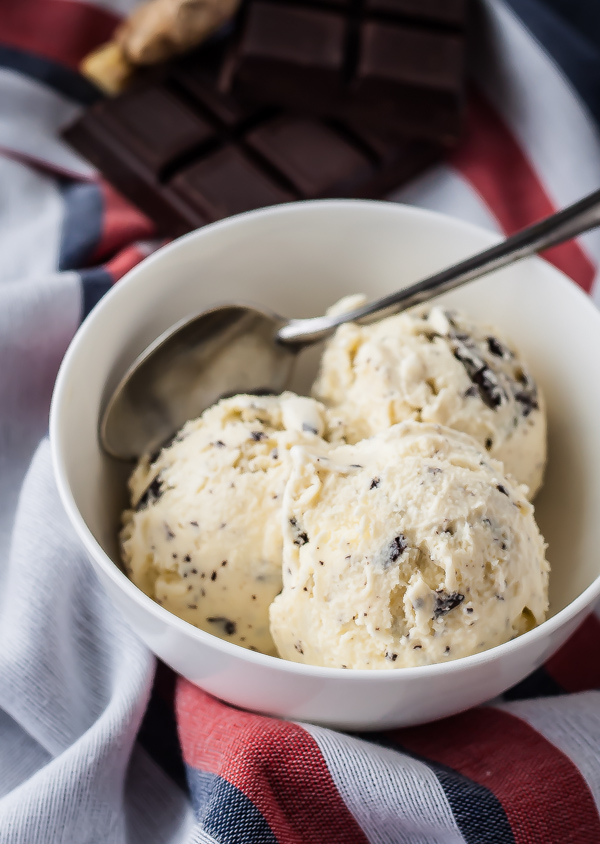 It's that time of year!
And by that I mean that I've already complained about it being too hot. Feel free to hate me. I think my body is struggling to recover from the winter that we just had. I need time to adjust! Temperatures over 80 degrees feel like a heat wave. Don't get me wrong, it felt wonderful outside!
If I could live outdoors, I'd be happy as a clam right now.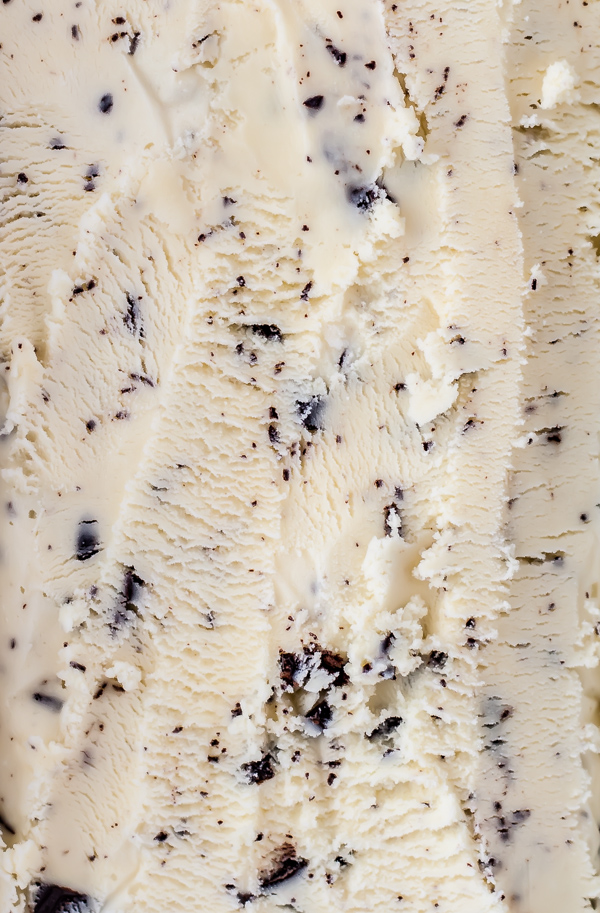 But inside (in my apartment building which is officially set to 'heat' radiator mode), I'm…not so thrilled. My cooking willpower drops down to nil when my kitchen is over 80 degrees. Turning on the oven feels like torture.
So I did what any normal person would do under the circumstances.
I made ice cream. But not just any ice cream. Ginger ice cream with chocolate bits.
So maybe there is something to be said about being uncomfortably hot in your own home. All roads hot apartments lead to ice cream.
And this is definitely not your average ice cream! If you've never had ginger ice cream before, you're in for a pleasant surprise.
Like many other ice creams, this one starts off with simple custard base made with milk, eggs, and sugar, which is then infused with fresh ginger.  And not just a little bit of ginger…about 1/4 cup of packed grated ginger.
I tend to be easily overwhelmed by desserts that are too ginger-y in flavor–but I can promise that this ice cream does not fit into that category.
It has a strong, distinguishable ginger flavor that finishes with just a touch of spiciness, yet it is not at all overpowering. It is definitely different and unique, but it could easily gobble up a big bowl of this stuff!
The fresh ginger has the added effect of making this ice cream incredibly refreshing as well. Similar to that of a fresh mint ice cream. The addition of finely chopped bittersweet chocolate bits, while optional in theory, adds such great texture and flavor to every spoonful that I can't really imagine this ice cream any other way.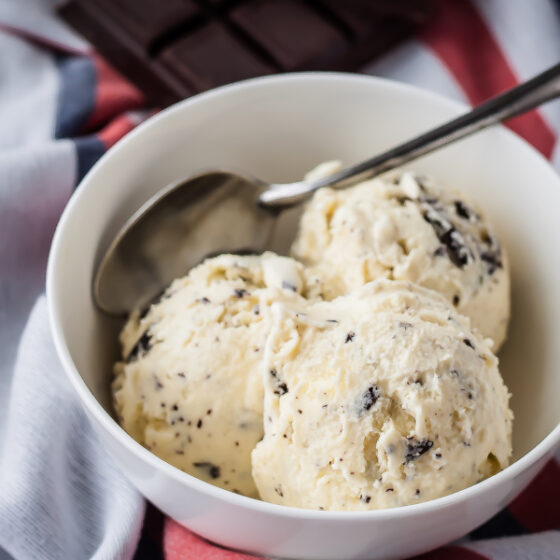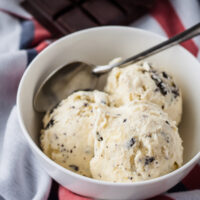 Ginger Ice Cream with Chocolate Bits
Yield: 1 Quart
This ginger ice cream recipe starts with a simple custard base made from milk, eggs, and sugar, which is then infused with fresh ginger. It has a strong, distinguishable ginger flavor that finishes with just a touch of spiciness, yet it is not at all overpowering. The addition of finely chopped bittersweet chocolate bits adds great texture and flavor to every spoonful!
Prep Time: 10 minutes
Cook Time: 30 minutes
Chilling Time: 6 hours
Total Time: 6 hours 40 minutes
Ingredients
1/3 cup water
1/2 cup plus 2 tablespoons sugar
1/4 cup packed coarsely grated ginger
1 cup whole milk
3 large egg yolks
1 cup cold half and half (or heavy cream)
1 teaspoon freshly squeeze lemon juice
1.5 ounces bittersweet chocolate, finely chopped
Instructions
Combine the water and 1/4 of the sugar in a small saucepan. Bring to a low simmer and stir until sugar has dissolved completely. Add the grated ginger and bring mixture to a simmer for 5 minutes. Remove from the heat.
In a separate large saucepan, combine 2 tablespoons of sugar with the milk. Bring to a simmer and stir until the sugar has dissolved complete.y Remove from heat and add the ginger simple syrup. Stir to combine, cover the pot, and allow mixture to infuse for 20 minutes.
In a large bowl, whisk together the sugar and remaining 1/4 of sugar aggressively until the mixture is thick and pale yellow in color. It should fall from the whisk in thick ribbons (otherwise known as ribbon stage).
Once milk and ginger mixture has infused, return mixture to heat until scalded (just below boiling point). Temper the milk mixture slowly into the eggs, whisking continuously. Return mixture to pot and cook over low heat, stirring continuously, until custard coats the back of a wooden spoon or temperature reaches 180 degrees Fahrenheit.
Place the half and half in a large, clean bowl over an ice bath and set a fine-meshed sieve over the bowl. Pour the ice cream base through the sieve into the cold half and half. Press down the ginger into the sieve to extract as much flavor as possible.
Allow the ice cream base to cool completely, stirring occasionally. Refrigerate base overnight (or at minimum, until it is very cold).
Just before freezing, stir in the lemon juice and mix well. Freeze the ice cream according to your ice cream maker's manufacturer's directions. Right before the ice cream is finishing churning, add the chocolate bits.
Place the ice cream in an airtight container and cover the surface with plastic wrap. Freeze for 4-6 hours or until firm. Allow ice cream to soften just slightly before serving.
Notes
Tips for Success:
Feel free to substitute the half and half with heavy cream, if you prefer or already have this on hand. However, half and half results in an incredibly creamy ice cream with just a touch less guilt!
Adapted from Fresh Ginger Ice Cream by Barbara Tropp, China Moon Cookbook.
Nutrition Information:
Yield: 6
Serving Size: 1
Amount Per Serving:
Calories: 194
Total Fat: 12g
Saturated Fat: 7g
Trans Fat: 0g
Unsaturated Fat: 5g
Cholesterol: 142mg
Sodium: 83mg
Carbohydrates: 13g
Fiber: 2g
Sugar: 8g
Protein: 7g
A Beautiful Plate provides nutritional information, but these figures should be considered estimates, as they are not calculated by a registered dietician.
P.S. I'm pretty sure this ice cream would be amazing in a root beer float! Yep, that should definitely happen.