Ginger Ice Cream with Chocolate Bits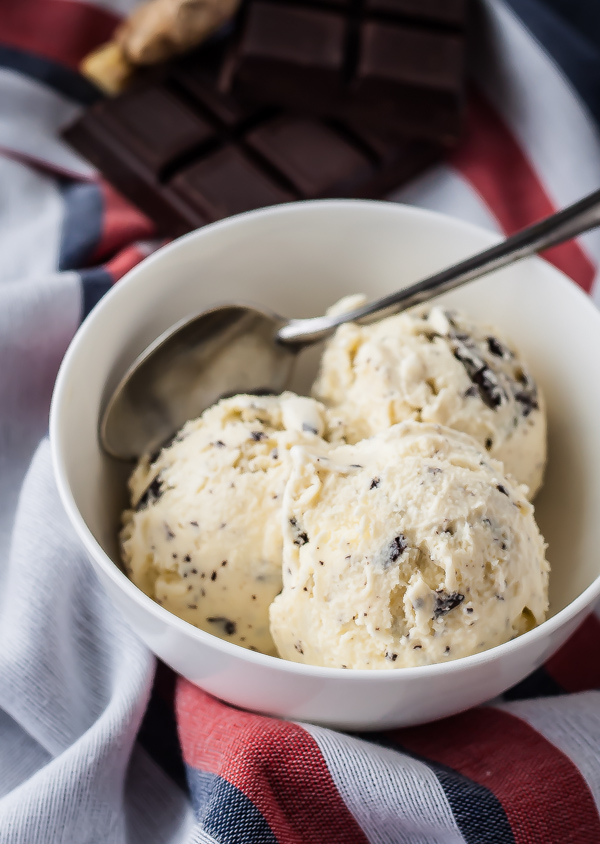 It's that time of year!
And by that I mean that I've already complained about it being too hot. Feel free to hate me. I think my body is struggling to recover from the winter that we just had. I need time to adjust! Temperatures over 80 degrees feel like a heat wave. Don't get me wrong, it felt wonderful outside!
If I could live outdoors, I'd be happy as a clam right now.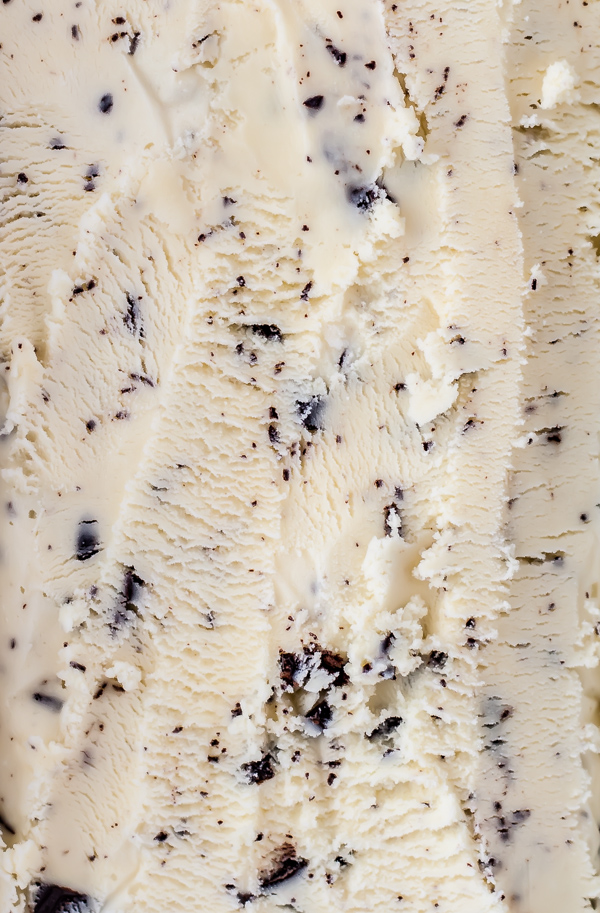 But inside (in my apartment building which is officially set to 'heat' radiator mode), I'm…not so thrilled. My cooking willpower drops down to nil when my kitchen is over 80 degrees. Turning on the oven feels like torture.
So I did what any normal person would do under the circumstances.
I made ice cream. But not just any ice cream. Ginger ice cream with chocolate bits.
So maybe there is something to be said about being uncomfortably hot in your own home. All roads hot apartments lead to ice cream.
And this is definitely not your average ice cream! If you've never had ginger ice cream before, you're in for a pleasant surprise.
Like many other ice creams, this one starts off with simple custard base made with milk, eggs, and sugar, which is then infused with fresh ginger.  And not just a little bit of ginger…about 1/4 cup of packed grated ginger.
I tend to be easily overwhelmed by desserts that are too ginger-y in flavor–but I can promise that this ice cream does not fit into that category.
It has a strong, distinguishable ginger flavor that finishes with just a touch of spiciness, yet it is not at all overpowering. It is definitely different and unique, but it could easily gobble up a big bowl of this stuff!
The fresh ginger has the added effect of making this ice cream incredibly refreshing as well. Similar to that of a fresh mint ice cream. The addition of finely chopped bittersweet chocolate bits, while optional in theory, adds such great texture and flavor to every spoonful that I can't really imagine this ice cream any other way.
P.S. I'm pretty sure this ice cream would be amazing in a root beer float! Yep, that should definitely happen.