Basmati Rice Pilaf
Perfectly cooked, moist, and flavorful basmati rice pilaf prepared on the stovetop.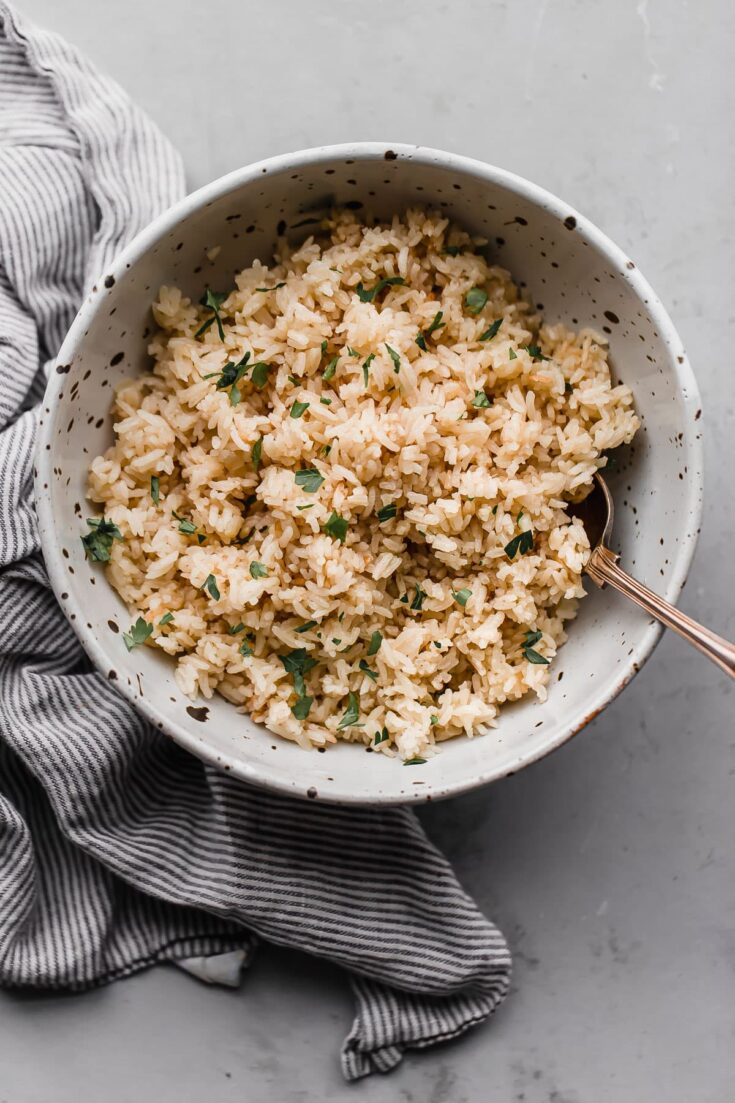 A few months ago, I shared our favorite coconut rice recipe. Today we're going back to basics once again with our go-to rice pilaf!
Perfectly cooked flavorful basmati rice that doesn't require any special equipment. It sounds easy, but can be surprisingly difficult to execute well.
I can't tell you how many extremely competent cooks hate to cook rice on the stove. The main reason? They're often left with undercooked or, worse, overcooked, mushy rice.
Well, after many tests and trials, I have a few tricks up my sleeve that will quickly turn you into a pro.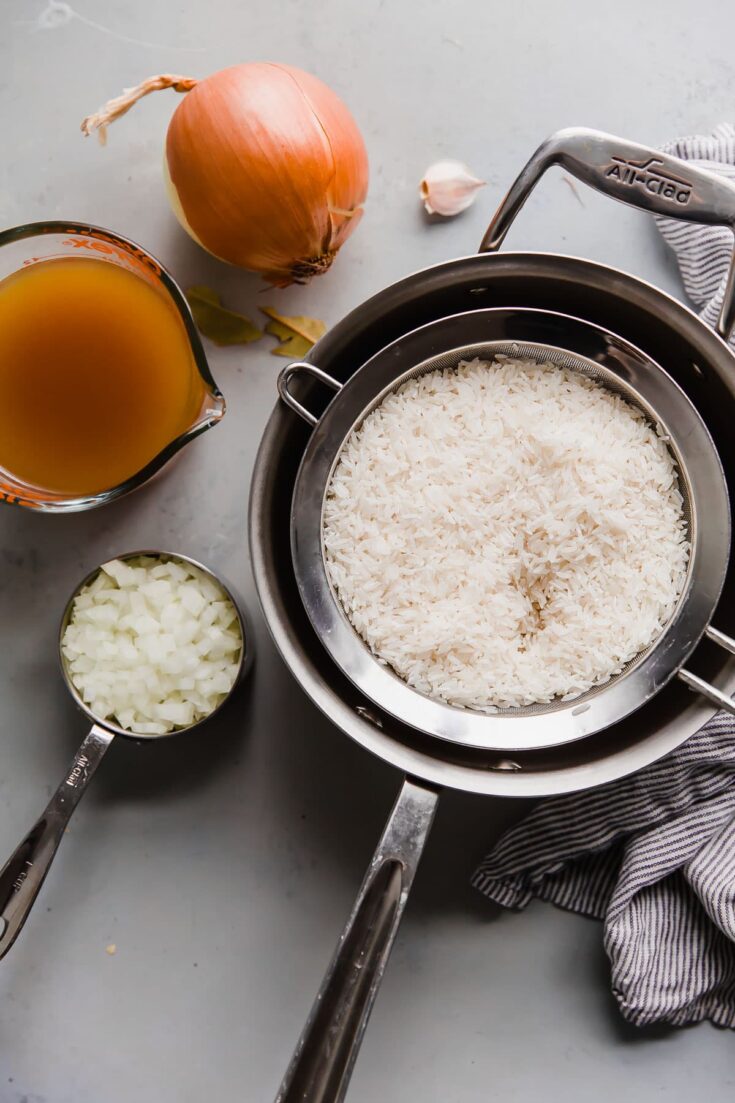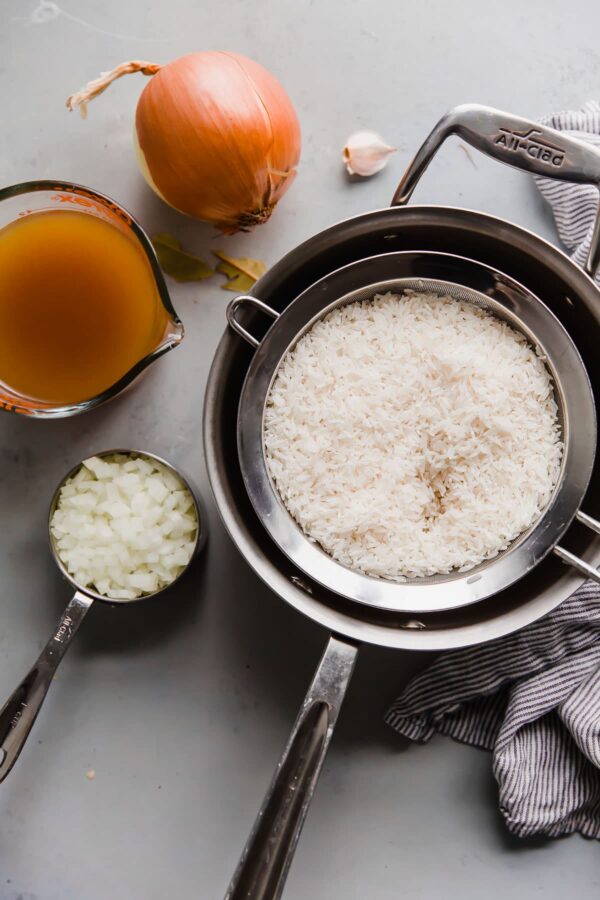 We love to serve this classic rice pilaf with Instant Pot Black Beans, Chicken Marsala, and any number of dishes. It goes with just about everything.
---
Basmati Rice Pilaf Ingredients:
Olive Oil – extra virgin olive oil not only provides a flavorful fat for cooking the onions, but helps to lightly coat and separate the rice kernels.
Yellow Onion – my favorite addition to classic rice pilaf, finely diced onion is sautéed and nearly melts into the rice adding wonderful flavor and a touch of sweetness.
Garlic – one smashed garlic clove to infused added flavor.
Basmati Rice – my favorite long-grain white rice variety due to its natural fragrance and shape. Seek out as the highest quality rice that you can get your hands on.
Dried Bay Leaf – adds a little something!
Chicken Broth – cooking rice in broth, as opposed to water, adds incredible depth of flavor. Be sure to use low sodium to control the seasoning.
---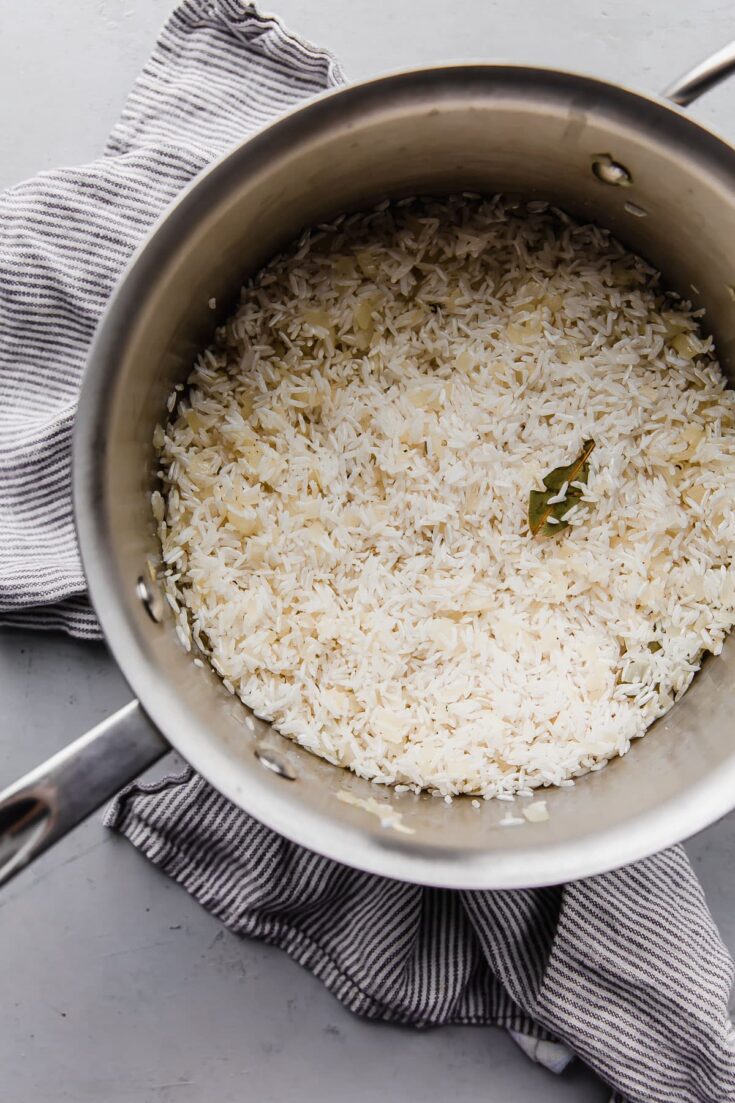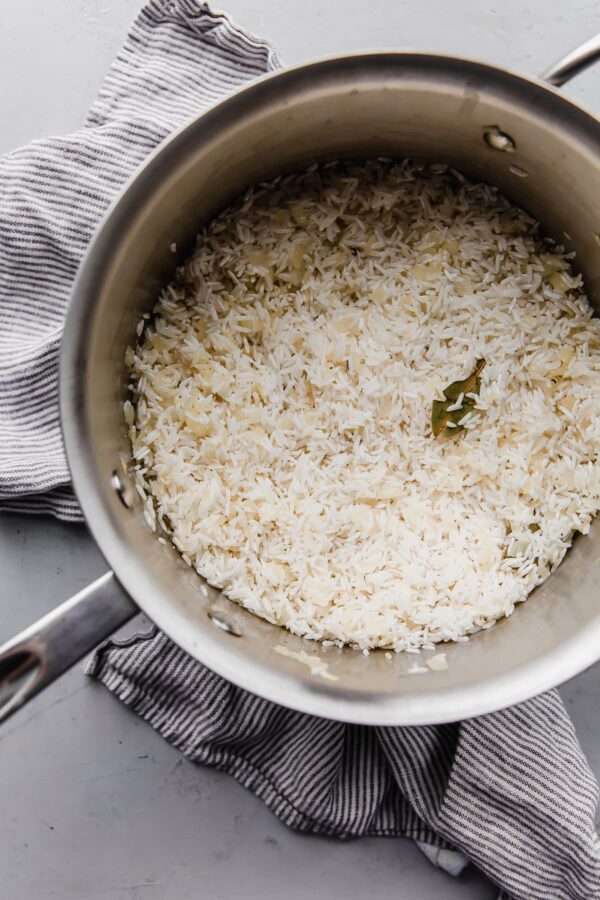 Tricks for Perfectly Cooked Rice Pilaf:
While the ratios of rice-to-liquid is identical to the coconut rice recipe, we'll be using a slightly different method by using heated broth. The broth (or water) should be very hot and nearly boiling.
To quickly and easily heat the broth, place in a heat-proof measuring cup and heat it for several minutes in a microwave. If you prefer, you can do this step on the stovetop too.


Heating the broth allows the rice mixture to come to boil much faster, helping to cook the rice kernels evenly and preventing mushy rice.
It might sound trivial, but this recipe was tested using various methods and this small trick made a huge difference on the final rice texture. Please don't skip it.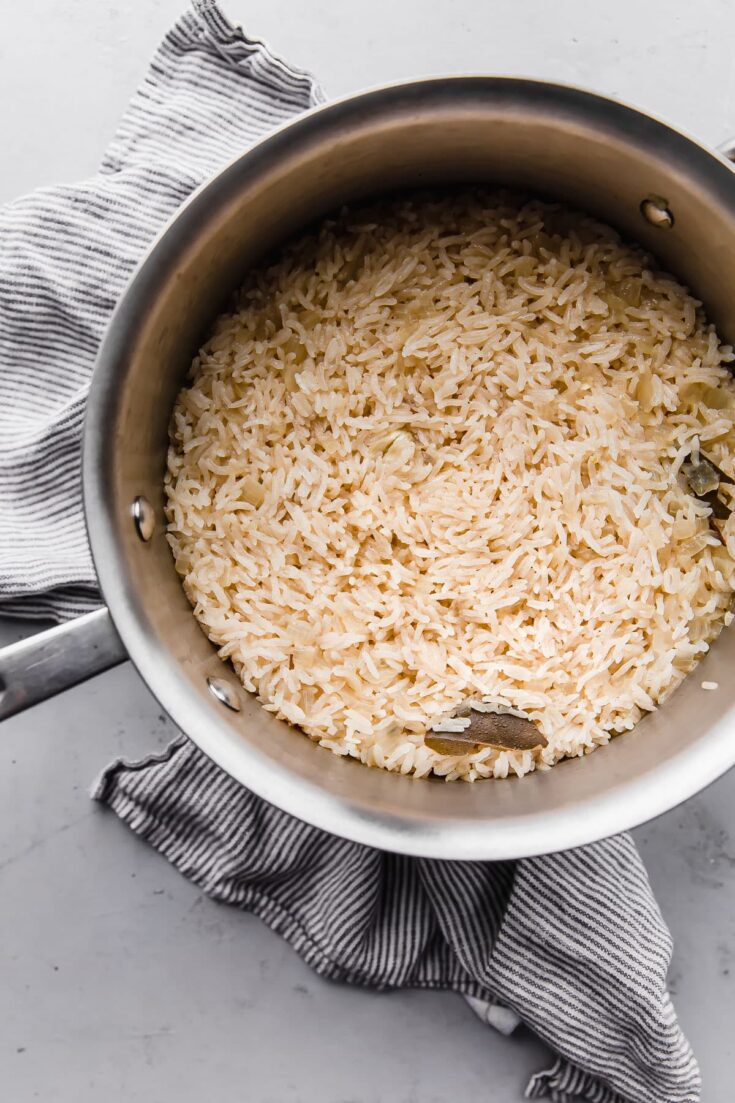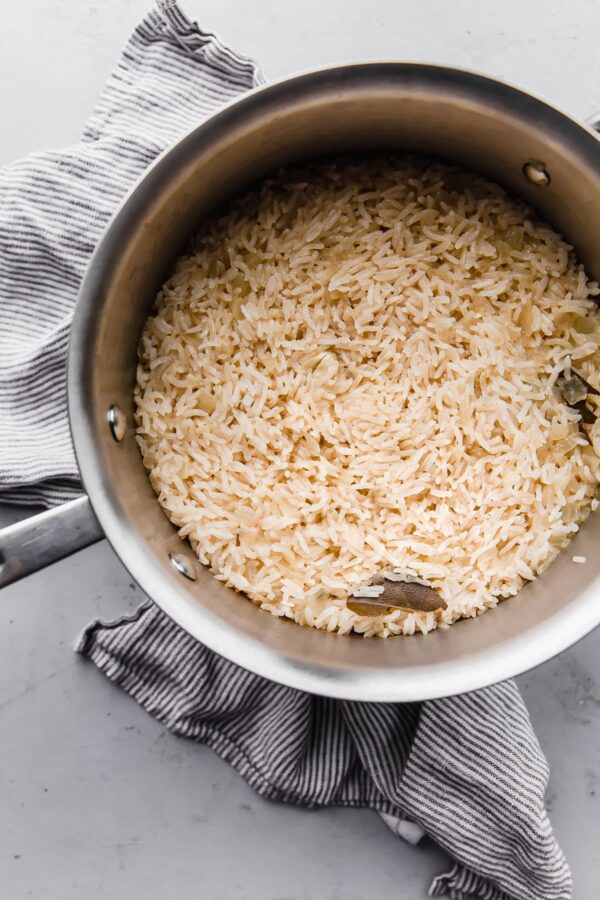 How to Cook Rice Using the Absorption Method:
This recipe uses the classic absorption method, which means that the rice will completely absorb the cooking liquid.
Once the rice comes to boil, cover with a tightly fitted lid and cook for exactly 10 minutes. Remove from the heat, remove the lid, drape a kitchen towel over the top to absorb the steam, and cover with the lid. Allow the rice to sit off the heat for an additional 15 minutes.
Fluff with a fork, season with additional salt if necessary, and serve. You can garnish the rice with chopped flat leaf parsley, cilantro, or leave as is!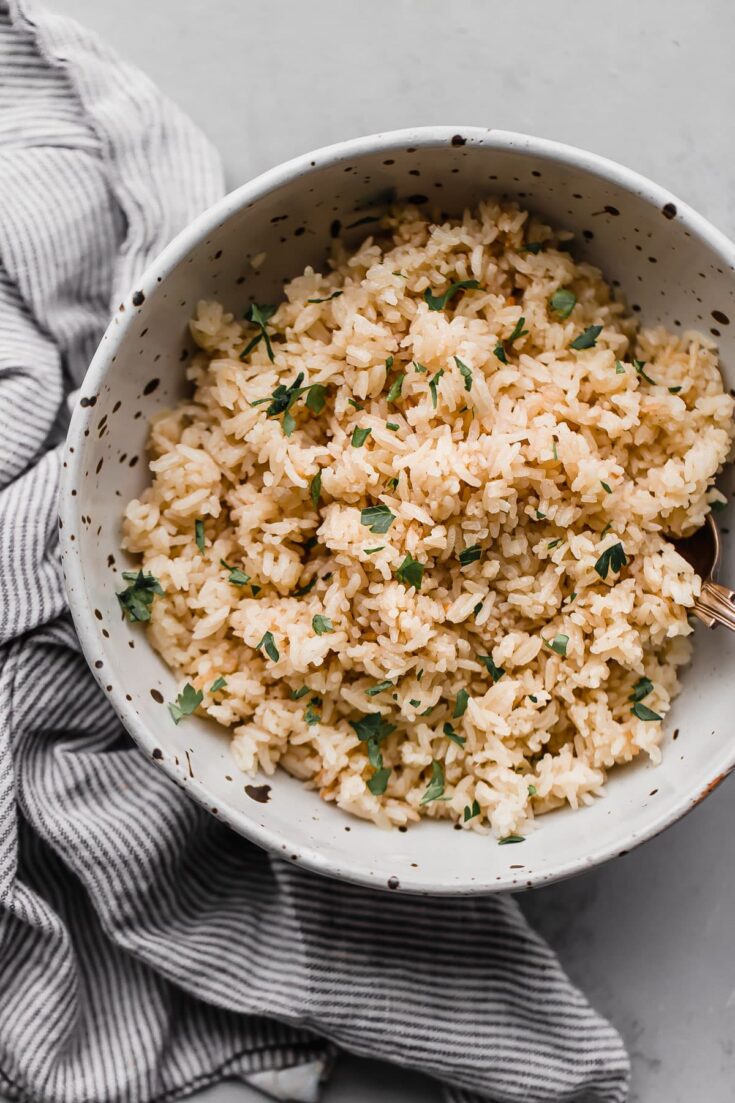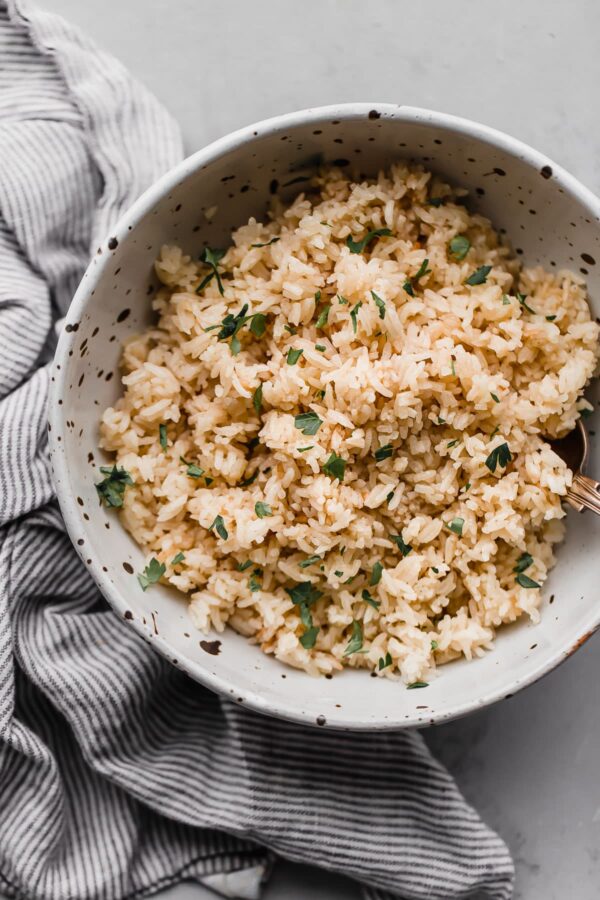 If you enjoy this recipe, you will go nuts for this coconut rice!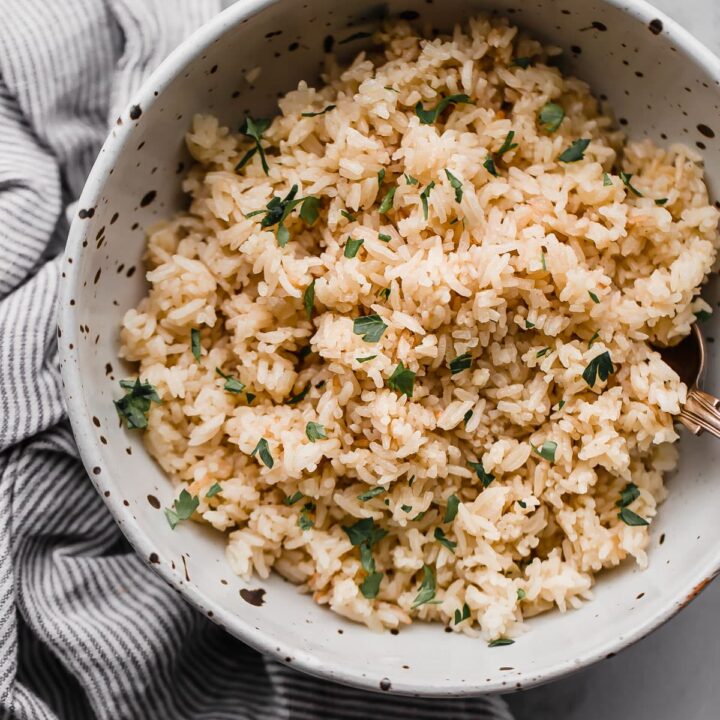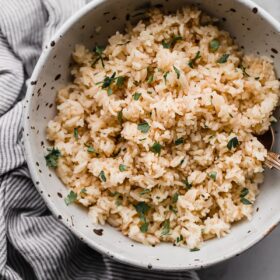 Basmati Rice Pilaf
Moist and flavorful basmati rice pilaf prepared on the stovetop. This recipe uses a special trick - heated broth (or water, if you perfer) - to achieve perfectly cooked, slightly al dente rice every time.
Ingredients
1½ tablespoons extra virgin olive oil
½ medium yellow onion finely diced (roughly 1 cup)
1 garlic clove smashed
kosher salt + freshly ground black pepper
2 cups white basmati rice rinsed and drained well
1 dried bay leaf
2⅔ cups low-sodium chicken broth or water
finely chopped flat leaf parsley or cilantro for garnishing (optional)
Instructions
Heat the oil over medium-low heat in a medium saucepan (3-quart capacity). Add the onion, smashed garlic clove, and a pinch of kosher salt. Sauté, stirring frequently, until softened and slightly translucent, about 4 to 5 minutes. If the pan gets dry, add a small splash of water to prevent the onions from gaining color.

As the onion is cooking, heat the chicken broth in a large heat-proof measuring cup in the microwave for about 3 minutes, or until nearly boiling. *You can also heat the broth or water over the stovetop in a small pot, if you prefer.

Add the rinsed and drained basmati rice, dried bay leaf, and an additional 1 teaspoon Diamond Crystal kosher salt. Gently stir together until the oil coats every rice kernel and lightly toast the rice for 5 to 10 seconds.

Add the hot broth (or hot water, if using) and stir to combine. Place over high heat and bring to a vigorous boil. Thoroughly stir the rice mixture with a fork, cover with a tightly-fidded lid, and immediately reduce to low heat. Set a timer for 10 minutes.

Remove the pan from the heat. Remove the lid and place a kitchen towel over the pot to absorb any excess moisture, then cover once again with the lid. Set a timer for 15 minutes. Fluff the rice with a fork, discard the bay leaf, and season with additional salt if needed. Garnish with chopped parsley or cilantro, if desired, and serve.

Leftover rice can be stored in a covered container in the refrigerator for 4 to 6 days; or frozen for up to 3 months and thawed in the refrigerator.
Tips for Success:
Heating the chicken broth (or water, if substituting) prior helps prevent over-cooked and mushy rice. While it does add an extra step, it has a dramatic impact on the final rice texture! Don't skp it.
Leftover cooked rice can be stored in a covered container in the refrigerator for 4 to 6 days; or frozen for up to 3 months and thawed in the refrigerator.
If you wish to quickly cool the rice, transfer into an even thin layer on a large sheet pan - without compressing - and set on a cooling rack.
Calories: 195kcal, Carbohydrates: 38g, Protein: 3g, Fiber: 2g
This post contains affiliate links, which means that I make a small commission off items you purchase at no additional cost to you. Please read my
privacy policy
for more information.