Instant Pot Black Beans
Instant Pot Black Beans prepared from dried black beans, onion, garlic, bell pepper, jalapeño, and spices. These hearty and flavorful Cuban style black beans will quickly become an easy meal prep staple.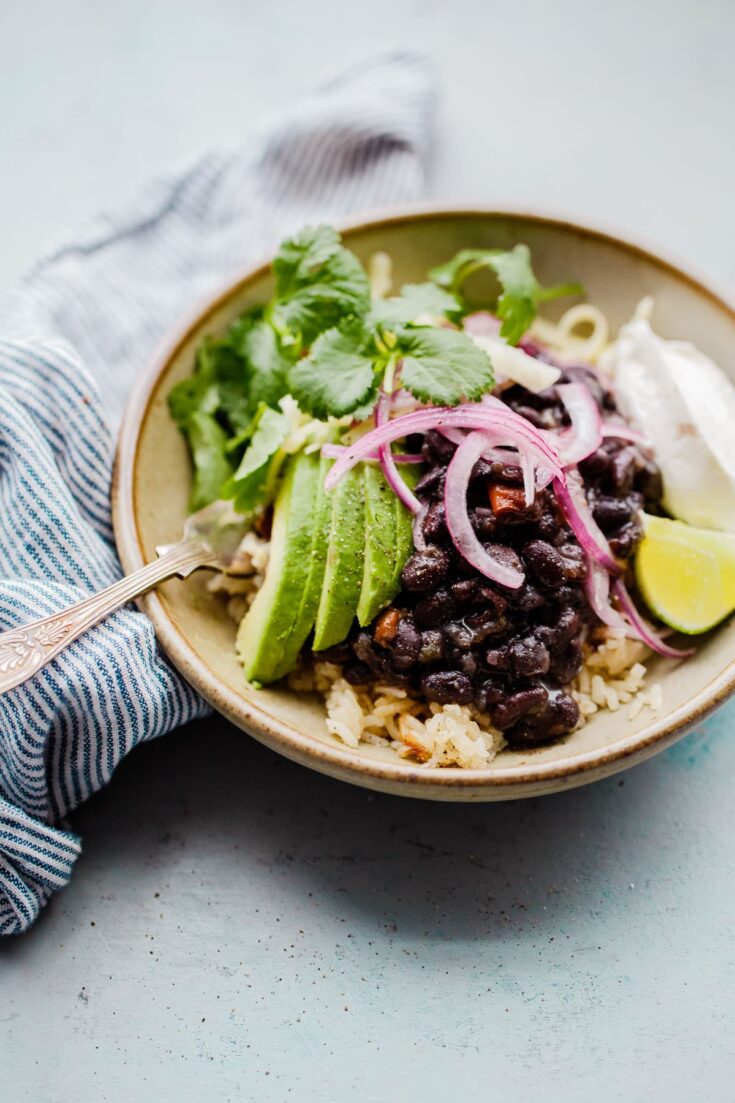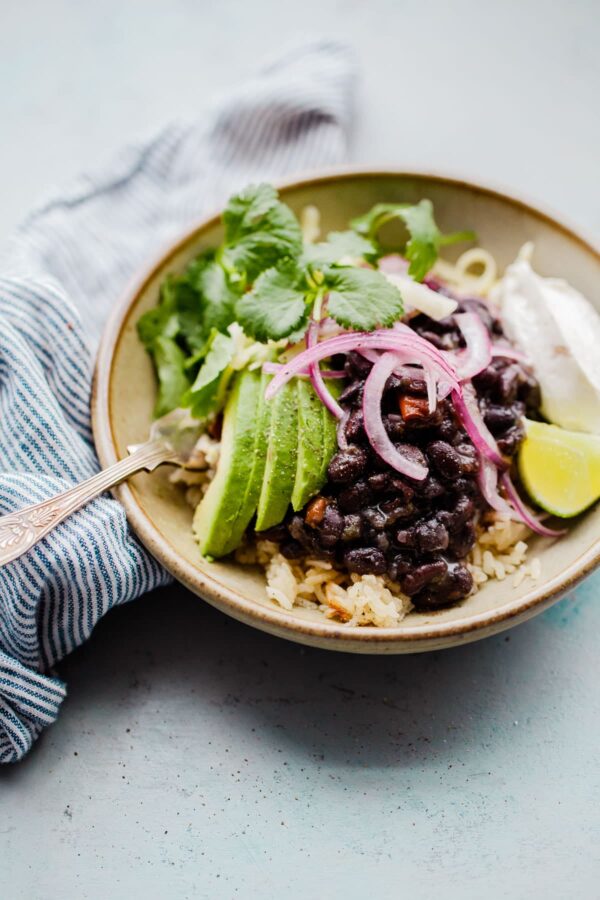 These easy and hearty Instant Pot Black Beans have quickly become a staple in our household. In fact, I've made them more times than I can count this month.
While I love to cook, I'd be lying if I said that I'm always in the mood to cook on busy weeknight evenings.
Sometimes life happens and all you want is do is look in the fridge and be able to throw together a nutritious, hearty dinner in minutes.
These pressure cooker black beans, inspired by traditional Cuban black beans, have become our favorite answer in these moments. They're an ideal fridge staple to have on hand for easy meals throughout the week.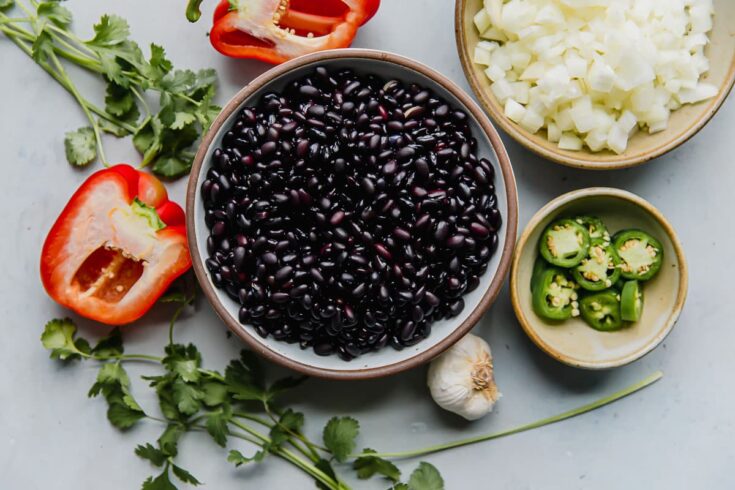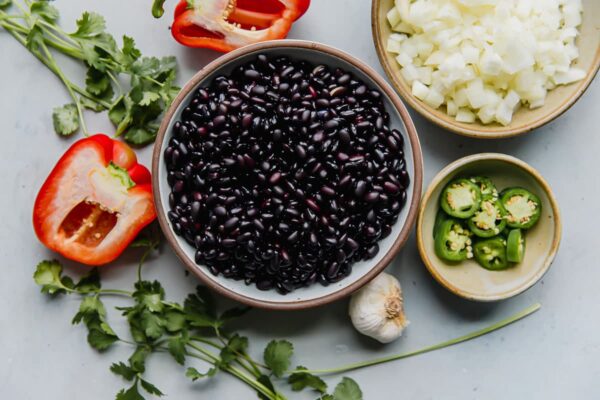 How to Serve Instant Pot Black Beans:
While the possibilities and uses for cooked black beans are endless, our favorite way to serve them is in simple black bean and rice bowls.
We spoon them on top of fluffy quinoa, brown, or white rice pilaf, and add our favorite toppings: ripe avocado chunks, pickled red onion, fresh cilantro, fresh spicy salsa (or pico de gallo), sharp cheddar cheese, and a small dollop of sour cream or hot sauce.
Such a simple, yet satisfying and delicious meal any time of the day.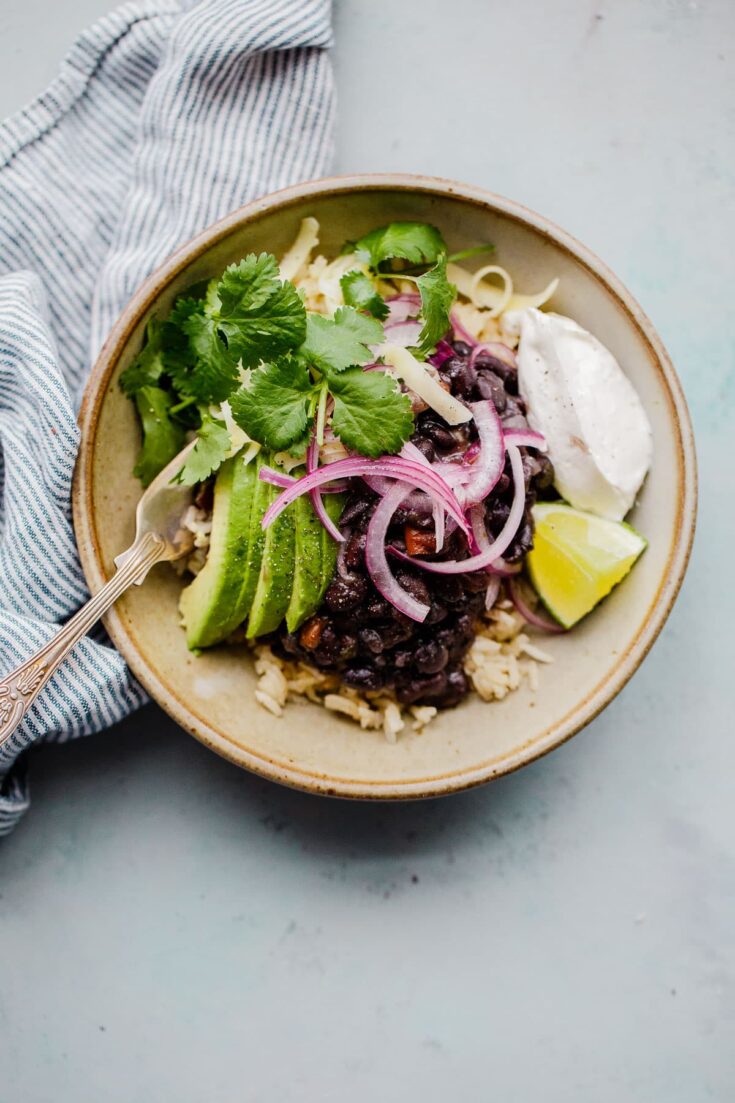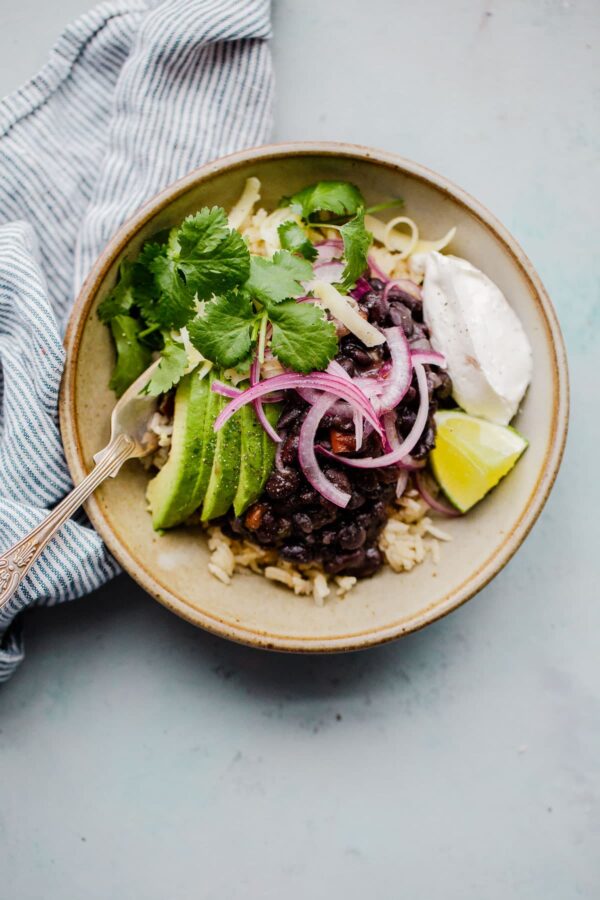 Benefit of Cooking Dried Beans from Scratch:
One of the biggest benefits to owning an Instant Pot or electric pressure cooker is the ability to quickly cook dried beans from scratch.
Dried beans are not only more flavorful (and have a better texture) than canned beans, but they're very budget-friendly.
Shopping Tip: Older beans often cook inconsistently or take more time to cook, so I highly recommend sourcing your beans from well and frequently stocked bulk bins, grocery stores, or buying them from a high-quality source, such as Rancho Gordo.


How to Cook Dried Black Beans in an Instant Pot or Pressure Cooker:
While this recipe was tested with a 6-Quart Instant Pot (affiliate link), you can easily adapt it to work with any standard electric pressure cooker.
To soak? Or not to soak? That is the question. While you certainly can cook dried beans in an Instant Pot or pressure cooker without soaking them first (*spoiler alert: this recipe calls for soaking), I always prefer to soak beans in cold water for a minimum of 6 hours or overnight.
Since the black beans are soaked, these Instant Pot Black Beans require only 7 minutes of manual pressure cooking time.
In my experience, soaked beans cook more consistently – especially if you're unsure of the quality or age of the dried beans. I also find them easier to digest, but that can vary person to person. It takes just seconds to throw some beans into a pot, cover them with cold water, and leave them overnight.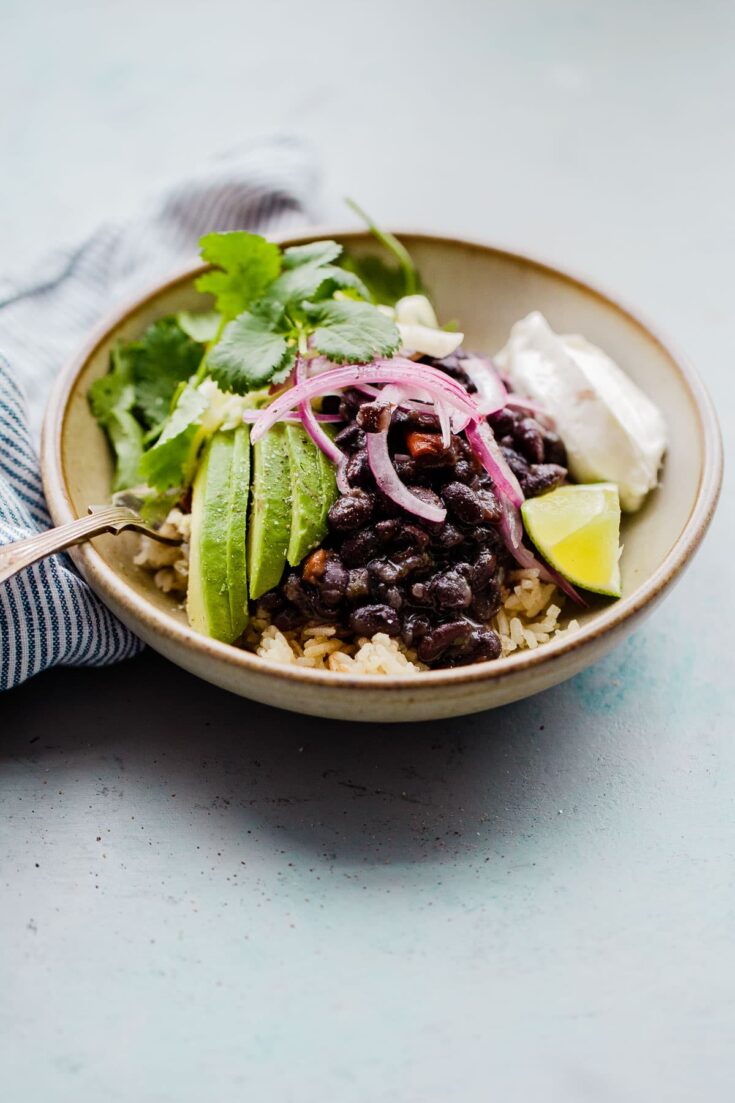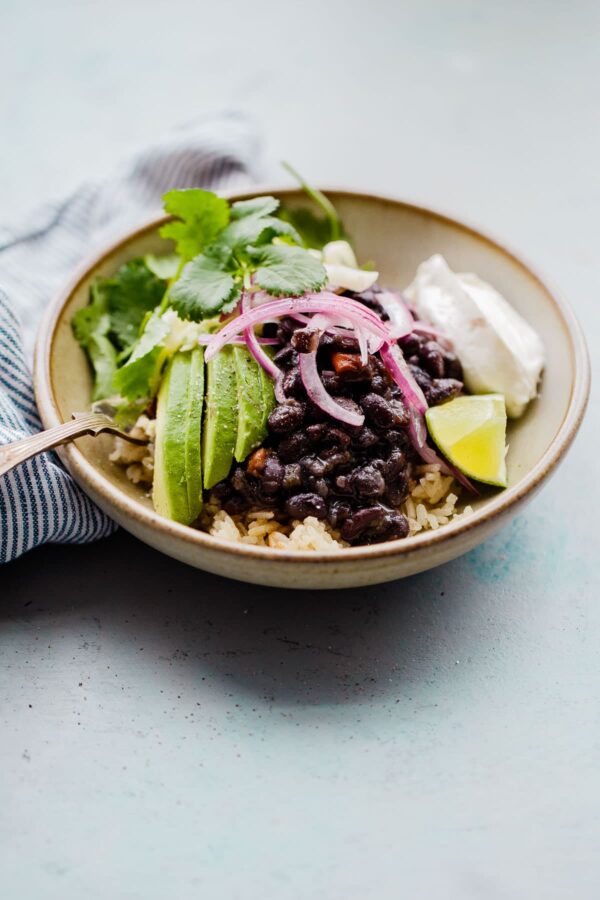 For a Cuban-inspired flavor kick, the beans are cooked with sautéed yellow onion, smashed garlic cloves, bell pepper, sliced whole jalapeño pepper, ground cumin, red pepper flakes (for added heat), and fresh whole cilantro stems.
We'll be using the whole jalapeño pepper, but it contributes minimal heat. For some added heat, I like to add red pepper flakes too, but feel free to reduce or leave them out.
These beans are naturally on the brothy side, which I love. If you prefer less liquid, refer to the recipe instructions below. The cooking liquid is so flavorful and nutritious, so please don't discard it. It will also thicken once cooled.
Ways to Serve Instant Pot Black Beans:
black bean and rice bowls with your favorite toppings!
as a taco filling (vegetarian breakfast tacos or black bean tacos)
served with soft scrambled eggs
add a little broth, blend a small portion, and serve as an easy back bean soup!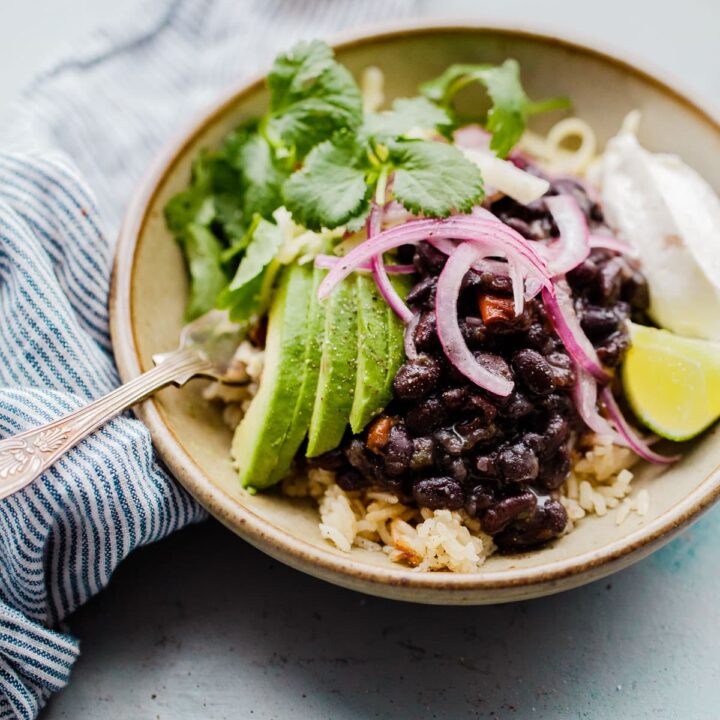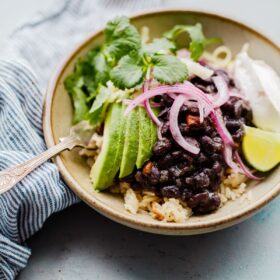 Instant Pot Black Beans
Simple Instant Pot Black Beans prepared with dried black beans, onion, bell pepper, and spices. Inspired by traditional Cuban black beans, these hearty and flavorful beans will quickly become a meal planning staple. We love serving these with rice pilaf, salsa, avocado, and pickled onion for an easy weeknight meal. They'd also be wonderful as a side dish, taco filling, or served with scrambled eggs! This recipe, which is naturally vegan, gluten free, and dairy free, yields 2 quarts, perfect for several meals or freezing for another time.
Ingredients
2 cups (400 g) dried black beans rinsed and picked over, and soaked overnight in cold water
2 tablespoons extra virgin olive oil
1 large yellow onion chopped
2 large garlic cloves smashed
freshly ground black pepper
1 red or yellow bell pepper stemmed and seeded, chopped
1 jalapeño pepper sliced into thin rounds
2 teaspoons ground cumin
½ teaspoon dried red pepper flakes optional
1 small handful cilantro stems with leaves torn in half
2 cups cold water or 1¾ cups, if you prefer less brothy beans
2 teaspoons kosher salt
Instructions
Equipment Note: This recipe was tested with a 6-quart Instant Pot. If you are using another brand of pressure cooker, please adapt to suit your specific model's manufacturer instructions or settings.

Place the dried black beans in a medium saucepan, cover with cold water by 2 inches, and soak for a minimum of 6 to 8 hours or overnight. Drain and rinse, and set aside until ready to use.

Heat the oil in the insert over the high-heat saute function (high heat). Add the onions and garlic cloves, and a generous pinch of salt, and sauté for 4 to 5 minutes, stirring occasionally, or until slightly softened. Add the bell pepper and jalapeño, another pinch of salt, generous grind of black pepper, ground cumin, and red pepper flakes, if using. Sauté for an additional 2 to 3 minutes, stirring frequently, or until fragrant. Add the drained and rinsed beans, full cilantro stems, water, and salt. Stir the mixture together.

Turn the vent to the sealing position and cook under manual pressure for 7 minutes. Allow for natural release for 10 minutes, then carefully and safely use the quick release method to vent the remaining pressure and steam - be extremely careful to avoid the steam releasing valve.

Serve immediately, spooned on top of quinoa or rice with toppings (avocado, cilantro, fresh salsa, sour cream, and grated sharp cheddar are delicious!), or allow to cool completely before transferring to containers and storing in the refrigerator.

Storage Tips: Leftovers can be stored in the refrigerator for up to 5 days or slightly longer. They can also be frozen for up to 3 months; thaw before reheating, adding water or broth as needed for desired consistency.
Tips for Success:
Any leftovers can be stored in the refrigerator for up to 5 days or be frozen for up to 3 months. Thaw frozen beans in the fridge before reheating, adding water or broth as needed for reheating to achieve desired consistency.
Serving: 1serving, Calories: 105kcal, Carbohydrates: 14g, Protein: 4g, Fat: 4g, Saturated Fat: 1g, Polyunsaturated Fat: 3g, Sodium: 606mg, Fiber: 4g, Sugar: 1g
This post contains affiliate links, which means that I make a small commission off items you purchase at no additional cost to you. Please read my
privacy policy
for more information.