Healthier Chicken Marsala
This lightened up Chicken Marsala recipe is made with chicken cutlets, shallots, garlic, mushrooms, Marsala wine, chicken broth, and just a touch of heavy cream.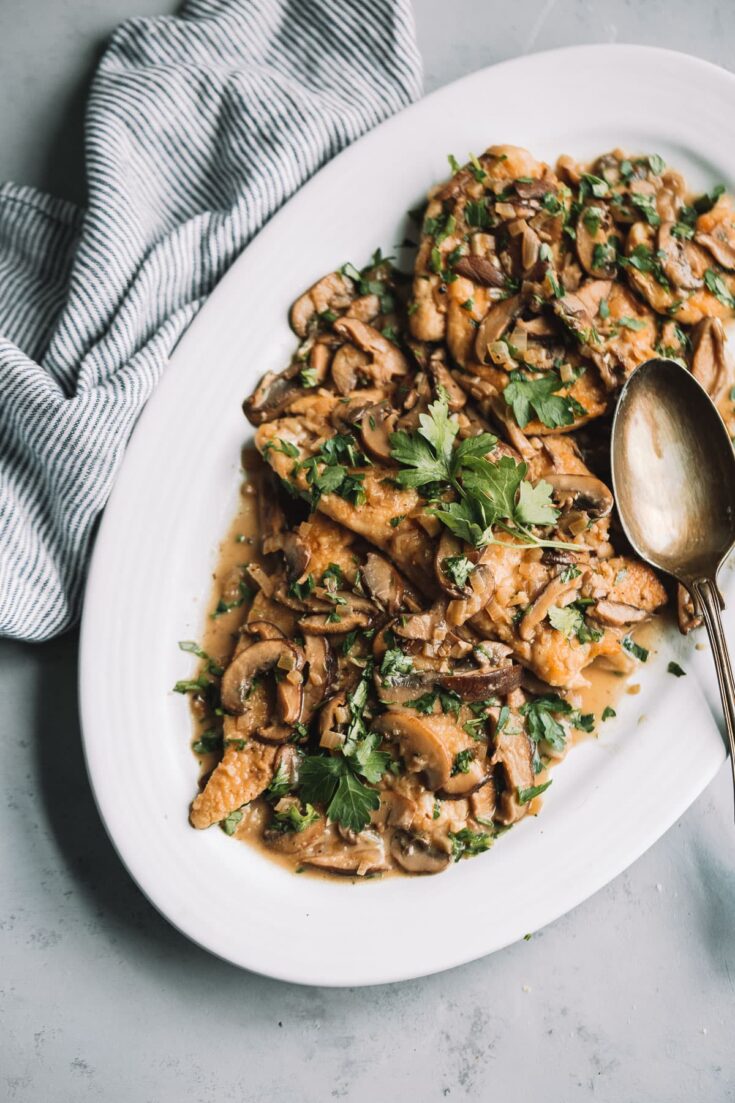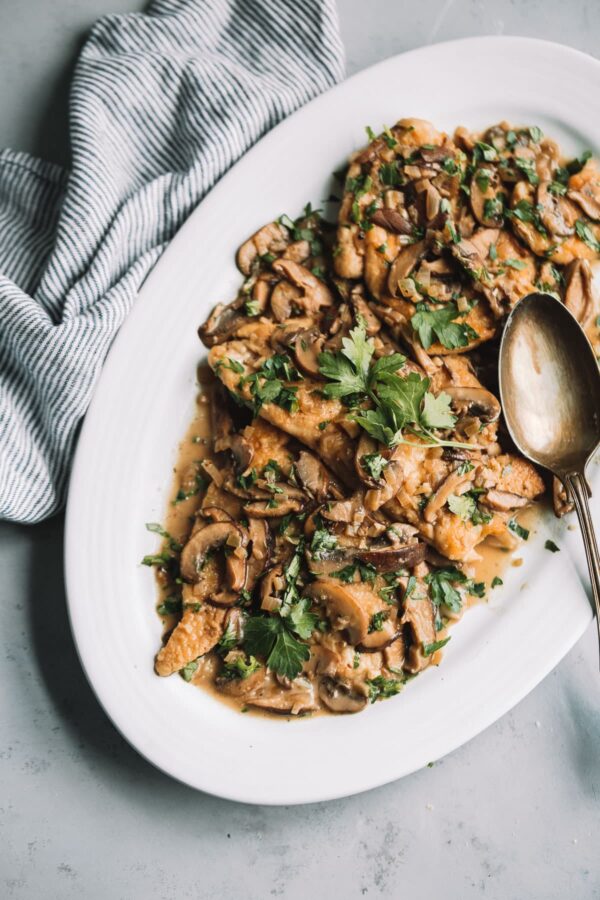 Its been a hot minute since my last post!
Thank you so much for your patience these last few weeks. I came down with a horrible case of the flu just after the holidays and was out of commission for much longer than anticipated.
But…I'm back with a brand new dinner recipe! One of my goals in 2020 is to share a larger selection of weeknight-friendly main course recipes with you.
We're starting things off with this lightened up Chicken Marsala. This recipe was inspired by my older sister, who prepares a similar version for her family. One of the reasons why I love this variation is that while it does contain a touch of cream, it is significantly lighter than most Chicken Marsala recipes.
This dish is hearty, comforting, and makes a wonderful meal any time of year, but particularly on these cold and often dreary winter days. Let's get cooking!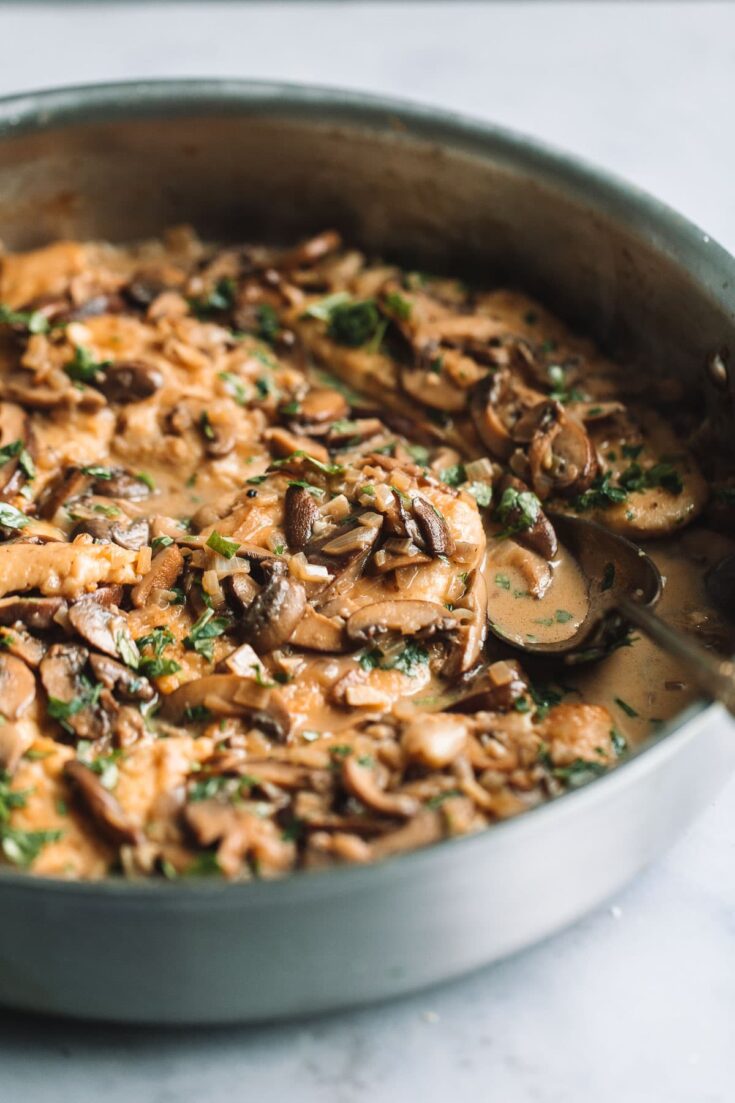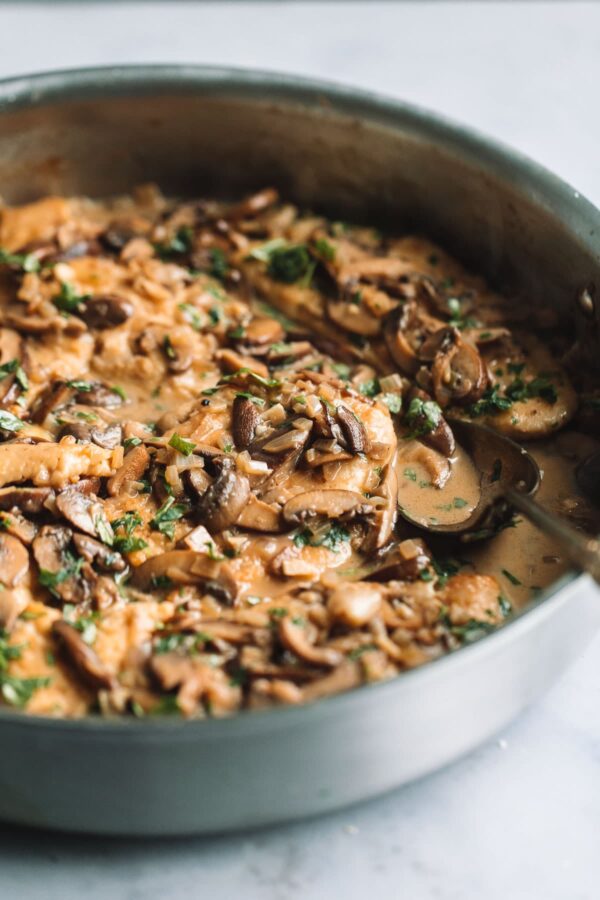 What is Chicken Marsala?
Chicken Marsala is made by seasoning and lightly dredging chicken cutlets (thinly and evenly pounded chicken breasts) in flour. The chicken is sautéed in a combination of butter and olive oil (for best flavor) until golden on both sides.
Once the chicken is sautéed, we'll set them aside on a platter – you can also keep them warm in a low temperature oven – as we prepare the mushroom sauce.
While recipes and preparation methods can vary, today's recipe is made with a combination of sautéed mushrooms, finely chopped shallot and garlic, a reduction of dry Marsala wine, and low-sodium chicken broth.
Just before serving, we'll stir in two tablespoons of heavy cream – just enough to add some decadence and richness – and chopped flat leaf parsley for color and brightness.


What is Marsala Wine?
As the name suggests, Chicken Marsala gets its signature flavor from the addition of Marsala wine. Marsala is an Italian fortified wine that comes in several forms: dry (secco), semi-dry (semisecco), or sweet (dolce).
For savory dishes, it is important to seek out dry Marsala, which can be found in the wine section of most grocery or alcohol stores near the sherry, Madeira, and other cooking wines.
Can you leave it out or substitute it with something else? No. I don't recommend omitting this ingredient. The flavor of this chicken recipe is very dependent on the addition of Marsala (we'll use about 3/4 cup total) and would not be the same without it.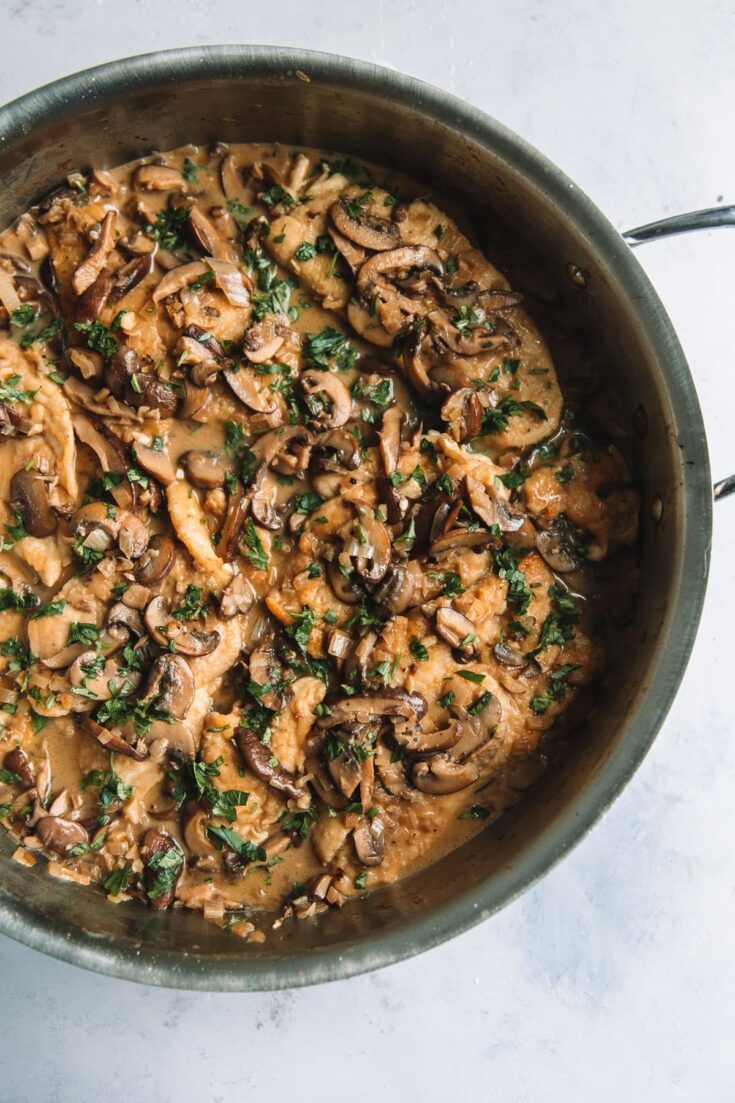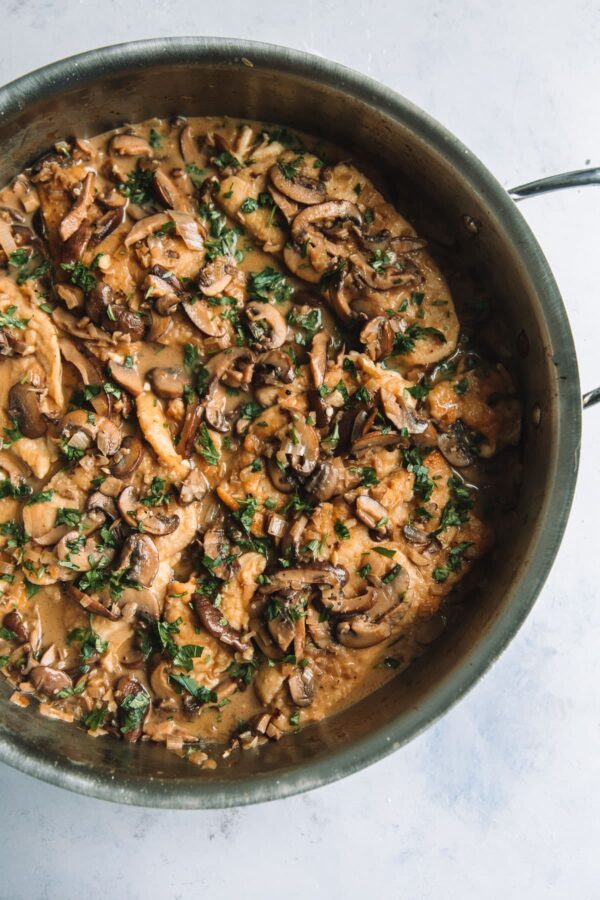 What to Serve with Chicken Marsala:
One of the best parts about chicken marsala is the sauce! If you're a fan of mushrooms, you will love this dish.
To help soak up the sauce, I love to serve this with a simple rice pilaf, orzo pasta, or some crusty sourdough bread, but a simple, vibrant gem or butter lettuce salad would be lovely as well. Enjoy!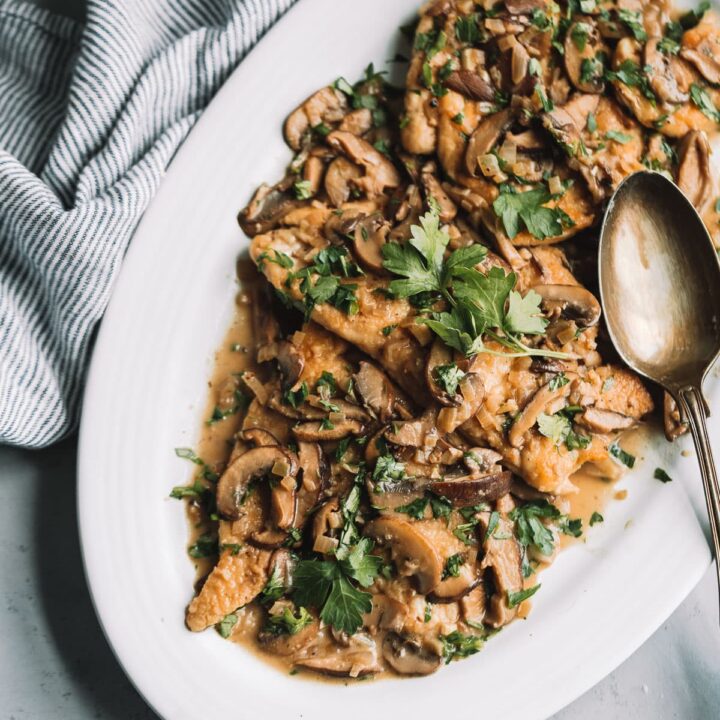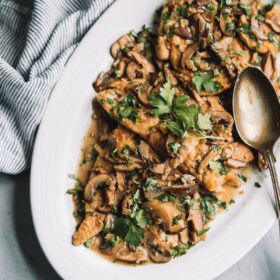 Healthier Chicken Marsala
This lightened up Chicken Marsala recipe is made with chicken cutlets, shallots, garlic, mushrooms, Marsala wine, chicken broth, and just a touch of heavy cream. Serve with a large green salad, rice pilaf, orzo, or crusty bread for dipping.
Ingredients
1½ lbs boneless, skinless chicken breasts roughly 3 large chicken breasts
freshly ground black pepper
unbleached all purpose flour for dredging
3 tablespoons unsalted butter divided
2 tablespoons extra virgin olive oil divided
1 lb baby bella mushrooms stemmed and thinly sliced
½ lb (8 ounces) shiitake mushrooms stemmed and thinly sliced
1 cup finely chopped shallot roughlly 2 large shallots or ½ large yellow onion
3 large garlic cloves finely chopped
¾ cup (180 mL) dry Marsala wine
1¼ - 2 cups (300-475 mL) low-sodium chicken broth to taste
2 tablespoons heavy cream
large handful of flat-leaf parsley leaves finely chopped
Instructions
Pat the chicken breasts dry with a paper towel. Slice each chicken breast in half horizontally. Place each piece between two sheets of wax or parchment paper, and pound with the flat-side of a meat mallet until ¼-inch thick.

Season generously on both sides with kosher salt and black pepper, and dredge each piece lightly in unbleached all puprose flour. Set aside on a plate or platter for easy access to your stovetop.

Heat a large (10-inch to 12-inch) stainless steel skillet over medium-high heat. Add 2 tablespoons unsalted butter and 2 tablespoons extra vrigin olive oil to the pan, swirling it around until lightly sizzling. Saute the chicken culets - in batches to avoid over-crowding the pan - until golden on each side, about 4 to 5 minutes. Transfer to a clean platter or small baking sheet and set aside while you prepare the mushroom sauce.

Wipe or drain the pan of any excess cooking fat, and return to high heat. Add the remaining tablespoon of unsalted butter. Once sizzling, add the sliced mushrooms. Saute over high heat, stirring every so often, until they have shrunk considerably and are lightly caramelized. Season to taste with salt and black pepper.

Add the finely chopped shallot and garlic to the pan, along with a pinch of salt, and saute until transulcent, stirring frequently, about 2 to 3 minutes. Add the marsala wine to the pan and reduce for about 1 minute to cook off the alcohol. Add 1¼ cups chicken broth, and reduce until slightly thickened and reduced by about half, about 5 minutes. Over low heat, stir in the heavy cream and season to mixure to taste, adding additional salt and pepper if necessary. If necessary, add more chicken broth to reach desired consistency.

Transfer the cooked chicken cutlets back into the pan, simmering the mixture gently and spooning over the sauce to heat the chicken pieces throughout. Garnish with the chopped parsley and serve immediately.
Tips for Success:
This dish is best served right after preparing!
If you prefer, you can keep the cooked chicken cutlets warm in a low-heat oven and spoon the sauce over them for serving.
Serving: 1serving, Calories: 379kcal, Carbohydrates: 41g, Protein: 10g, Fat: 20g, Saturated Fat: 8g, Polyunsaturated Fat: 10g, Cholesterol: 31mg, Sodium: 535mg, Fiber: 5g, Sugar: 6g
This post contains affiliate links, which means that I make a small commission off items you purchase at no additional cost to you. Please read my
privacy policy
for more information.