Before & After
As promised, I am back with before/after pictures of the apartment!  It's taken a lot of work, several arguments and tantrums over Ikea assembly directions, and many trips back and forth to stores all over DC, but we finally have a place that is coming together and feels like our own.  There is still lots of work to do, mainly getting more pictures and paintings on the walls, but we hope you enjoy what we've done with the place thus far.
In an effort to prevent you guys from going crazy scrolling back and forth between this and the previous post, I have included the "before" pictures in here as well!  Check out the captions if you would like to know where we received some of the things you see in the rooms. Enjoy.
Living Room
BEFORE: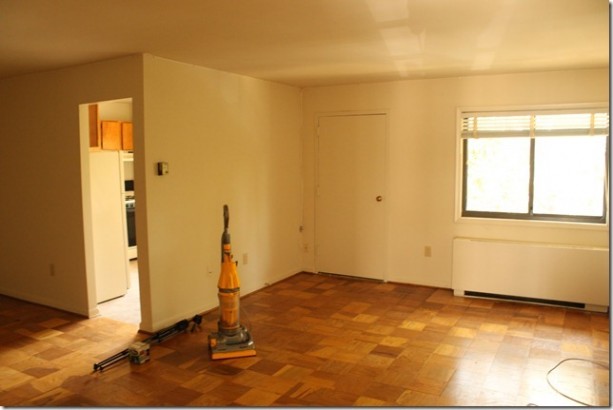 AFTER:
(Below: Painting (my own from high school art class), sofa (Ikea Kivik; natural grey—gift from Connor's grandfather), lounge chair (Ikea Poang—Craigslist), coffee table (Ikea LACK) & media console (Ikea LACK—Craigslist), oriental rug (Connor's grandparents first oriental), lamp (BB&B), sofa side tables (BB&B—discounted nesting tables $25)
(Below: Target "desk"—free from previous tenants—converted into hallway console table)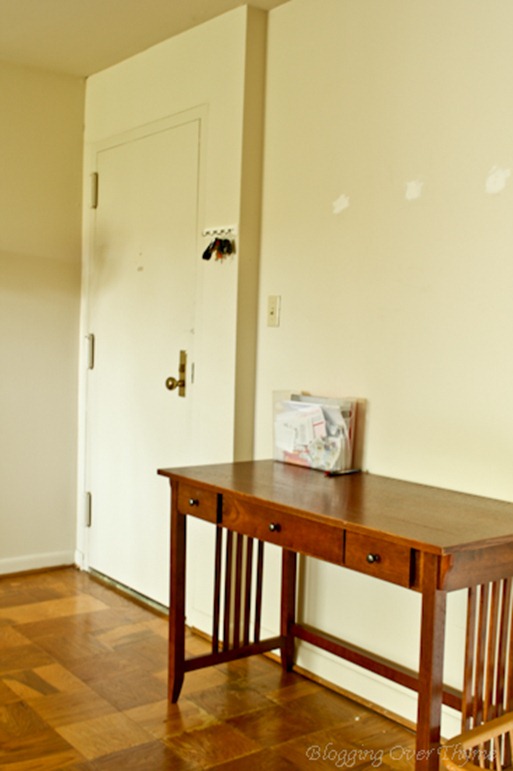 Dining Area
BEFORE: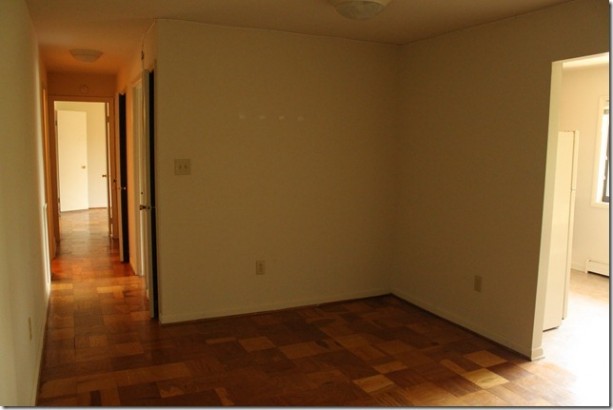 AFTER:
(Below: Lamp (hand-me down from older sister—believe it's BB&B), table (my parent's first table!), chairs (hand-me down from parents), rug (Ikea GISLED—$19.99)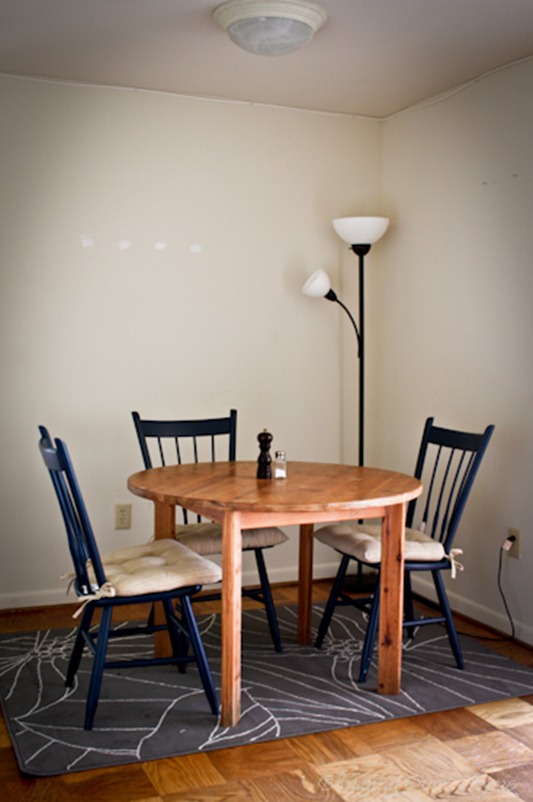 Office/Guest Bedroom
BEFORE:
AFTER:
(Below: Table (old Ikea table which my parent's bought, they still sell it!), painting (my own from college), lamp (grandfather's),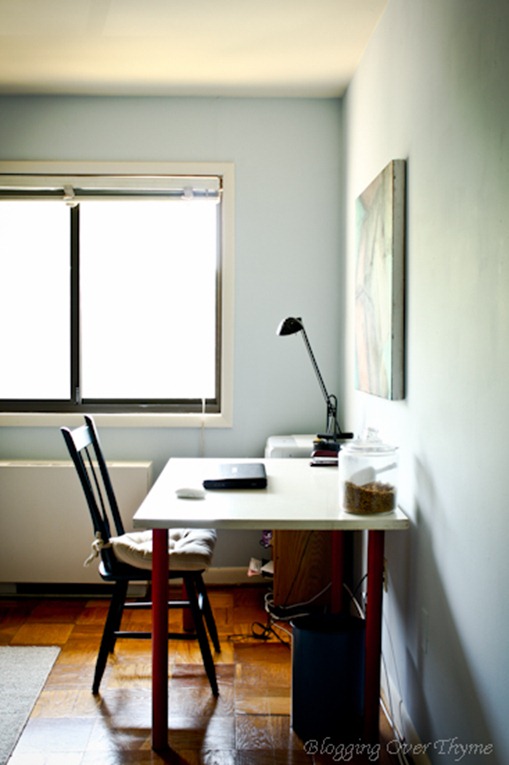 (Below: Lamp (college—BB&B), rug (BB&B $25), bookshelf  (hand-me down), lounge chair (Ikea Poang—Connor's)
Master Bedroom
BEFORE:
AFTER:
(Below: paint color (Benjamin Moore "Repose Gray" lightened by 50%), bedding (Vanessa floral; Pottery Barn—move in gift from parents), glass lamps & shades (Ikea), print & frame (Ikea), bedside tables (repurposed bookshelves of Connor's)
(Below: Dresser (Connor's), laundry hamper (Connor's—possibly Pier 1 Imports?)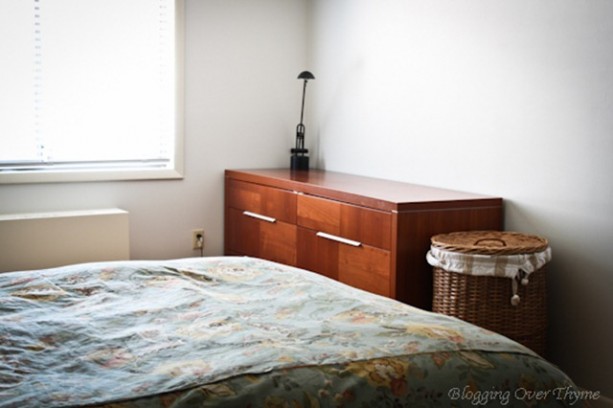 Kitchen Hallway/Kitchen:
BEFORE: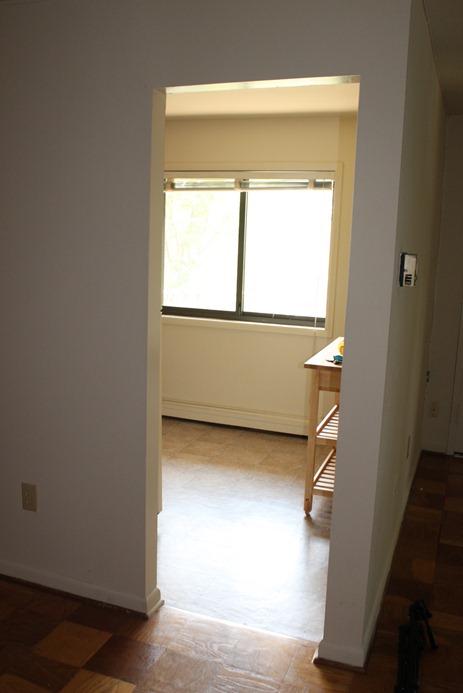 AFTER:
(Below: Stainless steel open shelves, hooks & spice storage (Ikea Grundtal series), etched glass containers (Ikea), microwave (previous tenants $10)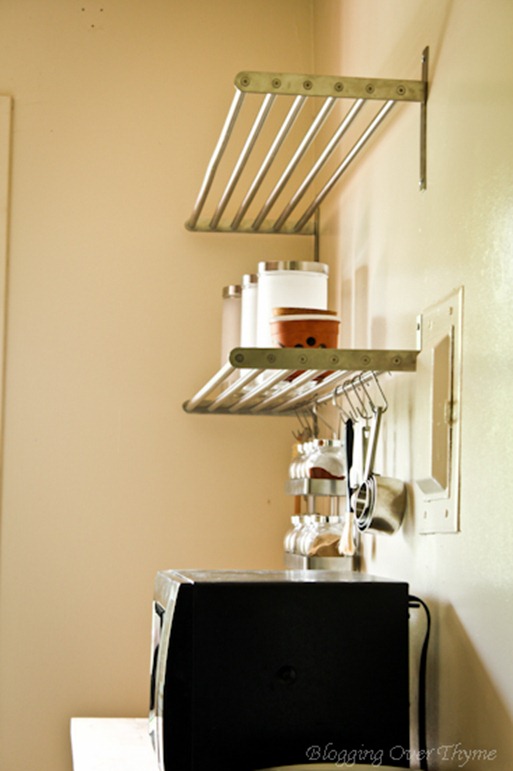 Kitchen:
BEFORE:
AFTER:
(Below: Open cabinet door (removed and stored in closet to open kitchen up), magnetic knife rack (Ikea), utensil holder (BB&B), tableware (BB&B) porcelain round mirror (hand-me down from Grandfather))
Kitchen:
BEFORE: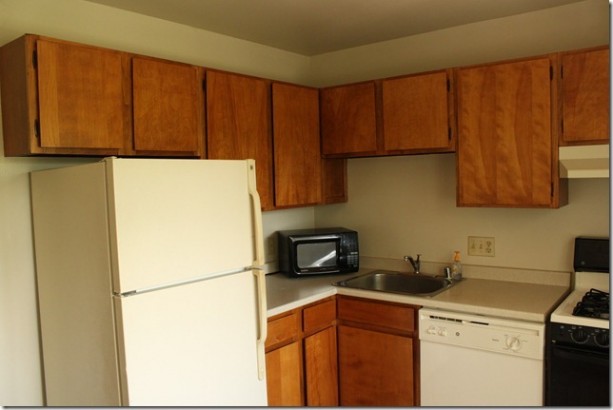 AFTER: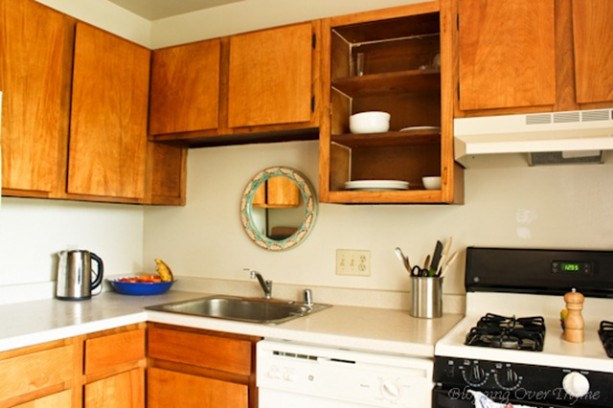 Kitchen Wall:
BEFORE:
(Below: kitchen cart (Ikea—bought from previous tenants)
Apartment Balcony
BEFORE: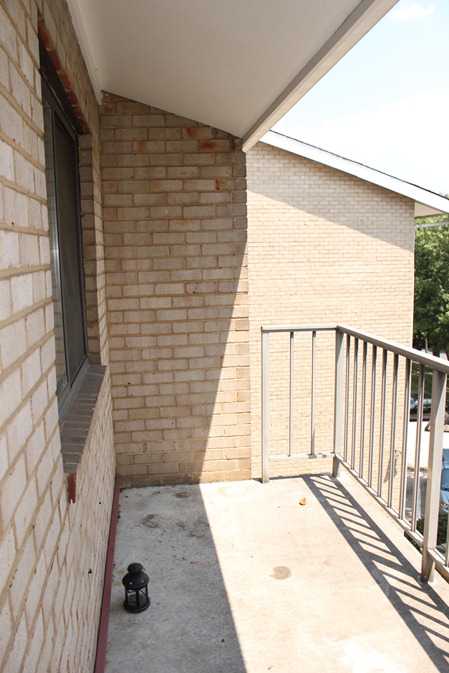 AFTER:
(Below: Terra Cotta pots (hardware store) painted with leftover chalkboard paint, plastic Adirondack chairs (BB&B-$19.99/each), black table (part of nesting table set seen in living rom—BB&B)
Whew!  Hope you guys enjoyed the tour.  If you have any questions, please don't hesitate to ask!
Back soon with a new muffin recipe!  The first tested baking recipe to come out of the new kitchen and it was a success!  Have a great rest of your weekend.  Luckily, the weather is cooling down from 100 degrees here in DC to only (!) 90+ for my 24th birthday tomorrow.  Here's hoping I don't melt in the bakery!
This post contains affiliate links, which means that I make a small commission off items you purchase at no additional cost to you. Please read my
privacy policy
for more information.