Moving Into Our First Place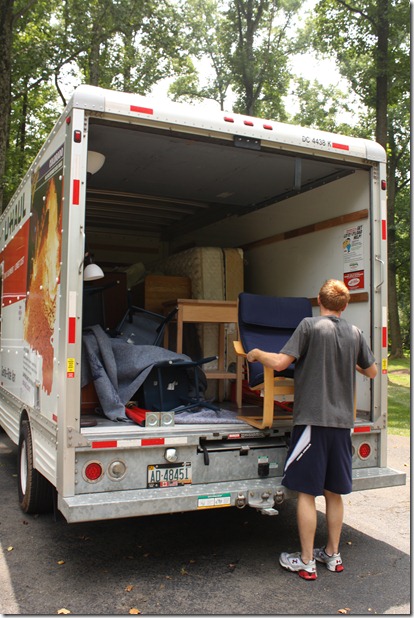 Well…we have officially moved into the apartment.  The last two weeks have been a big blur to say the least.  Since we are fortunate to have our parents' houses in the area, we decided to slowly (actually on second thought, it wasn't that slow!) move stuff in over a period of a few days and did not officially sleep at the apartment until last last Sunday.  Has it seriously been almost two weeks?!
After renting a 14 foot U-Haul that Friday, schlepping back and forth to both of our houses and maneuvering mattresses, dressers, and every other belonging of ours up a three-story walk-up, we were tired to say the least.  Luckily, we had the help of Connor's dad (as my parents at that point had already flown the coop to Scotland) and we desperately needed it.  Several mosquito bites, drips of sweat, and bruises later, we had almost everything in.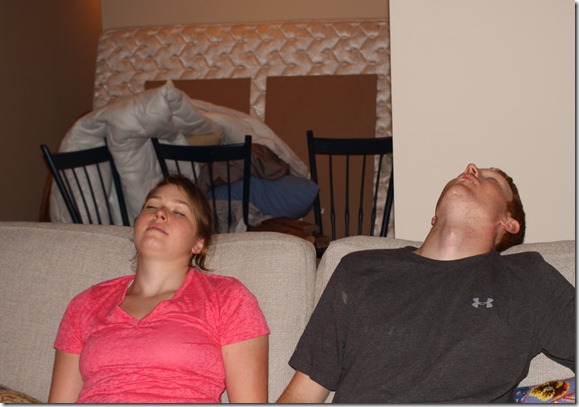 We ended up getting the most painful part of the moving process (the heavy lifting) done in about 4 hours total.  You never realize how much stuff you have until you move somewhere.  And that was just bringing the bare basics!  At that point, we were all starving and decided to reward ourselves with a trip to BGR: Burger Joint, which is located several hundred yards of our new place.  They offer grain-fed beef burgers in all different varieties and more, as well as hand-cut Yukon gold, sweet potato, or asparagus fries with your choice of roasted garlic, rosemary, or parmesan as toppings.  This place is dangerous!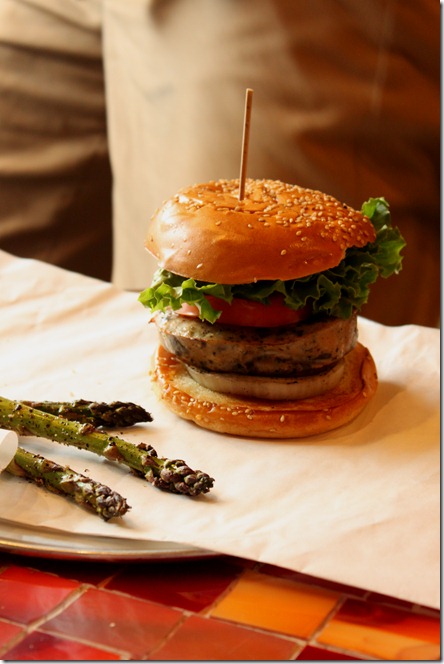 If there is ever a time where you deserve a burger and fries, moving is one of those times.  I ate everything in front of me, as well as several huge glasses of water to beat the DC humidity.  The rest of the day comprised of unpacking, unpacking, and more unpacking.  I hate living out of a suitcase and seeing boxes in every direction, so I went as quickly as possible as a means to feel settled as soon as possible.  I was, therefore, exhausted at the end.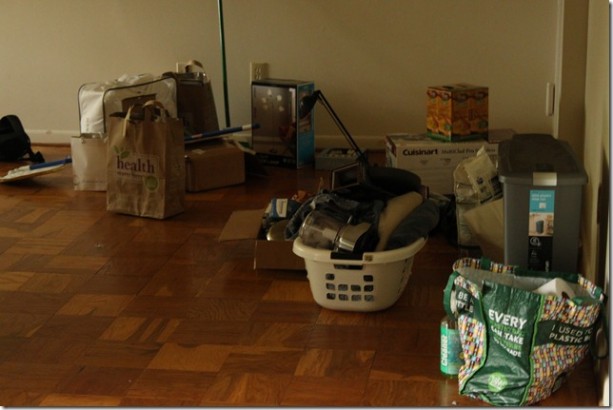 Connor and I decided to further prolong the torturous process that is moving by painting the bedroom the very next morning…at 8 am.  As a word of advice to anyone out there who is moving anytime soon, while it is very painful and probably the last thing you will feel like doing after moving into a new place, I highly suggest painting before fully unpacking.  Prior to moving into the apartment, we grabbed a few small containers of paints we liked and put up swatches on the wall to observe them at different times of the day and at different lightings, both artificial and natural.   We were able to decide on one by moving day and let me say, it was very nice to be able to have an empty bedroom where we didn't have to worry about accidentally getting paint on furniture or deal with moving things out of the way.  We were able to get two coats painted in about 3 hours more or less on Saturday morning, despite occasional whining on my part and several, "so this is why people pay good money to hire painters."
Without further ado, here are several before pictures of the apartment prior to moving everything in!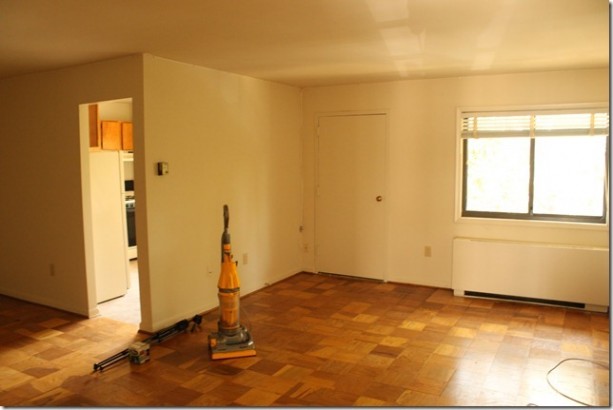 (Living Room –Looking from front door.  Door to left of window is to balcony.  Dining area to the far left; doorway into the kitchen)
(Kitchen – looking in from doorway.  Window overlooks part of the balcony.  Complete with dishwasher and gas stove!)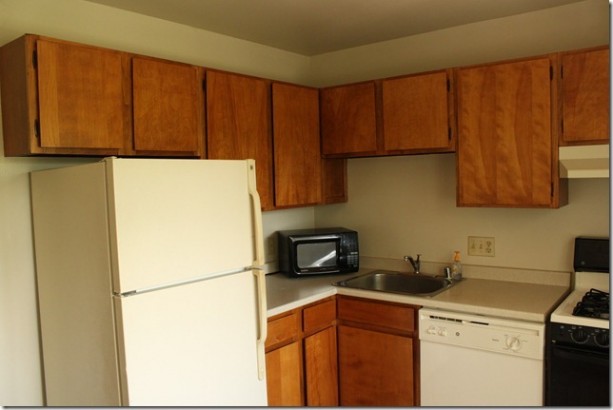 (Kitchen – view from wall to left of the window.  Microwave bought from previous tenants for $10)
(Kitchen—wall opposite stove and dishwasher.  Basically brand-new Ikea kitchen cart bought by previous tenants for $65)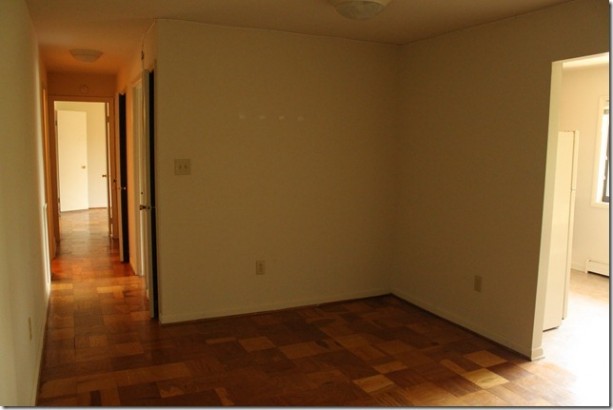 (Dining Area—plans to brighten this area have already taken place and will continue to do so!  Hallway to left leading to bathrooms, and master bedroom at end and 2nd bedroom/office on the right)
(Second Bedroom/Office: previous blue color from previous tenants.  Target desk on right FREE from previous tenants!  Complete with blackboard closet door as seen below)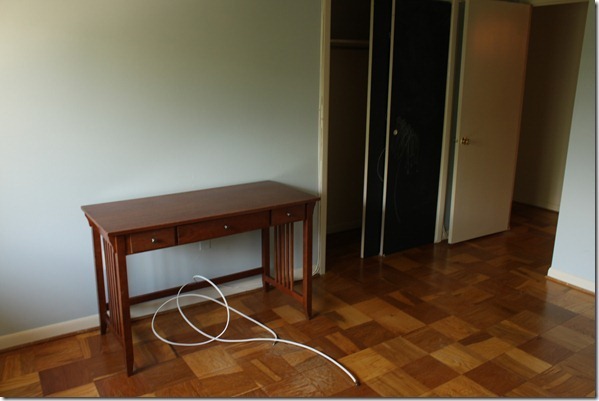 (Master Bath: No words.  Yes, that is pink.  The second hallway bathroom is similarly styled but beige.  Not much that can be done here, but hey, we have two and more importantly, clean bathrooms!)
Did I mention it was pink??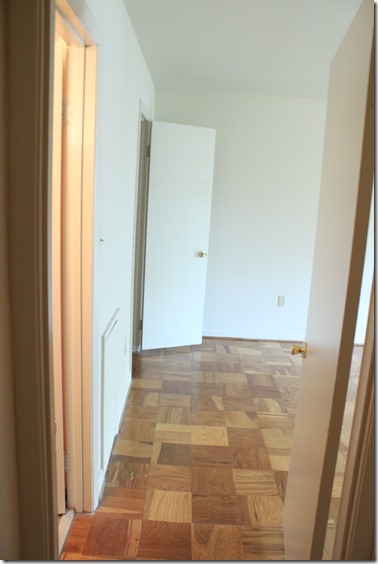 (Hallway: Looking into master bedroom, door on immediate left to (pink) bathroom and door on far left is to walk-in closet.  Again, no complaints here.)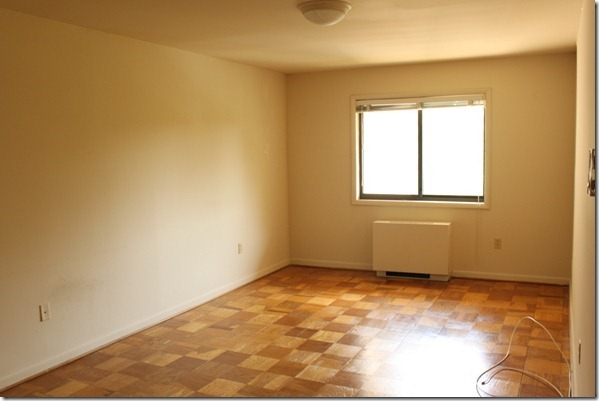 (Master Bedroom: 15 x 13.  This was taken before it was painted.  All of the rooms (except the 2nd bedroom) are/were an off-white)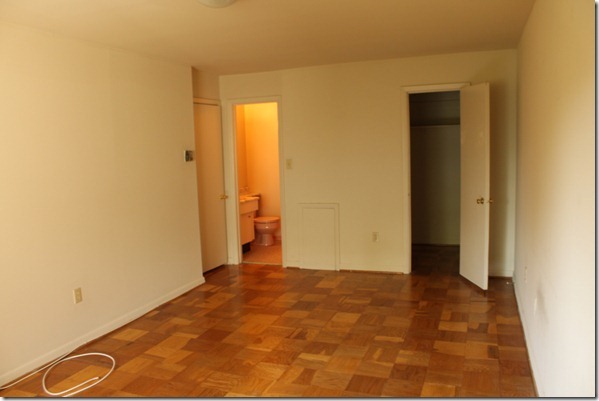 (Walk-In Closet:  I don't even have enough clothes to fill this space, but I'm starting to understand why so many people are obsessed with these things.  This apartment is chock full of storage, lucky for us!)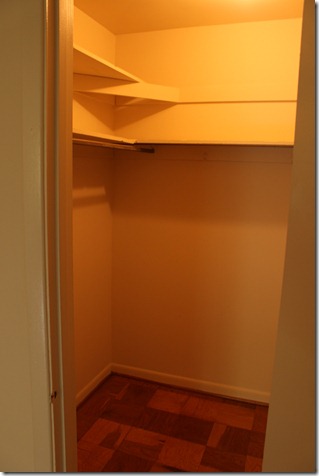 (Balcony: Window on right looking into kitchen.  This space has already been majorly upgraded and warmed up!)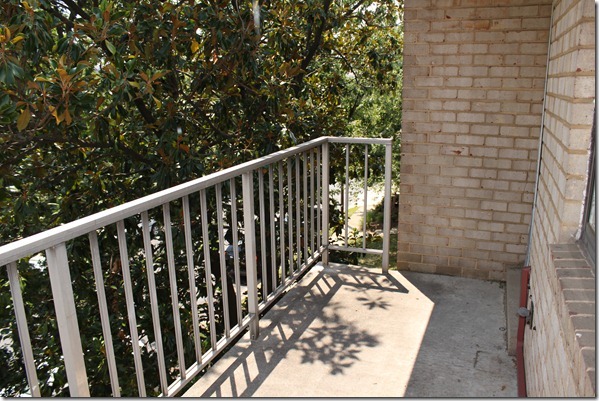 Hope you all enjoyed the (before) tour of the apartment!  Be back soon with lots of after (and progress) photos.  It already looks so different!
This post contains affiliate links, which means that I make a small commission off items you purchase at no additional cost to you. Please read my
privacy policy
for more information.