Black Pepper Cheddar Scones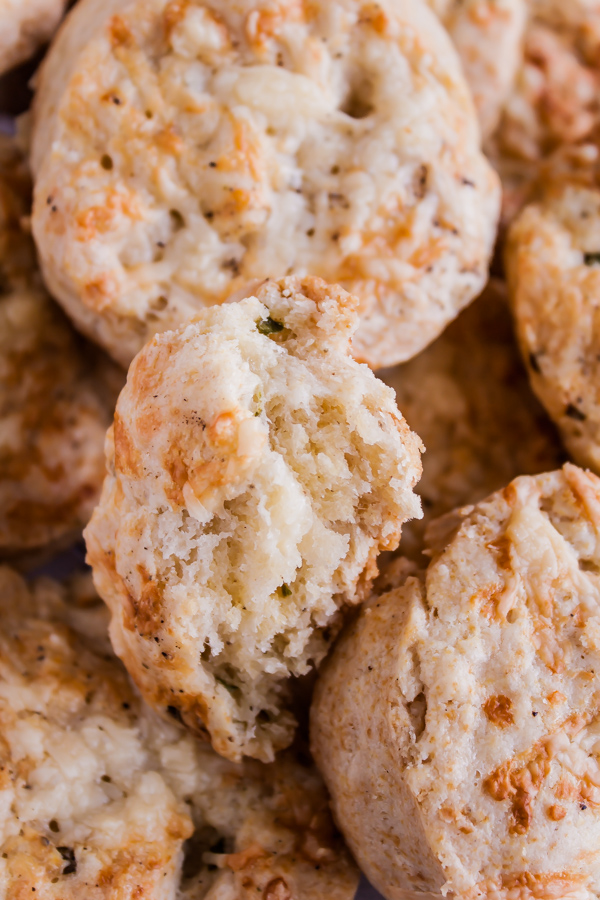 I don't know about you, but this weekend was full of ridiculously good food. Everything from grilled New York strips, the best Peking duck, Key Lime pie, cobbler, lemonade donuts and so much more.
It is going to take me at least a week to digest it all. And yet here I am, once again, sharing the world's flakiest black pepper cheddar scones. Forgive me.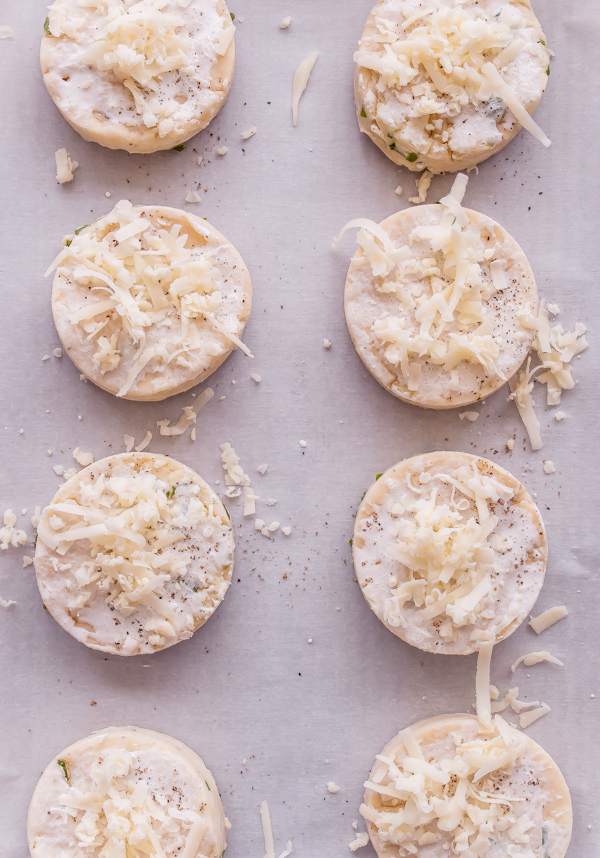 Have you ever had a really dense, heavy scone that sort of sticks to your stomach? Well these scones are the exact opposite of that.
They are ridiculously cheesy and rich. Creme fraiche, heavy cream, butter, and lots of sharp grated cheddar cheese rich, if you know what I mean.
Good scones and calories go hand in hand. Just go with it.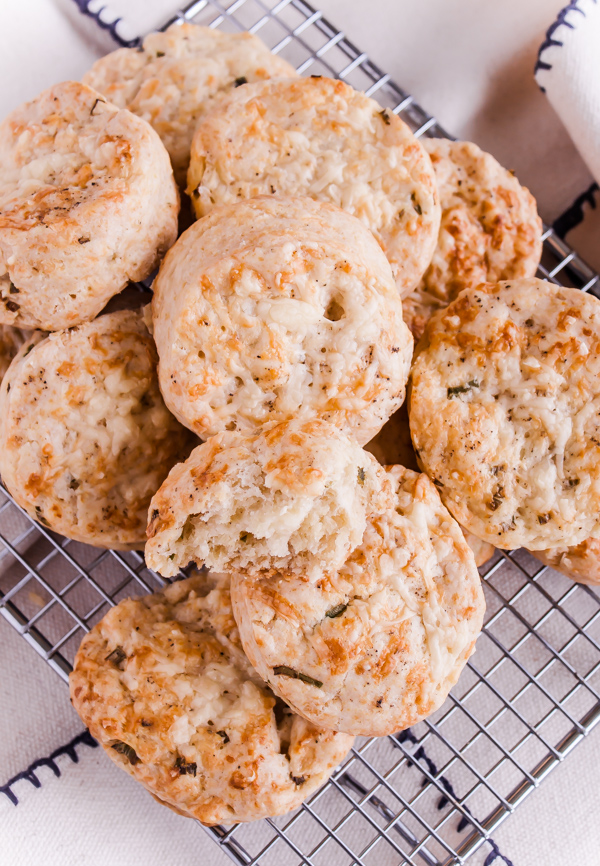 These scones are an adaptation from Thomas Keller's Bouchon Bakery cookbook. I reduced the prep time significantly, but as a forewarning, these scones are best prepared a day in advance. Or simply factor in an additional hour or two for the scones to properly freeze prior to baking.
This step, although tedious and tempting to skip, helps prevent the scones from spreading in the oven and increases their flakiness.
And trust me, that is always a good thing. Hope everyone had a great Memorial Day weekend!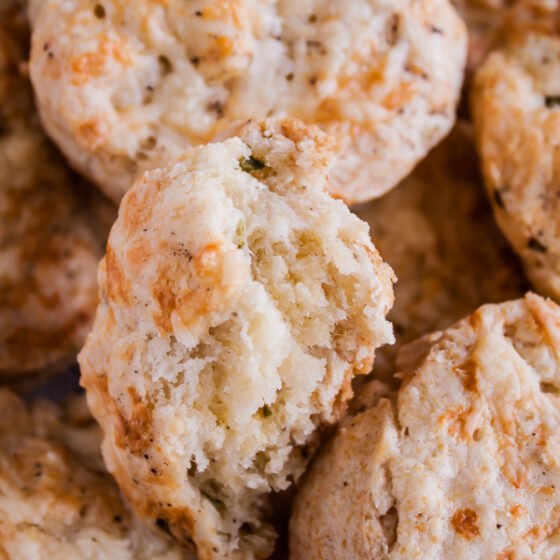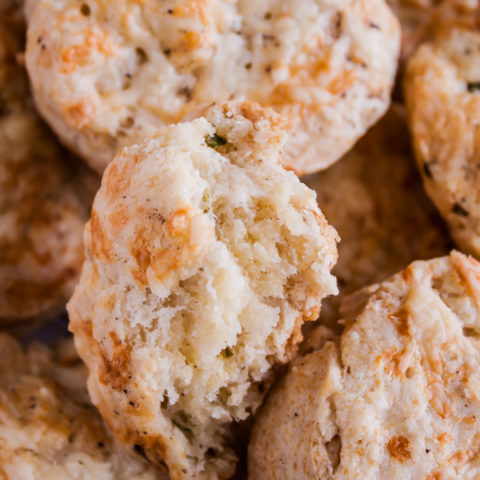 Black Pepper Cheddar Scones
Yield: 12 Scones

Prep Time: 20 minutes

Cook Time: 35 minutes

Total Time: 55 minutes
Ingredients
3/4 cup + 1 teaspoon all-purpose flour (107 grams)
1 1/2 + 1/2 tablespoon cake flour (196 grams)
1 1/2 + 1/8 teaspoons baking powder (8.1 grams)
3/8 teaspoon baking soda (1.6 grams)
1/4 teaspoon ground black pepper (1 gram)
2 tablespoons + 3/4 teaspoon sugar (27 grams)
1 1/4 teaspoons kosher salt (3.6 grams)
4.7 ounces cold unsalted butter, cut into 1/4-inch pieces (132 grams)
1/4 cup + 1 tablespoon heavy cream (71 grams), plus more for brushing
1/4 + 2 1/2 tablespoons creme fraiche (89 grams)
2 1/2 cups grated sharp white cheddar (180 grams), divided
1/4 cup finely chopped scallions (10 grams)
Instructions
Place the all-purpose flour, cake flour, baking powder, baking soda, black pepper, sugar in the bowl of a stand mixer, fitted with a paddle attachment, and mix on low for 10 to 15 seconds, or until thoroughly combined.
Turn the mixer off, add the cubed butter and pulse on low speed several times to incorporate the butter. Mix over low speed for 2 to 3 minutes, or until butter is incorporated into the flour and no large pieces remain.
While mixer is running, slowly add the heavy cream. Add the creme fraiche and mix on low speed for 30 seconds, or until the dough begins to come together onto the paddle.
Add 2 cups (144 grams) cheddar and chopped scallions and mix briefly to incorporate.
Place the dough on a clean work surface, and using your hands and a pastry scraper, press the dough together. Line a large baking sheet with a Silpat or parchment paper. Place the dough between two layers of wax paper and roll out into 1-inch thickness. Using a 2.5″ biscuit cutter, cut out the scones and transfer to the baking sheet (leaving space between). Press the scraps together gently, roll out gently, and continue to cut out until all of the dough has been used. Cover baking sheet with plastic wrap and transfer to the freezer. Freeze the scones until frozen solid (1 to 2 hours–or overnight, if preparing in advance).
Preheat the oven to 350 degrees Fahrenheit. Brush the scones with heavy cream and sprinkle with the additional 1/2 cup of grated cheddar cheese. Bake for 30-40 minutes, or until golden brown. Set on a cooling rack and cool completely. Serve immediately.
Nutrition Information:
Yield: 12 Serving Size: 1
Amount Per Serving: Calories: 203Total Fat: 19gSaturated Fat: 12gTrans Fat: 0gUnsaturated Fat: 6gCholesterol: 54mgSodium: 438mgCarbohydrates: 2gFiber: 0gSugar: 1gProtein: 6g

A Beautiful Plate provides nutritional information, but these figures should be considered estimates, as they are not calculated by a registered dietician.