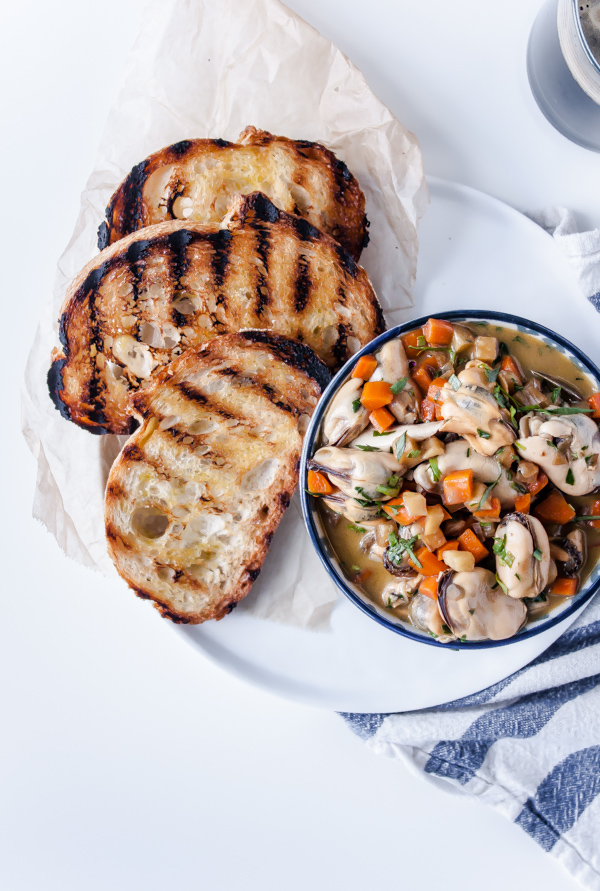 What is it about mussels that makes me want to pack my bags, move to France, live on a sail boat, sip champagne, and don one of those 1960's bathing suits all day?
Seriously.
I'm not even exaggerating. My food associations make no sense at all.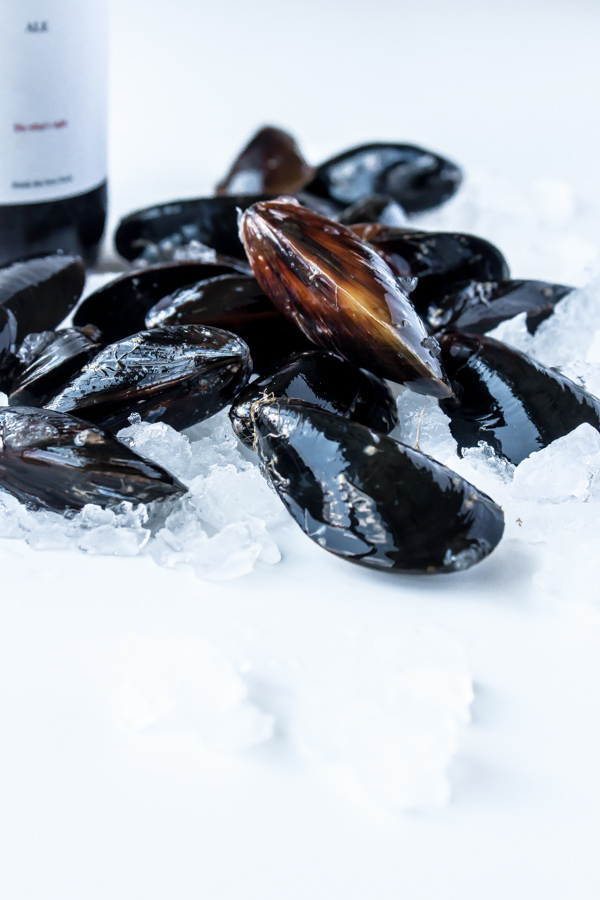 There is just something about mussels that gets me every single time. They are rustic, but elegant and refined. I can't get enough of them.
Not to mention, every time I make them I'm reminded of the fact that I do not cook them nearly enough.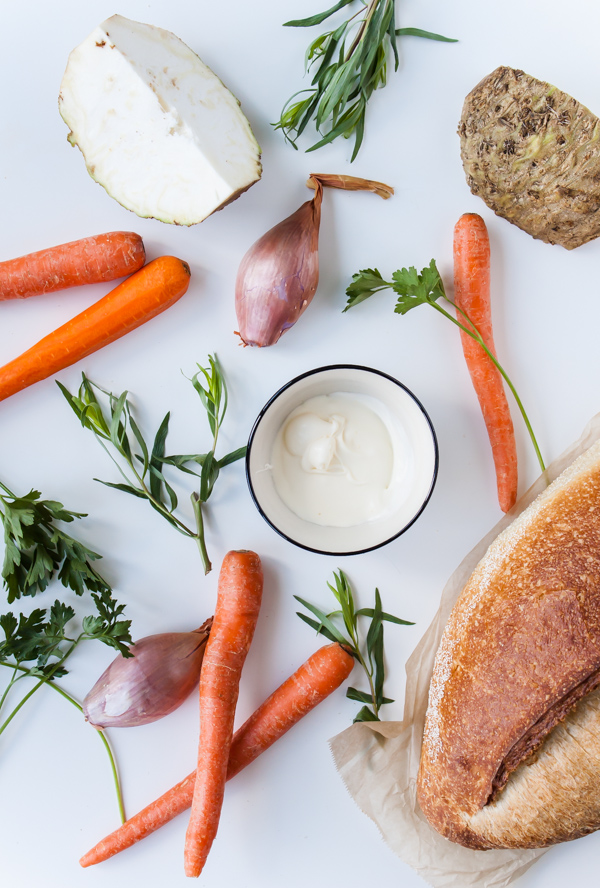 If you've never made mussels at home, don't be intimidated by the process. It is really quite easy (check out this post for some tips on buying them and tricks on how to prepare and clean them!)
The absolute worst part of preparing mussels at home is washing and de-bearding them. Luckily most fishmongers take care of this step for you nowadays, and the prep is minimal at best.
Plus, they only take just over 5 minutes to cook! [Why don't I cook mussels more often again?]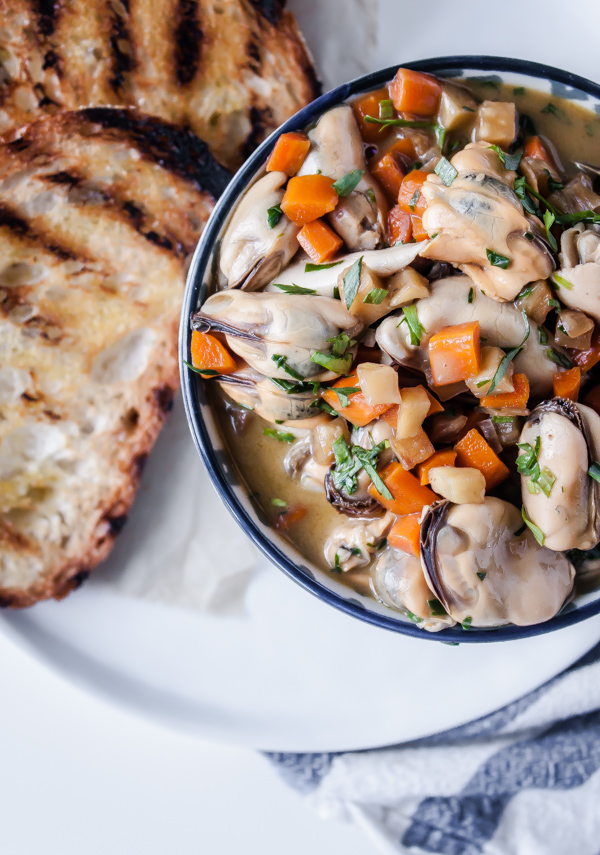 Mussels are probably one of the fastest dishes that you can put on the table.
Throw some nice crusty grilled bread into the picture and you have a pretty delicious dinner that can be made any day of the week.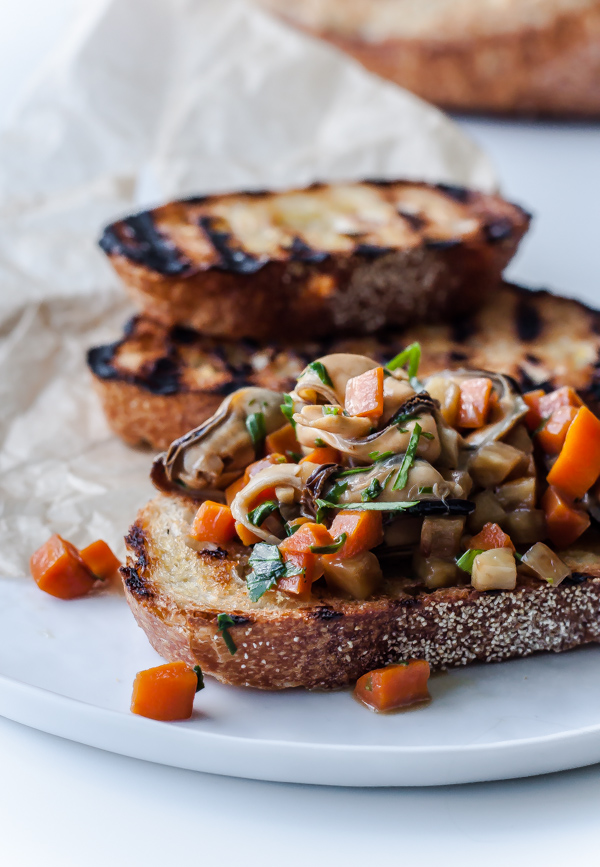 Aptly named 'drunken mussels', these babies are steamed in dark ale and cooked together with sauteed diced carrots, celery root, shallots, butter, and a hefty spoonful of creme fraiche for a touch of richness.
The bitterness and hoppiness of the dark ale pairs really well with the creamy, briny mussels, and fresh parsley and tarragon add just enough color and vibrancy to make the dish shine!
Feel free to serve these in the shell with the broth, or remove the mussels from the shell for easy serving.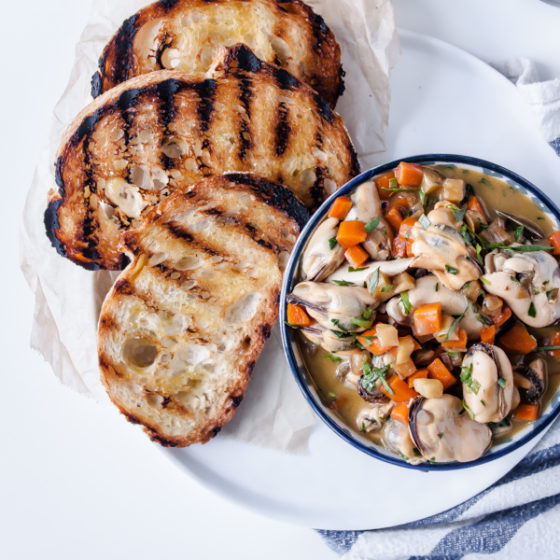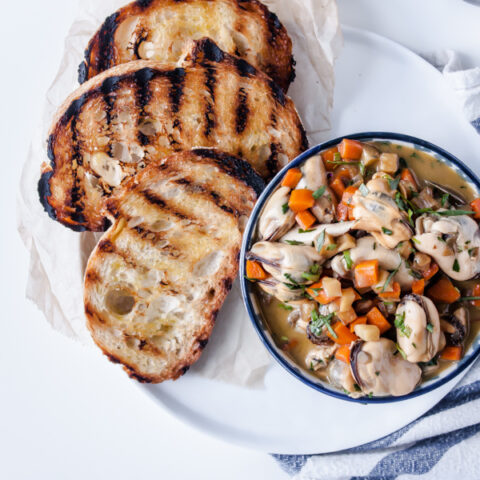 Drunken Mussels
Yield: 2 Servings

Prep Time: 15 minutes

Cook Time: 10 minutes

Additional Time: 5 minutes

Total Time: 30 minutes
Ingredients
3 tablespoons unsalted butter
1 cup finely diced carrots
1 cup finely diced celery root
3 medium shallots, diced
2 bay leaves
5 ounces dark ale
2 lbs fresh mussels, scrubbed and de-bearded
3 tablespoons creme fraiche
1 tablespoon flat parsley, chopped
2 teaspoons tarragon, chopped
kosher salt 
freshly ground black pepper
crusty bread, grilled (for serving)
Instructions
Heat the butter in a medium saucepan. Add the carrot, celery root, shallots, and bay leave and saute for 5 to 8 minutes, or until softened. Add the ale and bring to a boil. Remove pan from heat and set aside.
Place a large colander over a separate pot and set aside.
Heat a 10-12 inch large, flat-sided saute pan over high heat. Add the mussels and vegetable ail mixture. Cover the pan, shaking it back and forth occasionally, and adjusting the heat as necessary. Cook the mussels until the shells have opened, roughly 3 to 5 minutes. Discard any mussels that do not open.
Strain the mussels through the colander, reserving the cooking liquids. Place the mussels in a large serving bowl, or remove the mussels from the shell (this step will take 5 to 10 minutes).
Reduce the cooking liquid over medium-high heat until reduced to one third volume. Whisk in the creme fraiche and fresh herbs, and season to taste (either no salt or very little salt will be needed). Keep warm.
Pour the cooking liquid over the mussels, and serve with grilled crusty bread.
Notes
Use roughly 1 lb of mussels per serving.

Adapted heavily from The Sunday Times 'Mussels Cooked in Ale' (contributed by Tom Kerridge).
Nutrition Information:
Yield: 2 Serving Size: 1
Amount Per Serving: Calories: 596Total Fat: 24gSaturated Fat: 10gTrans Fat: 0gUnsaturated Fat: 10gCholesterol: 164mgSodium: 1089mgCarbohydrates: 34gFiber: 3gSugar: 5gProtein: 57g

A Beautiful Plate provides nutritional information, but these figures should be considered estimates, as they are not calculated by a registered dietician.