Blueberry Hand Pies
Fresh and lightly spiced blueberry hand pies are the perfect portable dessert for summer, Memorial Day, and Fourth of July celebrations.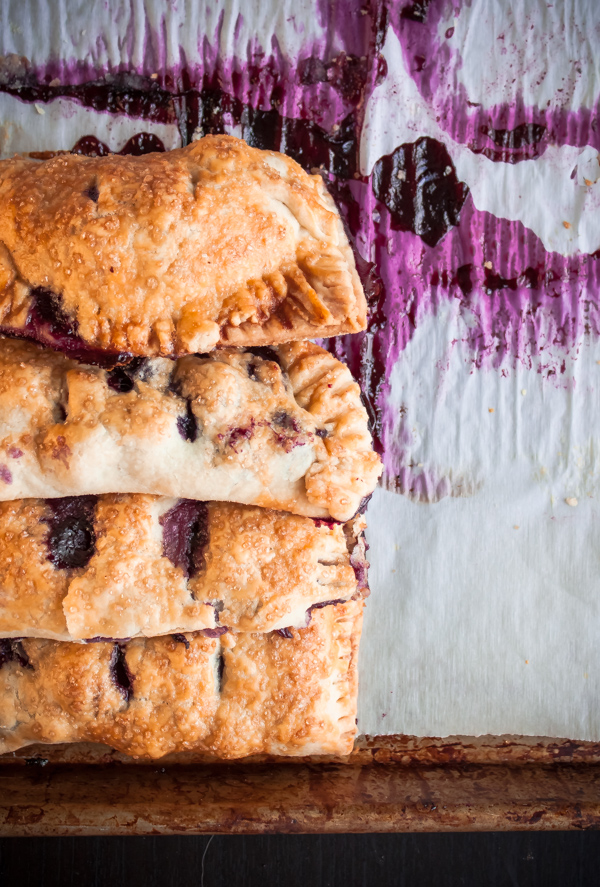 And if there is anything better than regular pie, it's portable hand pies.
We're making everything from scratch for today's Cinnamon Hand Pies. The all-butter pie dough is tender and flaky and the fresh blueberry filling is tart and vibrant.
The addition of ground cinnamon and lemon zest round out all of the flavors.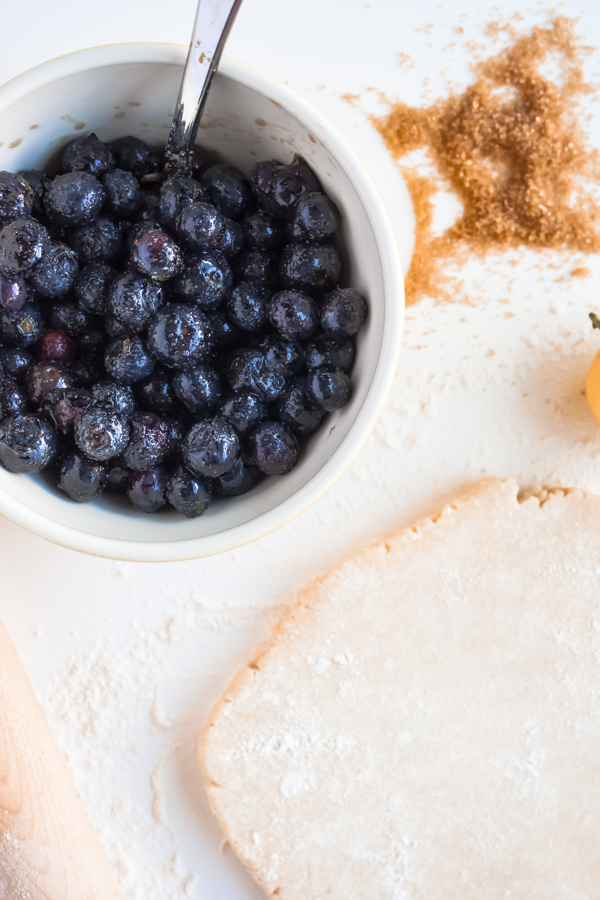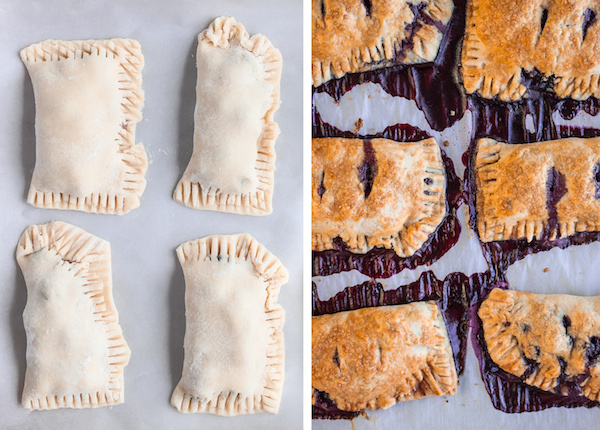 While these hand pies definitely require a bit of work and patience to assemble, the end result is so memorable.
These would make a wonderful summertime dessert, particularly for Memorial Day or Fourth of July celebrations!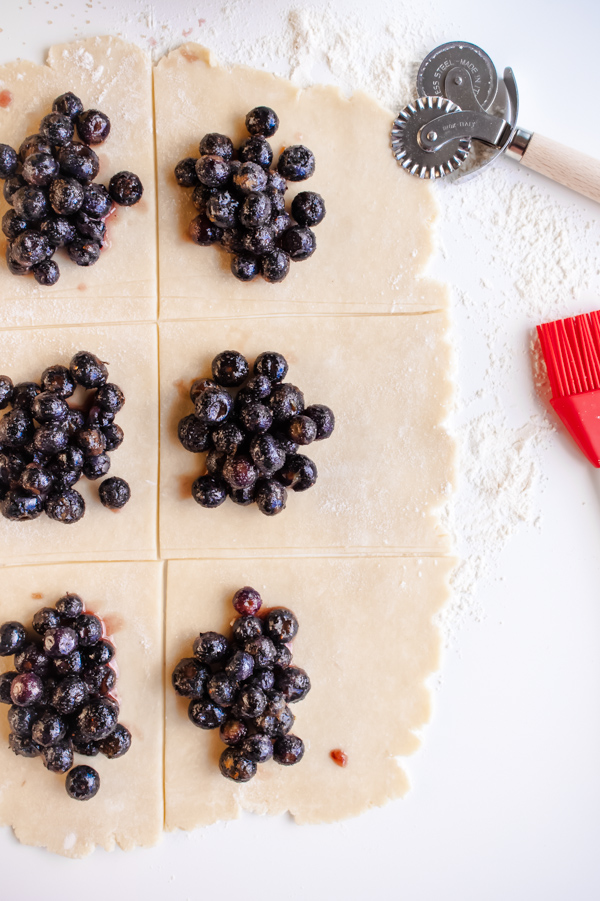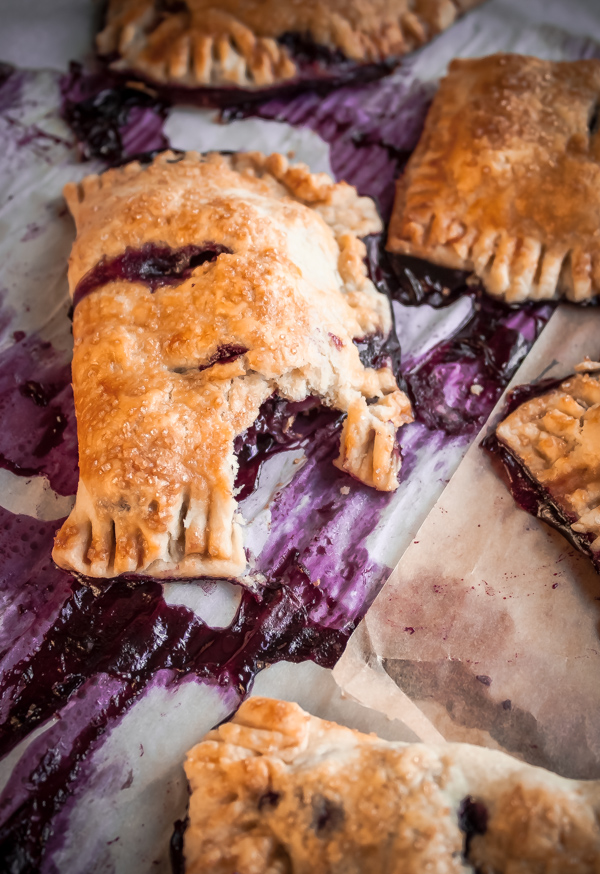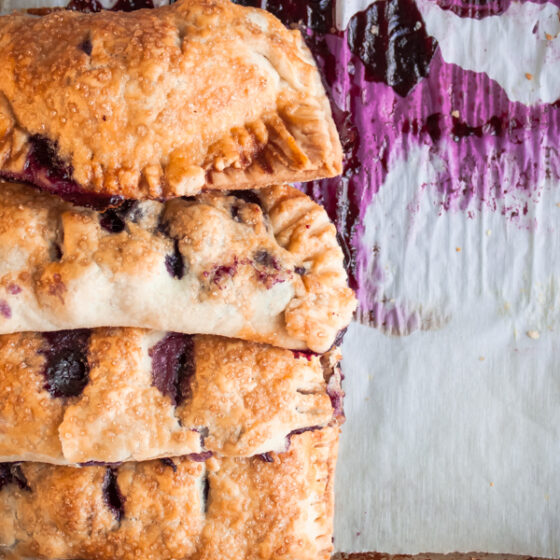 Blueberry Hand Pies
Fresh and lightly spiced blueberry hand pies are the perfect portable dessert for summer, Memorial Day, and Fourth of July parties.
Ingredients
Pie Dough:
1½ cups unbleached all-purpose flour plus more for dusting
1 teaspoon granulated sugar
¼ teaspoon kosher salt
4 ounces (115g) cold unsalted butter cut into ¼-inch cubes
¼ cup (60 mL) ice water
Blueberry Cinnamon Filling:
9 ounces fresh blueberries roughly 2 cups
zest of 1 lemon
¼ cup (50g) granulated sugar
1 tablespoon (15 mL) fresh lemon juice
½ teaspoon ground cinnamon
¼ teaspoon kosher salt
Egg Wash and Assembly:
1 large egg, plus 1 teaspoon water
sparkling sugar for sprinkling
Instructions
Prepare Pie Dough (At Least 2-3 Hours Before Baking): Combine the flour, sugar, and salt in the bowl of a large food processor. Pulse several times to mix thoroughly.

Add the cold cubed butter and pulse several times until the butter is thoroughly incorporated and the texture resembles that of a coarse meal. The butter pieces should be in varying sizes, some small and others slightly larger. This will result in the flakiest crust.

While pulsing, slowly add the ice water and continue to pulse until the dough just begins to clump together loosely. Transfer the dough to a clean counter top, shape together with your hands into a square disc, and wrap tightly in plastic wrap. Refrigerate the dough for 1½ –to 2 hours (or overnight).

Prepare and Assemble Hand Pies: Preheat the oven to 375°F (190°C) with a rack in the center position. Line a half sheet pan with parchment paper and set aside.

In a large bowl, combine the blueberries, lemon zest, granulated sugar, lemon juice, cinnamon, and salt. Mix thoroughly. In a separate bowl, prepare the egg wash by whisking together the egg and 1 teaspoon water. Set aside.

Remove the chilled pie dough from the fridge and allow it to rest at room temperature for 5 to 10 minutes. Unwrap and set on a lightly floured countertop. Using a rolling pin, roll the dough into a 12 x 15-inch (30 x 38 cm) rectangle. Using a pastry cutter or knife, cut the pie dough into six equal-sized rectangles. Don't worry if the edges are not perfectly straight.

Brush the edges of each pie dough rectangle with egg wash. Distribute the blueberry filling into the left-hand center of each rectangle, and fold the opposite dough edge over, draping over the filling. Use a fork to crimp and seal the edges of the hand pie. Trim and discard rough edges with a pastry cutter.

Set the hand pies onto the lined sheet pan. Brush the the tops of the pies evenly with egg wash and sprinkle with sparkling sugar. Using a sharp knife, cut two to three small slits into the top of the hand pie. This will allow steam to escape during baking.

Bake and Serve: Bake for 35 to 40 minutes, rotating halfway into baking, or until the pies are golden brown. Do not worry if some of filling spills out during baking, this is to be expected.

Set on a wire rack to cool slightly. Serve warm or at room temperature. Leftover hand pies can be wrapped tightly and stored at room temperature for up to 2 days.
Serving: 1serving, Calories: 315kcal, Carbohydrates: 41g, Protein: 4g, Fat: 16g, Saturated Fat: 10g, Polyunsaturated Fat: 1g, Monounsaturated Fat: 4g, Trans Fat: 1g, Cholesterol: 41mg, Sodium: 330mg, Potassium: 72mg, Fiber: 2g, Sugar: 15g, Vitamin A: 496IU, Vitamin C: 4mg, Calcium: 14mg, Iron: 2mg
This post contains affiliate links, which means that I make a small commission off items you purchase at no additional cost to you. Please read my
privacy policy
for more information.