Spicy Peanut Ginger Drumsticks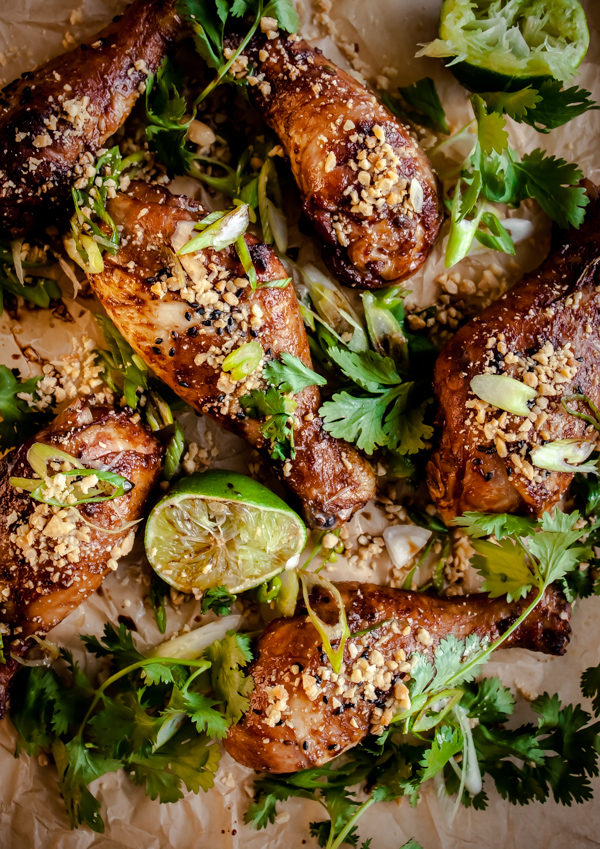 So I may or may not have smashed an entire bottle of sriracha on my kitchen floor while making these.
I can practically hear you saying, "But those bottles are made of plastic?" Why yes, yes they are. And yet somehow I was still able to smash it directly on the dispenser spout.
Sriracha explosion.
Everywhere.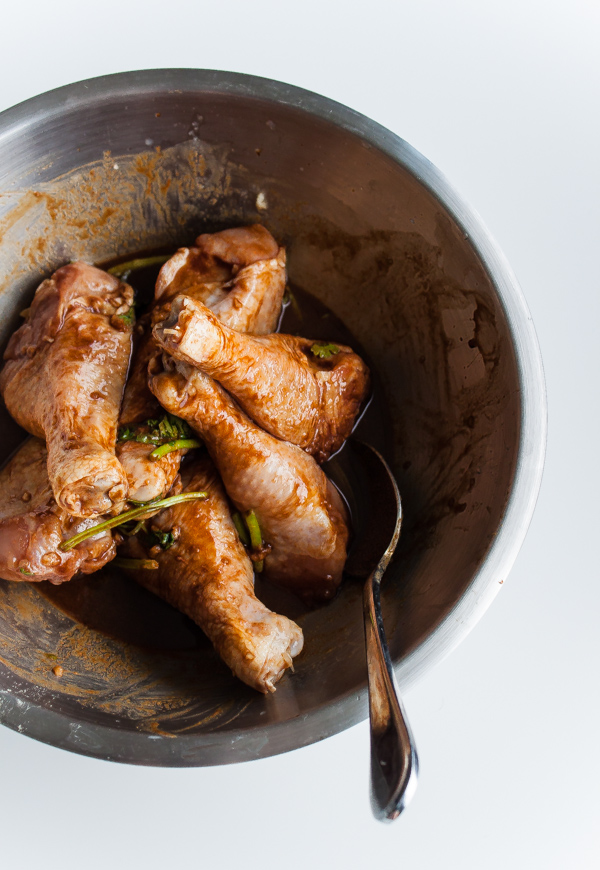 It was painful. I was wiping splattered sriracha off practically every surface within a ten foot radius. Every kitchen cabinet crevice. Did I mention that I had just bought that bottle less than 24 hours prior to this…incident?
I also woke up the next morning to discover dried sriracha on my foot.
Fun times.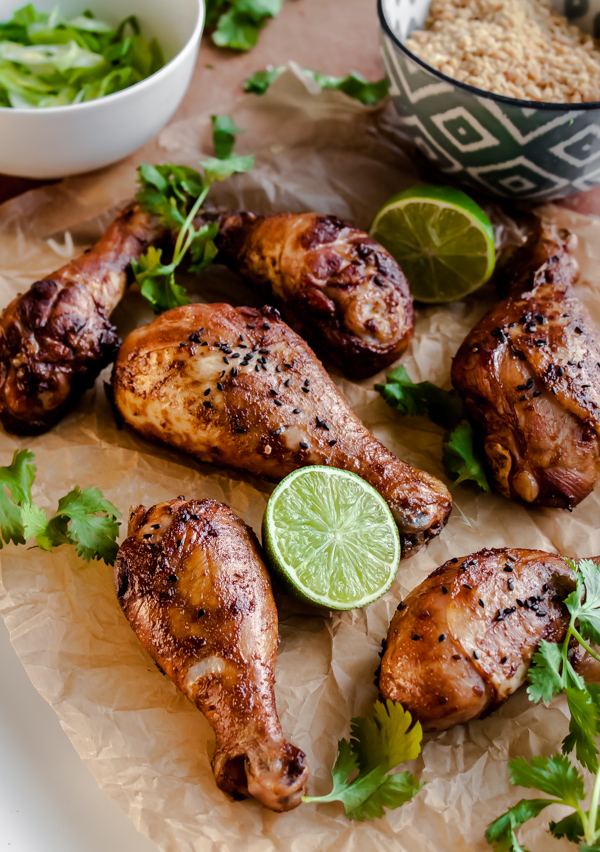 These spicy peanut ginger drumsticks were definitely a labor of love. Literally and figuratively.
Baked drumsticks can be a bit tricky. If you don't marinate them long enough or season the marinade aggressively, you can end up with lackluster flavor. Or worse, all the deliciousness is on the outside and the inside is bland and flavorless.
And that is never a good thing.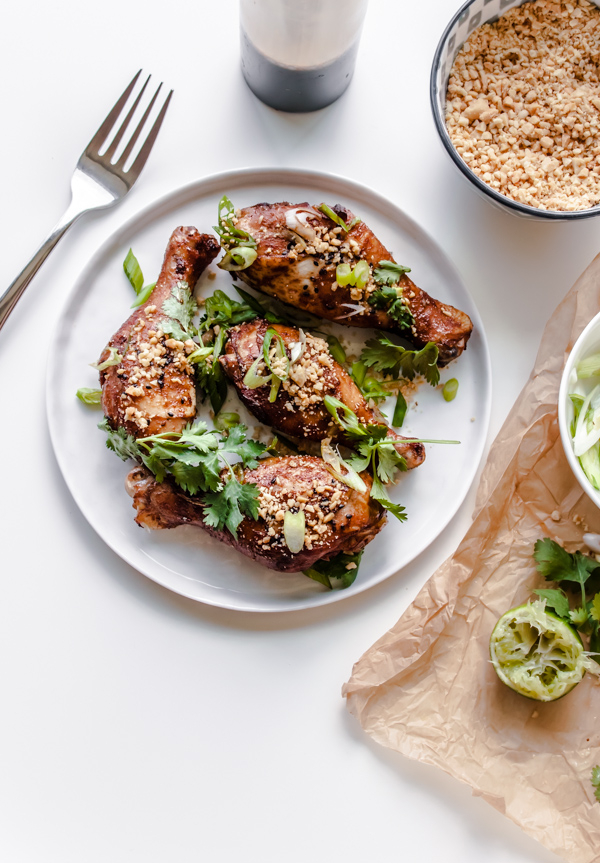 These drumsticks are far from bland due to two important steps: a) they are marinated for over 24 hours (this is crucial, 2-3 hours is not nearly enough), b) they are baked in the marinade, which results in a thick , glazes and contributes to the overall flavor even more.
Bonus? You can prep these the night before and have dinner ready on the table in less than 40 minutes.
They have a lot going for them. I had to play favorites when it came to naming the dish, but all of the ingredients are equal players. Lime, ginger, black bean garlic sauce, soy, peanut, sesame oil, and spicy sriracha. The list goes on and on. Then I went crazy and topped them with more crushed peanuts, black sesame seeds, scallions, cilantro and even more lime juice.
Texture heaven.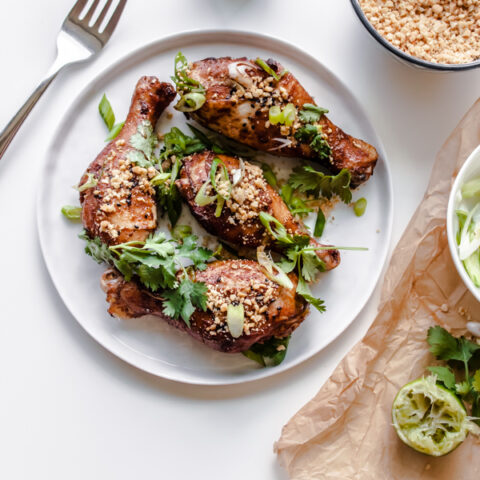 Spicy Peanut Ginger Drumsticks
Yield: 3-4 Servings

Prep Time: 10 minutes

Cook Time: 40 minutes

Total Time: 50 minutes
Ingredients
1/3 cup soy sauce
2 tablespoons black bean garlic sauce
1 tablespoon natural peanut butter
juice of 1 lime
2 teaspoons toasted sesame oil
1-inch piece of ginger, peeled and grated
1 tablespoon sriracha
2 teaspoons sugar
1/4  cup low-sodium chicken broth
handful of cilantro stems, washed
6-8 large chicken drumsticks (roughly 1.5 – 2 lb)
kosher salt
1-2 tablespoons toasted sesame seeds
roasted unsalted peanuts, crushed
cilantro leaves
fresh lime wedges
green onions, finely sliced
Instructions
Whisk the soy sauce, black bean garlic sauce, peanut butter, lime juice, sesame oil, ginger, sriracha, sugar, cilantro stems and chicken broth in a large bowl. Add the drumsticks and coat them evenly in the marinade.
Transfer marinade and drumsticks to a large Ziploc bag, removing as much air as possible. Place bag in a small baking dish or baking sheet and marinade for 24 hours in the fridge.
Remove the drumsticks from the fridge, and allow to them to rest at room temperature for at least 20 minutes. Preheat the oven to 375 degrees Fahrenheit. Place the chicken drumsticks along with the marinade in a medium ovenproof baking dish.
Bake for roughly 30 to 40 minutes, turning the drumsticks every 10 or 15 minutes, or until the internal temperature reads 165 degrees Fahrenheit. Allow to rest for 10 minutes.
Sprinkle the drumsticks with toasted sesame seeds. Serve the drumsticks with crushed peanuts, fresh cilantro, fresh lime, and sliced green onions as desired.
Nutrition Information:
Yield: 4 Serving Size: 1
Amount Per Serving: Calories: 669Total Fat: 41gSaturated Fat: 8gTrans Fat: 0gUnsaturated Fat: 28gCholesterol: 231mgSodium: 1683mgCarbohydrates: 19gFiber: 6gSugar: 6gProtein: 58g

A Beautiful Plate provides nutritional information, but these figures should be considered estimates, as they are not calculated by a registered dietician.