Blueberry Loaf Cake with Almond Streusel
This crumby, moist blueberry loaf cake has hints of molasses and honey and is topped with a buttery almond streusel.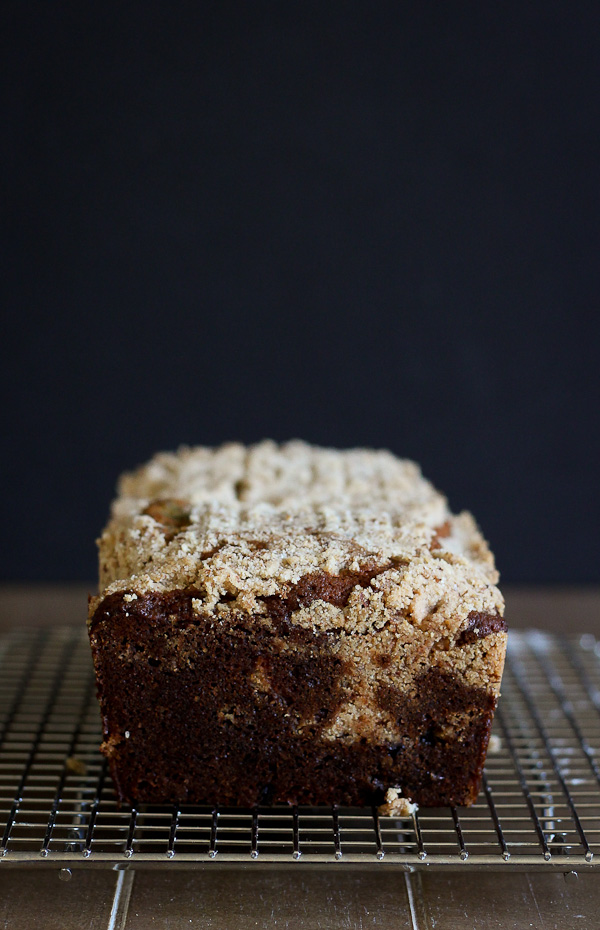 I might have solved the Monday blues. It involves this blueberry loaf cake and almond streusel.
Let's face it, streusel makes everything better.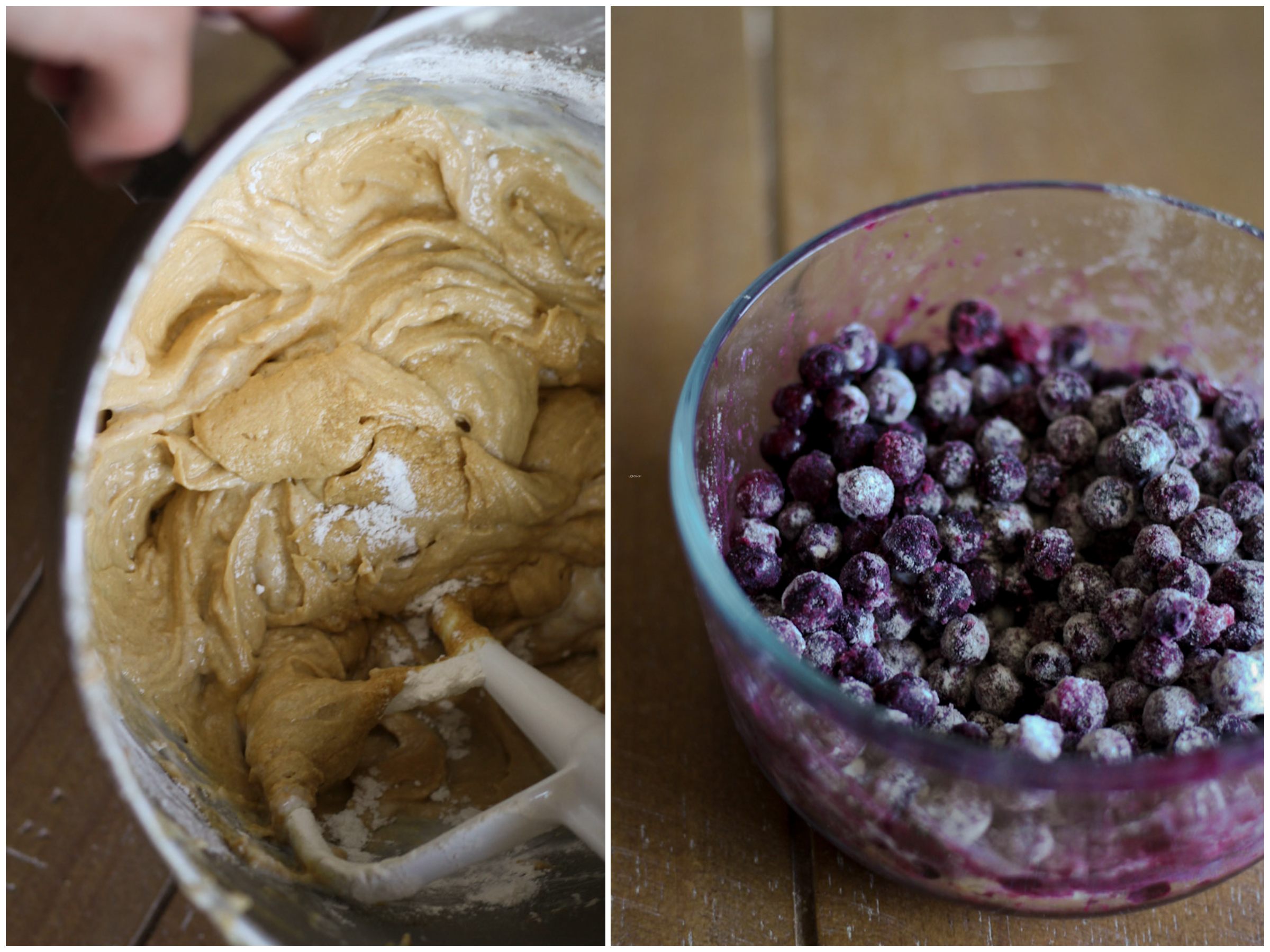 Is it just me or are great blueberry loaf cakes (or muffins) hard to come by? A few months ago, I finally had, in my own kitchen, the perfect blueberry muffin.
It was soft and moist, full of wild blueberries with hints of dark molasses and sweet honey, and had the perfect fluffy crumb. They were impossible to resist.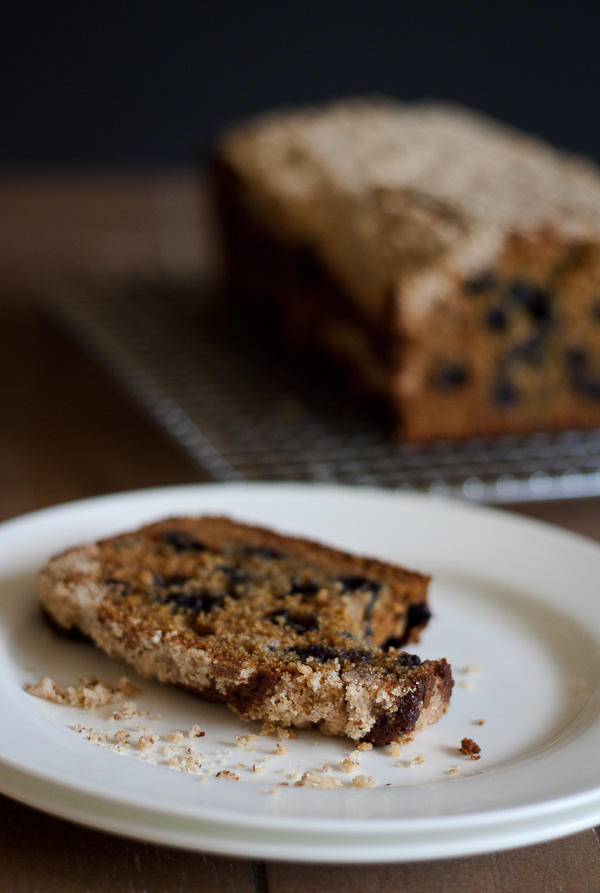 Those perfect blueberry muffins were the brainchild of none other than Thomas Keller and Sebastien Rouxel. It all makes sense now. I had recently bought the Bouchon Bakery cookbook and instantly gravitated towards their classic blueberry muffin recipe.
It was my first time baking something out of the cookbook and whenever you are weighing ingredients to half grams, refrigerating batter overnight, and measuring eggs in liquid cups, your expectations will inevitably be high.
I was pretty invested in the muffins.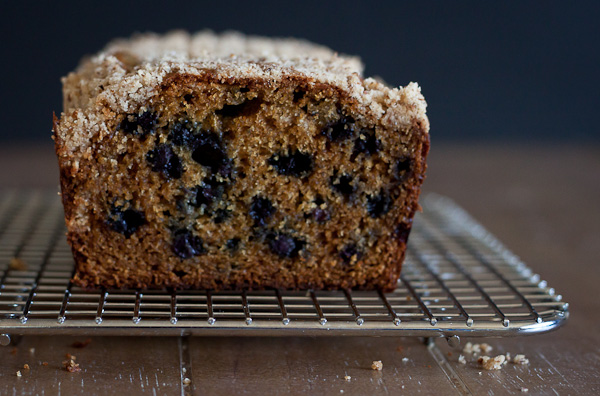 Luckily, the muffins came out beautifully and they exceeded my expectations. However, they were far more finicky than they needed to be.
I ended up tinkering with the recipe quite a bit to eliminate odd measurement quantities and hassle. I also adapted the recipe to be made in a loaf pan.
The resulting quick bread was fantastic and just as good as the original, just a heck of a lot easier to make!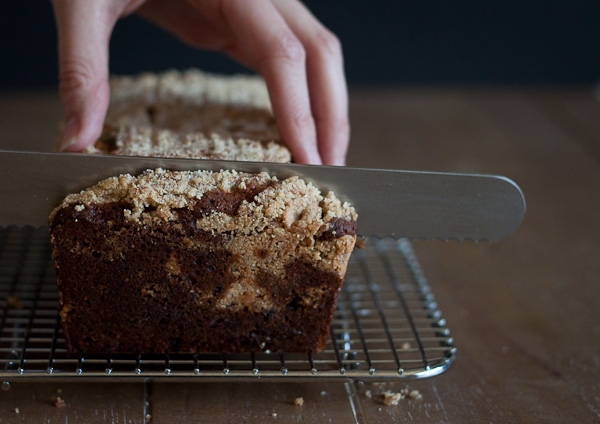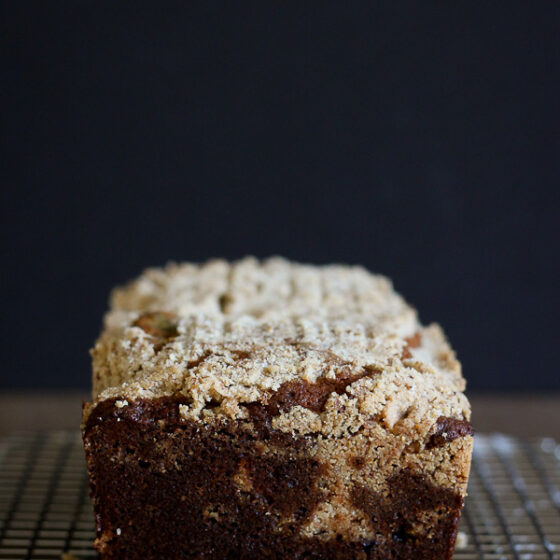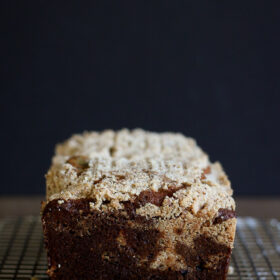 Blueberry Loaf Cake with Almond Streusel
This crumby, moist blueberry loaf cake has hints of molasses and honey and is topped with a buttery almond streusel topping.
Ingredients
Almond Streusel:
½ cup almond flour/meal
¼ cup (50g) granulated sugar
¼ teaspoon ground cinnamon
⅛ teaspoon Diamond Crystal kosher salt
2½ ounces (70g) cold unsalted butter cut into ¼-inch cubes
Blueberry Loaf Cake:
¾ cup + 3 tablespoons frozen wild blueberries
1¼ cups cake flour
½ cup + 1 tablespoon unbleached all-purpose flour divided
¾ teaspoon baking powder
½ + ⅛ teaspoons baking soda
½ teaspoon Diamond Crystal kosher salt
3½ ounces (100g) unsalted butter softened just slightly
1/2 cup granulated sugar
3 tablespoons unsulphured molasses
1 tablespoon honey
2 large eggs room temperature
1 teaspoon pure vanilla extract
¼ cup (60 mL) buttermilk room temperature
Instructions
Prepare Streusel: Combine the almond flour/meal, granulated sugar, cinnamon, and salt in a small mixing bowl. add the butter and toss to coat. Using fingertips, cut the butter into the dry flour mixture until small crumbs form. Place streusel in the freezer while you prepare the cake batter.

Make Cake: Preheat the oven to 350°F (175°C) with a rack in the center position. Grease a 9 x 5-inch loaf pan, line with a parchment paper sling for lifting, and set aside. Combine the frozen blueberries with the 1 tablespoon of unbleached all-purpose flour and toss to coat. Place in freezer until ready to use.

In a medium bowl, whisk together the cake flour, remaining all-purpose flour, baking powder, baking soda, and salt. Set aside.

Place the butter in the bowl of a stand mixer fitted with a paddle attachment. Cream the butter over medium speed for 2 to 3 minutes. Add the sugar and beat over medium speed for another minute or until the mixture is fluffy and light.

Scrape down the bowl using a spatula and add the honey and molasses, mixing over medium speed for another minute to incorporate. Reduce speed to low and slowly add the eggs one at a time until each has been incorporated. Add the vanilla and mix until combined. Scrape down the bowl once or twice as needed.

Over low speed, add half the flour mixture and mix until just combined, followed by half of the buttermilk. Repeat with remaining flour and buttermilk. Do not over mix. Scrape down the bowl with a spatula to ensure all of the ingredients are evenly incorporated.

Remove the streusel and blueberries from the freezer and using a spatula, carefully fold the blueberries into the batter. Do this gently to avoid color bleeding from the berries. Transfer half of the batter to the greased loaf pan - spreading it out into an even layer with an offset spatula. Sprinkle half of the streusel

Add about half the batter to the loaf pan–spreading it out lightly so it is in an even layer. Sprinkle half the streusel mixture over the batter. Scrape the remaining batter on top and spread out evenly with an offset spatula. Top with the remaining streusel (it will be a relatively thick layer) and pat it down gently with your fingertips.

Bake for 55 to 60 minutes or until a skewer inserted in the center of the cake comes out clean. Allow loaf to cool (in the pan) on cooling rack for 10 minutes. Use the parchment sling to lift the cake from the pan and set on a wire rack to cool. Serve the cake slightly warm or at room temperature.

Best served the day of baking. Leftovers can be wrapped in foil and stored in a Ziplock bag for 2 to 3 days at room temperature.
Adapted from Thomas Keller's Bouchon Bakery Blueberry Muffins.
Serving: 1serving, Calories: 270kcal, Carbohydrates: 26g, Protein: 3g, Fat: 18g, Saturated Fat: 9g, Polyunsaturated Fat: 8g, Cholesterol: 74mg, Sodium: 213mg, Fiber: 1g, Sugar: 22g
This post contains affiliate links, which means that I make a small commission off items you purchase at no additional cost to you. Please read my
privacy policy
for more information.