Blueberry Loaf Cake with Almond Streusel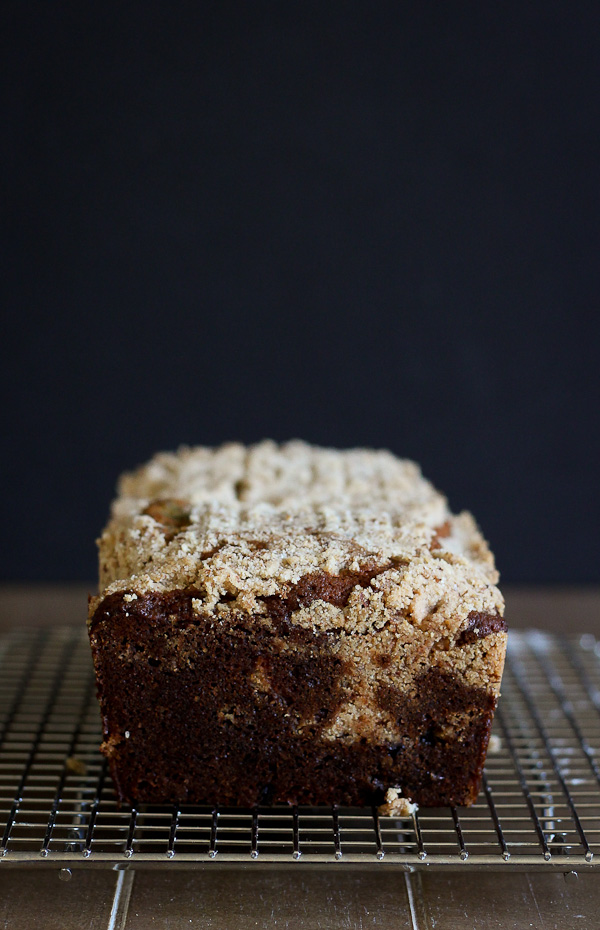 So I think I might have solved the whole Monday blues thing and…it involves this blueberry loaf cake.
And lots of almond streusel.   Because, let's face it, streusel makes everything better.  Correction!  Two layers of streusel make everything better.
I added a totally unnecessary (but oh, so lovely) layer of streusel right in the center of the loaf, just because I could.  I'm (not) sorry.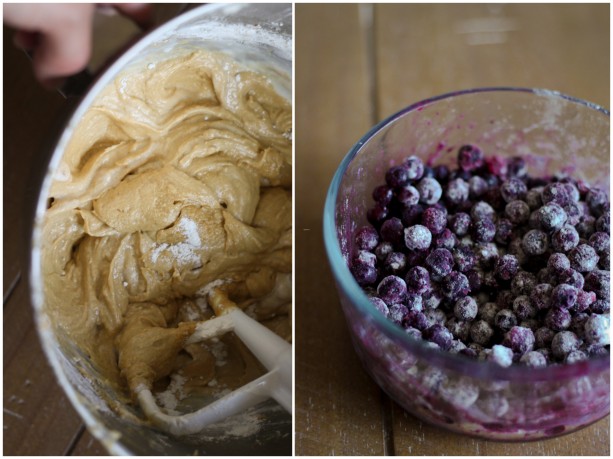 Is it just me or are great blueberry loaf cakes (or muffins) really hard to come by?  And yet, I seem to crave them all. the. time.
A few months ago, I finally had, in my very own kitchen, the perfect blueberry muffin.  It was soft and moist, chock full of wild blueberries with hints of dark molasses and sweet honey, and had the perfect crumb.  I ate one…and within minutes, was reaching for another.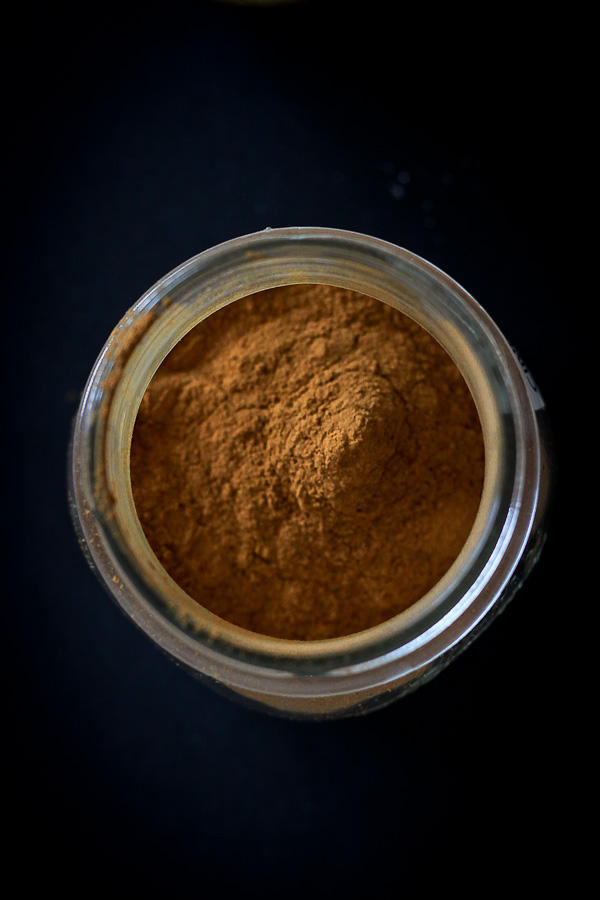 Those perfect blueberry muffins were the brainchild of none other than Thomas Keller and Sebastien Rouxel.  It all makes sense now.
I had recently bought the Bouchon Bakery cookbook and instantly gravitated towards their recipe for this classic baked good.  Had I finally found the perfect blueberry muffin?  I gathered the ingredients and got to work.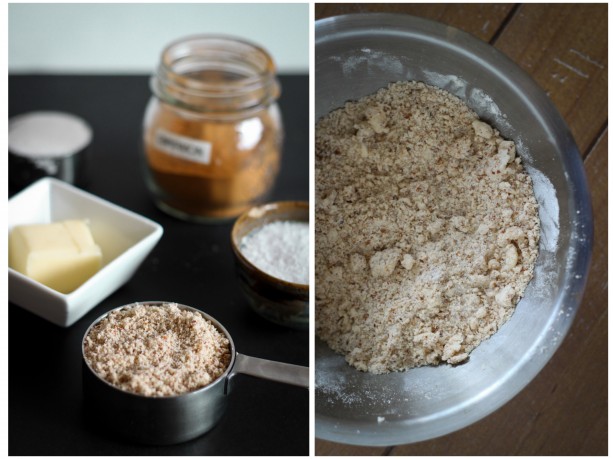 It was my first time baking something out of the book and whenever you are weighing ingredients to half grams, refrigerating batter overnight, and measuring eggs in liquid cups, your expectations will inevitably be high.  This-better-be damn-good-if-I'm-going-to-go-through-this-much-trouble-for-muffins high.  
I was pretty invested in the muffins by that point, if you can't already tell.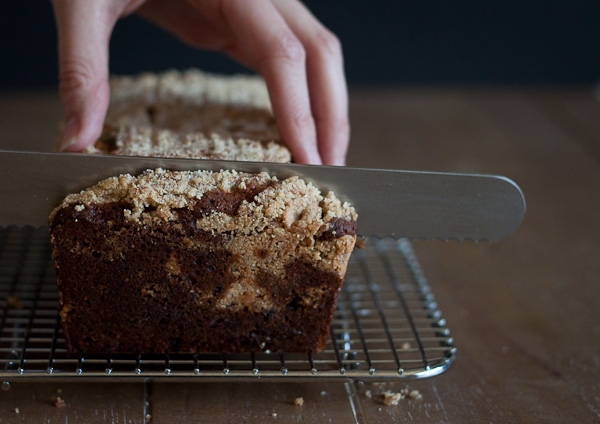 Luckily, the muffins came out beautifully and they totally exceeded my expectations.  Except for a few minor details…
While I personally don't mind breaking out the scale and weighing everything with precision (in fact, I personally love seeing grams and ounces in recipes), I don't think its as convenient for most people, especially if they don't happen to own a kitchen scale.
And, despite understanding the purpose of refrigerating the batter overnight (to absorb the flavors and hydrate the flours), since the batter was inevitably cold the next day, it made it very difficult to fold in the blueberries without bleeding the color into the batter.  
Plus, muffins that require 18 hours of planning don't usually jive with most peoples' schedules…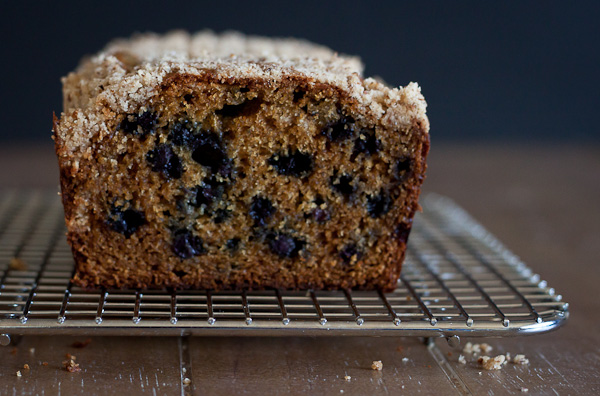 So I ended up tinkering with the recipe.  A lot.  Thomas Keller probably wouldn't approve, but let's just assume he won't find out…

First off, I decided to turn the recipe into a loaf cake to make it a little more different and unique.  What's better than muffins?  Muffins in loaf cake form.  I also left out the step to refrigerate it overnight, making it much easier to incorporate the blueberries–plus, I couldn't discern any difference in the final baked good.  Plus, it means you can make this in just over an hour. 
In addition, I adjusted the streusel recipe, as well as many of the other ingredients to avoid the whole "1/4 cup + 1.5 teaspoon" egg measurement of the original.  Because, let's be honest, that is just a pain in the butt.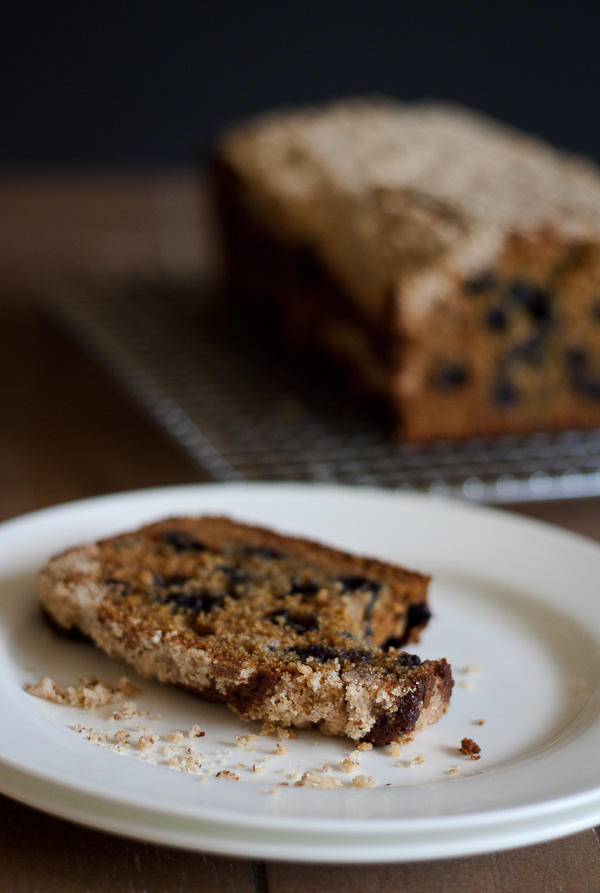 The bones of the original recipe are still there, which in this case is a very good thing, but it now has the added bonus of being much easier to follow, execute, and and therefore, bake on a regular basis–as opposed to only special occasions.
Which, hopefully, will result in more of you making and enjoying the outcome!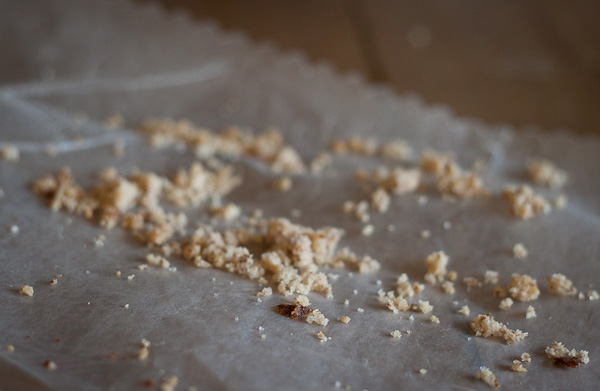 Hmm…streusel crumbs.