The City of Napoli
This is officially my last Italy recap!  All good things must come to an end– and now its back to real life, wacky DC heat waves, exorbitant pizza prices, and Starbucks house blend.
Let's hold off just a wee bit longer though and all live a little vicariously one last time…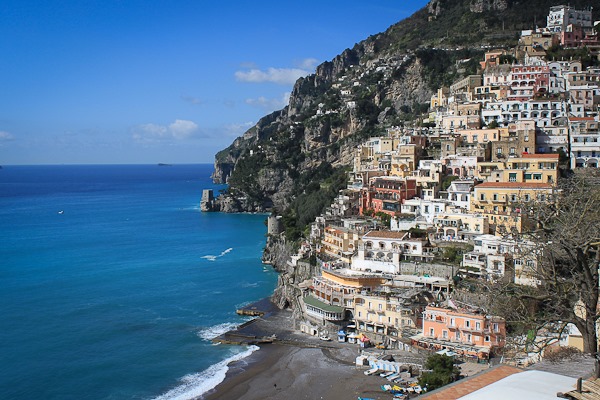 Friday morning, Connor and I woke up, enjoyed our last breakfast in Positano, and eventually headed out onto the road to head back to Naples.
Our first agenda was returning the car to the airport.  When we booked the trip, we decided to add an additional two nights in order to give us some time to explore Naples–however, I am so, so glad we didn't have the car beyond this point.  I honestly don't know if we would have ever found our hotel.  And I'm sure I would have had a heart attack in the process.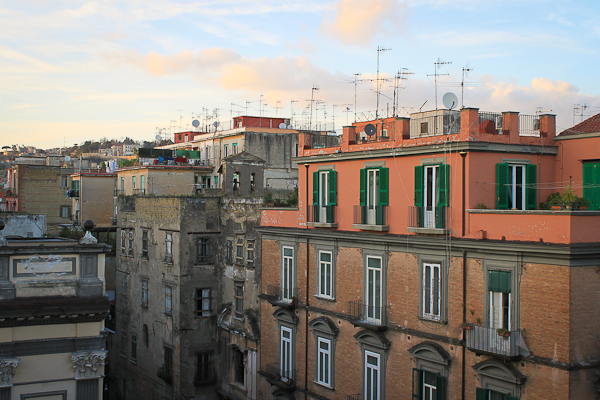 With a bit of research before leaving, I had discovered a cute bed & breakfast called Zia Maria, which was conveniently located in the heart of Spaccanapoli, the historic center of Naples.  The B&B is located on the fifth floor of an apartment building and is run by a very nice Italian couple.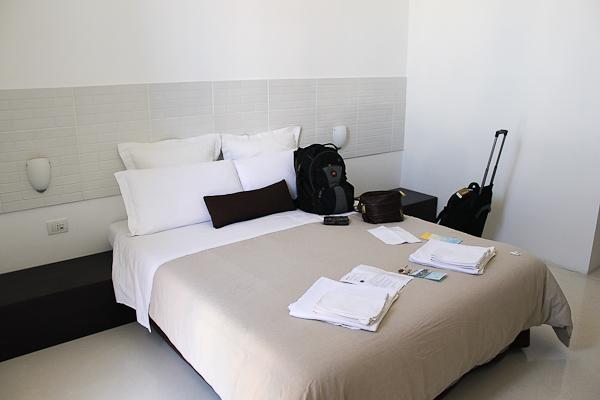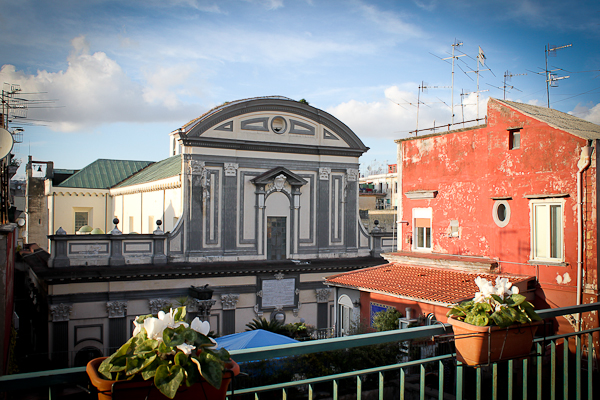 Even though our taxi driver struggled a bit to find it, we eventually arrived and met the owners, who showed us to our room, which overlooked the piazza below and was within sight of the famous Duomo…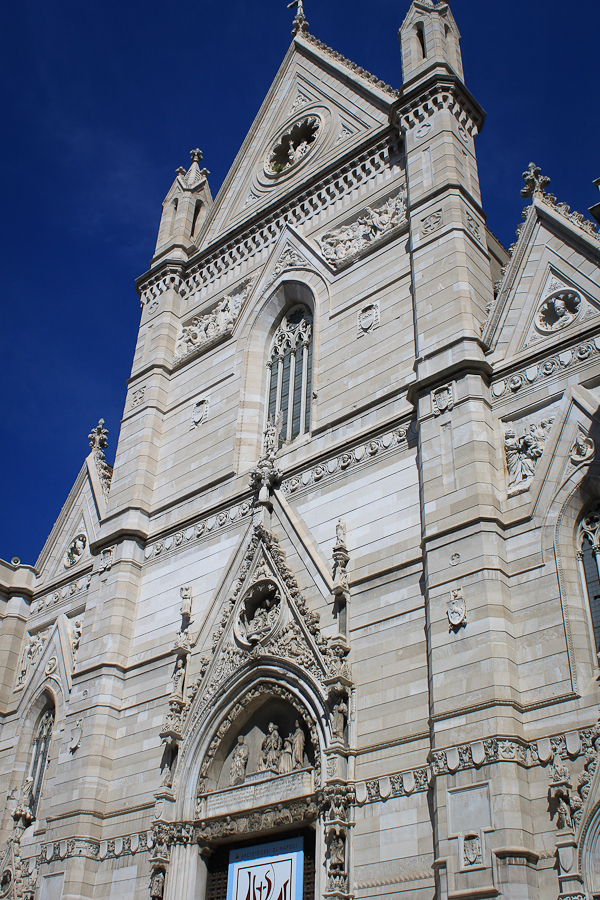 After settling ourselves in, Connor and I decided to head out and familiarize ourselves with the area.  It was definitely different to suddenly be in a bustling, crowded city after spending the previous six nights in sleepy, quiet coastal towns.
Compared to other Italian cities, Naples has a reputation among Italians for being, to this day, very authentically Italian.  It was surprisingly difficult to find anyone that spoke any English and we barely saw any tourists at all, which was sort of refreshing.  Except for the fact that it made Connor and I stick out like sore thumbs…

The historic center is full of narrow alleys and cobblestone streets.  And when you look up, all you see are flags and flags of laundry hanging out to dry.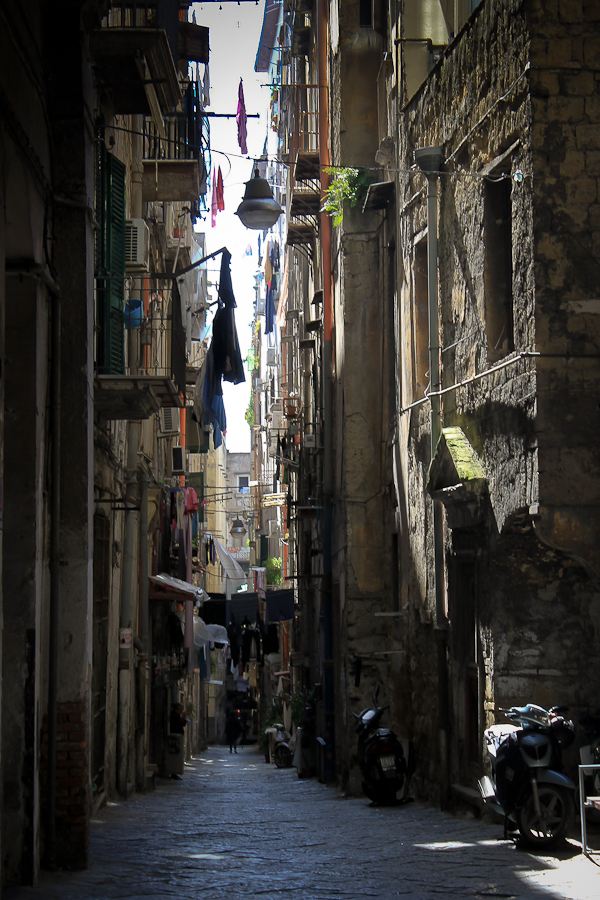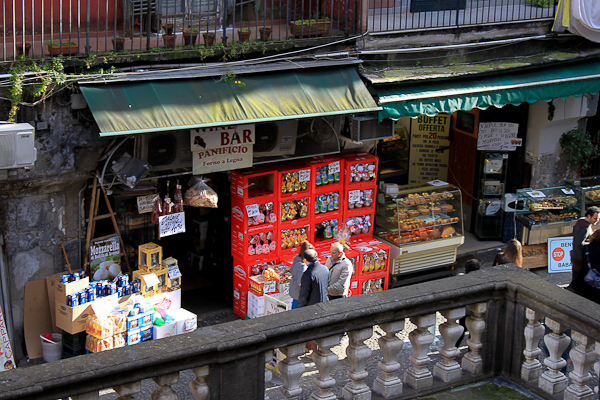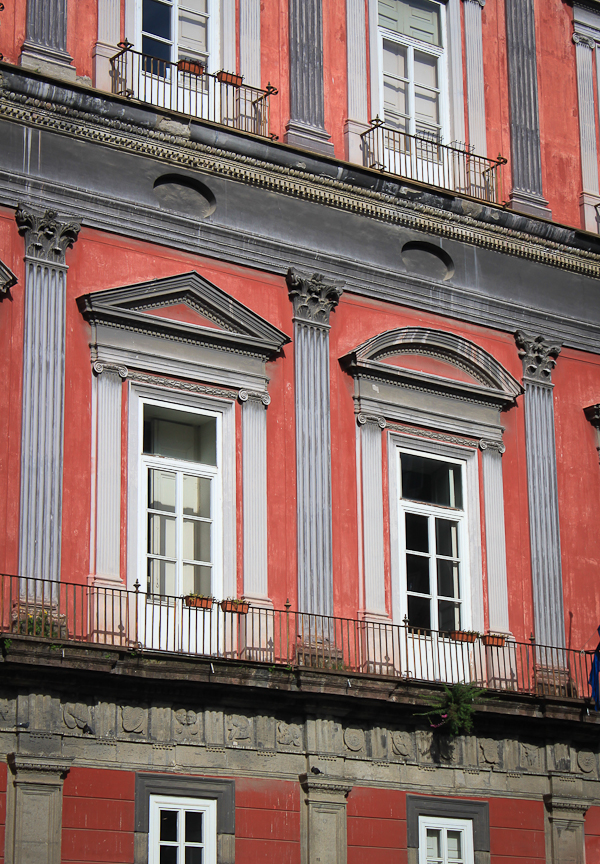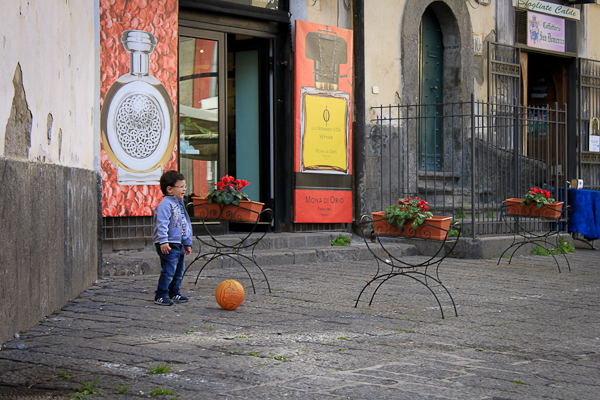 There is a lot of graffiti all over the city, but Naple's is full of amazing architecture.  And there are beautiful old churches on almost every street corner.
Including the amazing, Gesu Nuovo, which we visited later that afternoon…  It actually originally used to be a fortress and was later turned into a church–and took about 40 years to build, which isn't hard to believe once you see the inside…

After walking around a lot and visiting many of the churches and main sights, we ended up grabbing a casual lunch in a square near our B&B.  Even though we saw (and smelled) pizza all around us, we forced ourselves to order something else and save our first authentic Neaopolitan pizza experience for later that night…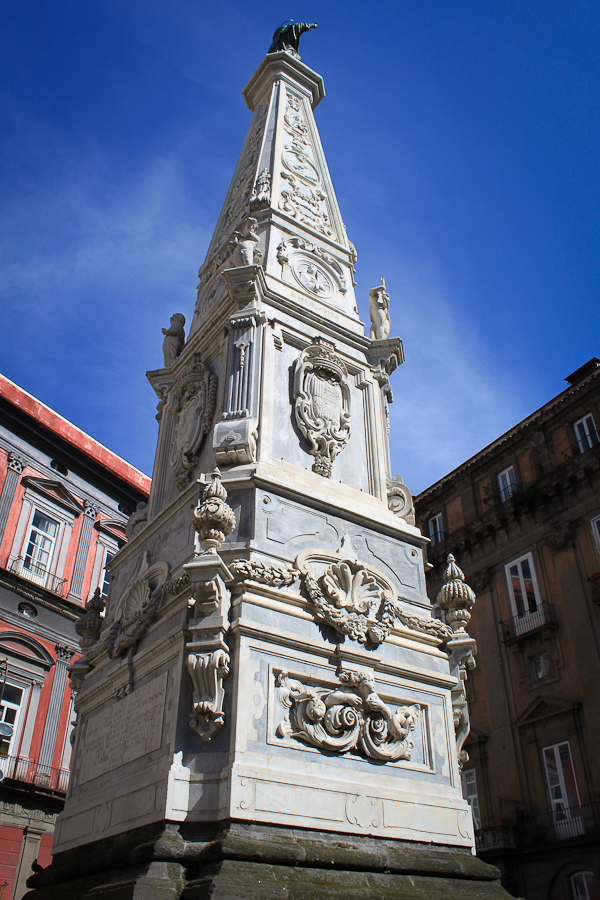 Soup was the perfect choice!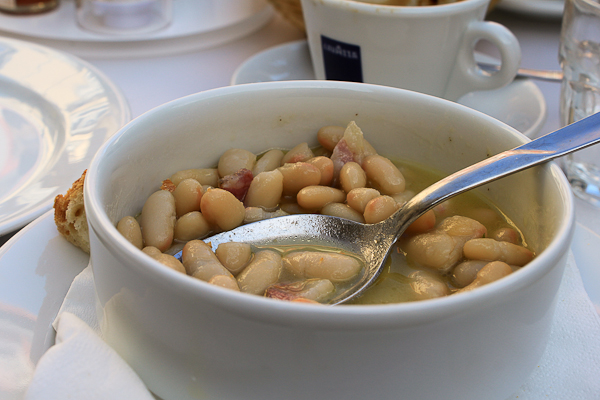 Eventually, we headed back to the hotel to chill and relax a bit in the afternoon.  But first, we walked around and found our pizza spot for that night!  Zia Maria is conveniently located right off of Via Tribunali, a road which is famous for having the best pizza places in the city.  This might have factored into my B&B choice, not gonna lie.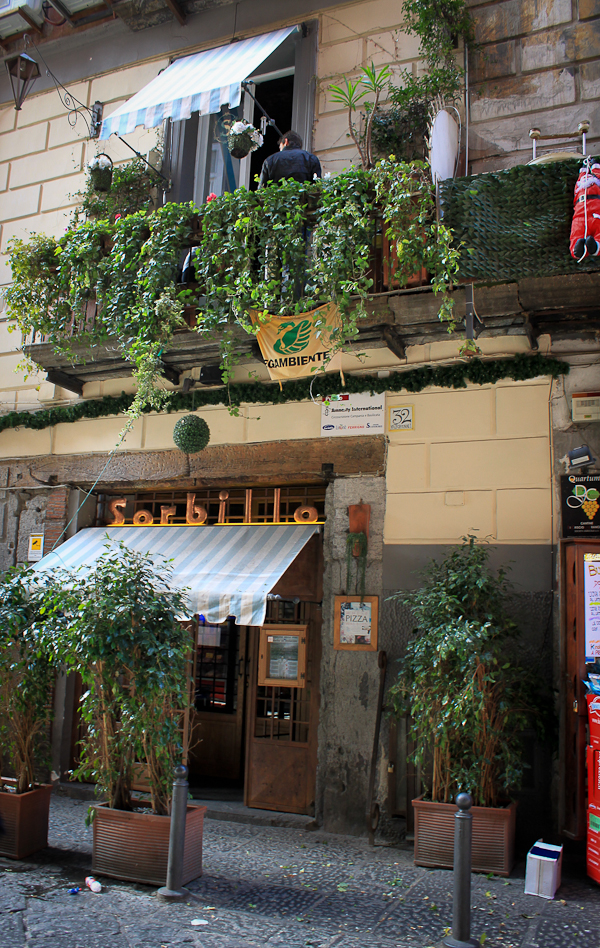 Gino Sorbillo is the most popular spot on this street, and is considered to have some of the best, if not the best, pizza in the whole city.  

We ended up heading out that night to grab a table at around 8:30 and encountered a pretty big line–but only ended up having to wait for 20 minutes or so.  They actually take peoples' names and then call them out on a loudspeaker outside the restaurant.  It is a very casual pizza spot.  The kind of place that serves water in plastic cups, sells cheap beer and wine, and sports a disco ball.  Sorbillo sell all sorts of pizzas, but of course, we had to go with the classic margherita.
Brace yourselves for this one…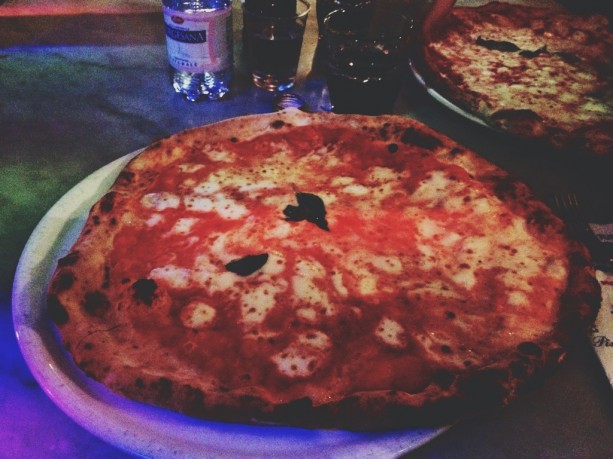 Can you hear angels singing?  Because I can.
We each ordered our very own pizza and within a few minutes, they arrived at our table piping hot and flopping off of the plates.  They were each at least a foot in diameter and I'm unashamed to say that I ate every last bite (yes, I was totally stuffed by the end of the meal).
Does it get any better than this?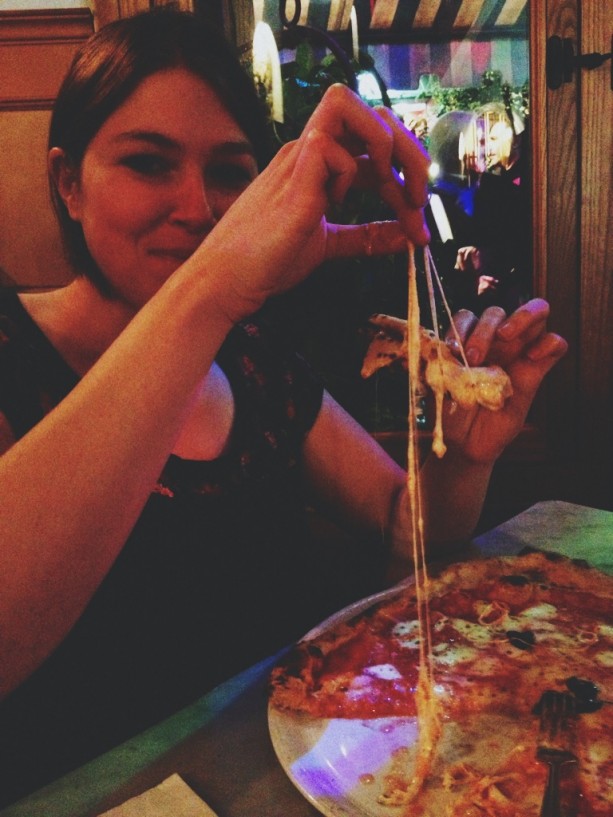 Can I also mention that the pizzas were only 3.30 euros??!??!?!?  As in, barely over FOUR DOLLARS each!!!!!  There really are no words.  
And yes, we went there again the next night…except that time, we encountered a street full of people waiting to be seated.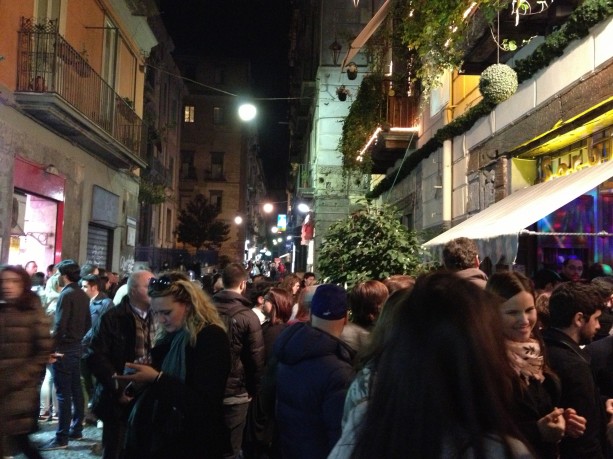 I've literally never seen a more crowded restaurant in my life.  And they were all local Italians.  So instead of waiting for probably hours, we decided to get take out (which took all of 10 minutes) and bring it back to our B&B.   To mix it up, the second night we ordered simple marinaras, which are topped with sauce, oregano, and sliced garlic–no cheese.  Just as good–and only 2.50 euros.  Seriously, this will never cease to amaze me.
And since the pizza pictures have probably now stolen everyone's attention, here is a quick recap of what we did the following day, before catching a very early flight home on Sunday morning.
Walked down to central Naples, where we checked out the Castel Nuovo from afar…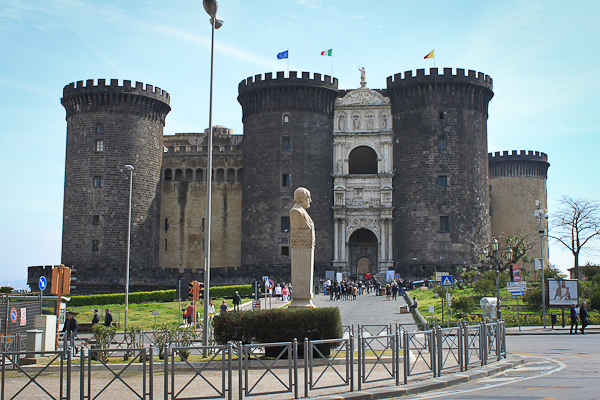 Before going to see the Galleria Umberto, which is basically an indoor mall, but is definitely a must-see.   Look at that glass roof!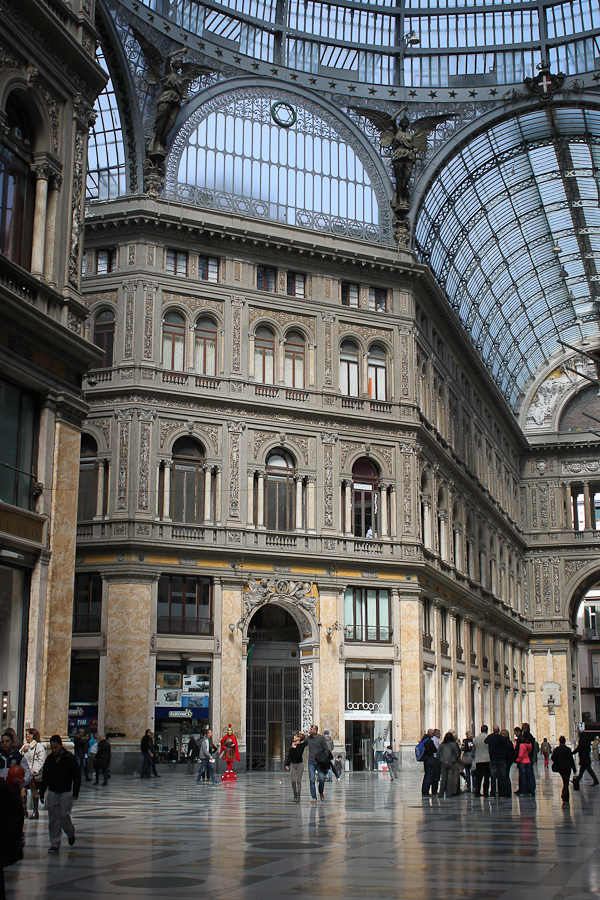 Followed by a self-guided tour of the Palazzo Reale (the Royal Palace of Naples), where we spent the next hour or so, visiting the many royal apartments and chambers…
Even though we spent only about 36 hours in Naples, I'm so glad we added those last two nights to the trip and had the chance to experience Italy in all its glory.
I hope you all enjoyed reading these last travel posts as much as I enjoyed writing (and reliving) them!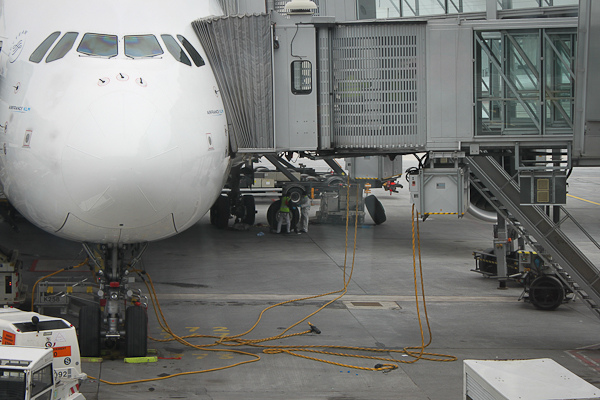 This post contains affiliate links, which means that I make a small commission off items you purchase at no additional cost to you. Please read my
privacy policy
for more information.