Blueberry Quinoa Pancakes
This post contains affiliate links.
Yep!  I finally figured out a way to use that elusive and taunting  quinoa flour in my pantry…
BLUEBERRY QUINOA PANCAKES!
Ever since I made chickpea pasta, I've been contemplating what quinoa pasta would taste like.  But last night, I was craving pancakes for breakfast.  So I broke out the unopened box that has been sitting there for who knows how many months and gave it a try.  And guess what?  It worked out magnificently!
These pancakes had a great texture from the quinoa flour (it lent it a nice subtle grainy texture).  In addition, quinoa is one of only a few complete proteins out there, so these are quite healthy.  However, don't go too wild and think about trying to make 100% quinoa pancakes!  Since quinoa is gluten-free, you need some sort of regular flour in order to make these babies rise properly.
Here's what you'll need: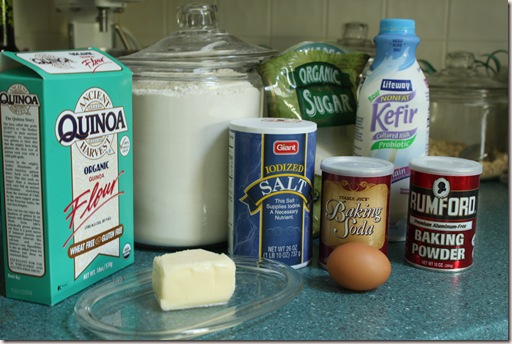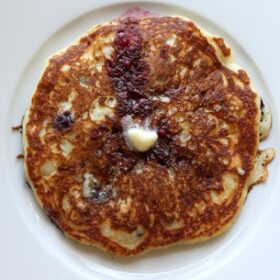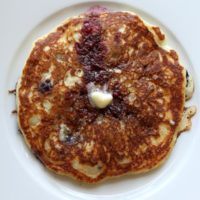 Blueberry Quinoa Pancakes
Yield: 6 Pancakes
Prep Time: 15 minutes
Cook Time: 20 minutes
Total Time: 35 minutes
Ingredients
1/2 cup all-purpose flour (or whole-wheat pastry)
1/2 cup quinoa flour
1/2 teaspoon baking soda
1/2 teaspoon baking powder
1/8 cup cup evaporated cane juice sugar (or granulated!)
1/4 teaspoon salt
1 egg (or egg substitute)
1 cup Kefir
1 tablespoon unsalted butter, melted
3/4 cup frozen or fresh blueberries (optional)
Instructions
Mix dry ingredients (flour, sugar, salt, baking powder and soda) in large bowl.
Add wet ingredients (egg, Kefir or buttermilk, and melted butter). Whisk together until just mixed.
Ladle pancake batter into buttered non-stick pan over medium heat.
Drop in desired amount of blueberries into pancake batter. You never want to add the fruit to the batter beforehand, or the juices will cause the batter to turn purple!
Flip, cook and be patient! Don't pat down the pancake, as this will cause all the air and fluffiness to be lost! And then you might cry…
And remember to heat up the maple syrup in the microwave for 25-30 seconds! This makes a huge difference and keeps the pancake from becoming stone cold in about two seconds flat. Serve immediately.
Nutrition Information:
Yield: 3
Serving Size: 1
Amount Per Serving:
Calories: 296
Total Fat: 8g
Saturated Fat: 4g
Trans Fat: 0g
Unsaturated Fat: 4g
Cholesterol: 76mg
Sodium: 651mg
Carbohydrates: 47g
Fiber: 3g
Sugar: 17g
Protein: 11g
A Beautiful Plate provides nutritional information, but these figures should be considered estimates, as they are not calculated by a registered dietician.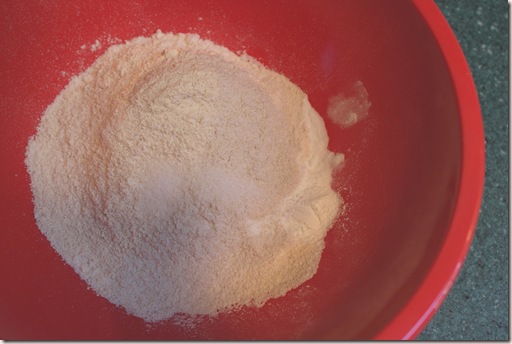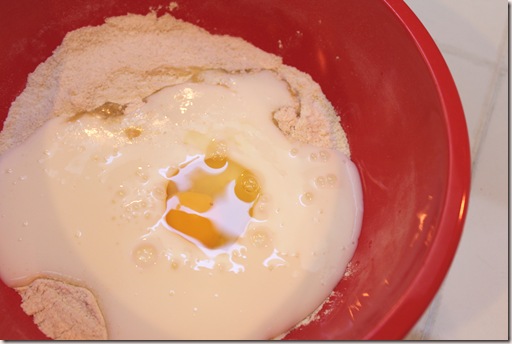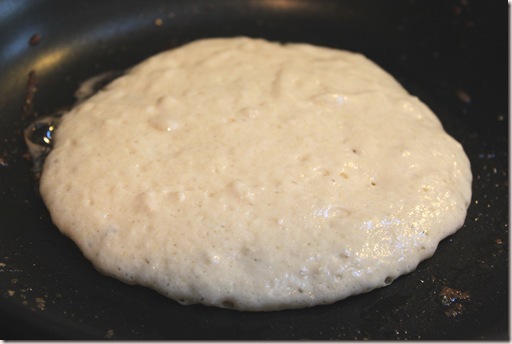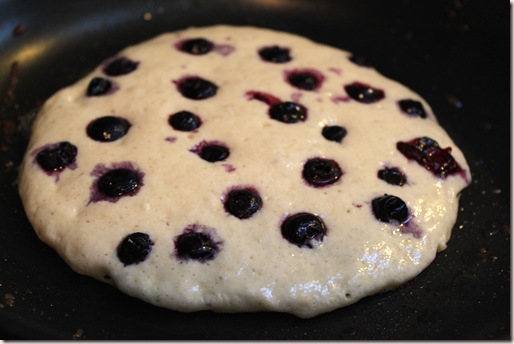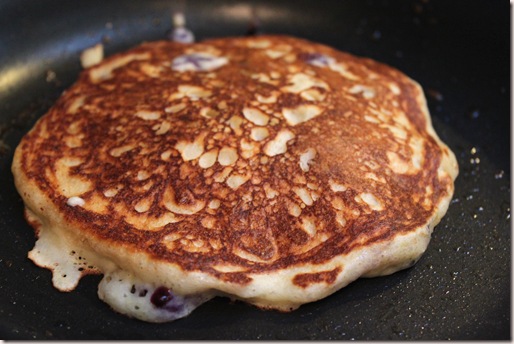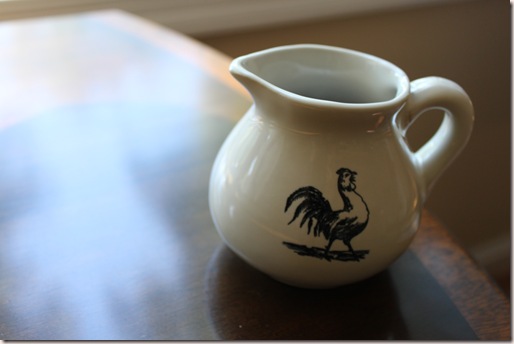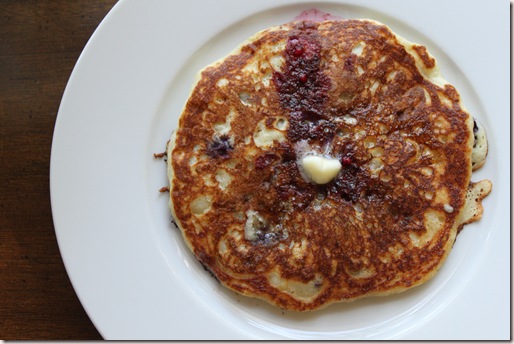 And there you have it…a new and creative way to make pancakes!  Of course, you could pretty much make these into what you're craving at the moment.  Another great idea? Mix together the dry ingredients in easy-to-grab Ziploc bags—so this way you make these at any time in only about 5 or 10 minutes max.
Remember, if you don't have buttermilk or Kefir (probiotic yogurt drink) on hand, an easy substitute is one cup of regular milk with one tablespoon of lemon juice, let sit for a few minutes, and you're on your way!  If you are vegan, you can do the same method, but with soy milk.  And just substitute the butter with your regular spread.
Hope you enjoy them as much as I did!
Kitchen Challenge: Take some quinoa in your pantry and grind in your blender.  1 Cup Quinoa flour = ¾ C whole quinoa.  You've now got quinoa flour!  Ok…now make these pancakes.  Or make something else, and share with the rest of us!
This post contains some affiliate links, which means that I make a small commission off items you purchase at no additional cost to you. Please read my
disclosure policy
for more information.