Braised Indian Chicken with Chickpeas and Spinach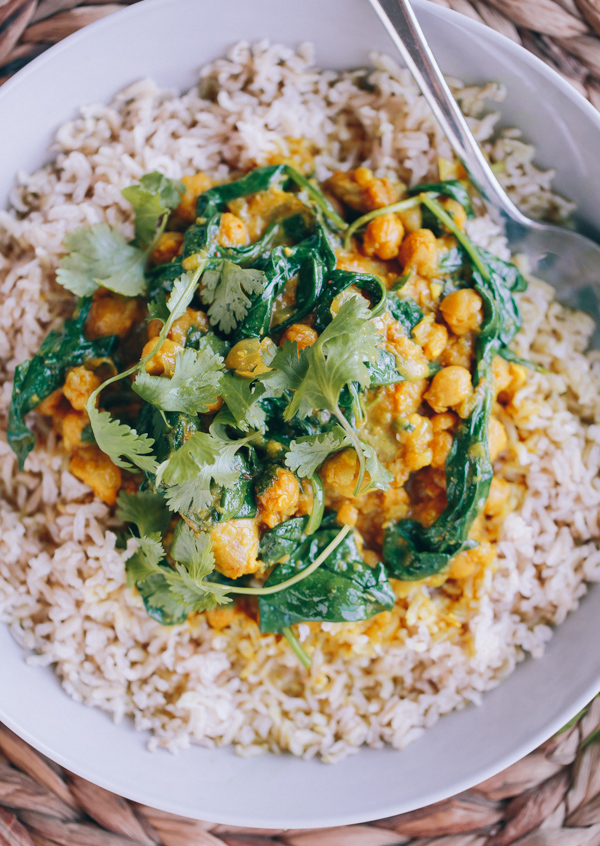 Let me preface this post by stating that today is my seventh full day on a cruise boat, and I've craving any and all Asian food (Indian, Japanese, Thai, etc.), so sharing today's recipe is particularly hard for me. I'm basically drooling on my keyboard right now.
But I'm also excited because I know that you are going to love this braised chicken dish. It is packed with flavor, the perfect amount of heat, reheats beautifully, can be prepped in advance, and is incredibly healthy to boot. Chickpeas and fresh spinach don't hurt either.
Oh, and it can be prepared in just over an hour (or less, depending on whether or not you break up the preparation steps).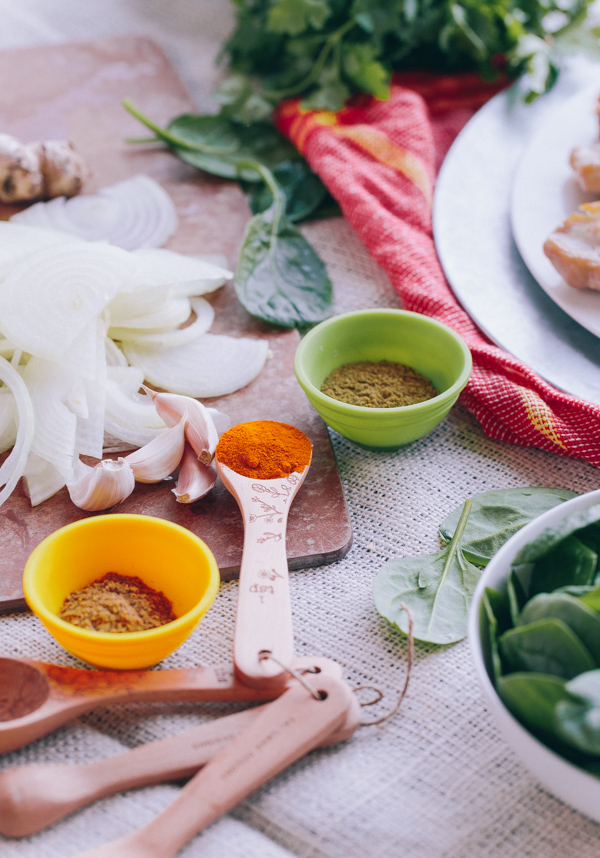 As far as weekday dinners, Connor and I eat some form of Indian food probably once every two weeks (sometimes, as often as once a week!). In fact, I'm hard-pressed to find any Indian dish or curry that I don't enjoy.
One of my absolute favorite (if not, favorite of all time) restaurants in Washington, DC is an Indian restaurant called Rasika. We visited the restaurant again as a family over the holidays, and I've vowed to step up my Indian cooking game ever since.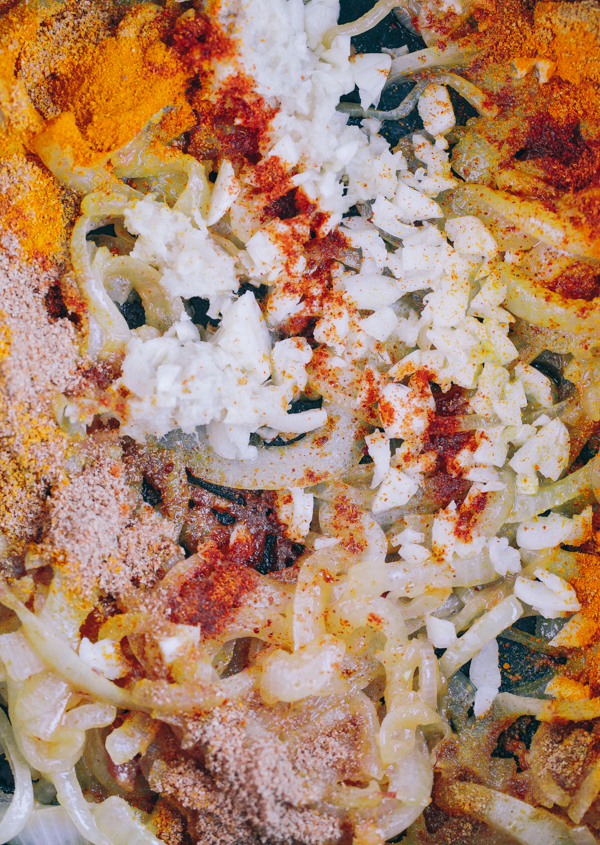 One the biggest challenges that I find in cooking Indian food at home is lack of ingredients or lack of time. Many great Indian recipes call for a huge number of spices, and most of them require a long cooking time in order to impart the depth of flavor that we all know and love.
So when I discover new recipes that require neither of these things, I'm always intrigued. Today's recipe was found in my ridiculously-never-ending-pile of old hoarded food magazines several weeks ago.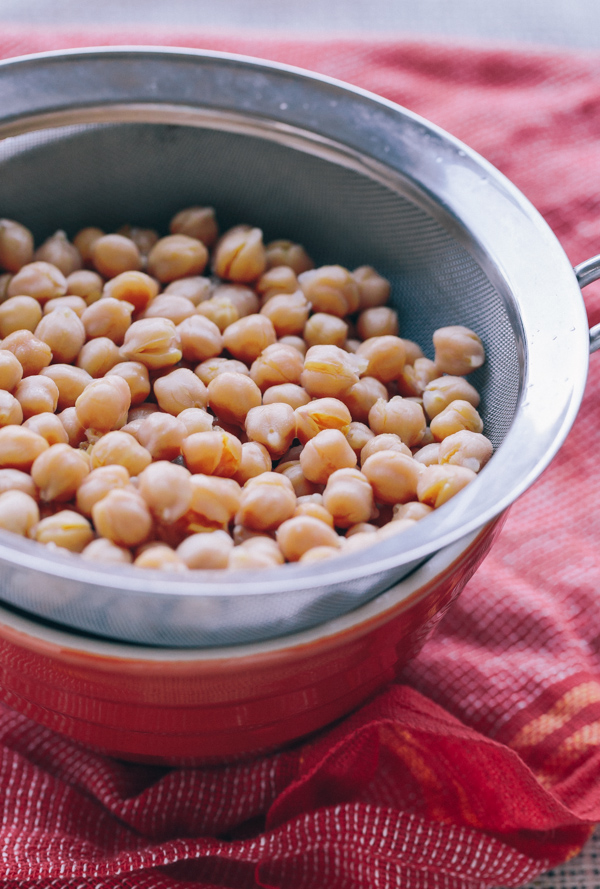 I loved that it contained just four dried spices (coriander, turmeric, cumin, and cayenne): all of which can be found at any grocery store, and most of which you most likely already have on hand in your spice cabinet at home.
It also uses one of the most under-appreciated, yet tasty and flavorful (did I mention…affordable?), chicken pieces: the thighs! Why yes, I'm a major fan of chicken thighs, and practically any and all dark meat.
If you're curious, I go all into it in this post.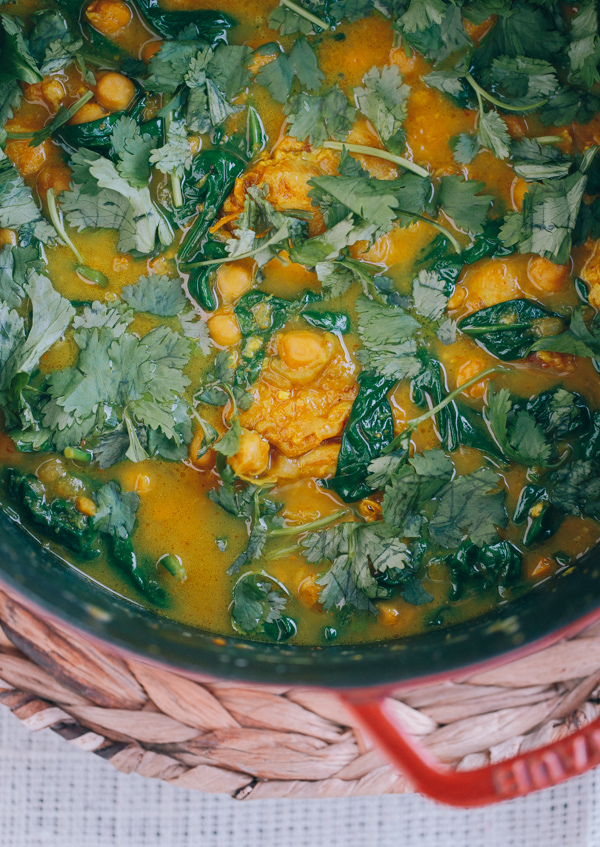 As with any good braised recipe, this dish requires you to brown and sear the chicken thighs as one of the first very cooking steps. This is the most important step. It takes some patience, but don't ever skimp on browning meat.
After that, it is as easy as sauteing onions and garlic, adding spices, broth, and canned chickpeas, placing the browned chicken thighs back in the pot, and allowing the dish to simmer over very, very low heat for about 40 to 50 minutes.
Cooking over low heat allows the chicken to become extremely tender, and helps maximize the flavor of the dish as a whole. The final step involves adding baby spinach and stirring in low-fat Greek yogurt for a touch of creaminess and tang.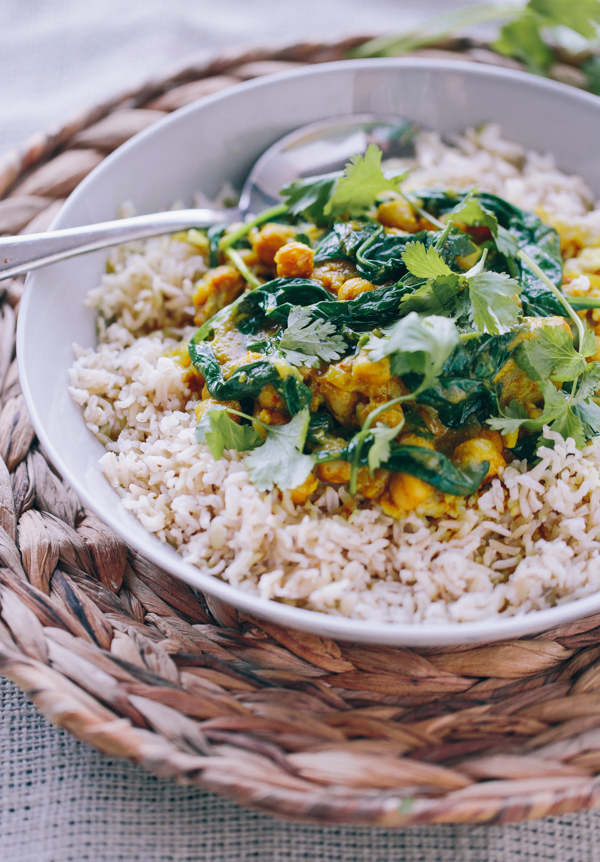 I love serving this dish on top of steamed basmati rice with some vegetables, raita, and some fluffy naan bread! (Trader Joe's sells a great frozen naan, if you don't feel like making your own from scratch!).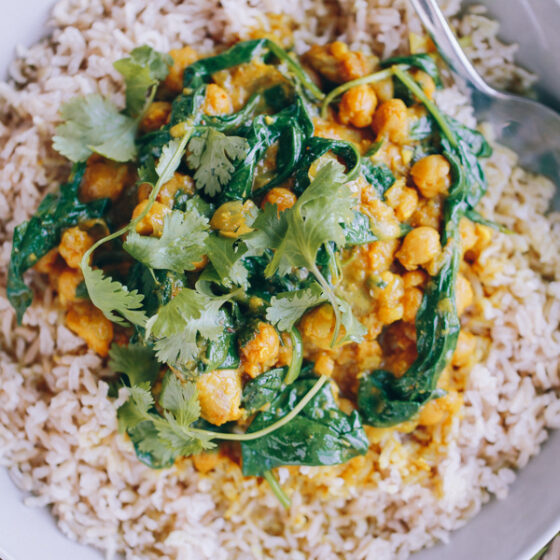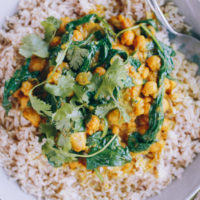 Braised Indian Chicken with Chickpeas and Spinach
Yield: 5-6 Servings
Prep Time: 15 minutes
Cook Time: 1 hour
Total Time: 1 hour 15 minutes
Ingredients
1 – 2 tablespoons safflower oil
6 bone-in chicken thighs, skins removed (roughly 2 – 2.5 lbs) *or substitute with boneless, skinless chicken thighs (see recipe note)
1 tablespoon unsalted butter
2 large onions, thinly sliced
4 garlic cloves, roughly chopped
1.5 tablespoons grated fresh ginger
2 teaspoons ground coriander
2 teaspoons ground cumin
2 teaspoons ground turmeric
1/4 ground cayenne pepper (or 1/2 teaspoon, if you prefer more spicy)
1 (15-ounce) can of chickpeas, rinsed well and drained
2 cups low-sodium chicken broth
5 ounces baby spinach leaves
1/4 cup low-fat Greek yogurt
1/4 cup fresh cilantro leaves
kosher salt
freshly ground pepper
Instructions
Preheat the oven to 325 degrees Fahrenheit (braising the chicken in the oven ensures that you will cook it at a steady, low temperature, and reduces the need to watch it on the stove; but this dish can also be braised directly on your stove-top). Pat the chicken thighs dry with paper towels, and season generously with salt and pepper.
Heat the oil in a large (5.5 quart roughly) Dutch-oven or other heavy-bottomed pot. Working in batches (avoid over-crowding the pan), cook the chicken thighs until golden brown on all sides. Adjust heat as necessary. Set aside on a large plate.
Add the butter to the pan drippings along with the sliced onion. Cook onions over low heat for 8 to 10 minutes, or until very soft, translucent, and caramelized, stirring often.
Add the garlic, fresh ginger, coriander, cumin, turmeric, and cayenne pepper to the pot. Cook, stirring constantly, until very fragrant. Add the drained chickpeas and chicken broth, and stir gently. Add the browned chicken thighs to the pan (the broth should cover the chicken thighs about 2/3 to 3/4 of the way up). Bring to a low simmer. Cover the pot and transfer to the oven (alternatively, if cooking over the stove, place over very low heat and check the pot every 5 to 10 minutes to ensure that it is simmer slowly). Braise the chicken until fork-tender, roughly 40 to 50 minutes.
Using oven mitts, carefully transfer the pot from the oven and place back on the stove. Using tongs, transfer the chicken to a platter and cover with foil to keep warm. Add the spinach to the pot, cover, remove from heat, and allow spinach to wilt for about 5 minutes. Stir in the yogurt, and season sauce to taste with salt and pepper. Add the chicken back to the pot, place over very low heat. Stir in the fresh cilantro leaves before serving (reserve some for garnishing).
Serving Suggestion: Serve with brown basmati rice, yogurt or raita, and garnish with fresh cilantro.
Notes
If using boneless chicken thighs, reduce cooking time by about 10 minutes. Chicken can be made 3 days ahead. Let cool slightly, then chill, uncovered, until cold. Cover and keep chilled. Rewarm before continuing with recipe steps.
Barely adapted from Bon Appetit January 2013 issue.
Nutrition Information:
Yield: 6
Serving Size: 1
Amount Per Serving:
Calories: 468
Total Fat: 28g
Saturated Fat: 8g
Trans Fat: 0g
Unsaturated Fat: 19g
Cholesterol: 195mg
Sodium: 406mg
Carbohydrates: 17g
Fiber: 4g
Sugar: 4g
Protein: 42g
A Beautiful Plate provides nutritional information, but these figures should be considered estimates, as they are not calculated by a registered dietician.