Red Wine and Tomato Braised Chicken
This post contains affiliate links.
The art of braising, heating and cooking meat in liquid over a long period of time, has become one of my favorite methods of cooking over the past year. If done correctly, it yields the most succulent meat imaginable and makes the simplest of ingredients shine.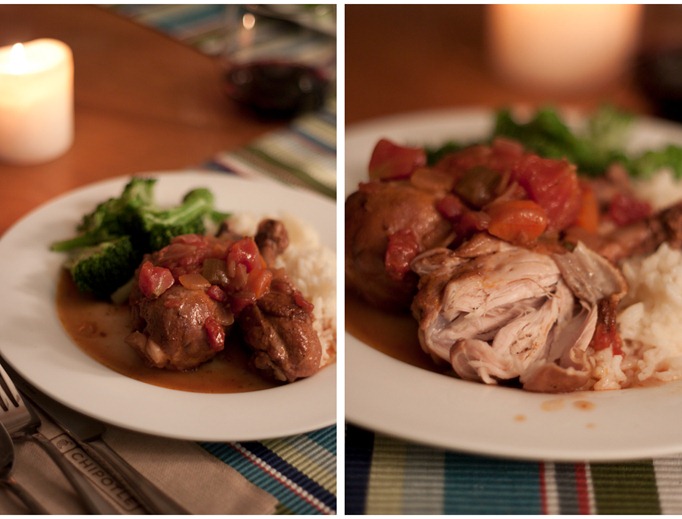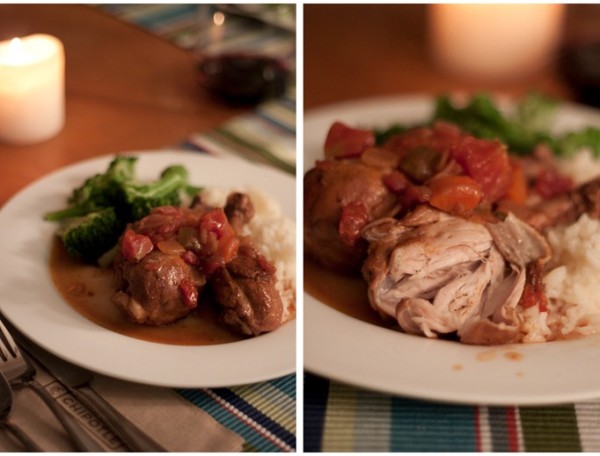 Braising is best reserved for tough cuts of meat (chuck, brisket, short ribs, shanks, etc.), which coincidentally are also the most flavorful.  To put it simply, tough cuts of meat are from the most-used muscles of an animal—generally the legs, shoulders, neck, and chest—as well as tails (example: oxtail, which is incredibly tough, but when cooked for a long period of time, becomes extremely tender and flavorful).
Not only do these meats yield a lot more flavor, but they are generally much cheaper!  Win-win. Within weeks of culinary school, we were introduced to braising.  In barely any time at all, we were doing it almost every day.  What was once a relatively unfamiliar process, became routine.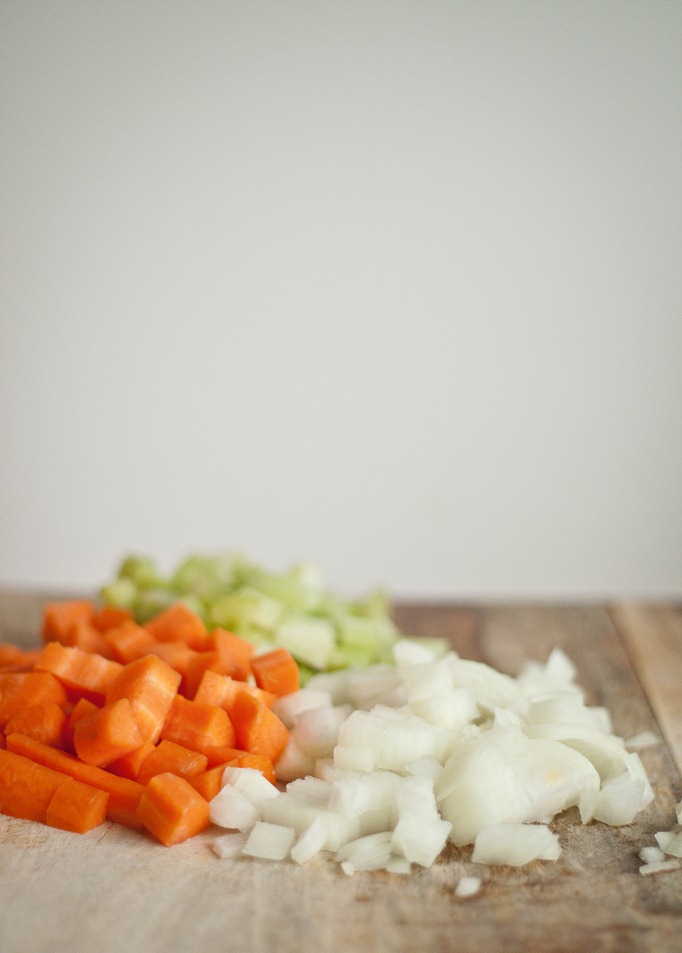 The most important factor is time.  If you rush the process (either by cooking it at too a high temperature or not long enough), you'll miss out and most likely end up with something you'll want to toss in the trash.  However, if you're patient, your efforts in the kitchen will be rewarded with delicious food.  
The first and most important step in braising is searing the meat at a high temperature in some oil.  To soak up any excess moisture, I lightly coat the meat with a small amount flour—after it is seasoned generously with salt and pepper.  This step also helps thicken the sauce as well, similar to a roux.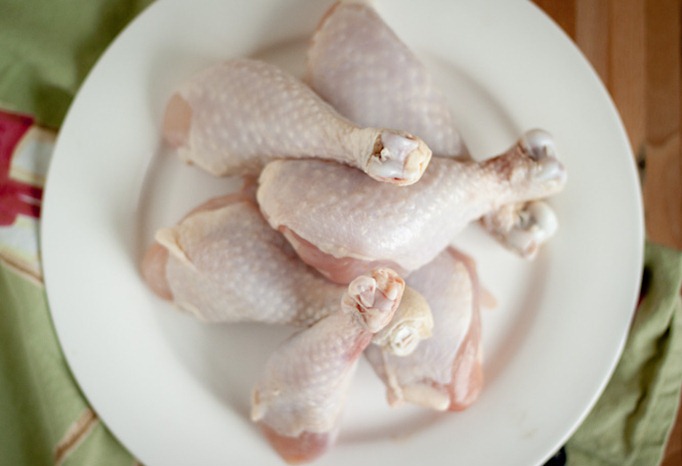 If you want to get extra fancy, you can French the drumsticks (as seen below).  This adds an extra step, but if you're comfortable with the technique, I highly recommend it.  Cutting the tendons and ligaments near the knuckle allows the meat to pull together while it's cooking and, in the long run, makes it much easier to eat.
Browning the meat (otherwise known as the Maillard reaction) not only contributes and brings out a ton of flavor in the final dish, but also produces all those delicious brown bits on the bottom of the pan, which you can then deglaze with mirepoix (a fancy term for onions, carrots, and celery), wine, and stock.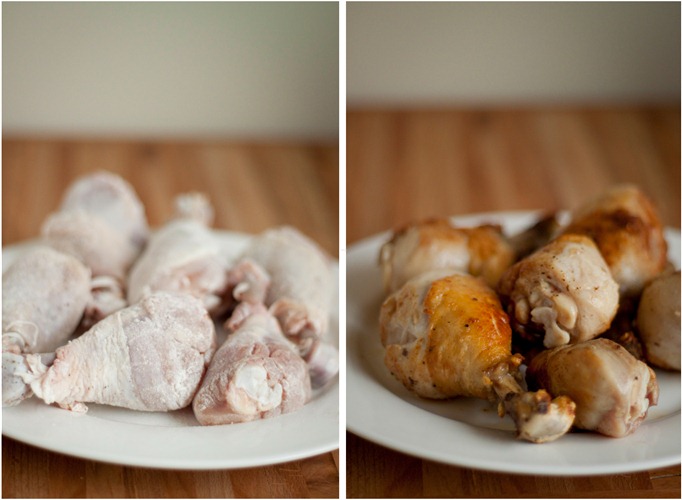 Once all of these steps are completed, you simply add stock, return the meat to the pot, and bring everything to a very low simmer (basically, you want some small bubbles every couple seconds).  Cover the pot and cook for about 3 hours—checking every 30 minutes or so, stirring occasionally if necessary.  It's a long time, but trust me, the final result is well worth it! 
Though I served this dish with a simple rice pilaf, I think mashed potatoes would be a much better choice!  As always, enjoy.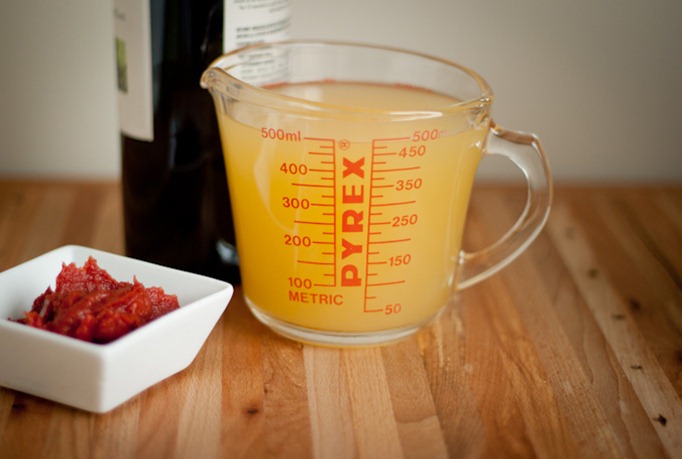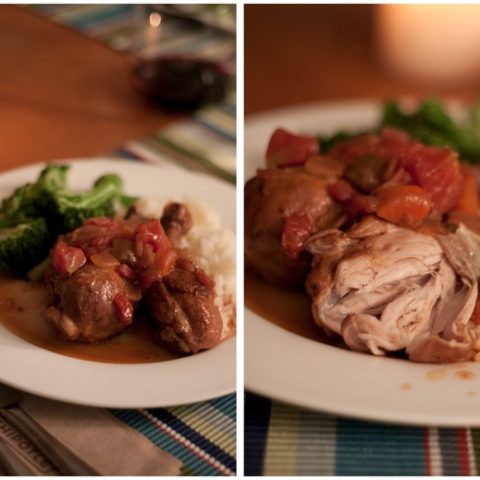 Red Wine and Tomato Braised Chicken
Yield: 3 Servings
Prep Time: 25 minutes
Cook Time: 2 hours 30 minutes
Additional Time: 5 minutes
Total Time: 3 hours
Ingredients
all-purpose flour, for dredging
~2 lbs chicken drumsticks, skin-on (roughly 2 per serving), preferably organic
canola oil
1 cup chopped onion (roughly 1.5 small onions)
2 dried bay leaves
3/4 cup chopped carrot, peeled
3/4 cup chopped celery
1 tablespoon tomato paste
1/3 cup dry red wine (I used an Argentinian Malbec)
1 14.5-ounce can chopped tomatoes
2 cups chicken stock, low-sodium
kosher salt
freshly ground black pepper
Instructions
Remove the meat from the fridge and allow to sit out at room temperature for about 10 minutes. Using a small knife, carefully French the drumsticks (leaving the skin on—see the beginning of this video for basic instruction).
Heat a large Dutch Oven (5.5 Q) or heavy-bottomed pot over medium-high heat. Add a small layer of vegetable oil.
Meanwhile, season drumsticks generously with salt and pepper. Coat lightly with all-purpose flour and add carefully to the pan, allowing about 1-2 inches between the drumsticks. **Complete in multiple steps depending on how big your pot is.
Using tongs, sear the drumsticks until golden-brown on all sides (be careful when moving the meat, as the oil may splatter) and set them aside on a large plate. If necessary, you might need to add a bit more oil between multiple batches.
Carefully drain any excess fat from the pan into a heat-proof bowl (discard once cool).
Return pan to medium high heat and add the bay leaves and chopped onions, stirring frequently for 2-3 minutes. Add the carrots and celery and continue to stir over medium heat, allowing the vegetables to gain some color and caramelize (if necessary, you might need to add another touch of oil).
Add tomato paste and stir continuously for 1-2 additional minutes. Deglaze with red wine and continue to stir, using the edge of a wooden spoon to scrape any remaining bits off the bottom of the pan. Continue to cook until the wine has reduced significantly and it is very thick (and almost dry).
Add the chicken stock, chopped tomatoes, and return the seared drumsticks to the pot—the stock should submerge the drumsticks about halfway.
Bring the braising liquid to a very low simmer (a couple small bubbles every few seconds) and cover. Continue to cook for another 2 1/2 – 3 hours—checking every 30 minutes or so and stirring occasionally—or until meat is very tender and is almost falling off the bone.
Season with salt and pepper (avoid doing this too early, as liquid will concentrate over the cooking period) and serve immediately.
Notes
Do not throw away any leftover braising liquid! It is full of flavor and body (gelatin).  It makes a great soup/stock base—for example: I used the liquid, added some additional stock, lentils, and cooked rice and it was a meal unto itself. It can also be reduced, strained and made into a delicious sauce!
Nutrition Information:
Yield: 3
Serving Size: 1
Amount Per Serving:
Calories: 591
Total Fat: 19g
Saturated Fat: 4g
Trans Fat: 0g
Unsaturated Fat: 13g
Cholesterol: 192mg
Sodium: 783mg
Carbohydrates: 53g
Fiber: 6g
Sugar: 11g
Protein: 46g
A Beautiful Plate provides nutritional information, but these figures should be considered estimates, as they are not calculated by a registered dietician.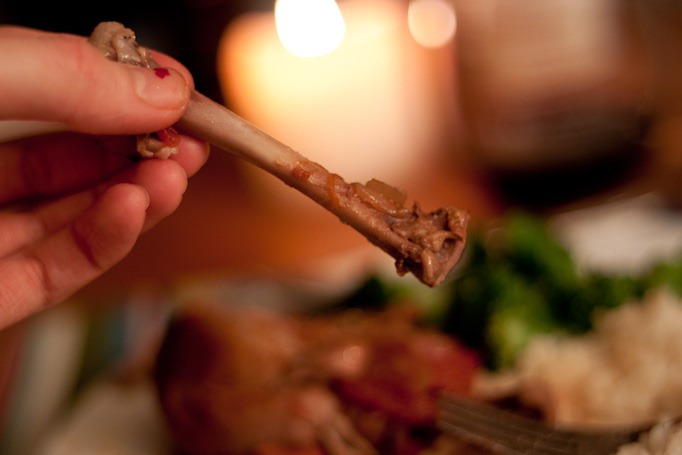 Need I say more?  Falling.off.the.bone.
This post contains some affiliate links, which means that I make a small commission off items you purchase at no additional cost to you. Please read my
disclosure policy
for more information.