Red Wine and Tomato Braised Chicken
The art of braising, heating and cooking meat in liquid over a long period of time, has become one of my favorite methods of cooking over the past year. If done correctly, it yields the most succulent meat imaginable and makes the simplest of ingredients shine.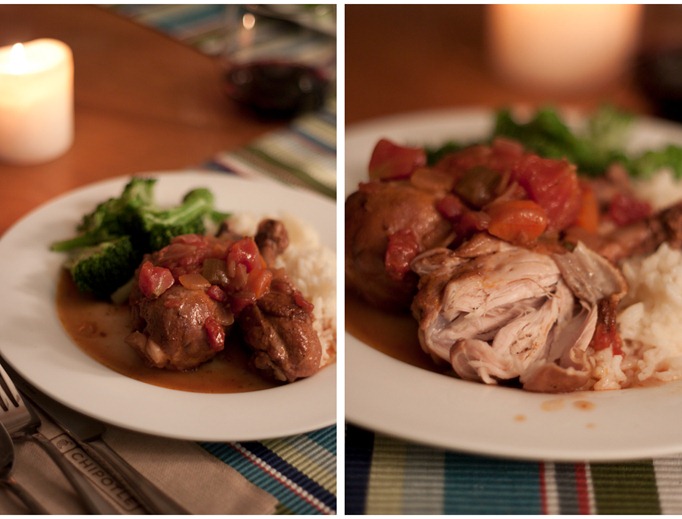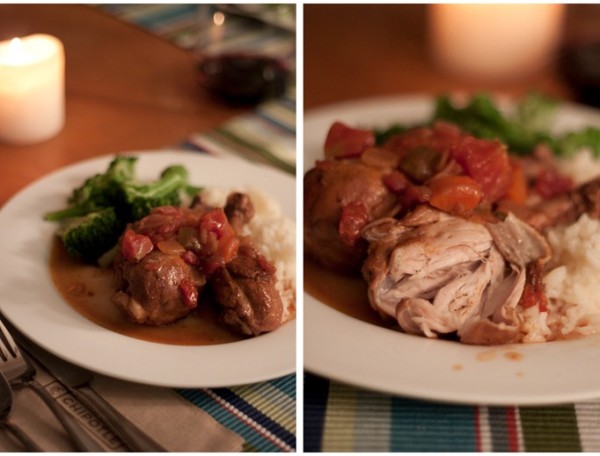 Braising is best reserved for tough cuts of meat (chuck, brisket, short ribs, shanks, etc.), which coincidentally are also the most flavorful.  To put it simply, tough cuts of meat are from the most-used muscles of an animal—generally the legs, shoulders, neck, and chest—as well as tails (example: oxtail, which is incredibly tough, but when cooked for a long period of time, becomes extremely tender and flavorful).
Not only do these meats yield a lot more flavor, but they are generally much cheaper!  Win-win. Within weeks of culinary school, we were introduced to braising.  In barely any time at all, we were doing it almost every day.  What was once a relatively unfamiliar process, became routine.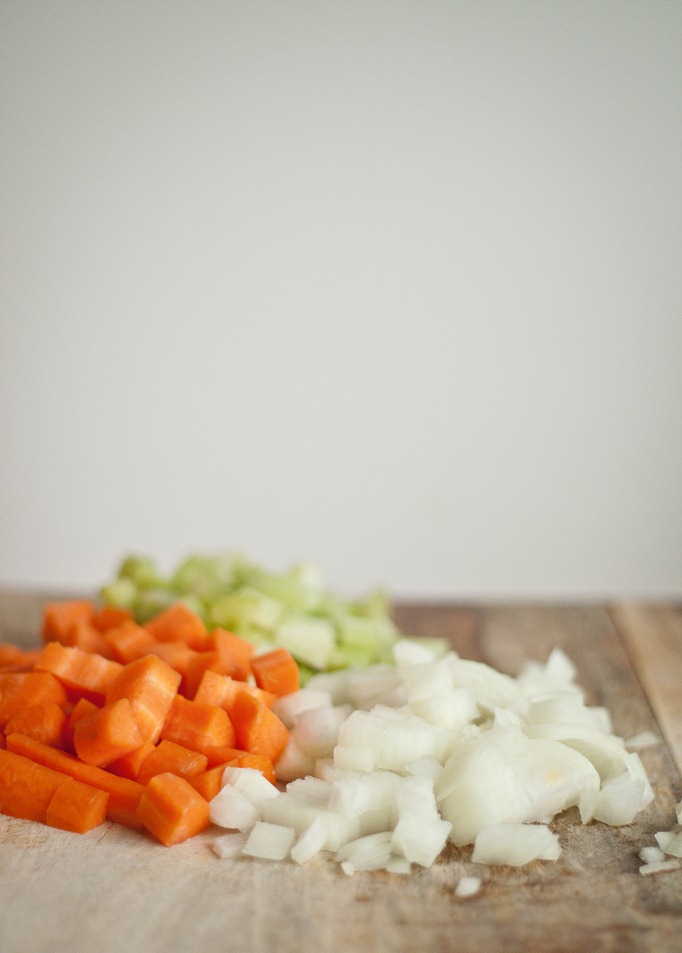 The most important factor is time.  If you rush the process (either by cooking it at too a high temperature or not long enough), you'll miss out and most likely end up with something you'll want to toss in the trash.  However, if you're patient, your efforts in the kitchen will be rewarded with delicious food.  
The first and most important step in braising is searing the meat at a high temperature in some oil.  To soak up any excess moisture, I lightly coat the meat with a small amount flour—after it is seasoned generously with salt and pepper.  This step also helps thicken the sauce as well, similar to a roux.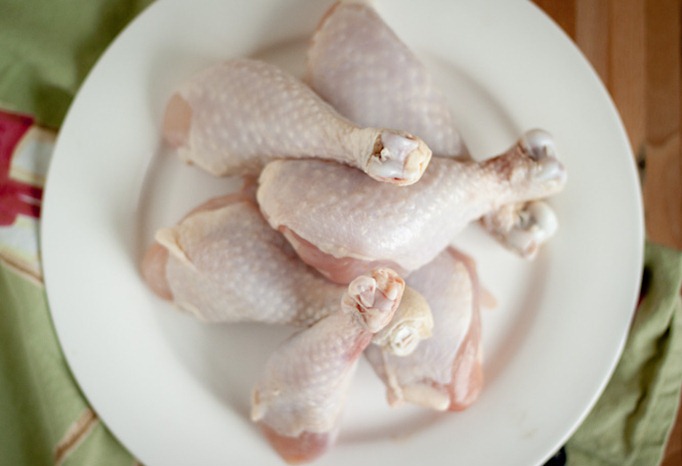 If you want to get extra fancy, you can French the drumsticks (as seen below).  This adds an extra step, but if you're comfortable with the technique, I highly recommend it.  Cutting the tendons and ligaments near the knuckle allows the meat to pull together while it's cooking and, in the long run, makes it much easier to eat.
Browning the meat (otherwise known as the Maillard reaction) not only contributes and brings out a ton of flavor in the final dish, but also produces all those delicious brown bits on the bottom of the pan, which you can then deglaze with mirepoix (a fancy term for onions, carrots, and celery), wine, and stock.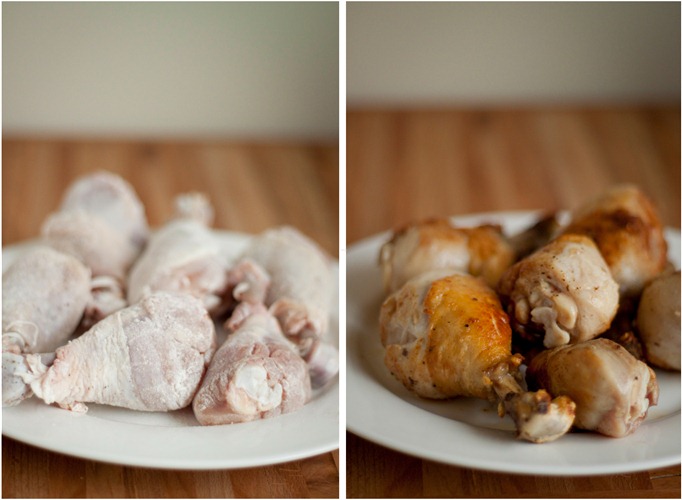 Once all of these steps are completed, you simply add stock, return the meat to the pot, and bring everything to a very low simmer (basically, you want some small bubbles every couple seconds).  Cover the pot and cook for about 3 hours—checking every 30 minutes or so, stirring occasionally if necessary.  It's a long time, but trust me, the final result is well worth it! 
Though I served this dish with a simple rice pilaf, I think mashed potatoes would be a much better choice!  As always, enjoy.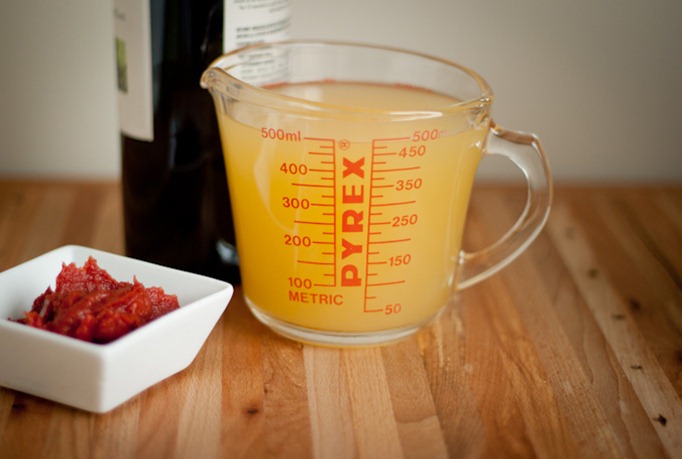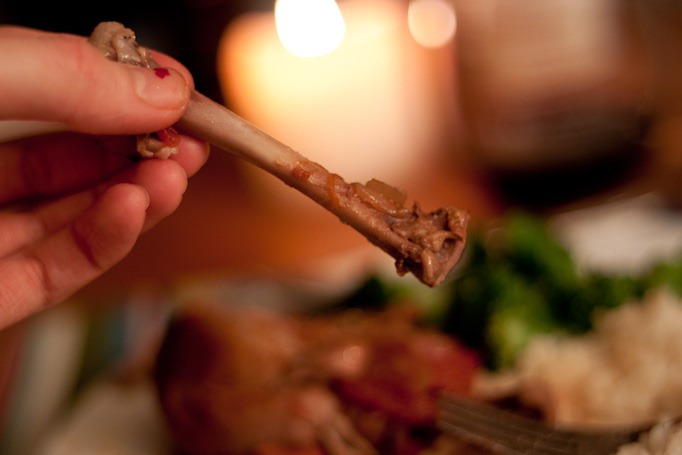 Need I say more?  Falling.off.the.bone.